5 Things You Didn't Know About OCR Warrior
5 Things You Didn't Know About OCR Warrior
So what is OCR Warrior? From the mouth of creator Brett Stewart himself, "OCR Warrior is the first head-to-head obstacle course racing reality competition show". That about sums it up, but if you've happened to catch an episode from Season 1 and then immediately searched for "how to apply for OCR Warrior?" only to be left without an answer, I've got the low-down on how to apply and what to expect, and as a Season 1 contestant, I'm going to let you in on 5 things that you didn't know about OCR Warrior. But first, is OCR Warrior for you?
---
By Wednesday, have you already picked out what you're going to wear for the weekend's race and planned for what you'll eat Friday night? After running, climbing and crawling your way across the finish line exhausted, hungry, and muddy, are you still aching for more? Have you trained day after day with the belief that you have what it takes to beat that guy standing next to you in a fast and furious battle to the finish? OCR Warrior might not be for everyone, but maybe, just maybe it might be for you. If so, here's a few things I can pass on to you.
1. I Puked On OCR Warrior
If there's something I've learned from being on the show, it's that you don't stuff yourself at a Las Vegas buffet 30 minutes before running the qualifying course. You just don't. This is a fast-paced all-out sprint. Was this the most important thing to know about OCR Warrior? No. But now you know anyway.
2. Hunter McIntyre Is A Robot
While waiting for the finals to start, I caught Hunter opening up a metal panel behind his right bicep and replaced a battery. He then proceeded to run the course for the 3rd time faster than the previous two times to become the Las Vegas OCR Warrior Champion. Don't be fooled by the Beet Elite. That stuff only works on humans and I'm convinced now more than ever that Hunter is in fact a robot designed by Reebok. If you want to win this thing, be prepared to go up against an elite field. Train hard and prepare for obstacles that might be too difficult to include in your typical obstacle course race.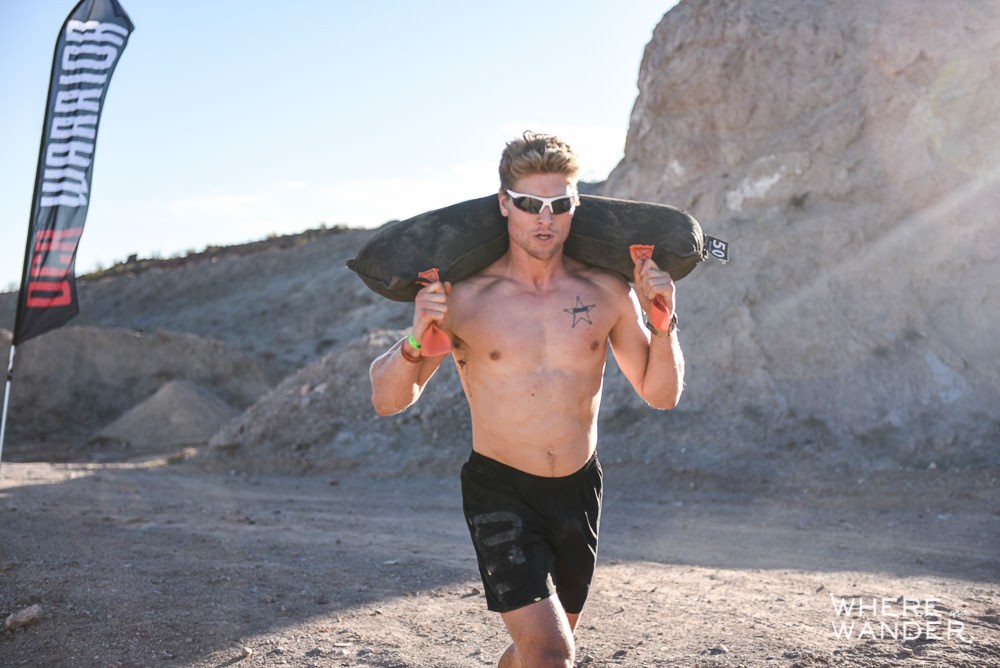 3. It's Worth The Drive
One contestant, Travis Nelson drove from Minnesota to Flagstaff, Arizona to compete on OCR Warrior. He then made another drive, the second time to Las Vegas, Nevada to do it all over again. That's two hell of a drive and he doesn't regret it. "I don't regret it" – Travis Nelson. You don't want to miss out on this unique opportunity to race head to head against your fellow OCR athletes.
4. It's Worth The Flight
Not to one-up Travis, but one contestant FLEW in from Sweden to compete on OCR Warrior. Rumor has it that Sweden Ninja Warrior Anna-Lee Markstedt O'Dwyer heard that chicken and waffles were being served after the races and immediately bought a ticket to America. A second rumor has it that she was called out by Cassidy Watton and Laura Messner for not being able to finish said chicken and waffles at Hash House A Go Go. She finished the monstrosity of a dish and ordered a chicken pot pie for dessert. I'm not sure they understand what counts as a desert in Scandinavia. This isn't a race you do for a medal. It's all about the glory. Only the victor stands at the end. You lose and you go home.
5. The Race Isn't Over Until It's Over
In my battle with Eddie Yanick, the race looked lost after I fell off the beam and lost precious time leading up to the cargo net. Eddie kept a decent lead through the monkey bars, wreck bag carry and the vertical ladder with only a straight line to the finish. Still, I pushed with everything I had and found myself sprinting all out just a few feet behind him with the finish line in sight. We both gave it everything and he just edged me out by a split-second. A well-deserved victory.
In Flagstaff, Stephen Sinek, the Painted Warrior, had a sizable lead over Christopher Rutz with just a 5 meter barbed wire crawl to the finish. With just a few feet left, it looked clear that Stephen would be victorious only to have Christopher barrel under the barbed wires with reckless abandon to reach the finish line first. Not every race will come down to a second, but it would be foolish to think that you can slow down for a second in this kind of head to head battle. Go all out or go home.
Now onto all the useful bits for those of you who want to take on this challenge.
Season 2 Of OCR Warrior Is About To Begin
With 23 episodes filmed across 5 race venues in 2014, Season 1 saw of the biggest names in obstacle course racing race head to head against each other. I'm talking Junyong Pak, Hunter McIntyre, Corinna Coffin, Cassidy Watton, Christopher Rutz, The Painted Warrior and most importantly, me. This season, OCR Warrior is teaming up with Atlas Race to bring a brand new custom course to OCR Warrior competitors across 6 venues, but it's not just the pros that are running – ANYONE can sign up to run the qualifying course for a chance to be on the show. The first race is coming up soon. Soon, as in February 28, 2015 in Southern California at Vail Lake Resort.
How To Apply For OCR Warrior
Head to the Atlas Race – OCR Warrior page to register. That simple. It's $10 for one attempt and $25 for two attempts and a custom OCR Warrior t-shirt. They are holding separate qualifiers on Saturday and Sunday in for the Atlas So Cal race. You can also register on-site as long as you can run the qualifier course before 2 pm.
Course & Competition
Brett has informed me that they are changing things up to make the course more obstacle-centric and spectator-friendly. The race will be won or lost in 200-250 yards and across 10-12 obstacles including rope walls, skull-shaped "monkey bars" and a 12" warped wall. It's one fast out and back course through the festival area where good technique will see you through to the next round. The top 8 men's time and the top 4 women's time from the qualifiers will move on to the main show competition. The winner from each knockout battle will move on until only the champion remains.
The only thing left is for you to ask yourself if you are ready. Are you?
Check out all the episodes from Season 1 on YouTube and like the OCR Warrior Facebook Page to stay updated as new venues and races are announced.