BattleFrog Greater DC 15K Race Review: Mud, Rocks and Navy SEALS
BattleFrog Greater DC 15K Race Review: Mud, Rocks and Navy SEALS
It's an interesting time in the world of obstacle course racing (OCR). New races are popping up all the time promising new obstacles, greater challenges, and tougher logos. Unfortunately, not all races deliver on those promises and not all races are created equal. These entrants often fall as quickly as they rise, carrying a sandbag of ambition, but not necessarily the financial support, execution, and foundation that's required to stay afloat and survive.
---
When Hobie Call, a legend and benchmark of the OCR world, came out to race in BattleFrog's inaugural event in Atlanta earlier this year and put it on par with the top races in the industry, that caught my attention. I booked a flight from San Francisco to Washington, D.C and then drove westward at the crack of dawn to Hedgesville, West Virginia to check it out for myself.
I'll jump straight to the end. The race was an absolutely refreshing balance of classic and creative with new obstacles that keep even experienced OCR racers on your feet. I simply cannot wait until they offer more races across the entire US so you don't have to fly 3000 miles and drive another 90 to experience their course that's inspired by real Navy SEAL training obstacles and then run and manned by real Navy SEALs. This sh*t is real. Sorry, I had to use the word a third time.
I arrived at 7:30 am and met up with Dan Curran, who works on public relations for BattleFrog. He gave me an overview of their course and we got to talking about the race, the involvement of the SEALs, the live demonstrations and their future plans. Just as I was asking about the elite racers expected to show up for race, I see Junyong Pak, two-time World's Toughest Mudder winner and a top OCR racer, scrambling up behind us in a hurry to get to the starting line (turns out he had forgotten his race shorts and socks that morning and was running a little late). I told Dan that I had my money on Junyong winning the race.
And The Elites Are Off!
At the starting line, I recognize Elliot Megquier and David Magida from the Spartan Pro Team, and Hobie chatting with the other racers. There was even a drone floating about. I had learned earlier on that Hobie, as a new advisor to BattleFrog, would not be running the race competitively, but would still be running alongside everyone during the elite cash wave heat.
Just after 8 am, what sounded like a cannon went off and the racers hurled themselves towards the first set of obstacles, the staple Over-Under-Through. I opted out of the elite cash wave to instead take photos of the elite racers first and then run the course a couple of hours later. I didn't know at the time that I would get more than a warm-up chasing alongside the leaders through the final gauntlet of obstacles.
Since the racers would almost immediately head into the hills and the back trails of the course around Tomahawk MX, Dan and I decided to jump on a cart and catch the leader around the 6th mile. The course was broken down into 3 races, a full 15 K wrapping loop, a shorter 5 K partial loop and a 1 mile course for kids. Racers attempting the BattleFrog 15K would have to complete 32 obstacles, while the 5K runners would still have to complete about 20 of the obstacles to finish the race. I personally liked having these options as a way to open up the event to more people, while still preserving the challenge of a longer and tougher course for those who want it. Check out the course map below:
About 40 minutes into the race, we see Junyong emerge from the trees at the 18th obstacle, a modified version of the A-Frame cargo climb that was taller and much steeper than any I had encountered before.
A few minutes later, Zach Kessell and David Magida arrive and give chase over the climb and back into the trails.
I sprint down a steep hill (already wearing my Inov-8 X-Talon 190) just in time to see Junyong heading towards the Rope Traverse.
Zach and David continue to hang tight within a few minutes of Junyong.
At this point, I was unsure whether we could even drive through the terrain as fast as Junyong was running through it. Luckily, the course wrapped back into the woods once more allowing us to drive through the mud to wait for Junyong at the Trench obstacle, an extremely muddy crawl through a low and narrow tunnel before a short swim to get out of a muddy quarry. I'm running at near full speed with my camera to match Junyong step for step through the Inverted Walls, Pipe Tunnel and Monkey Bars.
At the other end stood the Tsunami, a 16 foot double-sided half pipe where you run up one side, pull yourself up with the ropes, and then go down a  steep 30 foot long slide on the other side.
Cutting back across the main spectator area, I catch Junyong as he completes the last set of obstacles, going down the Hooyah tube, climbing up the ladder-rope transfer and crawling through the Normandy Jacks.
Right before the finish line, Mike Donnelly, a SEAL and founding member of BattleFrog, encourages him on to a 1st place finish with a time of 1:07:41.
In the same order as when I first saw them, Zach and David finish 2nd and 3rd respectively with times of 1:12:23 and 1:14:43.
Your top 3 podium finishers.
Only 15 minutes after Junyong crosses the finish line, Corinna Coffin takes 1st place on the women's side (10th overall) with a time of 1:27:10 followed by Jolene Wilkinson and Robyn Berryman who finished in 1:37:27 and 1:46:29, respectively. At this point, I'm pumped and ready to go.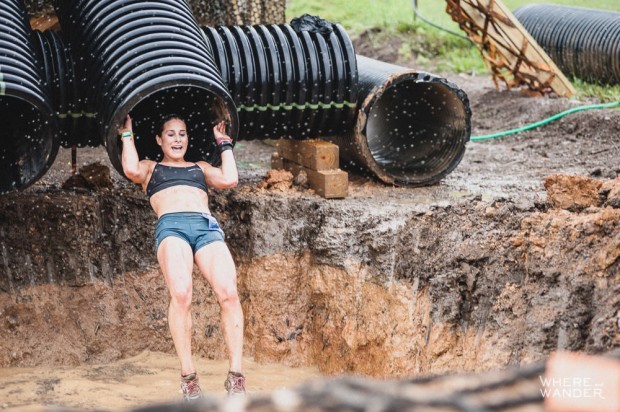 Now It's My Turn
I pass my camera to my awesome friend Danielle, who too would run a part of the course involuntarily to take these awesome pictures for me, and headed to the starting line. Having mostly memorized the course map, I tried my best to mentally prepare myself for the onslaught of obstacles at the end. That said, there were quite a few surprises along the way.
At the starting line, we were pumped up with a series of squat jumps and "Hooyahs" led by Coach D, BattleFrog's own drill sergeant cum MC. With the familiar sound of the cannon, I take off right in front through the Over-Under-Through obstacles followed immediately by some muddy water crossings and into the woods. I cross a couple of 8 foot walls and thank BattleFrog for their mercy in putting these in early on. There's nothing more sure than trying to jump up and over one of these things 8 or 9 miles into a race and immediately getting a cramp. Just before the 1 mile mark, I hit the first strength based obstacle, the Jerry Can Carry. I'm told to grab two gasoline cans, weighing roughly 20-30 pounds each, and to proceed down the hill and back up again. Not for the faint of heart, this obstacle will test your grip strength and put strain on both your biceps and shoulders. This is why you do the farmer's carry during your training sessions.
I barrel down the hill and try my best to keep a respectable jogging pace back up, slowing to a walk a couple of times when I felt the lactic acid in my thighs start to build up. A small climb followed leading up to the Delta Ladder, a set of climbs over slanted planks, a couple of humps to get over, and a maze of strings tangled together like a spider web for you to duck, crawl and contort your way through. At the 2 mile mark, the road split between the 5K BullFrog route and the 15K BattleFrog route. I took a right and noted that I had about 7.3 miles left to go. My legs were feeling nice and warm, but my feet were a different story. As much I love the lightweight feel and grip of the Inov-8 X-Talon 190, I almost wished I had worn my Inov-8 Trailroc 245  with the rock plate to cushion against all the pieces of rocks along the trail. I couldn't help but wince every so often whenever an unavoidable piece of rock pushed up in between the rubber nubs of the 190s.
I don't run with a watch so it was nice to somewhat keep track of time with the sound of the cannon going off every 15 minutes. Running at full speed through the woods, I swore I was in the Hunger Games every time I heard the loud bang and even wondered which racer had been killed off by the course.
After the split, I was pretty much running alone for the next 4 miles only occasionally passing runners from the earlier heats. While this was probably due to the lower number of participants at the events, I felt like the wider trails and course design prevented some of the bottlenecks that you inevitably experience with the later heats at every race. It was nice to not have to stop unnecessarily.
Following a series of shallow water crossing, I came across a new and demanding obstacle, the Rope Traverse Walls. It reminded me of the slanted slippery wall that you try to pull yourself up and over with the aid of a rope. The kicker was that instead of pulling yourself up, you would have to traverse across the walls by hanging to a series of ropes placed about 4-5 feet apart. I grabbed the rope and immediately realized that this was going to be all about good balance and grip strength since there was basically no grip on the wall from my shoes. I bent my body forward with my torso as close to 90 degrees as possible to my legs, gripped on as tight as I could, and inched over slowly grabbing the next rope as soon as I could reach it. It wasn't too bad, but I could easily see myself losing my grip and slipping off completely or losing my footing and scraping my body or knees right down that wood wall. It was not a pleasant thought. But that wasn't the end. After crossing this part, I then had to walk across a wet log to the other half of the obstacle, a horizontal traverse across a mini rock climbing wall with very few footholds and small handholds that would be tough for all but those who were used to rock climbing. I spoke with Amie "Live Wire" Meyer, the 2nd place women's finisher at the Death Race earlier this year, who said that it was humbling to face a new obstacle that was this challenging after the Death Race. The penalty for falling off at any point was ten 8-count body builders, a cross between a squat, push-up, and plank designed by the Navy and used here to zap the strength out of you when you need it most. That was a good enough motivation for me not to fail any obstacles.
I picked up my pace over the next couple of miles to a climb over a ladder, a cargo net climb, and a lovely sandbag carry down and up a hill. Nothing bonds you faster to your fellow racers than heaving a 40 pound sandbag over your shoulders and trying to run up a hill, followed by a steeper hill. Earlier, I had seen a set of ropes near the end of the course, so it was a little surprising to see a rope climb next, but it was a short one and a nice switch to an upper body obstacle after those hills. A couple of 6 foot walls waited further down the trail before I had to then pull myself up a steep sandy hill along a fixed rope climb. This was another upper body obstacle that I liked.
At around the 6 mile mark, I came to that 18th obstacle, the A-Frame Cargo Climb. It was as steep as I thought it looked earlier on,  and I liked that the angle was near vertical compared to the normal 45-60 degrees that the cargo net is usually sloping. I made sure to be extra careful not to fall off and I hope that no one else did throughout the day.
Down the hill, I came to the Rope Traverse over the water. This was one of my favorite obstacles. I had desperately been wanting to tackle one of these since seeing photos of it at other races. Right away, it was harder than the elite racers make it look and demanded a lot of arm strength and good technique to get across without lowering your feet into the water. The dip, transition at the middle and then the upwards climb over the latter half did not make it any easier. After completing this successfully, I was pumped and felt a second wind…along with the beginnings of some cramping in my right calf.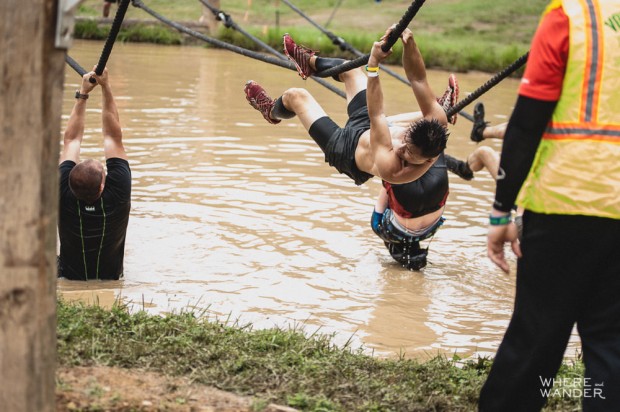 Immediately after, I am at the Seal PT station where I joined in alongside a few others to do 20 of those 8-count body builders. So much for thinking I would be able to avoid them completely.
Back up the hill, I climbed over a 12 foot rope wall and headed towards the last two miles and the final gauntlet of obstacles starting with the muddy crawl through the Trench tunnel, a short swim and wade through a water crossing, and then a jump over the Inverted Wall, with my cramp practically begging to me to make a sudden movement so it could come completely immobilize me to its satisfaction. It was going to have to be all upper body from here on out.
I continued through the pipe tunnel and sprinted towards the monkey bars, a perennial favorite of mine. The drop was about 6 feet so that was a compelling enough reason to carefully grip each bar and making sure that I had a solid hold on it before proceeding.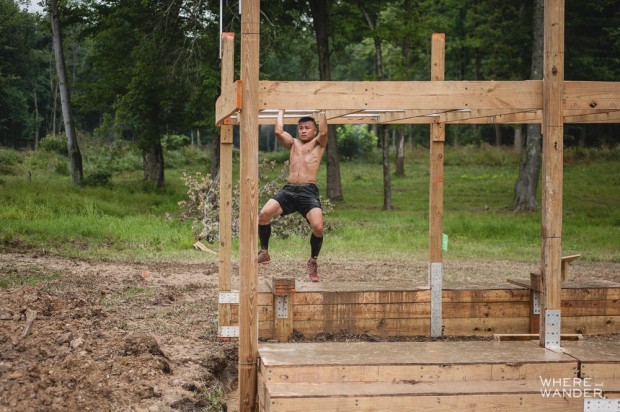 Then rained down the Tsunami. Getting up wasn't too bad. You run up the wall, grab onto the rope and pull yourself up the rest of the way. From there, it was a nice and wet slide down the other side. Personally, I've had some bad experiences with slides at poorly constructed races, but this was a steep, but smooth ride down. Still, I somehow managed to bruise and scrape my right forearm, but that's a much more palatable injury than the last two times I slid down something.
This was now truly the homestretch. The course began to wind back around itself up and down the muddy terrain courtesy of the 50 or so sprinklers raining water down on the racers and the trail to keep it nice and muddy. I don't normally consider hay bales  a real obstacle, but when you are cramping and can't jump, it becomes one where you have to figure out a way of getting over without really using your legs. If anyone has any advice on how to not cramp during a long hard race, please send it my way. And then just for fun, BattleFrog went out and found the heaviest cargo net they could get their hands on and made you lift and crawl under it. 'Cause why not?
At this point, I'm counting down the last few obstacles to the finish line and it feels good. I run to the Amphibious Assault, a paintball gun station and hit the target on my first try, much to my surprise, and head straight for the HOOYAH. Kudos to BattleFrog for naming an obstacle after the triumphant noise you make getting to the top of the 12 foot slanted wall and then once again when you drop through a dark tunnel into a mud pit. Hooyah indeed.
The penultimate obstacle was a climb up a narrow hanging wire ladder and then a transfer over to a rope for the descent. This was a nice twist to the typical rope climb. I found it easier than the normal rope climb, but it definitely involves having  good balance and control over your entire body and then being able to get down the rope without hurting yourself.
From the top, I could glance over my shoulders and see the finish line. The only thing standing between me, my finisher medal, t-shirt and beer was crawling through a field of wires tied to Normandy Jacks a la the storming of Normandy beach during WWII.
And like that, I was done. 15 kilometers. 32 obstacles. 1:37:03. Good enough for 14th place in the elite heat. I'll take that any day. Definitely one for the books and one of the best obstacle course races I've ever done, comparable to all the Spartan Races and even better in some aspects of it.
It's The Small Things That Count
Overall, I have nothing but positive things to recall from the race, but it's really the small things that make the difference in determining the staying power of an organization.
Volunteers. The obstacles were manned by a combination of civilian volunteers and retired members of the Navy SEAL. Everyone took their role seriously give clear instructions and pushing you on. I thought it was such a display of dedication to have Don Mann, one of the leaders of BattleFrog and a heavily decorated and accomplished SEAL, standing at the finish line and talking to competitors throughout the day as well as Mike Donnelly, standing under constant downpour from the sprinklers and pushing the racers on through the final obstacle. He later joined in with the kids Tadpole race, really involving himself in multiple aspects of the event. A

Water Aid Stations. Plentiful and well-placed. As much as I like to be tough, it's nice to be able to hydrate more frequently than necessary. This allows both newbies to the OCR world as well as the most elite of competitors to run the course without having to worry about bringing along hydration. I brought all my gels with me, but it would be nice to have one station somewhere in middle offering some kind of caloric aid. A-
Obstacles. The placement of the obstacles was well planned to spread the difficulty throughout the course. There was never too long of a stretch of run that would give an advantage to pure runners. With so many other races out there, it's nice to see new obstacles still popping up and BattleFrog had quite a few that were not just new, but also challenging in different ways. There was a good mix between obstacles of strength vs balance vs explosiveness. A+
Penalties. While I didn't have to do any penalty 8-count body builders, I was told that there were a different number of reps you would have to do depending on the obstacle you fail. Elite racers had to complete every obstacle in order to podium. This is a great way to enforce the idea of having to complete an obstacle instead of just strategically taking the penalty because it might be easier or faster. A
Multiple Distances. Apparently, all the BattleFrog events will feature a 15K, 5K and 1 mile course along with a kids Tadpole course that should allow participants of all age and abilities to find a race that is suitable for them. It's not easy to convince my friends to join me for a 15K race, but having the 5K option is a nice way to introduce them to the sport and get them just as addicted as I am. Is BattleFrog the right race for you? You won't know until you get out and do it, but I think that we are all capable of doing more than we think we can. Besides, when was the last time you ran through a puddle without worrying about getting your shoes wet or rolled through mud without being yelled at by your mom? A
Path Markings. Overall, this was a very well marked course. There were either clearly marked trails, flags, ropes or signs along most of the course to keep racers from getting lost. Admittedly, there were a couple of places that could have used an extra flat or arrow, but I didn't lose much time in figuring it out or backtracking a bit. Considering that this is only their 3rd event, it's incredible how efficient and effective the whole thing went off. B+
Photography. I noted that they had a team of photographers on site to take photos, which is a win-win for racers and the company's marketing department. As a photographer, I'm a little bias and I'll always advocate to have more photographers placed throughout the course. This may not be a easy thing to do financially, but it's nice that BattleFrog is providing this and sharing the photos online. We can't all have our own photographers to run around taking photos for us and racers don't really want to bring along a camera through the mud and water to get a picture of themselves dominating the obstacles. I think this is an important area and I hope they continue to improve here. UPDATE: They loaded a number of photos within a date of the event, which is awesome.  A-

Honoring the Fallen. I thought it was a nice touch to have raised placards at several of the obstacles honoring fallen members of the SEAL. It may not seem like much to someone trying to rush through the course, but it is a nice touch and tribute to those who served. A
Team. I had the opportunity to speak with a number of the members of the organization and I loved their obvious enthusiasm and dedication to growing not just their own events, but also the entirety of the sport. They were happy to answer all my questions (which will be written up in a separate interview post) and had real knowledge and respect for the industry. A
SEAL Demonstration and Involvement
This was a treat. They had two awesome demonstration complete with a MD 600 helicopter dropping the SEALs down to the festival grounds and showcasing their impressive tactical abilities. This was just awesome.
They even had a contest on their Facebook Page for a free ride on the helicopter after the race. I was lucky enough to be offered a ride after the race and that was just the cherry on top of the pecan pie. I've flown in a number of random small planes, but flying in a Navy SEAL helicopter is definitely a first.
Having real members of the Navy SEALs on site, taking part in the event and backing the entire organization gives me reason to believe that BattleFrog won't be a fly-by-night OCR company. To that end, it's also nice to know that 8 percent of the profits generated from the races goes towards supporting the Navy SEAL Foundation and the National Navy SEAL Museum to honor the fallen and help with the family of  those who served.
BattleFrog is scheduled for 3 more events for the rest of the 2014 calendar year. Sign up for the Tri-State, Pittsburgh or Miami events.
Special thanks to my friend, Danielle Wade, who weaved back and forth across the mud and through sprinklers to get these photographs of me racing.