Behind The Scenes At Grant Achatz's Next
Behind The Scenes At Grant Achatz's Next
Last Updated on September 15, 2020
---
Current Restaurant Status: As of September 16, 2020 Next is currently open and taking reservations for their Fat Fuck seasonal menu, a tribute to the cuisines of Heston Blumenthal.
Alinea and Next Chicago Takeout Service (2020)
With the pandemic and all the social distancing restrictions in place, in-house dining is available but limited. Next took part in Michelin starred restaurants offering take-out and curbside pickup. As of September, 2020 Next is no longer offering take-out or pick-up service, but Grant Achatz' 3-star flagship restaurant, Alinea, is offering a Bento Box, an Omakase, and a Roister Weekend Brunch for curbside pick-up.
Alinea To Go: Bento Box ($55 per person for parties of 1-8)
A selection of 3 nigiri
4 pieces of seasonal maki
Prawn tempura with togarashi-miso sauce
Binchotan grilled diver scallop with a spicy white sesame sauce
Sshimi sald with a cilantro-lime vinaigrette
Yuzu infused Nashi pear
Cantaloupe panna cotta with sudachi and almonds
Alinea To Go: Omakase ($95 per person for parties of 1-8)
Alinea To Go's Bento Box (see above)
7 pieces of ranch beef tataki with ponzu and chilies
Wild mushroom chawanmushi with dashi
Loca ltomatoes with red miso, fried garlic and shiso
Fuck meatball and shishito peppers
Seaweed and Sonomono
Shortbread Cookies
Weekend Brunch from the Alinea Group ($29.95 per person)
Roister's fried chicken & waffles
Smoked corned beef has
Blueberry yogurt parfait with marcona almond granola
You can place your pre-paid order here.
Capturing The Uncelebrated
At top restaurants like French Laundry, Noma, and Alinea, where spectacular 20+ course tasting menus are dreamt up and brought to life, the diners are wowed when each delicately prepared dish is brought out and presented to them in its final form.
Compliments are often sent at the end of the meal and at notable places with notable chefs, like Alinea and Grant Achatz, those compliments are often meant for him. And to a certain extent, rightfully so – the man is a genius. Not celebrated often enough is the entire team that brings that full experience to the table and every other table that evening.
I had the opportunity to spend the better part of the day to document behind the scenes at Achatz and Nick Kokonas' (his business partner) restaurant, Next, in Chicago. It was a rare chance to see all the work put in to prepare the 23 courses they were serving as part of their seasonal tasting menu. In those hours, I can sum up the experience with one word: precision.
I wanted to capture the process that happens before the food reaches the table. For that, I split this project into two parts: A short film that tries to capture the flow, energy, pacing and precision that goes into preparing the menu and photographs that show the team that make is possible.
Arriving At Next For Daily Briefing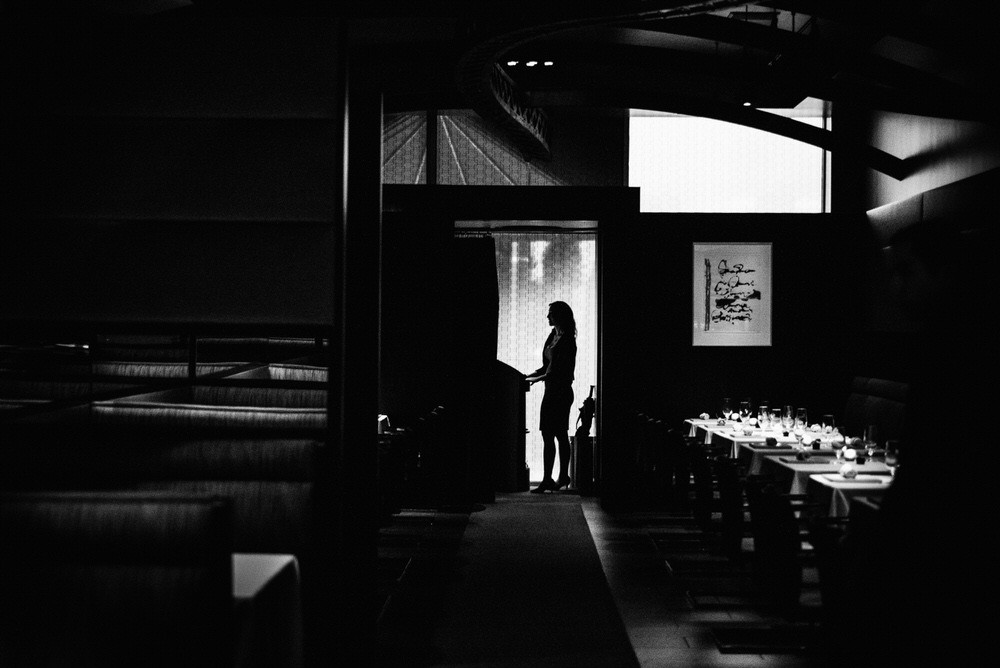 I arrived to the Next in the Fulton Meatpacking District at around 1 pm to meet with my friend Michael, who works on Next's ticketing platform. We quickly tour the offices, where I spot Grant and his team in a meeting, possibly to discuss some new dish or the type of dish, literally, that it's going to be served on (Sidenote: The Alinea Group of Alinea, Next and Aviary custom crafts their own dishware).
Down in the kitchen, I'm introduced to head chef Dave Beran, who makes the team aware of my presence with a brief and light-hearted warning: "If he gets in the way, kick him out." Off to a good start.
Pre-Prep At Next Restaurant
There's a couple handfuls of chefs at their stations prepping for the dinner service. Ingredients are being sliced and chopped, the sous vide is running, and pots are simmering.
Black Truffle Explosion
I'm focused on one person who is preparing one of their signature throwback dishes, a Black Truffle Explosion. A long sheet of ravioli dough is made from scratch and smoothly laid out on the metal table.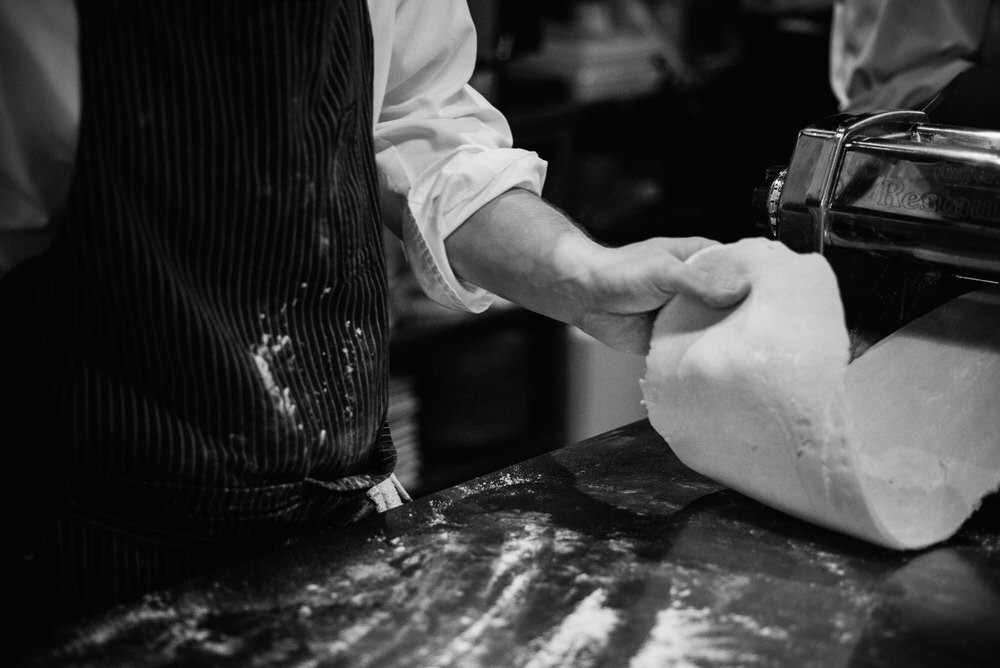 Next, small balls of truffle gelatin is patterned out in rowed formation onto the dough. A second sheet of dough is placed on top and an individual "raviolo" is pressed out one at a time. When it's cooked later, the gelatin will melt and the explode with the flavor of truffles in the mouth a la a Shanghai dumpling. That's just one dish.
I take a break when the team breaks for their staff meal. Meanwhile, the front of the house is getting the restaurant ready. Cloths are steamed, napkins rolled up, and menus are placed.
Dinner Service At Next
At around 4:30 pm, I returned to the kitchen, which is noticeably fuller and the space around the long kitchen island suddenly feels a lot tighter. Dinner service is now in session and I was readying myself to hear pots clanging, fires roaring and dishes being yelled out. I even expected to hear cursing and berating and possibly the tearful breakdowns of a rookie chef (too much reality television, I suppose). Instead, nothing at all like that.
The Calm In The Storm
Other than the occasional "behind" when one person moves behind another and some questions being asked and answered, the first hour was mostly quiet. Every component of the dish had already been paced out, and there was no need to rush anything.
Simply, there was a clear order to things and the chefs were executing it precisely. Each meal would take about 3 hours and diners were seated at intervals, so every order of a particular dish would only be finished right before they were sent out. This was logistical porn.
Moving from station to station, I filmed and photographed as the ingredients were coming together. I did my part in not getting in the way, but if anyone noticed me, I couldn't tell. Everyone was focused on their task at hand, but doing so with ease.
Ready For Table
At around 5:30 pm, the expediter, a person in charge of calling out the dishes that need to be served, began to coordinate between the chefs and the waiters. His station is lined with two rows of table "orders" that he crosses off as dishes are brought out to the customers.
One by one, these beautiful creations are carried away and this is where my documentation ends. It was never my intention to photograph or film the final dishes as they are served. That is an endeavor in itself that I think is best left to be enjoyed in person.