GORUCK Challenge AAR: 7 Things You Need For Your Ruck
GORUCK Challenge AAR: 7 Things You Need For Your Ruck
So you've finished watching a marathon session of Lone Survivor, American Sniper and Pitch Perfect and you've signed up for a GORUCK Challenge to see what it's like to do sit-ups in the water while a guy yells at you. Well done. Me too. I'll save you the suspense. It's awesome.
---
But it can absolutely suck. Whether it's a GORUCK Light, a Challenge, or a Heavy, preparation will go a long way. Think grit will get you through the night? It probably will, but having a bag of chocolate in a jacket pocket will make it that much better. So here's a recap of my Challenge in Santa Monica and 7 tips that will help you successfully complete a Challenge and earn that GORUCK Tough patch.
Tip #1: Pack Smart
How to prepare for a GORUCK Challenge begins with your ruck. Packing smart and planning ahead will go a long way. Your ruck will be with you the entire time and will contain everything you need. Here's my personal packing list and I'll tell you that it served me very well.
Starting with the pack. GORUCK recommends their GR1 and I've heard great things about the pack. At $285, it is an investment. A good one, but not necessarily cheap. I've done the Spartan 12 Hour Hurricane Heat with the Camelbak HAWG and loved that it distributed the weight pretty well and had plenty of different pockets for easy access to things. For this Challenge, I went with the 5.11 Rush 12.
It's a toss-up between the two bags. The HAWG has a bit more space and is taller and narrower. It also comes with a 3L hydration bladder. I wanted to try out the 5.11 Rush 12 bag because the extra width and all the internal pockets made it a more useful option for day to day use. I also went with my go to hydration bladder of choice, the Geigerrig Hydration Engine.
It's very durable and has a pump system that pressurizing the bladder so that the water shoots out when you bite down bypassing the need to suck on mouth piece to drink. This is especially useful when you are already out of breath or doing something where the mouth piece might be dirty. It also allows you to use it as water spray in case you need to quickly rinse something off or want to offer water to someone else. Here's how it looks when I took it from it's own pack and put it in with the ruck.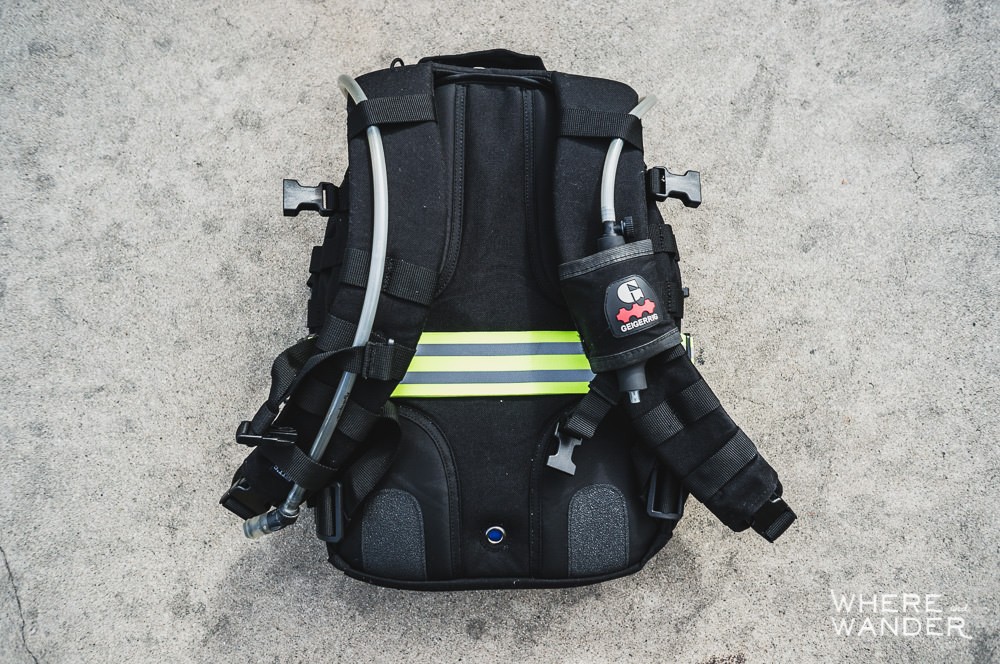 To keep my phone, car keys, and other valuables dry, I just grabbed a Pelican 1020 Dry Case. They say it's not meant to be submerged, but I did a test by submerging it in a container of water for an hour and it was bone dry. Your mileage may vary so don't quote me on that. The picture below also has my 4 bricks wrapped in duct tape. I made sure to get bricks that didn't have sharp corners. If you can't find them, try to break or grind off the corners. Your pack and other things in there will thank you. I did make the mistake of bringing a regular headlamp that just went short-circuited after a bit of exposure to water. A sacrifice to the god of the sea I guess. Next time, I'll be taking my Black Diamond Spot, which is a lot more water resistant.
I put everything that needed to stay dry like extra socks, my jacket and the dry case into a dry bag. Seems obvious enough. For the Challenge, I went with a 13L Sea to Summit eVac dry bag. Once again, it says don't submerge, but between the water resistance of the ruck and this thing, everything that needed to stay dry, stayed dry. I chose this bag because you're able to squeeze out the excess air after you've closed it, which allows you to compress the bag down to the smallest size for your ruck. Another tip is to put an extra shirt or something soft in there and keep this whole thing at the top of your pack. That way, when you need to get down low for bear crawls or 8 count bodybuilders and the pack rides up your back towards your head, you won't be hit with heavy bricks.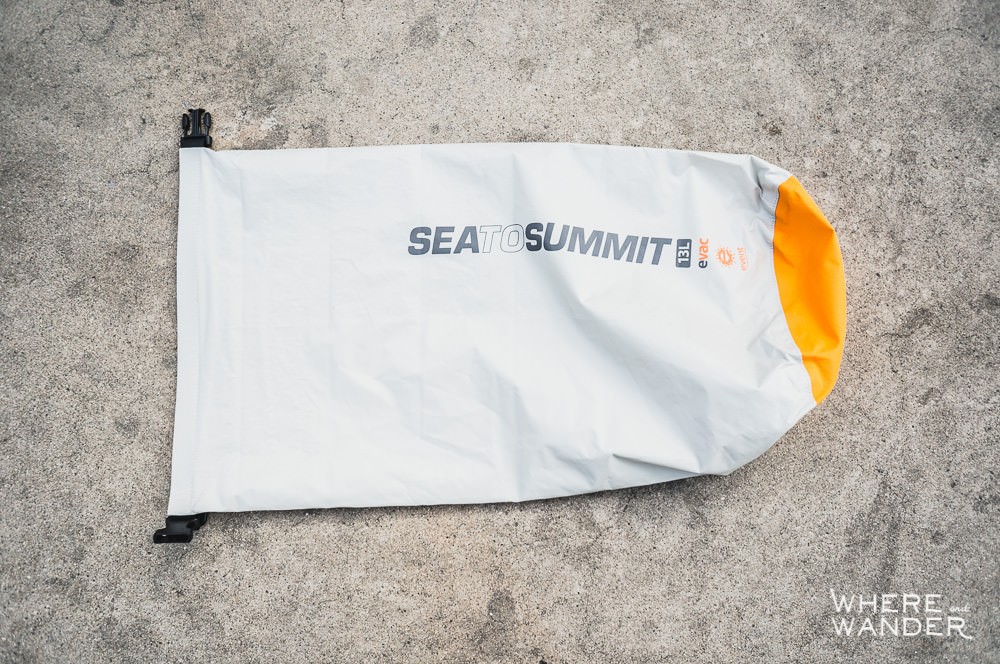 When it comes to food, pack stuff you want to eat and pack things that will give you a psychological boost. I had strudels, bars, gels and even a turkey bacon wrap. I kept a ziploc bag of tamarind candy and dark chocolate on me, which I was eating every 10-15 minutes, for fun and for energy. I also kick-started the night with a packet of Beet Elite mixed with some water. It's hard to say whether supplements work versus not taking them, but I'll just say that I was still dancing and hopping along with a ton of energy up until the last minute of the 12 hour affair and felt great throughout. I also brought along a packet of Nuun electrolyte tablets, but forgot to use them. We weren't sweating profusely so I don't think it would have made a huge difference, but I'll definitely be putting them in my water for a Heavy.
Last, but definitely not the least important is to get a good pair of gloves. Actually bring two. You'll want to stay warm and you definitely don't want your extremities to go cold. It'll also offer protection, whether from carrying a log to digging a trench in the sand. A second pair is nice in case the first one gets wet. I brought a pair of the Mechanix Original Vent and the Mechanix Original gloves. I also brought a couple of Hothands Hand Warmers to add a bit of extra warmth. It didn't end up being necessary, but it was still nice. At one point, I kept it in my beanie to keep my head warm.
For clothes and shoes, don't try anything new. Wear something you're used to and comfortable in. I started with my favorite pair of Inov-8 X-Talon 190, but decided to switch to a normal pair of Nike Flyknit after the wet portion. Personally, I like compression gear, so I sported a pair of compression tights and a couple of compression shirts on top. Nothing fancy, but it kept me warm even during and after I got wet. Now that you've got everything you need, it's go time.
Good Livin'
At 9 pm, 33 of us met with our clean rucks under a bright street lamp in the parking lot adjacent to the Santa Monica Pier. Up there, normal people were out on a Saturday night enjoying carnival games and funnel cake. Down here, we were looking at the ocean wondering how soon before we'd find ourselves in the water. The answer was very soon. Our next 12 hours of suck will come courtesy of Cadre Flash, but it would be Cadre John, aka Big Daddy, who would help kick off the welcoming party starting with a check to make sure that everyone had their required dry weight and cab fare (in case you quit). 4 bricks if you're under 150 pounds and 6 bricks if you're over. That comes out to about 25-35 pounds before your water, food, pack weight and anything else you decide to bring along. All in the name of Good Lovin'.
Our first task as a team was to bear crawl from one lifeguard tower to the next about 100 meters away and leapfrog back as a team. I welcomed this as it would warm us up before our date with the surf, which, sure as cows like to moo, came next.
Tip #2: Stay Warm
You'll get wet and no matter where you are, the water will be cold. Sometimes, it will just be cold in general. Keep moving, even when you get a break.
With our rucks on, we joined Big Daddy in a circle while he explained the importance of working together and supporting each other as a team. As the surf crept up, I gauged the temperature of the water from the sudden gasp coming from the participants closest to the water. It sounded cold. And then it was time to get in. We all knew what we signed up for.
The next 20 minutes consisted of drills forcing us to get down, get up, crawl, roll and submerge ourselves in the water (not as cold as I thought it would be). A taste of life as a marine or a SEAL. Eventually, we low crawled up to dry land and Flash informed us that we had to dig deep trenches to avoid the mortar attacks. So we dug.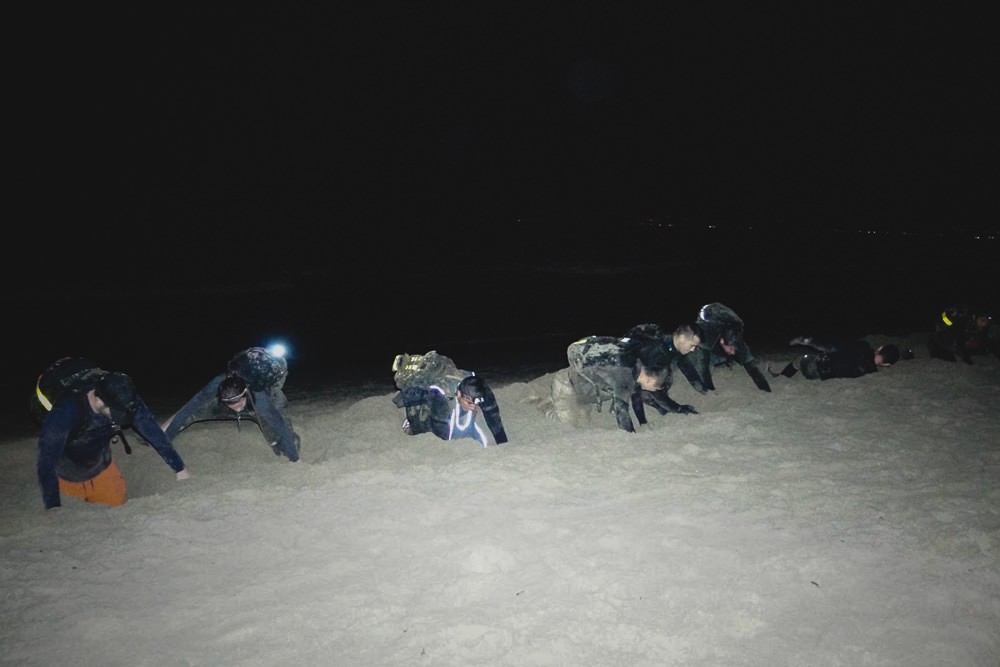 Not deep enough. So we dug some more. And then some more. Until we were as flush as we could be with the surface.
We suffered our first casualty when one girl informed Flash she was quitting. He gave us 10 minutes to convince her to stay, but despite offers of help, words of encouragement and even chocolate, the cold had gotten to her and it was over. The rest of us formed two perpendicular lines in the shape of an L. Each line would take turns sprinting to the other end and back while Flash timed us.
We each took about 10 seconds to complete the back and forth sprint. Our challenge was to have both lines complete their sprints in that same time. This was harder than it looked and took us 3 tries and quite a few collisions before we just clocked in at 00:10:01. Next, we had to run back and forth twice. This took us about 18 seconds separately, so we had to do it together in the same time.
Our first two tries came in well over, so Flash gave us a minute to figure out a strategy. We considered lining the faster people to one end and running diagonally before eventually giving up and just telling line 2 to start running as soon as it was clear in front of them. I thought to myself that we should have just run the single line benchmark slower, but I doubt we would have gotten away with that. It took us a few tries, but we eventually got it. And now 3 times. With another minute to plan, we decided to run in a circular path to avoid the collisions and the unnecessary waiting. Surprisingly, this worked pretty well, but we were only just a bit too slow. Not wanting to continue burning out our legs, we gave it everything we had and actually made the cut-off on the next go-around. Exhausted but relieved, we hydrated and waited for our next challenge. Surprising us once more, Flash gave us 20 minutes to rinse off and change into drier clothing. I took this opportunity to swap into a pair of dry socks and shoes, put on a jacket and ate my first toaster strudel.
Tip #3: Bring Real Food And Keep Eating
Sure, the more food you bring, the more space and weight it will take up, but it's well worth it. You don't have to eat it, but you will burn a lot of calorie throughout the night. While I don't suggest eating a cheeseburger during the ruck, high glycemic and fast carbs are great. All that processed food, high sugar food you shouldn't be eating? You can now eat them. For me, that meant pre-toasted strudels, a bag of candy and dark chocolates, energy bars, and that turkey bacon wrap. I'm sure your stash of energy gels is great, but 6 hours in and having a bite or two of real food can provide some amazing psychological motivation. Also remember to constantly hydrate when you can. You don't want to hit a wall from not having enough energy and you don't want to be dehydrated not knowing when you'll get a chance to drink or refill your water.
After the break, Flash brought out empty sandbags, ammo cans, a supply chest, a rope and a stretcher. We had to fill every sandbag and container up with sand. Imagine my excitement. After roping all the sand bag together to form the "Pain Train", two first timers were selected to be team leaders. I was one of them. Our job was to coordinate the team, but we couldn't carry any of the weights. Initially, this was a mix bag of feelings, part guilt for walking with just my ruck while everyone else was carrying their weight (literally), and part relief for saving some energy for what was ahead. Eventually, after we were relieved of our duties, it made sense that everyone has a job on the team. As team leaders, we had to make sure that everyone moved as a team. We had to swap out people carrying the weights to give them a break and made sure that no one fell behind.
As soon as the weights were lifted off the ground, we began what would be a long march along the Pacific Coast Highway in the direction of Malibu.
For better or worse, this slow and heavy march would be the bulk of the march, so here's the next tip.
Tip #4 Rely On The Person Next To You
There's a lot of weight to bear, the hike is long, and it doesn't get any easier until it's over. When you are tired, remember that you have a team around you to help shoulder that burden (once again, literally). When we were carrying the stretcher that was supporting the largest and heaviest container of sand, we could have easily assigned 4 random people to carry the thing.  Of course, the taller people would be taking on all the weight, the stretcher would be uneven and we wouldn't have gotten very far. Instead, we always tried to match up by height, which made things a lot easier.
Tip #5 Don't Suffer In Silence
To pass the times and the miles, talk to your fellow ruckers. It will keep your mind off the weight and you get to make a new friend. Flash played music with his portable speakers and I ended up dancing and singing along the way. Because why not? That said, there were times when I did appreciate the tranquility of walking along PCH in the dead of night. It was incredibly peaceful – except for the patch where we had a drunken homeless guy following along and barking out non-sense.
Along the hike, we stopped a couple of times for a bit of PT to break up the monotony. Push-ups, sit-ups and step-ups were on the menu the first time. The second time, we had to do 50 8-count bodybuilders, the first 15 with our packs on before Cadre Flash gave us a break. That was our punishment for not crossing the street fast enough.
Tip #6 Never Drop The Flag
I don't know what would have happened, but despite Flash's light-hearted and easy-going attitude, I had a feeling that he would have not been happy if we dropped the flag. In fact, in exact words were, "I would not be happy if you dropped the flag". I get it. It's the symbol of America and should be held high and proud.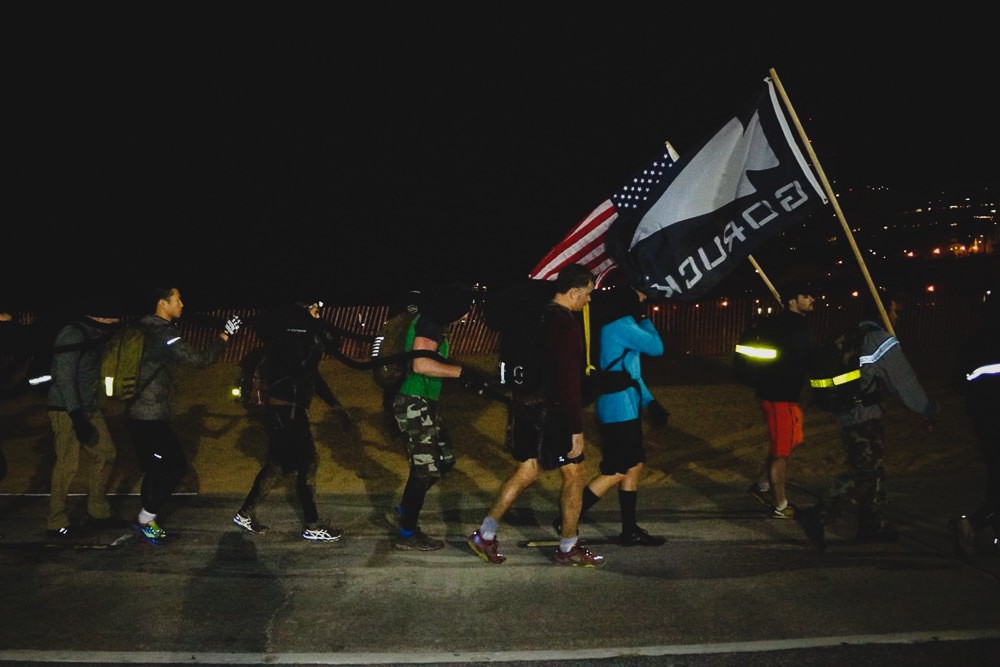 At the midway point, we had hiked what I would later find out to be about 7.5 miles into Santa Ynez Canyon Park and stopped in the middle of the trail. Here, we sat in a circle and Cadre Flash allowed us to ask him anything we wanted. I thought this was a very special part of the experience because I personally don't know very many people in the military, and to get this level of candor while speaking to someone who's served was refreshing. Just before sunrise, we began our hike back. We had 2 hours to return to our starting point, but this time we dumped out all the sand and only had to carry the empty bags and containers back. With the approach of dawn, spirits were high as we hiked on at a much faster pace than earlier. It looked to be smooth sailing until one person slipped and hurt his ankle. So onto the stretcher we put him (how convenient) and continued. With the ferris wheel of the pier in sight, the end was near.
Tip #7: Go For Broke
Flash offered us a chance to reduce our hydro burpees by 25 if we challenged some beach volley players to a match and won. There was a tournament going on, but we were able to convince two people to take on two members of our team. It was a tightly contested match, but we eeked out a 22-20 victory and earned that 25 burpee credit.
Marching the last couple of miles to our starting point, we drew quite a few odd looks from people passing by. Per Cadre Flash, our response each time was a loud and coordinated chant of U-S-A! U-S-A!
Why? Because America.
When we finally returned, Cadre Flash offered us another chance to reduce our hydro burpees count by another 25. I see a pattern here. All we had to do was to dance non-stop through an entire song of his choice. Of course, this ended up being Taylor Swift's "Shake It Off". Was that meant to turn us off? I'll just say that there's a video of it, but some things should be better left unsaid and possibly unseen. So with just 25 hydro burpees left of the original 75 to do, we ran into the water (which was very cool and refreshing) and I counted off each burpee one at a time whenever the waves receded.
Wet once more, we all lined up in a bear crawl position and the last person had to crawl through the entire line to the front to get his patch. I was the last one to receive my patch and with that, we all completed the Santa Monica GORUCK Challenge as part of Class 1335.
So would I do it again? Ask me after I complete the 24 hour GORUCK Heavy.
So that's all. Good luck and I hope you earn that patch soon. A special thanks to Viki Meykey Chan and Ian Shannon for the photos from the event, to Cadre Flash for leading the Challenge and to the Class 1335 for coming together to get through the Santa Monica Challenge.