Merrell Down & Dirty Philadelphia Review: Living Up To One's Name
Merrell Down & Dirty Philadelphia Review: Living Up To One's Name
Another week, another race in the books. This time, I woke up at 4:15 am and drove from New York to Philadelphia to run the Merrell Down & Dirty Obstacle Race Presented by Subaru. I'd like to say I'm starting to get used to the early wake-ups every weekend to get to these races, but I can't. I just don't like waking up that early.
---
The Merrell Down & Dirty Obstacle Race offered a 6-mile course and 3-mile course with 21 military style obstacles for the longer distance and 14 for the shorter one. I decided to run the 6-mile course competitively and then join my friend, Corey, for a lap through the 3-mile course.
Unfortunately for me, the race offered only a 7 and 7:30 am start time for the 6-mile course, which meant the early wake-up. That said, I didn't mind so much once I got there and was energized by the atmosphere. To mitigate some of the bottlenecking, they released smaller waves within the two heats every 5 minutes allowing roughly 50 or so racers to start at a time. The line moved surprisingly fast and before I knew it, I was up front. I lined up with the first 7:30 wave after a quick check-in and warm-up, and was pumped to try to get in a good time after a solid finish at the BattleFrog 15K in West Virginia last weekend.
Pass Me If You Can
At the sound of the buzzer, I sprinted ahead determined to avoid being passed if possible. Along with a handful of racers matching pace, I rounded the first corner that wrapped the course around Warminster Park.
First obstacle, the Mud Pit. Already, the race was living up to its name forcing us to literally get down and dirty. Part of what makes this different from running your average road race is that you have to get used to running in wet and muddy shoes, often times with bits of rocks having settled in them as you exit the water. Maybe I just enjoy the mud aspect of these races a little too much, but I really liked that this was placed right at the beginning.
Next up was 10 feet Ladder Wall requiring a climb over and then down on the other side. Nothing too difficult here, but you always have to be careful when there's mud involved.
Running back towards the festival grounds, I recognized 3 of the runners from the early pack within 10-20 seconds away. I wasted no time and eyed the most open path up the cargo net side of the Colossus Climb to pull myself up. On the other side was a slide down to remind us all that these obstacle course races don't have to be all pain and torture.
Making a sharp U-turn, I continued to push the pace towards the Sand Bag Haul. From afar, it looked like a roundabout of ants moving in an orderly form back and forth picking up and dropping their load at one end of the line. There were the heavier (40-50 lbs) bags for the guys and the slightly lighter (20-30 lbs) bags for the ladies. The course was pretty flat so we didn't have to attempt this uphill. It was shorter a haul than what I've been used to, but the sand bag carry is always a good obstacle to separate some of the racers.
The next three obstacles required us to get down and then over starting with the Low Crawl, forcing me to get low on my knees and move under a heavy cargo net, a low crawl through a Tunnel, and then the classic Hurdles that we had to jump over.
At roughly the two mile mark, I got to theRock Wall, a roughly 10 feet version of an indoor climbing wall with small jug holds you use to get over. Shortly after, everyone was required to drop and do 20 push-ups. No burpees here, just straight up push-ups. At this point, I've gained a bit of ground as I sprint to the Heavy Hoist, a familiar and dreaded obstacle, where you pull down on a rope to hoist a sand bag attached to the other end up to the top of the pulley. Luckily, the darker bags for the men were only about 60 pounds and the ropes were dry so I had no problems getting it up to the top and down. Just before the 3 mile mark, the course split between the two distances.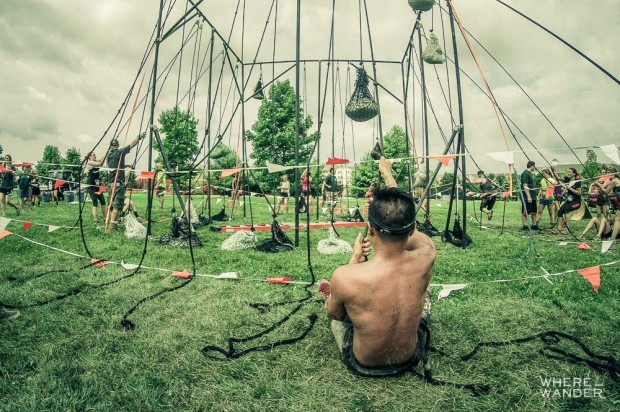 Up ahead, I arrived at a set of wooden Balance Beams, about 4 inches wide stretching about 25 feet. After the first 10 feet, the 2nd part was about 18 inches taller requiring you to carefully step up while trying to maintain your balance. The beams dropped again before you would finish all 3 sections. I didn't stop here long enough to see if there were any penalties enforced if you fell down. I continued on to the 3 sets of Marine Hurdles, each about 5 feet high and climbed over an A-frame Cargo Net.
My legs still felt fresh so I started to run a little faster high-kneeing my way through the stacked sets of Terrible Tires and over the Military Walls. Around the corner, I recognize the parking entrance and pushed on to the Monkey Cross, a series of loose ropes that you stretch out and step across while balancing yourself with another set of ropes overhead. This was a new one for me and I liked the obstacle since it required core and upper body strength as well as good balance to get across without falling off. Rounding out the gauntlet of obstacles leading up to the finish, I hurried over Jim's Jungle Gym, a pipe climb paired with a loose cargo net descent.
Then it was on to the Monster Climb, step-pyramid of cargo net. I wanted to speed up here, but also didn't want to just slip through the net and look like an idiot.
The sprint to the finish was only slowed down by the Slippery Mountain, a refreshing Water Crossing and a really low crawl through the a muddier Mud Pit than the one that kick-started the course. The Slippery Mountain was a variation on the sloping slippery walls I was used to seeing. Although built to look the same, the surface is covered by a wet tarp and you're supposed to pull yourself up without using your legs. Another great one for those with upper body strength.
I rolled out of the mud pit and sprinted to the finish and came in with a time of 53:14, good enough for a 2nd place podium in my age group and 16th overall. I still have some work to do, but it was an encouraging result considering I, just yesterday, walked the 5 miles from Queens to Manhattan with a giant military backpack full of groceries, a guinea fowl and 3 freshly butchered pigeons.
Finishers get a pretty cool looking dog-tag medal and age group 1-2-3 podiums get a separate medal in either gold, silver or bronze. The I thought this was a really nice touch and bonus points for the Down & Dirty race. Top finishers in each of the division also take home a $110 Merrell gift certificate. While there were no free beers after the race, which I find myself half-heartedly drinking only half the time, we got water and a bag of snacks. Trail mix. Mmm.
With my muddy shoes back on and my GoPro in hand, I joined the line-up once more. The course was much the same, with just a few of the obstacles missing as expected. This time, I did get a few selfies along the way and slowed down enough to enjoy some of the obstacles a second time through. Somehow, the mud pit at the end must have gotten even muddier and I finished completely caked in a fine mud that took me nearly 10 minutes to complete wash away.
With my wet shoes back on and my GoPro in hand, I join the line-up once more. The course was much the same, with just a few of the obstacles missing as expected. This time, I did get a few selfies along the way and slowed down enough to enjoy some of the obstacles a second time through. Somehow, the mud pit at the end must have gotten even muddier and I finished completely caked in a fine mud that took me nearly 10 minutes to complete wash away once again giving participants exactly what the name of the race claimed.
You really can't get muddier than this. And you live up to your name Down and Dirty.
So Long And Thanks For All The Mud
Obstacles. A nice balance of balance and strength-based obstacles. The overall set of obstacles weren't as challenging when compared something like a Spartan Race or a BattleFrog, but there were a few nice surprises in there and certainly enough to get any OCR newbies interested in returning for me. I personally liked the Monkey Cross and the Slipper Wall as far as challenges went, and enjoyed the slide down the Colossus Climb. I also liked that you end up quite muddy, which lives up to its billing for those who those who signed up for a muddy race. I personally would like a bit of elevation gain and loss through the race, so while my legs thanked me for the flat, grassy terrain, I was mildly disappointed it wasn't a bit tougher. B
Aid Stations. 5 on-course water stations and one at the finish line for a 6 miler course. More than I needed, but you can't ever complain when there's the option to hydrate. There were also two medical stations at roughly the 3 mile and 5 mile mark. I don't think any caloric aid was really necessary for this flat shorter course, so no points docked here for not having any gels or energy at one of the aid stations. A
Volunteers. There were at least a few volunteers at every obstacles and a few more just scattered randomly throughout the course to help with keeping me on track. Everyone was enthusiastic. A
Registration. I hardly spent more than a few minutes to get sorted out since they split up the check-in area into about 15 separate stations to keep the line short. A
Parking. The parking was pretty much right next to the festival grounds so that was nice for those who didn't want to do the gear check (which was free). Also nice anytime a shuttle isn't involved. A
Awards. There wasn't an elite heat or category here and awards were recognized at the age group division level. While this might be disappointing for elite racers looking to bring home a paycheck, it allowed more racers to take home a smaller piece of the prize each ($110 Merrell gift certificate). I personally don't think this strategy will draw in the big name racers in the OCR industry, but I'm not convinced that this race was intended for them anyway. B+
Photography. The event was covered by GameFace. I noticed at least a couple of photographers at 4 obstacles and the finish line. Considering the flow through the obstacles, I think the multiple photographers certainly allowed them to get as many of the racers as possible. These photos were also posted online after 4 days and were free. A
Path Markings. Very clear. There were two sets of arrows every 20-30 feet it seemed. One for the kids course and one for the normal course. Although the terrain wasn't terribly complicated, I don't think it would have been possible to get lost. A+

Swag. I love it when I get swag that I'll actually use again. Participants were given a Merrell well-fitted black tech tee and a Merrell multi-use headband. They also included a mini tube of shampoo from one of their sponsors, Paul Mitchell. Nice touch. A+
Charity. The Merrell Down & Dirty Race Presented By Subaru partners with Operation Gratitude and donates a portion of their proceeds to the organization and helps to raise money towards the cause. A
Festival Grounds. Aside from your standard food  and merchandise tents, the race did a great job with sponsor promotional tie-in offerings.  I haven't been to any races where I can get my hair cut or styled before or after the race. But for $15 donated to a charity, you could. Subaru had a nice tent for Subaru owners that provided massages and snacks and also set up a photo "booth" where you can get a magazine cover photo of yourself mud and all after the race. There were a couple of physical challenges done up by Merrell and Subaru that allowed you to take home some neat prizes. There was also a rock climbing wall, but it would have been nice if they didn't charge $5 to climb it. Despite that. A
Overall, I was pleasantly surprised by how well the event was run and put together by MESP. I think this is definitely a great first race for someone who's never done an obstacle course race. There were 2 distances to allow people to opt for a shorter race if they don't want to run 6 miles the first time out. There's also a shorter kids race, which makes it a nice family event. The sadistic side of me prefers a bit more of a challenge, but that's not saying it wasn't challenging for the gamut of participants. My friend enjoyed it enough (his first race) that he wants to run another race. That's definitely a thumbs up endorsement.
If you are interested in running a Merrell Down & Dirty Obstacle Race, check out their events page for upcoming 2014 races.
Special thanks to my buddy, Corey Kanon, for coming out to take these photographs of me without a shirt on.