Spartan Race SoCal Beast 2014 Review: Race Through Hell
Spartan Race SoCal Beast 2014 Review: Race Through Hell
On Saturday, Spartan Race returned to Vail Lake, California to bring the 12+ mile Beast down to Southern California for the first time. The Beast itself was always going to be a challenge, but all week long leading up to the race, it seemed like everyone was talking about the 100+ degree heat that was expected for the day. By Friday, the forecast was showing 104. Ironically enough, I'd been complaining a bit about almost always racing in cold weather. Be careful what you wish for.
---
Preparing For The Heat
I took this heat warning seriously and modified my preparations accordingly. Most importantly, I decided to run with a hydration pack and to cover up more than usual. Coincidentally, I had just received my Geigerrig Tactical Rigger hydration pack and I couldn't have planned out a better way to put it to the test. I filled it up with a 70 oz 1:1 mixture of Gatorade and water and hoped for the best. As much as Gatorade claims to replace your electrolytes, it's just not enough on its own, so I packed a few SaltStick capsules in a 35mm film canister. I was hoping for a finish between 2:30 and 3:00, so I brought along 4 packets of PowerBar Power Gel for energy refueling. I personally like the Double Latte flavor and the PowerBar gels in general because in addition to the 28 g of carbs, it has 50mg of caffeine and 200mg of sodium. As as an emergency precaution, I threw in an energy bar just in case I sprained my ankle or something and needed to stay on the course a lot longer than expected and wanted something solid. Since my brother was doing his first beast and expected to take an extra hour or two longer on the course, I loaded his pack with a couple more gels and an extra energy bar. As one final consideration of the heat, I decided to not bring along an extra photographer to shoot while I was racing. It's one thing if I going to subject myself to an activity that many would consider just stupid, but asking someone to run around and wait for hours in that heat was just not a nice thing to do.
At 6:30 am, the car thermometer was reading 72 degrees as the sun was rising and I wished in vain that it would stay that way. We encountered our first obstacle as the trail of cars heading into the parking lot kicked up a wall of dust that reduced visibility to about 5 feet in front. General parking was about half a mile from the festival grounds itself, but for $40, there were a limited number of VIP/Disabled spaces that was just outside the race site. If ever there was a day where one could justify the extra expense, I would argue that this was it.
3 Mile Warm-Up
After a breeze through packet pick-up, I headed onto the course to shoot some of the leaders in the Elite heat. At the mile 6 mark, Spartan Pro Team member Chad Trammell descended from the hills in the lead heading for the Inverted Wall. Following close behind was Zack Torres and Chris Faulkner through the first Barbed Wire crawl and onto the Gamble.
Here, Elites were required to take option 2 and do the log hop instead of the monkey bars. Judging by the number of racers falling off, it was pretty clear why this was the harder option.
As the first wave of Elites headed back up the hills, I headed to the Hercules Hoist at mile 11 to catch the last mile and 8 obstacles before the finish. I took advantage of getting there ahead of the racers to practice my spear throw. 5 for 7. Chad was once again the first to emerge from the water crossing and kept a comfortable lead through the hoist, the 8 foot wall and spear throw.
I ran the 3-obstacle loop a few times to shoot the leaders. At this point, Chris was in second with a small lead of Shane Portfolio and Ivan Santana who were seconds apart. I caught a ride back part of the way, and in hindsight, saving myself precious energy and caught up with Ian Deyerle, in 5th, as he finished the final set of obstacles: a water crossing, barbed wire crawl, gauntlet, rope climb and fire jump.
In the end Chad finished in 1st (1:50:13) followed by Chris (2:00:13) and Ivan (2:01:05) who just broke away from Shane over the last few obstacles. On the women's side, Jolene Wilkinson took 1st (2:32:52) followed by Faye Morgan (2:33:56) and Ashley Seeger (2:35:33). With that, I had a benchmark and a 3-mile warm up.
Hydrate. Hydrate. Hydrate
By 10, the temperature had already hit 100 and there was a noticeable difference in the air. In technical terms, it was balls hot. I went to the shower area and wet my entire body before jumping over the 6 foot wall to the starting line. When I looked at the Spartan to my right and the Spartan to my left, I also looked to all the Spartans behind me and noticed that there were quite a few people without hydration packs and a few running shirtless. I admittedly wondered for a second whether I was a little too cautious with my preparation. That question was put to rest right away as we said our AROOS and starting ascending the first hill almost immediately. Half a mile in and still climbing, I lost any motivation to run and convinced myself that I wasn't going to be running for time today. HALF A MILE in. By the mile 2 marker, we had already climbed about 600 ft in elevation and descended just as much, but it felt a like a lot more than that. I don't usually mind running on a warm day, but I went right into risk-aversion mode and selected the fight another day option. I was already thirsty before the first water station and couldn't have been happier to have my Geigerrig hydration pack. The best part of the pack was that you could pressurize the bladder and send a stream of liquid shooting out of the tube when you bite down on the mouthpiece. No sucking required and a lot easier to drink on the run.
The first water station appeared earlier than expected based on the map. It would be one of 10 water stations, which is more than you would normally see on a Beast course. I think Spartan Race did the right thing to add more water stations in response to the heat. A couple of stations had Gatorade, Zico coconut water and table salt packets, but the best was the station that had ice. After downing a cup of iced water, it was amazing how quickly I perked up. Unfortunately, I didn't get to this station until 7 or 8 miles in. Side Note: For those heading back next week for the Hurricane Heatwave, I'm considering adding crushed ice to my bladder and encasing with some dry ice. Thoughts? 
Why Is It So Hot?
The first real challenging obstacles were the Atlas Carry followed by the Tire Flip. Was it me or did the concrete ball feel heavier? Physically, I'm sure it was same, but no one bothered to tell my body that. Flipping the tire kicked up quite a bit of the same fine dust that I would be breathing for nearly 8 miles of the course. In between, the terrain itself coupled with the heat was obstacle enough. Up the ridge, it was a bottleneck trail of runners slowly trudging their way up. I was in no hurry to pass. Where the trail spread out, packs of runners were sitting down and rest or waiting for their friends to catch up. I mustered up enough motivation to run the flat and downhill sections and stopped only at the water station where there was a long queue of people waiting to hydrate or cool off. Even with the hydration pack, I made sure to stop to grab a cup to drink and one to pour over myself. I know California is in a drought, so I did feel a bit of guilt over this…but only a little.
At around mile 5, after another long brutal climb, there was an obstacle I hadn't encountered. On the map, it's listed as Dirty Name, but that might just be code for the curse word you use when attempting the obstacle. This was a simple looking, but surprisingly tricky obstacle and I saw many people struggling to hop from the lower log onto the higher log. After getting onto the first log, I threw my body in a jump cum bear hug position to grab onto the higher log. From here, we headed back down towards the festival grounds to the best surprise of the race. At the Inverted Wall, they added a water pit to make it more challenging, but any form of water was welcomed at this point. Similarly, the cold spray down during the Barbed Wire Crawl was also welcomed. But that's not the surprise. En route to the Monkey Bars, the sprinklers were on allowing us a temporary respite from the heat, a cool-off and a rinse. I could have stayed there longer. I should have stayed there longer.
At the Monkey Bars, there was a gamble option. As I learned from the Elite heat, option 2 led to the log hop. I've never failed either obstacle, but went with option 1 feeling like it would be easier and more suited to my strength. Between the thickness and varying heights of the bars along with a wet grip, this was the most challenging version of the bars yet. Moving away from the spectators, we headed back up the hill first crossing the wooden up, across, and down Lattice Bridge. Obstacle #15 was the Tire Drag. Kudos once again to Spartan for the placement of this strength zapping obstacle right before the universally dreaded Bucket Brigade. When filled to the top with gravel, the handleless 5 gallon bucket weights around 60-70 pounds and is a killer on your lower back no matter how you seem to carry it. Add in the crushing heat and Spartan has inadvertently figured out how to make it harder. I managed to make the entire circuit setting the bucket down only 3 times. This is a huge improvement for me. I must have passed at least 50 people just sitting on the ground next to or on top of their bucket looking more spectator than runner. No one looked like they were in any immediate need of help, so I powered on. Approaching the 7 foot wall, I'd noticed quite a few people cramping and I was glad my hydration strategy and salt capsules were keeping me cramp-free. While you can sort of awkwardly run with cramps, it is nearly impossible to try to do any kind of dynamic movement, like getting over a tall wall.
Up Again?
With the heat and the rocky terrain, I'd been focusing my attention on the ground immediately in front of me and just taking it one step at a time. When I looked up and saw another long and massive ascent, I let out an exasperated "sh*t…." that was collectively empathized by everyone within earshot. "It's all downhill from here" could not come sooner.  It might have been the 3rd gel packet, but I picked up a bit of a 2nd wind here and picked up my pace uphill and running hard downhill. I methodically get across the Traverse Wall, hit the last hill, and steadily power-walked the Sandbag Carry. I've finished my 2 liters of Gatorade/Water, but recognized the Hercules Hoist and see the mile 11 marker along with the glorious water crossing.
My upper back and grip training must have paid off because I haul the 100 pound sandbag up to the top faster than in previous races and quickly get over the 8 Foot Wall without must trouble (or cramps). At the Spear Throw, I take off my pack, balance the spear, heaved it straight towards the center of the hail bale and watched in disbelief as it somehow hit the target and just bounced off. I waste no time with the finish line so close and pay the piper…my 30 burpees. The last mile is a flaw run along the lake to the the 2nd water crossing. I stand corrected in saying that every water obstacle was welcomed in a race like today. As I approached, I see a thick black field of mud with some deep foot prints and a wave of runners on their hands and knees in the water. I step through the black sludge and immediately understand why no one is standing up. The crossing was over some kind of quick sand and putting any kind of weight on it would sink your leg right into the sand. A few people had their shoes in their hands to support that theory. So I get on my knees and bear crawl all the way across until it safe to stand up again. With just a quarter of a mile to go, I take off my hydration pack and roll up the 2nd Barbed Wire Crawl, through the unnecessary Gauntlet, under and up the Dunk/Slipper Wall combo, up the Rope Climb, and over the Fire Jump. I was thrilled to cross the finish line with a time of 2:53:52, but with the temperature over 100, I was now worried about my brother's progress.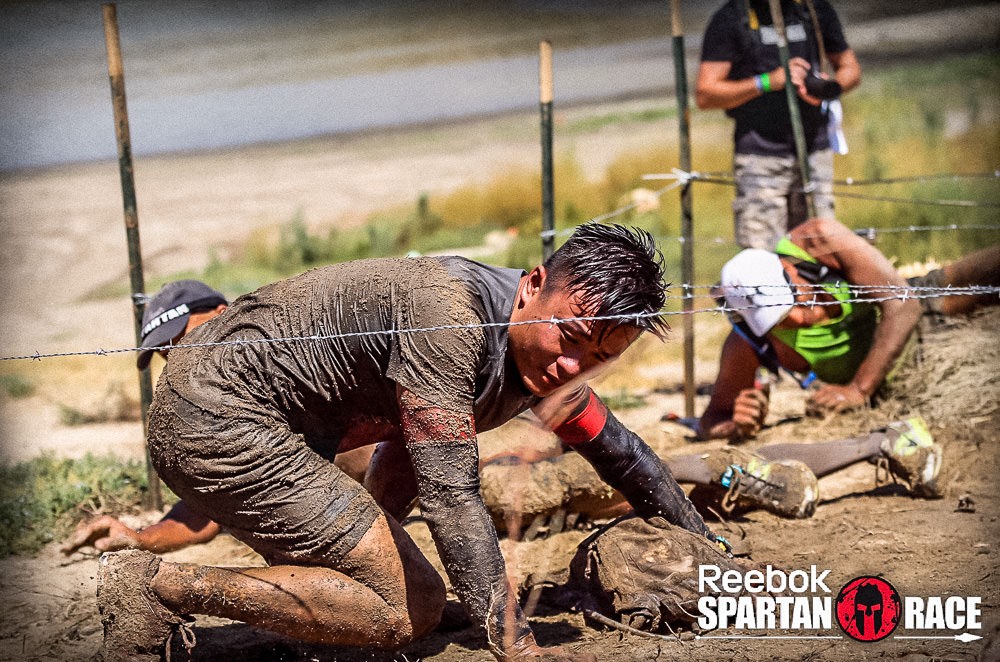 I showered, put on a fresh coat of sunscreen and headed to the Barbed Wire Crawl to wait for him. This proved to be a near impossible task not knowing how far along he was and trying to pick him out of the log jam of bodies inching up the hill. I ended up going back and forth between the results booth, the medical tent and the crawl to see if he finished, was taken off the course or was still making his way through it. Each time I returned, I would see the crawl get more crowded than it was before.
I then notice that people were coming into the crawl from a different section of the course and then overhearing that part of the course was cut off. After 5 hours, 43 minutes and 59 seconds, my 16 year old brother crossed the finish line and completed his first Trifecta, a goal he set for himself a year after struggling through but completing the Malibu Sprint. I couldn't have been happier. For his accomplishment and the fact that we could now leave and get some food and some air conditioning.
Making The Hard Decisions
In the 24 hours following the race, I have to give Spartan Race nearly perfect marks for the entire event and for handling the confusion arising from some tough decisions they had to make on their part. Because of the extreme heat and a high number of people requiring medical attention along different stretches of the course, Spartan Race decided to start cutting off portions of the course after a certain time. While the Elites and some of the earlier heats were able to complete the full 12 mile course, most of the runners completed a truncated course, myself included. In the end, racers completed a course that ranged between 6 and 12 miles. A staggering difference and one that had people questioning if they deserved the Beast medal for completing such a race that may have been shorter than even a Spartan Super. Many took to Facebook to debate what happened and there are those who felt like they should have been given the chance to finish regardless of the potential danger and others who commend Spartan's decision to look mitigate the danger of so many trying to complete the full course in such extreme condition (while possibly not properly prepared). I ended up finishing the 11 mile course, with an obstacle-less mile cut out that wouldn't have made much of a difference as far as how much I enjoyed or hated the course. I can understand the frustration of those who was only allowed to run a 6 mile course, but after seeing so many struggling without a hydration pack or sitting around in the blazing sun, I feel like it's better to be safe and fight another day. Spartan Race probably feels the same way. As long as that day wasn't tomorrow.
In a statement issued a few hours after the race, Spartan Race officially canceled the Sprint event that was supposed to take place the next day with temperatures expected to reach 109 in Temecula. They said that they were exploring multiple options to postpone the event and figure out a solution. I personally don't blame them but this brought on another slew of online posts debating whether it was the right call. Wasn't it the company's own motto to "Spartan the F*ck Up"? Was Spartan Race and it's insurance partners just trying to protect themselves litigiously and financially? What about everyone who took time off, made travel plans and prepared for these races?
In another statement and email sent out to participants the next day, Spartan Race announced that everyone who was affected by the shortened course and the cancellation would be registered (for free) for another Beast or Sprint on January 17 and 18, respectively. I'm sure this isn't the best solution for everyone, but it is a pretty quick and responsive gesture on the part of the company considering they reserve the right to change the timing/date/venue/obstacles/etc without any advanced noticed and we all agreed to this on one waiver or another. In the same statement, they also announced a special "Hurricane Heatwave" run on September 20 at the same venue for those affected by the race this weekend. While not the same as running the race itself, the Hurricane Heat is typically a unique team based walk through of parts or all of the course led by a founder or a member of the Spartan team. The "Hurricane Heatwave" is free to registered for anyone affected by the Beast modification and Sprint cancellation, with 3 waves starting at 6, 7 and 8 am and going through at least 10 obstacles together across the same terrain at Vail Lake. As much as I hated the heat and forecasts showing that it will still be around 100 degree next Saturday, both my brother and I have signed up. I give Spartan an A for this effort.
Considering the extreme heat, I give the volunteers and the aid station an A+. Getting through the course would have been so much harder if not impossible if it weren't for the hard working volunteers manning all the obstacles and especially the water stations. Once again, Spartan Race, could have just pointed to their Athlete's Guides that tells racers to bring their own water source, and stuck with the intended 4-6 water stations that we usually see at the Beast events. Instead, they increased the number of stations, and made sure that there was enough water, gatorade, and other sources of hydration through the course.
While most of the obstacles were not new, the placement was the obstacles as well as mapping out the extremely vertical trail ensured that the course was as challenge as it could be. A
We've all paid the $15 mandatory insurance fee with every race and have probably wondered where it all goes. I think any one of the hundreds who received medic help along the course will appreciate that there was adequate help on hand to handle the situation. When I went into the medical tent to see if my brother might have needed their help on the course, I saw stacks of medical slips, which just shows how many people required medical attention. A
The organization and festival area was still pretty lively considering how hot it was. Vendors were on hand to sell cold drinks and food and a few offered free samples. I like the bottle of Core Power protein shake that's given at the finish line as well as the Clif's Builders Bar. A
It was reported that there was over 500 DNFs, the highest of any Spartan Race to date and a number that would probably have been even higher if the course wasn't cut short. Anyone who finished should feel proud regardless of the distance attempted. The heat itself could have broken anyone and the fact that you showed up to the finish line knowing how hot it was going to be was took a bit of courage or a lot of stupidity.
In a tough situation, Spartan Race continues to demonstrate why it is one of the best in the world of OCR. If you are looking to run in your first Spartan Race, check out their Find A Race page and look for a location coming up.