The $32.50 BeetElite Test: Does It Work?
The $32.50 BeetElite Test: Does It Work?
Last Updated on September 19, 2020
---
I am a big fan of testing out new gear and products, mainly because I want to see for myself if it works for me in the situations I find myself in. There's two inherent problems with most reviews. The first is that most people tend to do the reviews after spending just a few hours or days with a product. The second, deriving from the first, is that there are so many variables that can affect these "tests" and "reviews" that one person's "comprehensive" experience may not apply to another.
When it comes down to it, what we really want to know is does the product work for you, and in which situations? That's exactly what I wanted to know when I started seeing practically every elite OCR athlete toeing the line with the BeetElite logo tatted on their body.
I had to see for myself, so here I present to you the $32.50 BeetElite test.
What Is The $32.50 BeetElite Test?
Let's start with what BeetElite is first. According to Neogenis Labs, the manufacturer of the product, BeetElite is a powder that contains the Nitric Oxide content of 6 beets. In layman's terms, that's the active ingredient in beets that has been proven to help with blood vessel dilation and thus better oxygen and blood delivery to the cell leading to enhanced athletic performance. You hear athletes saying things like "BeetElite. Try it once and you'll never compete the same" and "BeetElite. You can't beat the beet!"
On Facebook, I see guys winning races and thanking BeetElite with a lot of different hashtags. That's great, but chances are they would have still won the race or come pretty damn close if they had spam and peanut butter as pre-race nutrition. But I was intrigued and didn't want to dismiss the claim just because these guys are sponsored to say these things. I wanted to see if it did work and could help me.  So the $32.50 BeetElite Test. I'm calling it such because that's how much it cost for a 10-packet box of BeetElite plus tax (update: it's currently on sale right now for $24.70 on Amazon).
I make no pretense to claim that I was scientific about my approach to this test, but I simply wanted to use the BeetElite 10 times in 10 different scenarios and see how I felt and how I performed measured against expectation. Can you already point out all the flaws in this approach? If you can, shut up and go away. Or keep reading.
I wanted to try the BeetElite during a short race, during a slow race, during an ultra long race, when I'm training, and even when I don't feel like training. You get the point. But first a few other disclaimers and details. I am a fairly athletic person. I eat pretty healthy when I'm eating healthy, but I do enjoy lobster drenched in butter when it's put in front of me. I train about 5-6 days a week when I'm training and sometimes I do nothing at all for a month at a time when I'm traveling.
I generally finish somewhere between 15-50th place in races depending on the race and distance. In other words, I consider myself a fairly athletic person, but probably someone who has plenty of upside to improve.
The 10 Times I Used BeetElite and How It Turned Out.
1. 12 Hour GORUCK Challenge, Santa Monica. This was a 12 hour overnight event that involved a lot of hiking with a pack full of bricks and carrying a lot of different things as a team. Long, slow, steady and heavy. I took another pack half way through and felt the pick me up shortly after during one of the many random PT session.
Result: I was full of energy right through the end, even dancing the last few miles as the sun came up over the beach. I could have attributed the energy to the adrenaline from starting the night doing PT right in the cold surf and then from my constant supply of candy and real food that I ate through the night. Regardless, I finished the 12 hour ruck feeling strong.
2. Atlas Race: Ranger, Temecula. This was a 4.5 mile obstacle course race with about 11 obstacles and a lot of steep hills. Once again, I took this about 30 minutes before toeing the line.
Result: I came in 35th, but felt really good throughout. I power hiked some of the steep hills, but didn't find myself out of breath like I did just a month or so before where I turned in one of my worst performances at the Spartan Super in the same location. I hadn't done much training in between, so I was pleasantly surprised by the result. It felt similar to taking a pre-workout before lifting. You get that pseudo-adrenaline boost, but not in such a wired way.
3. 7 Mile Trail Run, San Francisco. This was a test to see if it could energize me on a day where did not feel like running at all.
Result: Hard to say. I still felt really sluggish for the first 3 miles, but picked up a bit of energy during the latter half. This could have easily been attributed to getting warmed up. The definitive thing is that BeetElite had no effect on motivation.
4. Spartan Cruise Sprint, Bahamas. I stayed up the night before the race until 2 am and gambled on the cruise. I woke up late, grabbed a quick breakfast and rushed to catch the last tender to the island before the 10 am Elite start and toe the lined without any stretching or warm-up. I took the BeetElite 60 minutes before the 3.5 mile flat race.
Result: I ran a fast and clean race. It probably helped that it was flat since I hadn't been doing much by way of hill training. I came in 31st overall, which surpassed my expectation considered how stacked the field was. This was one of my best performances and I felt great during the race and finished feeling like I could have pushed even harder since I wasn't out of breath at all.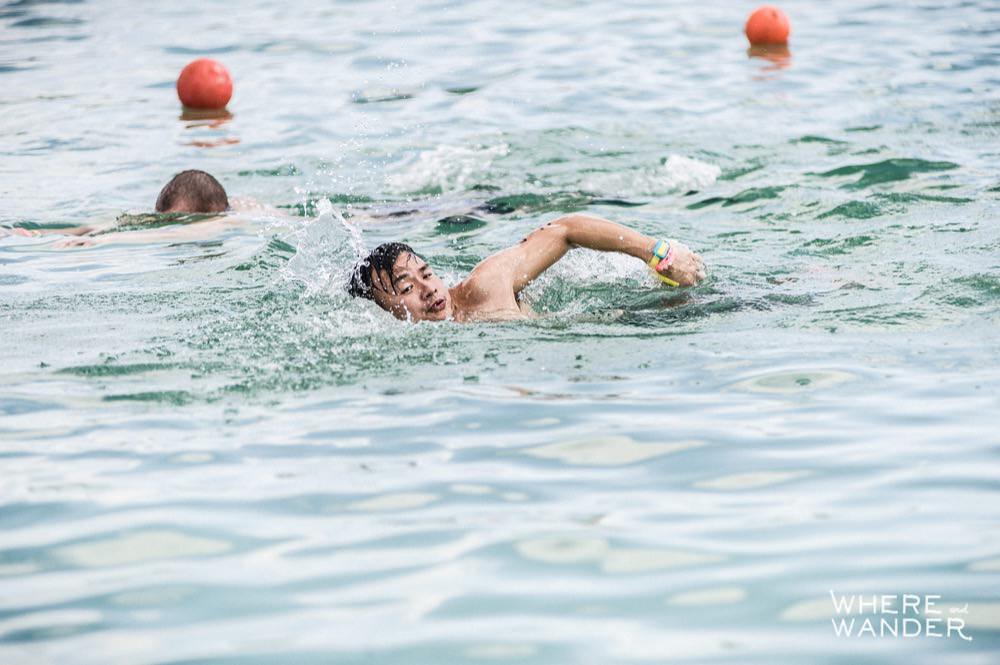 5. Sprint Training with Rose-Wetzel Sinnett. I came out for a track workout with Rose while in Seattle. 10 x 200m sprints with 30 seconds of resistance exercise in between.
Result: This is the type of workout I should be doing, but never do, so definitely something new. She kicked my butt,  I thought I did pretty well to keep up during most of the workout only dropping a bit during the last couple of sprints when Rose put it into a new gear. Performance could have been attributed to not wanting to look bad in front of Rose.
6. HIIT Weight Training. Circuit with heavy weights activating all muscle groups. I took the BeetElite 40 minutes before.
Result: The first round felt sluggish having not really done this type of training for about a month. Last 3 rounds with heavier weights actually felt better. I felt like I had more oxygen and could push through longer and faster.
7 and 8. Ragnar Relay, San Diego. 187 mile relay race. My legs consisted of 9.2 miles, 5.3 miles and 8.8 miles. I took the BeetElite during the first two legs. I ran in a new pair of Hoka One One Cliftons that seemed to make me go faster in the couple of runs before the race.
Results: I ran the first 9.2 miles at a pace of 7:22 which is pretty fast for me at that distance and with about 900 feet in elevation gain. This was probably about 30-40 seconds faster per mile than usual and I felt fresh the entire time.
I even pushed the last half mile to beat the 10 runners I saw ahead of me and ran that at a 6:02 pace. During the second leg, I ran a 7:02 pace for 5.3 miles on a partially digested stomach full of El Pollo. This was also a lot faster than I normally run. Coupled with the new shoes that probably didn't fit as well as it should and that explains why I lost 2 toenails after the race. During my 3rd leg without the BeetElite and going on about 30 hours without much sleep and 2 completed legs, I ran a 8:30 pace for 8.8 miles with over 1000 feet in elevation gain. I felt sluggish during this leg, but that was could be explained by all of the above.
9. 30 hour SISU Iron, Monrovia. This was a sustained "race" with a variety of challenges that involved long hikes with a pack, extreme PT courtesy of Coach Pain DeWayne, and things like eating a whole serrano pepper after a handful of seasoned crickets and meal worms. I took the BeetElite about 2 hours into the race.
Result: Official finisher. This was sometime after getting out of the lake and before the PT session. There wasn't any running involved here, but I felt pretty fresh through the PT session, the hike and the heavy carries. I doubt any benefits from the BeetElite would have lasted 25 hours, but I felt especially good at the 27 hour mark before our final hike through the creek to fill our buckets up at the waterfall before hiking back to camp.
10. Rugged Maniac, Pleasanton. Dead legs walking. Because of all my travels, I had almost no training between the Ragnar, SISU Iron and the Rugged Maniac race during a span of 6 weeks. 3 days before the race, I put in a heavy legs workout which completely immobilized me right up until the morning of the race despite a lot of foam rolling. Despite this being a not so difficult race compared to races like the Spartan Race and Battlefrog, I was very nervous toeing the line. I took the BeetElite 20 minutes before the race.
Result: I'm not sure whether it was the adrenaline or the BeetElitee helping, but I managed to still finish in 17th and ran a better race than I could have expected. At times, I wanted to walk, but cardio wise, I felt good enough to keep running at a 8:30 minute pace throughout.
So Does BeetElite Actually Work?
#BeetElite #BeetsWork #OnceYouGoBeetYouCantGoBack. While there were other factors that could have had a positive effect on my performance in each of these "tests," I certainly felt like the BeetElite played a part in my enhanced performance, however large or small. It's enough for me to justify the $2.47 per packet before a race.  Give it a try yourself, there are discount codes flying around, but I find the price on Amazon to be pretty competitive as its always being discounted versus buying direct.