27 Essential Things To Pack For Traveling In 2022
27 Essential Things To Pack For Traveling In 2022
Last Updated on January 5, 2022
---
I spend 6-10 months out of the year on the road, so while I have the option of buying things when I need them, I generally carry everything I need with me on my travels. Add in that I like to travel light and you can understand why I have to be particular about what I buy. New gear comes out all the time and I try to keep up, but some items have stood the test of time – becoming some of my best value purchases. I've broken the list down to Camera Bags, Travel Bag/Suitcase, Clothing, and Travel Essentials.
My philosophy is simple and consists of two rules in this order:
Buy great things once and use it as long as possible.
Look for value. I don't always buy the most expensive items. I love a good bargain and I love looking for deals.
My last international trip started at the end of 2019 and finished at the beginning of March, 2020. Since then I've been grounded list most other people. As far as not traveling, it's been a surprisingly welcomed break to catch up on a lot of my backlog of projects. As 2020 heads into its last leg, I'm feeling the itch again and I've started planning, with some hope, for 2021. I'd imagine many others are as well, so I've put together a list of my favorite travel items over the years. These are all things I've used and tested on multiple trips, so I'm passing on all the experience to you.
This is a great starter list if you're going to hit the road, if you're interested in what I carry, or if you're just looking for some cool things to buy for that traveler in your life.
The Best Camera Bag For Photographers In 2022
What matters most when looking for a camera bag is that it is a bag I actually want to carry around with me when I'm walking around. When I first started traveling, the gear list was small and I always went for messenger bags. They were compact and access to my camera was fast. It's still the fastest option by a mile, but unfortunately, I find myself carrying more gear than any compact messenger bag can handle, so it's come down to two bags.
The WANDRD PRVKE 21L is my current go to bag and my all time favorite camera and travel backpack. I was hesitant at first because of the roughly $200 price point, but I've come to accept that it is the best option for me. If you want to know what I carry in it, check out what's currently in my travel photography bag.
It's a low-profile and sleekly designed bag that houses my gear in the bottom compartment (with multiple access points) and additional gear (journals, Kindle, batteries, etc) in the top compartment. There's a hidden pocket for passports/money and a side pocket for water bottles/tripod. It holds everything I need, and is small enough that I actually want to carry it around the city.
I got mine with the new 'Essential Cube' that has better padding and is more customizable. I skipped on the other accessories that is in the Photography Bundle. With the 21L, I didn't think I needed the hip belt and the bag's waterproof tarpaulin provide it enough protection for me in most situations.
When I don't need to carry much gear with me, I just take the camera cube out and use it as a normal day pack.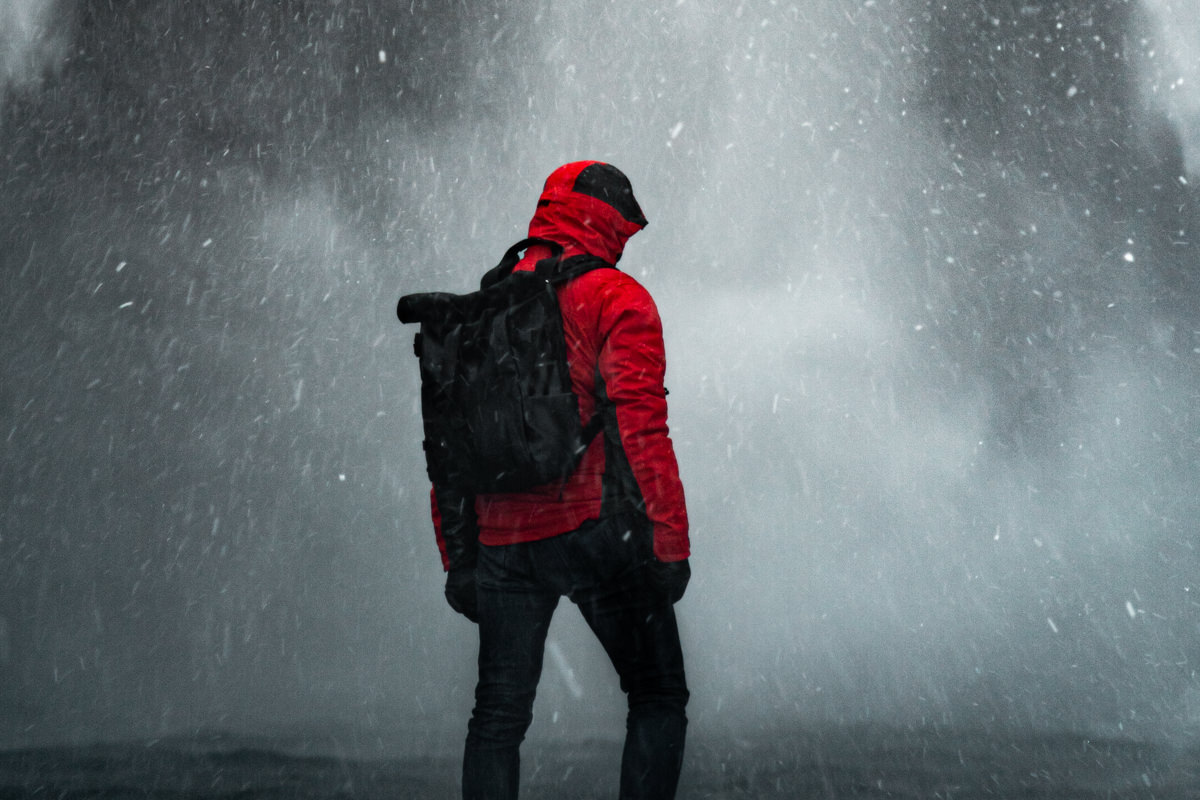 My other bag is the LOWEPRO PROTACTIC 450 AW. This is my carry-all bag. It definitely holds more than the Prvke 21L and will travel with me for dedicated film shoots. For what it holds, it's pretty compact, but when I traveled with it, I found myself preferring to leave it at the hotel and just tossing my camera and a lens into a lighter daypack.
As a carry-all, it's absolutely perfect. It's enough to fit my cameras, multiple lenses, mic, wireless lavalier kit, and drone with a few compartments to spare. The top open compartments holds a few extra items and tripod or other accessories can be strapped down outside. It has a rain shell tucked neatly under the bag, so it's well-protected.
All my other camera bags are useless now because it's missing something or another.
The Best Travel Suitcase For Backpackers In 2022
After backpacking for many years, I felt it was time to travel with a suitcase and it was one of the best decisions I've made. I still keep my travel backpack though for certain trips and I'll get to that. I started with a Samsonite carry-on that was pretty good, but I decided to give the AWAY BIGGER CARRY-ON a try a couple of years ago and absolutely love it.
It is a hard shell suitcase that is very light with four 360 degree wheels that makes it a pleasure to push around. Generally speaking, it has very good balance and a nice center of gravity. The whole thing is apparently backed by a lifetime warranty, so I feel good knowing that they will fix or replace it if something breaks.
Open it up and the split compartments seemed to be limiting at first, but it actually forced me to pack smarter. All my clothes and soft stuff goes on one side and is strapped down to save space. On the side, I throw in everything else like my extra pair of shoes, sandals, and gear that isn't kept in my camera bag.
The idea to have a built in battery pack is neat, but I actually just take the power bank out and keep it in my camera bag most of the time. If I remember, I'll pop it back in when I'm heading to the airport and can charge and walk with it while in the terminal. This happens 1 out of 5 times. There's an option now to have it without the ejectable battery. I believe this gives you just a bit more space, but you don't get the power bank. Your call.
The built in TSA lock is useful, but this is found on a lot of suitcases, so no bonus points here. What does get a nod from me is the built in laundry bag that's sized perfectly so that it lays flat in the middle of the suitcase. It separates my dirty clothes from my clean ones and I use it all the time. It detaches as well, so it's easy to remove and use outside of the suitcase until I'm ready to move to the next location.
There are a few sizes to choose from, but since I travel light, it was between the Carry-On and the Bigger Carry-On. I tried the smaller sized one first because the dimensions allow it to be taken as a carry on by almost all airlines standards, including those cheap European and Asian flights. It was just a bit too small though.
The Bigger Carry-On (its actual name) has a 47.9L capacity (compared to 38.9L for the Carry-On) and the extra space was very much welcomed. In reality, I found that all those cheap airlines will charge you to take on a carry-on (that's not a tiny backpack) anyway, so it was a moot point to go for the smaller one.
This suitcase goes for $245, but you can get $20 off.
I take this suitcase whenever my trips are confined to a certain region and/or the weather is not going to be drastically different from place to place. These trips generally last between a couple of weeks to 2-3 months at most.
The Best Bag For Backpackers In 2022
For winter trips that require heavier clothes or when traveling to cold and hot weather locations on one continuous trip, I will still go to my KELTY REDWING 50. I've had this thing FOREVER and it's really hard to beat, especially for the price point. It's going for around $75 on Amazon at the time of writing.
Even though the capacity is not that different between the suitcase (47.9L) and this thing (50L), I'm able to pack in more when I'm not confined by the compartmentalization of the hard suitcase.
What I really like about this backpack is all the compartments. Two sizable, long side compartments, a generous back compartment, the main compartment and a top zippered compartment (for documents and small items). There's also a  smaller mesh pocket for a water bottle or hiking poles that are held in using a neat slot system. The newer pack (wish I had this version) now even has another slot in the back so you can just squeeze a jacket in quickly.
The zipper goes from the bottom of one side to the other, unlike most other top access bags. This is very convenient for not having to pull everything out to get something near the middle of bottom of the bag.
Overall, it's got everything and is incredibly well priced for a travel backpack. Forget all those gimmicky travel bags you see on Instagram, I've tried a few that were sent to me and other than taking them out on the initial trip to review them, I never used them again and couldn't write anything truly positive about them. They look cool but were extremely limited in reality. I'm not going to name names.
Just get this and you'll be happy. I also default to this whenever I'm traveling somewhere with a lot of cobblestones (think Europe) or unpaved roads. Suitcases will just annoy you along the way.
The Best Hiking Gear For Travelers In 2022
This is very personal, so I'm not going to pretend to be your fashion stylist, but I've included a few items that I absolutely love.
The MOUNTAIN HARDWEAR GHOST WHISPERER is my favorite travel jacket. It's an ultra lightweight 800 fill down jacket that is super warm and packs into its own pocket. At just 7 oz, I take this everywhere, even tropical destinations because airplanes are always cold and you never know when you want something a little warmer than a tank top.
It's so lightweight and small that it doesn't take up much space. I've linked it to Amazon, where it's cheaper than retail, but I've definitely bought it at a much discounted rate from other retailers when they are having sales. It's so nice that I bought one for my girlfriend as well.
I have a couple of other heavier down jacket with synthetic down when I anticipate light rain and I don't want to bring a rain shell. Feather down is great, but it loses its warmth quickly when it's wet.
For my rain shell, I went with the MAMMUT KENTO HS HOODED JACKET because it was one of the few jackets I tried on that I didn't drown in. The form factor is great and it's stormproof. Wind, rain, snow. It's perfect. Coupled with my down jacket and I'm warm in almost all conditions (outside of Greenland, Antarctica, and Siberia in the winter time).
Last, but not least, is my all time favorite underwear, the EX-OFFICIO GIVE-N-GO BOXER BRIEF. Ex-Officio had a pretty bold marketing campaign centered around traveling the world on two pair of underwear. Wear one and wash one.
For convenience's sake, I've never tried this, but I can attest that it's a sound strategy. These things are lightweight and dry very quickly. They are extremely comfortable, moisture-wicking and odor resistant, at least for a couple of years.
At roughly $20 a pair, they are not cheap, but they last so long that it makes financial sense. I don't know how much you're supposed to be spending on underwear, but I consider this a very wise micro-investment. I've linked to the men's boxer brief version, but they come in all varieties for both gender, so get a pair and see for yourself. I've always bought these on Amazon since they were always the cheapest here.
Now let's get down to all the other essentials that have made my all time list.
Travel Essentials
This could easily be a longer list, but I find myself bringing these items almost everywhere with me, so I consider them pretty essential if not just comforting to have with me.
MIDORI JOURNAL: In 10 years, I've owned exactly two of these. One in the larger size and one in the passport size. The former has been with me for the full 10 years and the Japanese leather has aged so beautiful with its own shine and patina. The refills are a bit more expensive, but I now have a nice collection of journals from all my travels in a neat stack.
For both of the journals, I always add this CLEAR SLEEVE INSERT to hold loose items. You will not be disappointed.
FIELD NOTES: There's nothing special about these, except that they are nice and I've always liked using them. They fit well as a secondary notebook in my passport sized Midori journal and I use these to write down miscellaneous notes while I use the journal refills to write about my travels.
KODAK INSTAX SP-2 PRINTER: The coolest piece of gadget I take with me. This little device allows me to print business card size 'polaroid' photos while I'm on the road. In places like Cuba and Mongolia, I've been able to take photos of people and give them a little memento to keep instead of just showing them their photo on a tiny screen.
We take and consume so much when we travel that it's a small way to give back. I highly recommend EVERYONE carry one of these around. It's so much fun to give people an actual print and it's a hit with everyone I meet. It combines the nostalgia on instant film with modern technology and allows me to print the nice photos from my real camera almost instantly with a wireless connection.
There's a newer model called the KODAK INSTAX MINI LINK that I've upgraded to. It's similar, but slimmer in profile and size and is easier to connect and use with a number of other fun features for different types of prints.
ONWEGO TRAVEL PILLOW: I once did a test and used my family to try out 5 reasonable travel pillow options for our trip to Europe. I had already owned the ONWEGO pillow because it was so much smaller when packed down than the others. In the end, I felt like I wasted money on the other 4 travel pillows. This inflatable pillow was just easier to use, lighter, more compact, and more comfortable than the rest. The fabric on the top side was cool and comfortable to the skin for long flights. I could deflate it to get just the right support.
TIP: Start the flight with it slightly deflated since the lower air pressure will expand the air molecules inside the pillow when you are flying. 
RAINLEAF TRAVEL TOWEL: This towel is not the smallest one I've used, but I've given up on the smoother microfiber options and gone for this fluffier microfiber ones that feel like a real towel. They are way more absorbent and comfortable to use. By now, you've probably noticed that comfort is important to me, because there's a time and place to compromise and shower time is not of those times.
GAIAM YOGA MAT TOWEL: I take this to do yoga and stretches on the road, but it also doubles as a super absorbent and comfortable towel. This is perfect for the beach.
MATADOR TRAVEL BLANKET: I take this ultra compact travel blanket with me because it's useful in so many situations that I don't think about ahead of time. Bus rides, plane rides, picnics, beach day, wind cover, drone pad, and even as a lay down for my camera gear when a bottle of water accidentally leaks in my bag.
VAPUR FOLDABLE WATER BOTTLE: Speaking of water bottles, I hate taking up space with a normal water bottle, so this is an absolute favorite of mine. When not in use, I just roll it up (the carabiner holds it all in place). It's perfect for the airport where I can take it through security empty and fill up on the other side to stay hydrated on the plane. Stay hydrated on plane rides people. I used the .7L before but have now switched to the 1L option currently going for around $11 on Amazon.
KIKKERLAND METAL STRAW: Because turtles. Right? It's a small part, but with my unfortunately large travel carbon footprint, small is still something. The Kikkerland straw collapses down to half the size of a pen, so it's easy to carry around. It also comes with a cleaning stick. All for around $8-10.  The slightly rounded ends puts my mind at ease that I won't kill myself drinking something in a car. Call it's a traveler's paranoia.
MASTER TSA CABLE LOCK: If you stay in a hostel, you need a lock. Most hostels will offer lockers, but you need to provide your own lock. Since you don't know what kind of lockers are offered, flexible cable locks are the way to go. There are a bunch of options online and I've tried a few over the years and quite a few of them will eventually break from repeated use. These have lasted longer than the rest, so spend the extra $1.
Also grab one of these BRAIDED CABLES to go with it. When I go on longer train rides where I'm susceptible to falling asleep, I just throw this around my bag or suitcase and lock it to something. It just prevents someone from quickly running off with your bag. They are very light and easy to take everywhere in your bag.
SEA TO SUMMIT BIG RIVER 13L DRY BAG: I dive a lot and enjoy beaches, so this is a smaller bag that rolls up neatly and keeps everything dry when I'm on a dive boat or at the beach. Leaking is not an option, so not all bags are made equal. The lighter weight ones work – to a certain point. They are also susceptible to being punctured when tossed around. This one is a little heavier duty, but not overkill heavy duty. It's also a great on location bag if I don't want to carry my camera bag around.
EXERCISE BANDS: Honestly, staying in shape is one of the hardest things to do when I'm on the road. If there's a gym, I'll always do something, but I've now pre-programmed a bunch of bodyweight exercise routines that's easy for me to do anywhere. To supplement that, I bring along these super ultra light resistance bands that allow me to expand my workout repertoire considerably.
I've bought 4 additional sets for friends and family because these have not started to roll or break from repeated use and they are only $6. Even if you don't use them, you won't even notice them in your bag.
FAT GRIPZ: I combine the exercise band with these thick barbell/dumbbell grips and I have a very compact system for doing my strength training on the road. It's also great when I pop into local gyms because I don't can put this around the bars and get a much harder workout.
NATROL MELATONIN 5MG: I carry melatonin for all the different time zones I'm hopping between. I rarely get jet lagged anymore partly because my body has no idea when it's time to sleep and because I have a pretty consistent time frame for when to sleep depending on where and when I land. 5 MG seems to be a good dosage for me and unlike sleeping pills, these don't knock me out. If I'm active, it just won't have any effect. If I'm in bed with a book, I'll knock out in about 10-15 minutes. These ones are also chewable and taste great.
JBL FLIP 4 WATERPROOF SPEAKERS: There's JBL FLIP 5 out now, but the 4 is still good and cheaper. It's waterproof, so I can basically take this small but powerful speaker anywhere. Sound quality is great, but the kicker is the waterproofing. It's always nice to share music in a group setting.
AIRPODS: I resisted for a while because it honestly looked ridiculous at first, but these are my absolute favorite purchase from 2019. I spend a lot of time listening to music and connecting with people on the phone while on the road, and I really started hating having to untangle my wires and asking everyone to wait 15-30 seconds while I cursed at the world (first world problems, I know). I personally haven't felt the need to upgrade to the Pro ones yet, but it's also because these things are prone to being lost or stolen. I'm a careful person, but I'm on my 2nd pair now.
CASIO WATCH: I'm not wearing a retro watch because it's hip. I wear it because I rely so much on a watch to keep track of things when I'm traveling (and throughout the day). It does what a watch is supposed to do – tell me the time and date. And it does look hip. While I've been tempted by the Apple Watch from time to time, the idea of having to charge it everyday turns me off. At home, I'll use a FitBit Versa if I'm tracking my calorie output and monitoring my sleep, but on the road, simple is always better. At $14-$18, I'm on my 3rd one because I've given away the other two. Bet you these things will get super popular after Wonder Woman 1984 comes out.
KRAZY GLUE: Yes, I carry around Krazy Glue. You never know when you need to just hold something together for a bit longer until you can go home and get it fixed or replaced. The idea to carry this on my travel ACTUALLY came after I slipped down the side of a snowy mountain slope and hit my head with an ice axe while trying to self arrest. We were 4 hours away from getting to a hospital, so my friend suggested krazy gluing my 1.5 inch gash together. It worked.
Disclaimer: Like most, if not all, blogs, I use affiliate links and earn a commission from Amazon (where I legitimately do 90% of my shopping) if you click through and purchase. Nothing happens on your end. You get a curated list of things I use and I earn a small commission from Amazon. When there's a cheaper price elsewhere, I'll tell you since it goes against what I believe to pay more than you should. I really appreciate if you use these link to purchase as it helps support me continue to do what I do and spend the time to offer unbiased advice.