Behind The Video: Burning // Inside Burning Man
Behind The Video: Burning // Inside Burning Man
---
This is my second Burning Man film. It's not from a different year. It's not a remix of the original film. It's just a different interpretation altogether from my original film that was set to Ellie Goulding's "Burn" and made when I was just getting into video editing. I don't hate the original, but for years, it was one of the few films where I knew there was some footage I loved that was left on the editing floor. I also knew that with what I've learned over the years that the quality of the footage itself could be improved.
With Burning Man "officially" not happening, except in virtual reality and the secret parties happening on the Playa anyway, I wanted to return to my archive and create something new. That was the catalyst for "Burning". I wanted to see if I could use some of the same footage, add some unused ones and make something fresh. The new film is below.
Learning To Ignore What I Knew Already
Like every other video I've edited, I've probably watched "Burn" a few hundred times. I mostly know it by heart. But to make something new I had to try to forget that film, the clips I chose, and even where I started and ended that clip. It wasn't an easy task, but I decided to look through the entire archive again and remarking sections of each clip as my "favorites".
This took a couple of hours and from time to time, I'd favorite almost the exact same section as before, but I did so with fresh eyes. Maybe I started a clip because the footage was stable at that point and ended it because there wasn't nothing happening after a certain point. Sometimes, I was able to get new sections because a dancer might be performing a fire poi routine for a minute straight and I only needed a few sections. There were even really good clips that I was genuinely surprised didn't make the original cut. These were the ones that would make up the backbone of my new film – to give it fresh blood.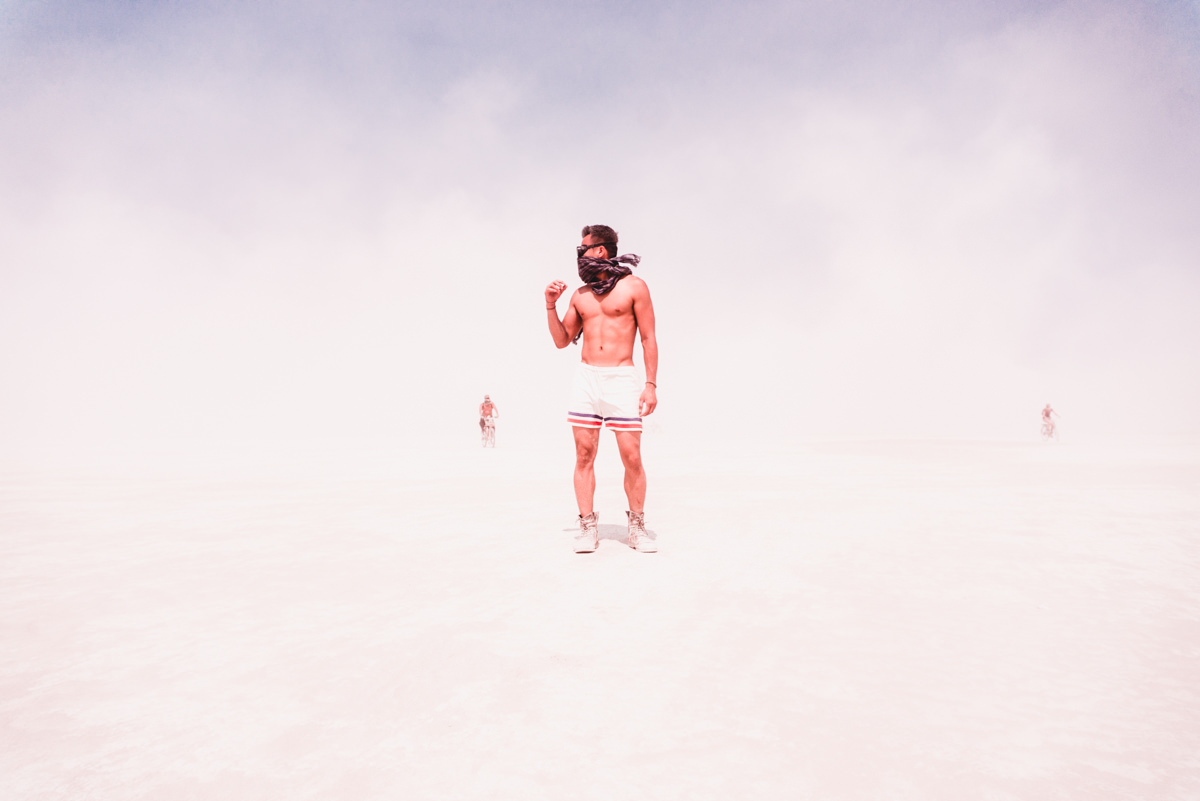 Finding New Music
This was the obvious starting point. When I came home from the 2013 Burn, I already had Ellie Goulding's "Burn" song in mind. It fit lyrically and the beat was very easy to edit too. Copyright and licensing wasn't on my mind much at the time, since I was just making the video as a personal project for me and my friends. Nowadays, licensing is a lot easier with services like Artlist where I can search through thousands of tracks from all different styles of music. Ellie Goulding's song was poppy and catchy at the time, so I wanted something with a completely different feel.
Editing Tip: I use the TourBox for my entire start to finish edit workflow. It speeds up so many of the different functions I use and its an essential part of my editing process, so I'll reference it from time to time.
Using Artlist, I filtered separately for dance music, ambient music, acoustic percussion, and even classical music. My process was to just hear a bunch of songs and see if I can any new ideas based on the footage I already marked. This is a long process and there's no real shortcut. You just have to listen to a lot of music back to back. To speed this process up, at least from a navigation point of view, I use the TourBox to allow me to quickly scrub through a song and go to the next one. It's much faster using a physical dial wheel than click on the keyboard to move ahead in set increments.
After a couple of session totally about an hour, I came up with about 10 potential songs, but none that stood out more than the rest from an editing standpoint (which is unusual). I loaded everything into my FCP X library and started playing with each each song and some clips.
There was a classical piece called "Thoughts" (which ended up being used for the "Day" section) that was perfect for a frenetic, fast-paced scene, similar to my time lapse videos. But it didn't work for other clips like the more somber, reflective burning of the man.
There was a tribal drum piece called "Tribal Fire" (which ended up being used for the "Burn" section) that was almost too perfect for all the fire performances, but was too fast for the slower landscape scenes. Are you getting the ideas? Burning Man itself is already so eclectic, so to try to have one piece that captures the feel of the burn is a hard task.
I rarely like making these types of videos with multiple pieces of music because I don't usually like abrupt breaks or style changes in a film, but since I was trying to do something different, I went for it.
Editing The Day Section
The middle of "Thoughts" by The Art of Loneliness, starts off with a slower melody and beat on the piano with some repeating violins. This allowed me to start off slowly with the white out intro scenes. As the melody and string section builds up slowly, I did the same with a wide shot of the playa and the woman dancing that had a bit of movement in it, adding speed ramp flourishes to go with the flourishes of the strings.
When the music goes into full swing with the violin arpeggios, I decided to go all in with sped up footage that had a lot of movement – people dancing, bikes moving in and out of traffic, and any shots that had movements. I cut them rapid fire to each of the 8 count beats. You are meant to sort of make out the footage, but not really get a clear view of most things – everything is a flash or blur. I used this to create a sense of feeling the film and not necessarily seeing it. This halts right in time with a scene that slows down and allows you to "catch your breath" before finishing off with slow wide scenes of the playa in reverse. Fade to black for a second.
From an editing standpoint, I should mention the TourBox again here since I've created almost all of my shortcuts to be triggered from it. I can quickly go through the footage, set my in and out points, mark favorites, set markers and even make turn footage into slow motion clips or sped up clips with a click one of a button. For most of my edit, I use just the mouse and the Tourbox without the keyboard. Just saves me a lot of time as I zoom in and out of shots to find precise points to cut and then make those cuts all with a couple of clicks on this Frankenstein of a device.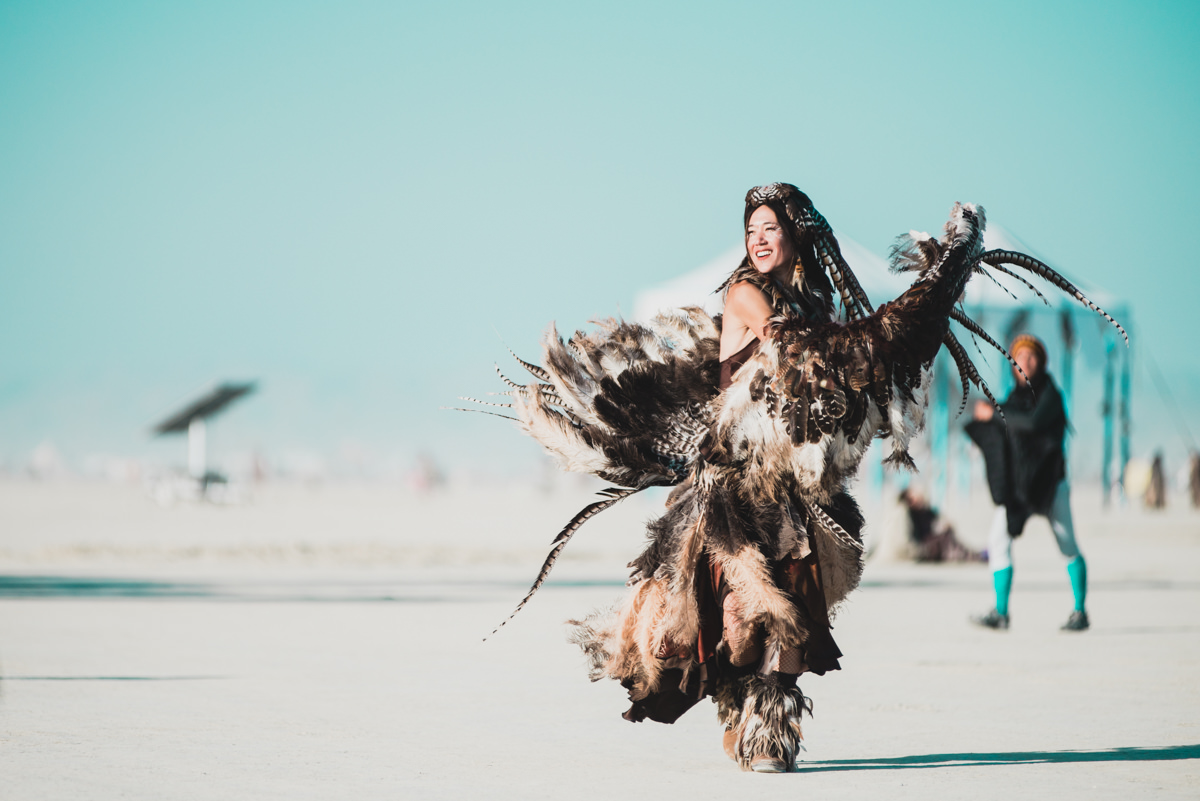 Editing The Night Section
This was the last section I edited because I realized somewhere in between that a lot of the fire performances tied in between with the "Burn" section that also happened at night. Instead, it was more about the dance parties, music performances and trippy lights all lit up on the playa at night. For this section, I used a part of "Infinity" by Life, a more calm techno-esque piece that had a vibe that matches the more current music scene at Black Rock City. This section was pretty straight forward in that I just threw on the clips, trimmed it to the beat and then moved it around a bit.
What really made the section for me was creating that mirrored edge effect that gave each scene a very kaleidoscopic and psychedelic vibe. Combing it with a slow rotation and slow zoom in or out enhanced the look and really made the scenes more exciting – not that the ThunderDome scenes needed any more excitement. It's a short section, but it's one of my favorite.
Editing The Burn Section
Technically, this is two mini sections. My favorite moment during the week was right after the Man and its accompanying structure went up into a full blaze. The heat and wind created these fire tornados that tripped through the amber red smoke clouds and ashes. I caught a few of them on camera and really wanted to use more of it in this film – so I started with one scene where you are watching bits of fire and ash floating through the air before this vortex forms out of nowhere.
For this section, I started with the incredible fire performances right before the Burn. I knew exactly how this part would look after I heard "Tribal Fire" by Big Energy Drums. It was just a matter of picking and choose from amongst the many favorited clips. I used a couple of scenes in the original video, but a lot was left on the editing floor, so it was really nice to be able to add it to this film. I didn't have to do much to this section, other than to add some light burns and leaks over the transition points of each clip and place the clips so they flowed from one into the next.
I liked the fast pace and energy for the Night and Burn section because it ultimately slows back down for the finale – a somber quiet appreciation of the burning of the man. Here, I used "Walking on Air" by "Walking on Air", which is a very ambient and reflective piece that has a slow build. The first shot shows the Man just beginning to burn. I left the sound design in for the fireworks and the building fire.
Silence For The Burning Of The Man
The last few scenes go silent as far as ambient sound. Though the recorded audio has people cheering, I don't remember it this way. I remember being in complete awe – my mind completely silent. That's how I wanted to show these scenes – each one deliberately picked to show the most relevant parts of my memory from that night's burn. The raised hands feeling the warmth of the fire while paying homage. The rangers with their backs to the fire ready to jump into action should anything happen. The last scene of the section as the music starts to builds is the end of the Temple burn the next night and the marking of the end of my first Burning Man experience. We departed almost immediately after the Burn and began the slow Exodus process of leaving the playa.
For the very last scene of the film, I went back to one of those fire tornado scenes. I couldn't resist.
Sound Design
Burning Man is very much about a multi-sensory experience. Though I couldn't capture the smell or touch, I wanted to bring back some of the sounds of the playa. Some I recorded on locations and others I pulled from sound effects that matched the sound my camera couldn't capture. These were especially for scenes that had too much noise or not enough because of the distance I shot from. I heavily employed this during the Day section. Think of it as the equivalent to the psychedelic mirror effect for the Night section.
I added the wind, the sounds of air releasing from the balloon and even the whooshing from the wings of that one dancer. Some are more pronounced like the steps from the people on the stilts, while others were more subtle like the bicycle wheels.
All of this is best experienced with headphones on, so if you didn't do it the first time I around, I highly recommend watching this on a computer or tv with headphones, earphones or a good speakers. And then mark your calendar for 2021's ticket sales, so you can get your hands on one before, the other 80,000 people who are even more eager to go after being denied a real Burn this year.
Color Grading and Newer Effects
For the original film, I actually didn't do any grading at all. What you saw was straight from the camera, which surprises me because the colors, dynamic and tones were really nice for a camera that's over 8 years old (a lifetime in the digital videography world). There was no RAW or even a log setting to shoot from, so I'm glad I got all the exposure down straight out of the camera. I didn't really want to mess too much with the colors here, but I did go over the footage to get all the exposures more even, increased the contrast a bit, and to warm up all the shots and get them matching.
I was also surprised by the lack of noise in most of the footage, so only had to denoise a couple of shots. The thing that has come in handy with time is being able to better stabilize (in post) some of the shots that I used the first time around and stabilized some shots that I thought were not so usable last time.
Next year, I'm planning to come back to the new Panasonic S5, which should be able to get some really high quality 4K 60 FPS footage in 4:2:0 10 bit straight out of the camera in a weather proof body (very important since everything gets covered in the playa dust. It's also so compact that it won't get in the way of enjoying the experience. As far as advice for shooting on the playa. What I did was chose an hour in the day and an hour at night where I took my bike out on to the playa just for the purpose of shooting. I recommend keeping your camera covered in some way if you don't have a weather-proof body and then wipe it down with a wet-wipe as soon as you get back to your camp. That alkaline dust is not gentle on equipment.
A New Film For A New Memory
I spent about 12 hours in a straight all-night edit sessions and then slept 14 hours the next night, but it was worth it. While the original film started out as a personal project, I shared it with the Burning Man community and it was well received. It was so nice to hear about how it brought back so many good memories for so many people. Every year around Burning Man week, I'd get new comments on the video from people who couldn't make the Burn saying how it really made them feel like they were there again in way.
I wanted to create some fresh as a new way for myself and others to get that feeling again. I have nothing against Ellie Goulding (still love her music), but maybe it was time for people to get these memories without having to listen to a song from 7 years ago on repeat.