A Visit To The Tsukiji Fish Market Before It Closed
A Visit To The Tsukiji Fish Market Before It Closed
Last Updated on January 7, 2023
---
The story below was from my visit to the tuna auction before it closed. The restaurants and stalls around that's part of the outer Tsukiji fish markets are still open and while it's a bit touristy, it's still an experience not to be missed.
They say there's two things you can do in Tokyo. Buy used underwear from a vending machine and visit the famous Tsukiji fish market. As far as I'm concerned, no matter your reason for coming to Tokyo, be it the food, the robots, or the kitten petting cafes, you simply cannot skip the Tsukiji fish market experience of watching tuna being auctioned off at 5 ams and then having some fresh sushi right after at one of the adjoining restaurants. As far as I'm further concerned, you simply cannot just go to the Tsukiji fish market without a purpose or a plan. There is a right way to do it and it begins the day before.
Sleep Early Or Don't Sleep At All
Like anything worth experiencing, we wanted to be well prepared and have our wits about us. I'm talking about a solid 2-3 hour nap. The market opens early, but we would need to be there even earlier to secure a spot in the queue. We went the route of spending the whole evening at an onsen spa and passing the time pampering ourselves and relaxing.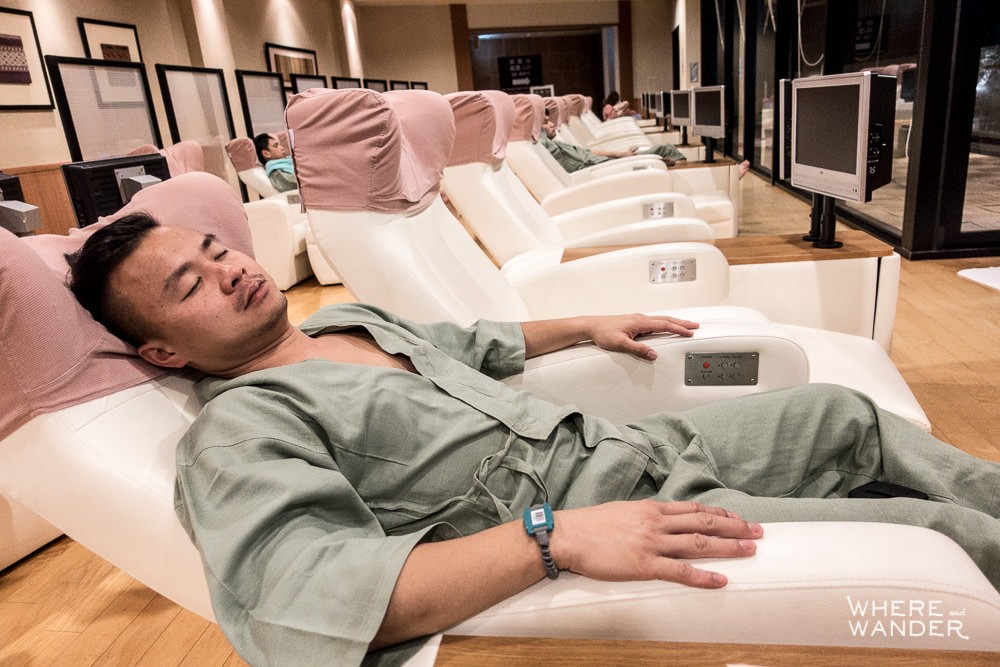 A Post-Spa Meal Of Sushi
The night or morning officially started at 2 am in Roppongi where we stopped by a 24 hour Sushi Zanmai. If you were wondering why we'd be eating sushi just a few hours before eating sushi, let me explain my logic. What better way to truly appreciate the freshest sushi at the Tsukiji market than by sampling some above-average sushi just before that. Are we in agreement?
We chose Shibuya as our starting point because it was only about about 4 km away from the Tsukiji Market. This was a walkable distance with plenty of time to digest while also avoiding the excessive taxi fare at night since the subways don't run at that time.
Finding The Osakana Fukyu Center By 3 AM
Our walk brought us to where Google Maps indicated was the Tsukiji Fish Market, but upon arriving, nothing looked open and we had no idea where to line up. Luckily, we found someone who pointed us to the right building. I later learned that it's called the Osakana Fukyu Center (it's pronounced foo-kee-yoo, not fook-yoo).
The market allows 120 visitors a day to watch the fish auction. The first group of 60 goes in from 5:25 to 5:50 am and the second 60 goes in from 5:50 to 6:15 am. We arrived just before 3:30 and there was already a room full of eager tourists, some more alert and awake than others. Our reward was one of these snazzy vests.
At this point, we found a spot on the ground and make ourselves comfortable. I brought gummy bears and a can of hot coffee somewhere along the way. It was now luke-warm.
The Fish Auction
By the time to go in, I'd gotten a second wind, which helped with dodging the trucks and speeding forklifts while we made our way through a bustling and fully operational market. And we realized that this was why they handed out the reflective vests.
Inside, we saw a bunch of Japanese guys walking around and picking at and tasting bits of frozen tuna.
It was easy to wonder what the fuss is all about, until one of the guys got up on a soapbox and started yelling/screaming/singing/making animal noises while a number of other guys casually raised a finger to indicate that they were bidding on it. And like that, we were in the middle of an auction.
Each auctioneer had his own style of yellowing out the bid prices. Cadence, pitch and even tune. The way the guys were expressing interest (without any emotion) in the tuna, you'd think they were buying a bag of crisps or something and not a fish that costs upwards of $20,000.
It was a bit cold in there, so I was glad for my down jacket. We had plenty of chances to take photos (like everyone else), but we weren't able to move as to avoid interfering with market operations. We caught two separate auctions during the 25 minute slot.
Lining Up For Sushi (Breakfast)
We didn't waste any time wandering about aimlessly after returning the reflective vest. Our attention was turned to the next phase of the adventure – getting a spot in line for one of the sushi restaurants. While we were watching the auction, others were already lining up.
We learned ahead of times that Sushi Dai was the most popular spot. For better or worse, we couldn't find it anyway because everything was written in Japanese. My original plan was to avoid it since it would have the longest line and find one with a more reasonable queue and price.
The place we ended up choosing turned out to be one of the highlights of the morning. We pulled out two seats right in front of the chef and watched as he prepared sushi as fresh as you can get it. The chef was a jolly old man that was just genuinely surprised at how much we ordered.
While Sushi-Dai was meant to be the place to be, I've heard of people waiting 2-5 hours in line, and the set menu costs around 4000 yens (which is about $36). The prices at our place ran between 700-2000 yen ($6-$18), but the amount of food we got was ridiculous. We ended up ordering enough food for 4 people and our total bill for 2 people came out to somewhere around 5000 yen ($45).
These were just a few of the dishes we devoured. The quality and preparation was flawless and each piece melted in my mouth. I've eaten at some amazing sushi restaurants around the world and I honestly believe that at some point, the fish is going to be as fresh as it gets.
I'd like to think that the difference here is based on the guys who do the buying for all the restaurants each morning. Years of experience have honed their judgment, instincts and taste buds to know which tuna or salmon, or batch of sea urchin will yield the truest flavor of the fish.
Eye On The Prize
The market itself didn't open to the public until 9 am and we were done with breakfast well before then. At this point, our options were to wander around the outside markets or try to sneak into the wholesale market.
We started with the first option and found a bunch of overpriced sushi knives, overpriced tea, overpriced souvenirs. You get it. It's overpriced because they know tourists love this stuff.
After about 15 minutes of this, my friend and I decided to take our chance with the wholesale market. The plan was to walk in confidently, so we straightened up, looked serious and walked in.
And immediately, we were turned away.
I used every single Japanese word I knew for all the different types of fish out there. The guard was not impressed, so I tried to mime a sea urchin. Undeterred, we simply walked to a different opening and this time we were successful.
Finding My Uni
Inside, I found a stall with the most beautiful trays of sea urchin (uni), the one thing I was looking to buy. When I asked how much, the guy just shook his head and said "No." Seeing as there were no other tourists around and me not looking like a local buyer for a sushi restaurant, I didn't hold it against him.
Emboldened by our luck with actually getting in, we walked around until I found another stall with these glorious trays of uni. This time the guy saw the desperate look in my eyes and asked if I wanted it. I might have cried if I weren't trying to act so professional. When he wrapped it up and handed it to me, I bowed and muttered something I learned from an anime. He looked confused and I walked away, giggling inside like a schoolgirl at the thought of all that fresh uni in my hands.
We continued around the market for another hour or so just watching the fish mongers at work. I didn't find anything that unusual compared to other fish markets around the world, but the enormity of this place and knowing that it will soon be moved to a different location made it a very special experience.
Enjoying Our Spoils
Having safely transported the uni and a few onigiri rice balls we picked up along the way back to the apartment, I prepared for a second breakfast. I sat on my tatami mat, wrapped myself up in a blanket and pair one piece of uni with one bite of onigiri until the tray eventually was empty. It was the most memorable meal I had in all of Japan. There are no photos of this.