Is The Fork Discount A Legit Deal Or A Scam?
Is The Fork Discount A Legit Deal Or A Scam?
Last Updated on April 22, 2023
---
You might have seen The Fork pop up from time to time when researching restaurants in Europe and the UK with discounted deals for eating at certain restaurants. Sometimes, it's 30% and sometimes it's even 50%. For me, it sounded suspiciously like those Entertainment coupon books back in the states.
And ultimately, you find that you're drawn in by a deal that doesn't turn out as good as it initially seemed. There's always some minimum spend, or restriction that you have to follow down to a T if you want to get the deal. So you're here because you are wondering if thefork.com is a legitimate deal or a scam?
I made sure to read the fine prints back and front (all one line of it) before trying The Fork for the first time and you can breathe a sigh of relief, the deals are legit. You just have to understand how it all works and I'll break it down for you here.
Why Are Restaurants On The Fork?
The Fork is a UK based company that partners with restaurants to offer deals while promoting restaurants that could use some new customer flows. And this could be for a number of reasons. Maybe the restaurant sucks, maybe they are just new, or maybe a lot of destination operate seasonally so offering promotions can draw in traffic during slower periods?
Either way, checking out their Special Offers in the area where you want to eat and then cross referencing a few of the restaurants with reviews on Google is a great way to find new restaurants to try on the cheap when you're traveling.
How Do The Fork Deals Work?
So first and foremost, The Fork is a one-stop reservation and review website so you don't have to call the restaurants directly to look for availability, check the menu, or read reviews elsewhere. On top of that, there's a filter option to look for restaurants that are currently offering some kind of menu or promotion.
I've found a lot of European cities offer special lunch menu deals that are truly incredible. I usually like to do a long walk when I first get to a city and just look at restaurant menus I come across if I like how a place looks. I make note of any menus and then plan to go back. With the Fork, it's nice to browse restaurants and see if they offer any special menus. I always love a good deal.
What Are The Fork Special Offers?
But even better than that is their Special Offers filter and shows all the restaurants in a search area offering some kind of percentage off deal.
A quick search for Porto, Portugal shows 91 restaurants currently offer deals between 30-50% off. You'll see the cuisine type, the ratings, comments, address, and average price (before the discount).
I've clicked on one of the restaurants and from there you'll see the "restrictions" for the deal. In most cases, preset menus and drinks are not included and the 50% applies to the "a la carte" menu, which is basically most of the menu.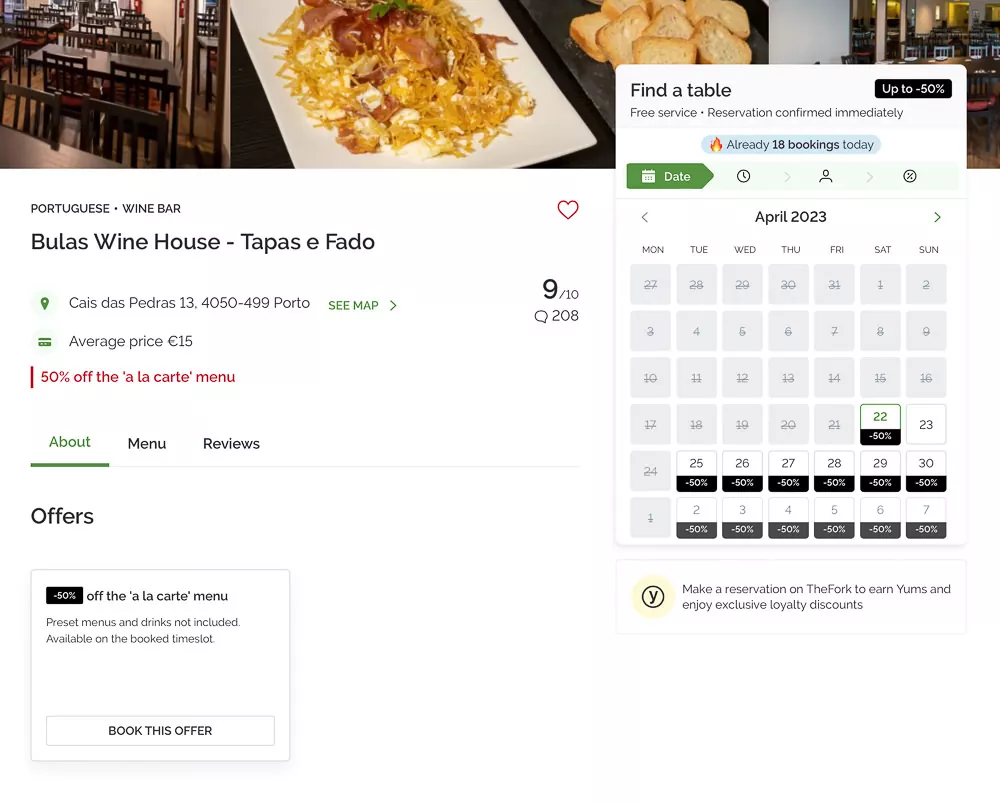 The best part is you can actually see the current menu and prices right there. And to the right of that, you can click to see the date and times where the deal applies. In this case, it looks like it's mostly available only for lunch.
What Are Yums?
This brings me to the next best part of The Fork. The Yums loyalty program. You earn points for reservations, you earn points for referring others, and then you can redeem those points to take 20€ or 50€ at participating restaurants.
You'll earn 100 yums for every reservation you make on the website. Restaurants that show a YUMS x2 means you'll earn 200 points for your reservation.
If you refer someone and they use your referral code, you earn 1000 Yums. And they in turn earn 2000 Yums on their first reservation.
Great, 100, 200, 1000, 2000 Yums. What do they actually amount to? Well, 1000 Yums earns you 20€ when you redeem and 2000 Yums earn you 50€ off your bill when you redeem.
Now, the only fine print is the Yums is you need to find a restaurant that accepts them, which is easy enough using the "Accepting My Yums" filter.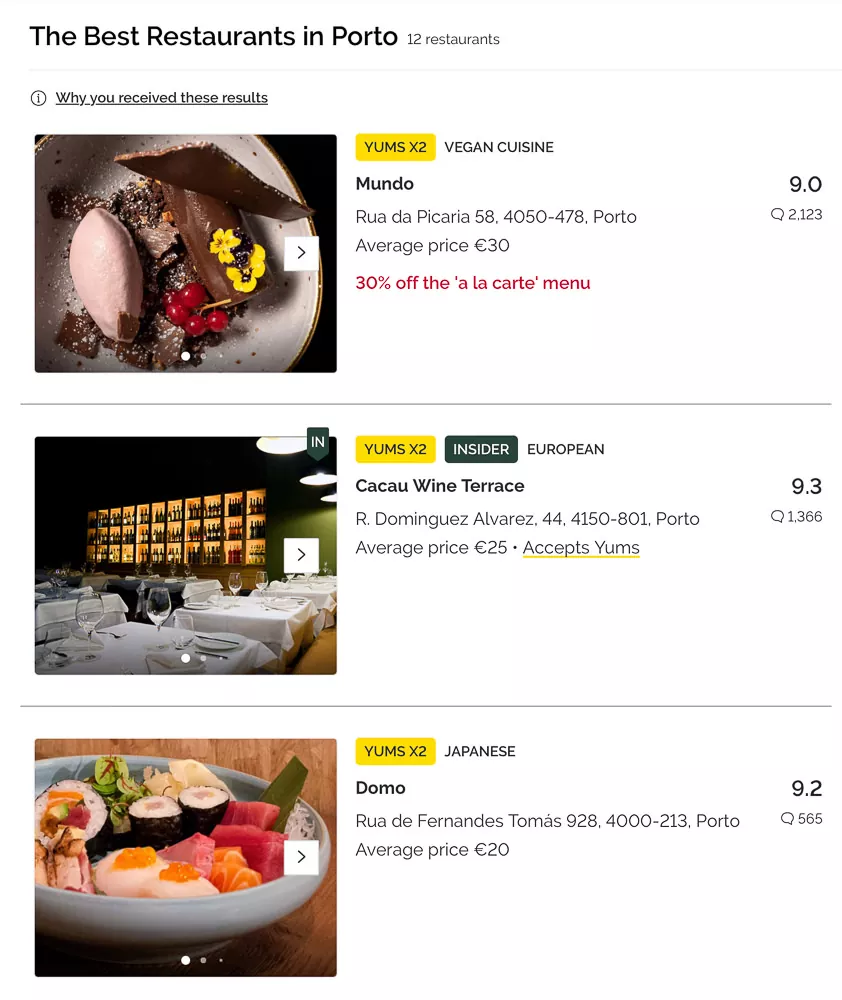 So basically, if you're reading this, bookmark this page and save this code: 83EBDDE8 and use it for your first reservation to get 2000 Yums. Basically, make your first reservation and then you get 50€ off the next one. No-brainer.
How To Use the Fork Filters?
So, now to the fun part of picking the restaurants. USE THE FILTERS. Use the Special Offers filter first and then further narrow it down with all the other filters, like whether it's Michelin rated, starred, recommended, or it's an INSIDER restaurant. There are basic ratings, cuisines, neighborhood filters, but also filters for things like "Good for a business lunch," "Oceanfront," "Romantic," Birthday," or even "Bistronomic," whatever that is.
After you figure out a restaurant that works for you, make a reservation and you're set. Once you get to the restaurant, the discount is already on your reservation and will automatically apply when the check comes out. If you have any questions about the deal or restrictions, just ask the restaurant before you order to be sure.
So remember all this, remember this code: 83EBDDE8, and don't forget to use The Fork the next time you are looking for a new restaurant to eat in a new city. I actually use it all the time now, if only just to have ideas of where to eat. When there's a deal that works out, it's even better.
The alternative is to not use it and get nothing back for eating out.
Alright, get out there. If you need some travel ideas, check out my 386 item bucket list for inspiration.