Review: Norse Atlantic Inaugural Flight Non-Stop Los Angeles to Berlin LAX – BER Boeing 787-9
Review: Norse Atlantic Inaugural Flight Non-Stop Los Angeles to Berlin LAX – BER Boeing 787-9
---
August 18, 2022, I took off on Norse Atlantic Airways' inaugural non-stop route from Los Angeles to Berlin. 10.5 hours later, I was picking up my bag and heading to see my sister and nephew – the shortest time ever from the west coast to Berlin for me.
If it hadn't announced by captain before take-off, most people would hardly know this was an inaugural flight – there was no celebration, no champagne, no fanfare. Just a one hour delay and some computer glitches.
That part was a bit disappointing, but having scored a premium seat for $398, this was by one of the best Los Angeles to Europe flights I've ever flown.
Norwegian Air Is Dead, Long Live Norwegian Air…Sort Of
You can say Norse Atlantic Airways is basically Norwegian Air, but it's also not. At all. When Norwegian Air emerged from bankruptcy in 2021, it had shed 2/3rds of its fleet keeping about 50 short-haul aircrafts operating only in Europe.
The long-haul Boeing 787-9 were bought up by a new Norwegian airline (founded and helmed by the previous CEO of Norwegian Air, Bjorn Tore Larsen. Norse Atlantic only focuses on long haul flights on their long haul aircrafts now affectionately called "longships" after their Viking heritage.
Having previously flown to Oslo from LAX on Norwegian Air, I sort of knew what to expect. The Boeing 787-9s are relatively new, the economy seats are thin and flat and the windows can dimmable. The economy seats weren't incredibly spacious, but they were comfortable.
Economy or Premium
For the inaugural flight from LAX to BER, I opted for Norse's Premium seats, which based on the photos, looked to be somewhere between a typical Premium Economy seat and a Business Class seat.
As Cheap As It Gets
Each class has 3 offerings: Light, Classic, and Plus.
Economy Light is as barebones as you can get. I was able to book one of these seats for $131 for my brother on a flight in September. That ticket gets you a seat and a small personal item. No other carry-ons and not even a meal on the 11 hour flight. Sounds harsh? Hardly. That's $131 to not only fly across the US, but also across the Atlantic.
It was hardly surprising to note that economy was full on my flight.
If you needed to bring a small carry-on suitcase, it's an additional $30. A 23 kg (50 lb) checked bag costs $70.
If you need to bring a carry-on and check in a bag, go for the Classic, which will be cheaper than adding the luggage separately. And it includes one meal.
The Economy Plus option is the one that doesn't make sense as much sense to me. For another $180, you get a seat selection, priority boarding, and the ability to get a refund to credit.
Worth The Upgrade
I went for the Premium and it was definitely worth it, but not everyone saw it that way because there were still quite a number of empty seats in the Premium class on my flight.
The offerings are similar for Premium seats, but regardless of if you go with Light, Classic, or Plus, all Premium seats will include a carry-on, premium boarding, priority check-in, and 2 meals.
For about $90 more, the Classic option gets you a carry-on, a 23 kg (50 lb) checked bag, and the first meal service. This is cheaper than if you tried to do all th add-ons individually. I checked.
Checking-In
Check-in takes place in Terminal 1, but allow yourself some extra time because you will need to go through security upstairs and then take a shuttle bus over to terminal B to board your flight.
When I arrived at the check-in counters, there were about 15 people in the regular check-in line and about 5 people in the priority check-in line. By the time, it was my turn, everyone in the normal line had checked-in and left, along with about 5 other people who came after.
Priority check-in turned out to be much slower and I blame this on Norse having only one counter for Priority check-in instead of diverting Priority check-in customers to the next available counter.
I suggest arriving to the airport at least 2.5 hours before your flight to account for potentially slow check-ins and to line up as soon as possible for the shuttle bus. The line got quite long by the time I went for a pre-flight massage and came back.
Get Ready For A Middle Seat
When booking and checking-in, there was an option to choose my seat ahead of time, a middle seat selection costs an additional $45 and an aisle or window seat selection costs $75. This was by far the highest seat selection fee I've ever encountered. By a far margin.
Needless to say, I wasn't too surprised when I checked in online to see that I was assigned a middle seat with many window and aisle seats available to change to, for $75.
When I dropped by bag off at the airport, I inquired about an aisle seat. The agent selected an aisle seat and told me it was $75 to change. Same as online. I declined and this was where I was told that there was no option to change back to my previous seat. It looked like a computer glitch. She didn't know what to do so told me there would be no charge for the seat change.
Every Seat Is Great In Premium
Ultimately, it did not matter, because the Premium seats were only half filled when I boarded, with many aisle and window seats available.
Generally, I've found that most airlines will fill first with aisle and window seats rather than with middle seats. This was the first time I was given a middle seat when so many aisle and window seats were available.
This was unfortunate, but with how much space you get in the Premium seats, being stuck with a middle seat won't be a problem.
Stretching Out
Boarding was scheduled for 2:10 pm, and we wouldn't start boarding until 3:00 pm. We ultimately took off at 4 pm, 50 minutes behind schedule.
When I finally got on the plane, there was a huge sigh of relief in seeing the Premium seats. They were noticeably wider than a normal economy seat, a very generous recline and a lot of extra leg room with an extendable foot rest.
This was the most generous premium economy seat I've ever sat in and it had me wishing that more airlines went this route of doing away with business class seats and just having more true premium economy seats. 
Fully stretched out, I almost felt like sitting in one of those reclining massage chairs. This will be great for my older parents when they fly to Berlin next month. 
Each seat has its own outlet below the seat and two arm rests that open up to a lap tray and an entertainment unit.
BIG TIP: When lifting the lever to release the Entertainment unit, keep one hand on the unit itself, because it will spring out very fast when you pull the lever. Also, do not put your face over the unit while pulling the lever. You will almost surely hurt yourself. 
Meal Services
There are two meal services on the 10.5 hour flight. Pre-flight, we were serve apple or orange juice or water and then a proper drink service took place about one hour after we took off.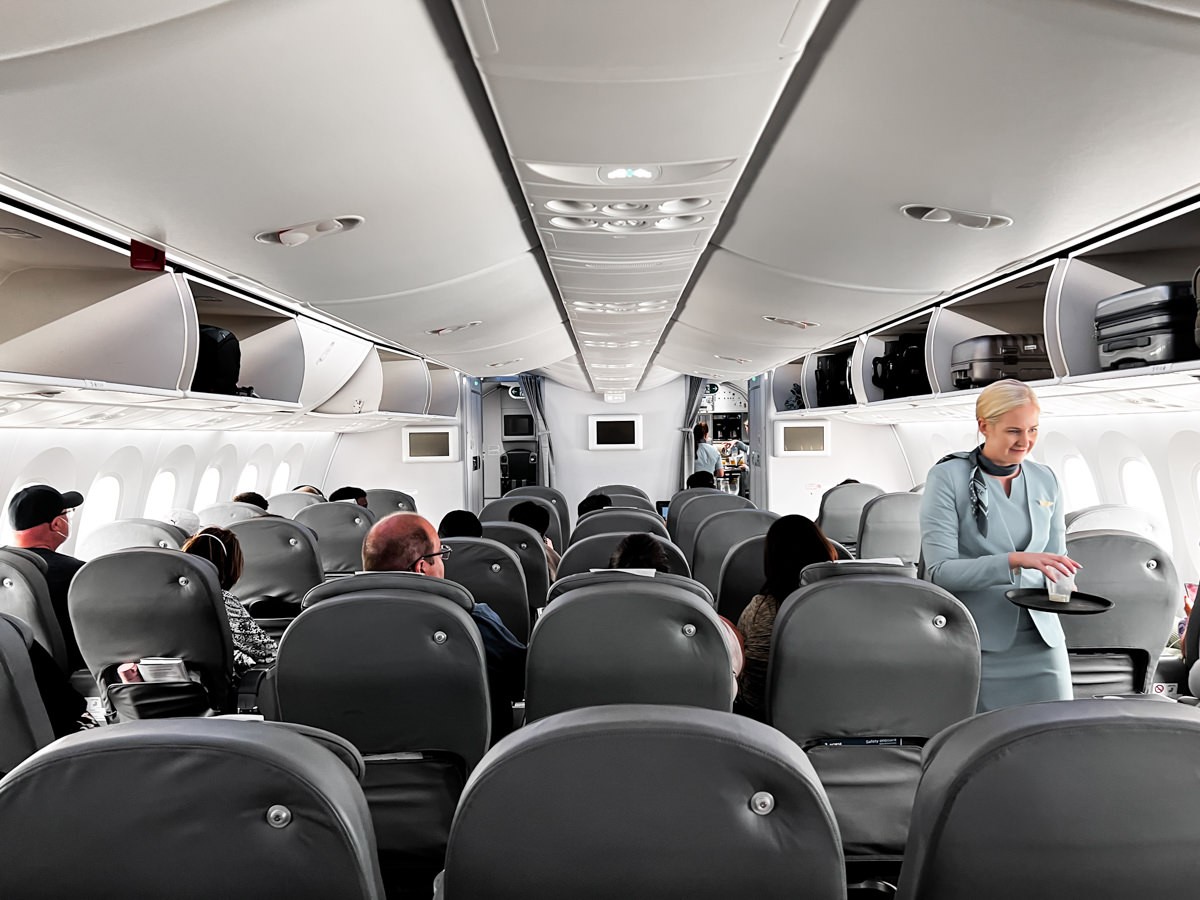 30 minutes after that, we were served the first meal. This was included with all Premium seats and for Economy Classic and Economy Plus. If you wanted to add this meal separately, it was $30. 
There was only one option: chicken curry with some greens and white rice. It was fine for me, but I was surprised there wasn't at least a vegetarian option. It came with a piece of bread and a small dessert. Fine if it's already included, but I would not pay $30 to add this meal if I was flying Economy. 
Several times throughout the flight, water was offered, but no snacks or other beverages. I did notice that a snack and beverage cart was available in Economy with items for purchase. 
About an hour before landing, flight attendants came around with the second meal service. There was an option to add this for $20 if it wasn't included in your ticket. This consisted of a cold bagel with a bit of cream cheese and a slight of turkey, and a little muffin. Juice and coffee/tea was also served. 
I brought some extra food and I was glad for it. If you are in economy, I definitely would bring a meal or two along. 
Entertainment
I brought my own iPad with my own movies, so I didn't use the entertainment unit, but it looked to have a decent selection of movies and tv shows and earphones were included in the Premium class. 
We also got a blanket, but no pillows. The blanket was nice because it was pretty cold during the flight. I was glad to have my jacket as well. 
Landing In Berlin
Despite leaving an hour late, we arrived only 15 minutes after the scheduled arrival time. I was the first off the plane when we landed and there was literally no one ahead of me when I went through customs, so the whole thing was as fast as it could be.
Unfortunately, it didn't really matter because I ended up waiting about 20 minutes for my bag. Don't expect Priority check in bags to arrive earlier. They did not. I saw plenty of people in Economy get their bags well before mine. 
Book Flights When They Are On Sale
Overall, for $470 (with a checked bag), I was quite happy with my experience on Norse Atlantic and would easily fly them again, especially going from Los Angeles to Berlin. Going back costs a bit more because of the European taxes. 
As of the writing of this review, current flights are a lot more expensive than when I booked with most Economy seats beginning around $287 and Premium seats around $479 and up. While not as cheap as their initial offerings, these are still reasonable fares, especially if you travel light. All the add-ons can really add up. 
There are some dates where the Premium seats are come to $1000, which no longer qualifies as a low-budget in my opinion.
So far I've seen a couple of sales where prices have dropped, so I would suggest waiting around for those and booking when the fares feel reasonable to you.
Being the only airline that flies non-stop from Los Angeles to Berlin, I definitely think there's a niche for Norse to operate in, especially for travelers looking for something more comfortable than economy seats. When they are under $500, the Premium seats are definitely worth booking. 
Updated on September 1, 2022