Editor's Pick: 5 Slot Canyons To Explore Around Zion In 2022
Editor's Pick: 5 Slot Canyons To Explore Around Zion In 2022
Last Updated on January 5, 2022
---
Slot canyons are fun to play around in, unless you're that guy from 127 hours. While visiting Zion National Park, my friend Alex and I went on a canyoning adventure through a slot canyon (just outside the park) and wanted more. After a bit of searching, we stumbled onto a little slot canyon at Lambs Knoll – a place that we had all to ourselves.
It was perfect and over the years, I've added a few more places to my list that I give to friends visiting the Zion area. Slot canyons are great for summer and fall months that are dryer (less prone to flash floods) and hotter, since there's often a lot of shade in the more narrow and deeper sections. This cools the hike down significantly, making it a lot more bearable and fun.
Finding Hidden Slot Canyons Near Zion
There are actually hundreds of slot canyons around Utah that vary in size and length, but, ironically, it is quite hard to find a lot of information on some of the lesser known ones that aren't heavily hiked by tourists. If you type 'slot canyons' into Google, a few will pop up, but your results will vary there too. Some of them are hard to access, others might be accessible without technical gear, and some might just be too narrow to fit through. There's a reason why Antelope Canyon is so popular and overly visited.
Get A Canyoning Guide
One of the easiest ways to make the most of your time in the Zion area is to go on a guided canyoning tour. Before you get turned off by the term 'tour', think of this as going canyoning with a local 'friend'. You get a proper guide who will take you the best local spots, who will known which are accessible at the time of year. This is actually really useful because there's always risk of flash floods that rises especially fast in narrow canyons. These guys will regularly be scouting out the area, so they will know if the terrain has changed in any ways, i.e., loose rocks, blocked paths, etc.
They will provide all the safety and technical gear so you can explore deeper in canyons in areas that are inaccessible if you were just to hike there alone.
I went out with Red Desert Adventures for a half day of canyoning at Yankee Doodle Canyon and highly recommend it. The 'tour' was private and it was basically like going with a local buddy who already had all the equipment and took me to his favorite spot. It was great, but it does require equipment and for you to be in pretty decent shape so you don't brick it while trying to 'superman' sideways across the slot canyon.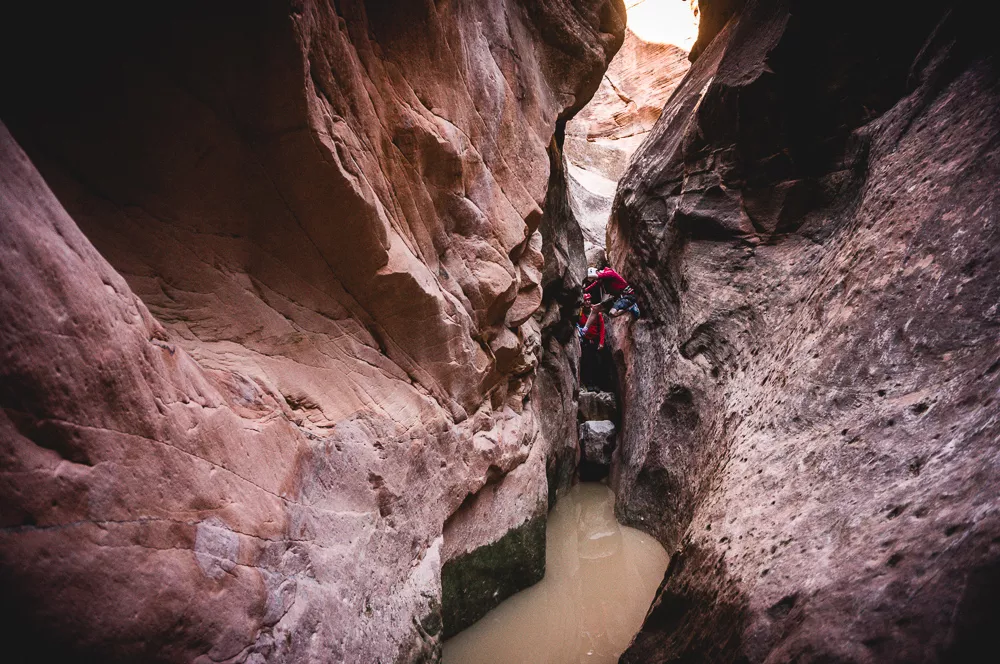 If you are looking for to do a hike, here are a few of the best slot canyons that are easy enough to find and explore on your own.
1. Lambs Knoll
My friend and I popped into pretty sneak spot at Lambs Knoll and had the place completely to ourselves, like at Yankee Doodle canyon. The entrance was pretty narrow, but once we entered, it opened up quite nicely with lots of jagged rocks weaving in and out.
This spot is just outside of Zion National Park, so if you're already there, it shouldn't be skipped. The name actually refers to the bigger mountain that hikers and climbers can summit. However, there are a few small slot canyons in there, so that's what we came for.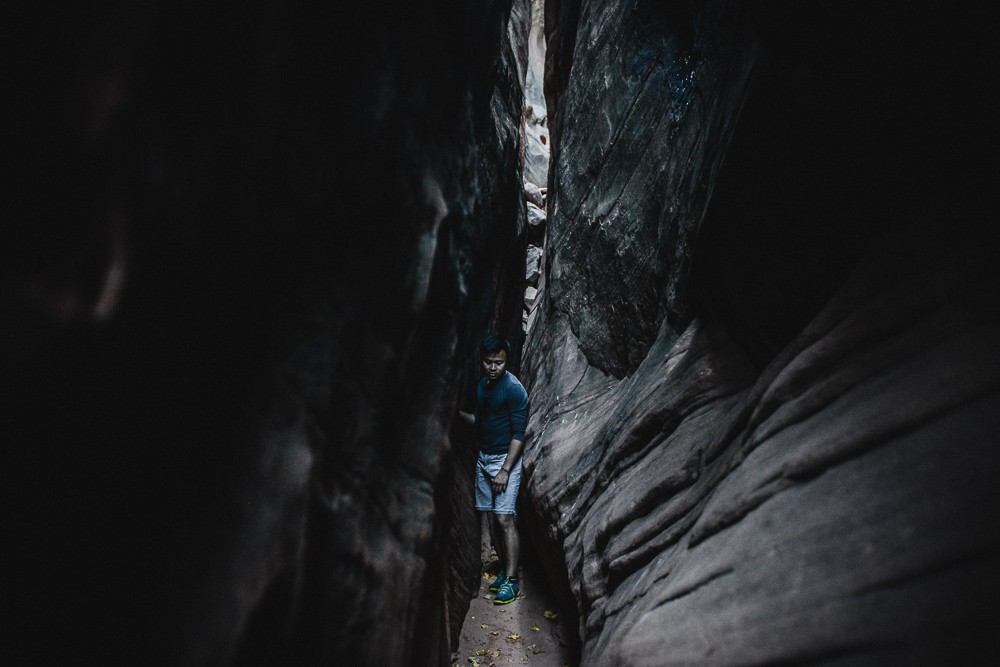 2. Orderville Canyon
This is another one just outside Zion National Park, which significantly decreases the number of "tourists" that you'll bump into. Most people are content to feast on the buffet of trails within Zion that there's no reason to venture out. Locals and adventure enthusiasts are the sorts you'll find here. This one is spectacularly long and joins in with the Zion Narrows at one point. There are extremely deep sections that are over 1,000 feet in certain spots and the canyon is mostly dry so it's easier to explore, especially in the lower more narrow areas.
You can find detailed instructions to get to the different spots here, but the main narrows is about 1.5 miles from the Zion Canyon scenic drive. You'll need to get a permit to hike here, and if you're planning to do the lower half, you'll also need to pay the entrance fee for Zion National Park, since it crosses into park territory.
3. Poverty Wash
This one is a nice small one that gives you about 6-9 miles of trail to explore with different alternating wide and narrow sections. What's nice about this is that are some colorful Navajo sandstone stretches that look similar to what you'd see at Antelope Canyon, without anyone else in your frame. The narrows here are pretty shallow, which makes it an easier, but still moderate, hike.
This is a nice hike during the summer because there are stream and pools where you can cool off spread out throughout the length of the hike. If you just want the narrow slot canyon look, you'll especially love Poverty Wash, since that section is much earlier on in the hike, so you don't have to do the full hike. Come at the right time of day when the sun is not directly overhead and the colors really pop. As the slot canyon narrows even further, you'll get to an even darker section that feels like you've traveled back in time.
4. Spooky Gulch Slot Canyon
26 miles south of Escalante is a neat little spot that is extra fun if you love tight squeezes and absolutely horrible if you're claustrophobic. I put it on the list because I kept wanted to find the narrowest stretch of slot canyons. It's a short hike, so I won't know if you'll want to go out of your way to check it out, but if its on your route, it shouldn't be missed. There's also a nearby hike called Peek-A-Boo Gulch that you can combine to create a longer loop, for those with restless legs.
5. Buckskin Gulch
The granddaddy of slot canyon might be an exaggeration, but this long multi-day hike is a great one for avid adventurers who want to pack everything on their backs and get lost for a few days. The whole thing is 21 miles of slot canyon, so there you go. There's a small nominal fee to enter the area, but it's worth it. I only hiked part of it, but I want to return to hike the whole thing one day. It's close to Kanab, so if you are feeling lucky, you can enter in the day-before lottery for the Wave, and then head to Buckskin Gulch, if you don't get it (don't worry, there's only like 20 people allowed into the Wave each day).
Get Off The Beaten Path
More than just being long, there are amazing stretches of narrow slots that are dark and winding (my favorite type of slot canyon).
So there you go, this list should suffice. There are more canyons, but like I said, unless you know some locals or come prepared, they are a lot harder to access. Why not go for some of the best low hanging fruits that will basically give you the same results. The best part of this list is that most of these hikes are empty. And if they're not, they are spread out enough that you'll mostly have it to yourself. No need to be herded around in a large group like at Antelope Canyon.