The Complete Summer and Fall Guide To Cortina d'Ampezzo: Read This First
The Complete Summer and Fall Guide To Cortina d'Ampezzo: Read This First
Last Updated on January 7, 2022
---
Cortina d'Ampezzo is one of the premier destinations in the Dolomites and an ideal home base for some of the best climbing and hiking in the Dolomites. It's also only 2.5 hours away from Venice, which makes it an easy weekend escape for locals and visitors alike.
So if you're making a summer or fall trip to the Dolomites and you're planning on staying in Cortina d'Ampezzo or thinking about it, I've put together a short but packed guide with essential information, tips and recommendations to help you plan out your own trip. It's based my own experiences here and talking directly with locals. You can quickly navigate through the sections with the links below. Be sure to come back here and check out my full guide to the How I Planned My First Trip To The Dolomites.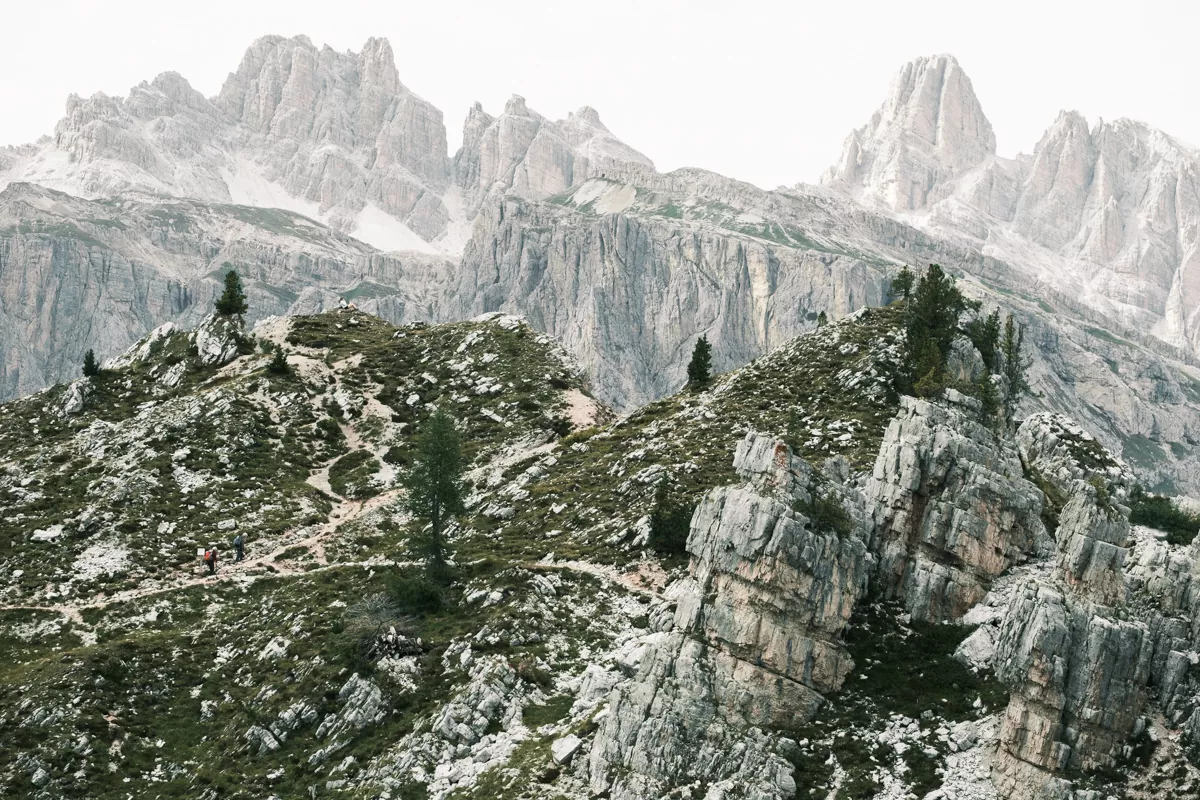 Advice From Local Guide | Where To Eat In Cortina | Where We Hiked | Other Activities | Where To Stay In Cortina | Weather In Cortina | Getting To Cortina |
Q&A with A Local Cortina Guide
With an overwhelming number of hikes and activities, I reached out to our local guide, Luca Sala from Guide Alpine Cortina Dolomiti to pick his brain.
With so many different places to base yourself, why Cortina?
Cortina is a wonderful resort, unique in the world, surrounded by the most famous dolomitic peaks. It offers countless outdoor activities, both in summer and in winter: hiking, via ferrata routes and climbing are the main things to do in the hot season, while
alpine ski is one of the most popular activities during winter, together with ski mountaineering, snowshoeing and free-riding for those who prefer something on the wild side.
What I like the most about Cortina is that there is an itinerary suitable for anyone, regardless of their experience level, that allows you to enjoy truly magnificent views and nature in its pristine state.
What are your 3 favorite hikes to do in Cortina?
The first is the crossing of the wonderful plateau of Mondeval located in the group of Croda da Lago-Monte Pelmo. It is a pleasant and easy hike where silence and wild animals reign supreme.
The second is the area around Cinque Torri, easily reachable with the cable car. The rocks and the overhanging walls of this area are perfect spots to approach climbing and via ferrata routes, and there's a vast mixture of beautiful hiking paths in the surroundings.
Last but not least, her majesty Tofana di Rozes: the most important mountain of Cortina, where you can indulge in various itineraries reaching different characteristic alpine huts. For the more expert and trained hikers, a long and challenging ascent with exposed and technical passages leads to its peaks at 3244 meters, where it is possible to enjoy one of the most panoramic and stunning views of Ampezzo valley.
Are there any secret spots in Cortina that you don't mind sharing here?
Every mountain guide has their own secret spots or routes that may not have a name and it would be difficult to describe in a short response. Honestly, if you want to leave the beaten track to reach unusual and lesser known locations, consider getting a guide. Everyone I work with at Guide Alpine Cortina comes from Cortina or nearby and knows the area better than anyone else.
What is your favorite lake in the Cortina area?
My favourite lake in Cortina is Lago delle Baste, located in the plateau of Mondeval, a very little alpine treasure in which the giant Monte Pelmo is reflected.
What is your main advice for someone coming to the Dolomites for the first time?
Always check the weather conditions and and choose the right season for certain activities. It is extremely useful to consult with the locals, whether its at your hotel or with a professional guiding company, to understand the conditions for your itinerary. If you are unsure about anything on your route, talk to someone locally, since a lot of information is not on the internet.
What are your thoughts on Tre Cime di Lavaredo and Lago di Braies?
Tre Cime and Lago di Braies are the most popular spots of the Dolomites; every year thousands and thousands of people reach those places and it creates a number of problems. It's way more crowded than what you see in the photographs. This is not a mountain I search for: mountains are about silence, respect for the nature and even isolation.
If you really want to go, my advice is to visit those places out of the peak season (in June, September or October) and to avoid the weekends.
Where To Eat In Cortina?
My advice here is simple and backed up by the locals I talked with during our trip: Eat breakfast and dinner at your hotel. Have lunch at a rifugio or picnic in the mountains.
Get The Half Board Option
Almost every hotel will offer some kind of breakfast and/or half board option where you can have a three course dinner at the hotel. Breakfast is often buffet style with a wide options including those for vegetarians and vegans (like my friend).
Dinner is a very filling multi course meal that includes a primo or entree, secondo, and a dessert. It's almost always priced better than if you ordered individually at a restaurant.
Having an early breakfast ready at your hotel allows you to get an early start on your activities and hikes. And having dinner at your hotel means you don't have to leave your warmth and comfort after a long day on the trails.
Picnic or Rifugio
For lunch, I recommend packing a picnic and enjoy it at your leisure somewhere on the mountains or at a lake. It's a wonderful way to just take in your surroundings and fuel up for the rest of the day, especially when the weather's good.
We had to skip breakfast one morning for our sunrise hike, so our hotel packed us a breakfast and we brought our own coffee to Lago di Sorapis. You really can't beat a hot cup of coffee early in the morning sitting on a rock overlooking a turqouise blue lake.
Even better, you can enjoy a delicious meal or just a drink at one of the many, many rifugios you'll find along the way. These restaurant cum hotels in the mountains are often nested somewhere beautiful with indoor and outdoor seating.
Where We Ate In Cortina
I can highly recommend the couple of places where we ate out for lunch, and I can imagine there would have been more on this list if we had the time.
Rifugio Scoiattoli: This rifugio, at the top of the Cinque Torri lift surrounded by the mountains and within a short walk from Cinque Torri itself, offers some delicious cuisine and drinks. I had the regional casunziei all'ampezzana, a stuffed ravioli with melted butter, ricotta cheese and poppy seeds. We also shared a beautiful charcuterie plate, a polenta dish with mushrooms, and venison carpaccio washing it all down with a classic Hugo Spritz.
Ristorante da Bepi al Lago Ghedina: This place was truly a gem. You can drive or hike in from Cortina d'Ampezzo. We hiked in halfway down from Tofana di Mezzo. The restaurant sits over the lake and the trout on the menu is from the lake itself. It was a perfect spot to sit with a drink in our hands and rest out legs after a long day of hiking. Definitely put this one on your list.
Where We Hiked In Cortina
Rifugio Nuvolau
With our guide, we did a via ferrata route to Rifugio Nuvolau perched high on top of Mt. Nuvolau. You can also reach the top of Ra Gusela from here too and it can be done as a normal hike without any equipment. For those who want to try Via Ferrata for the first time, this is a nice and easy one for any skill level. To read more about this hike we did, check out my Hiking Cinque Torri and Rifugio Nuvolau post.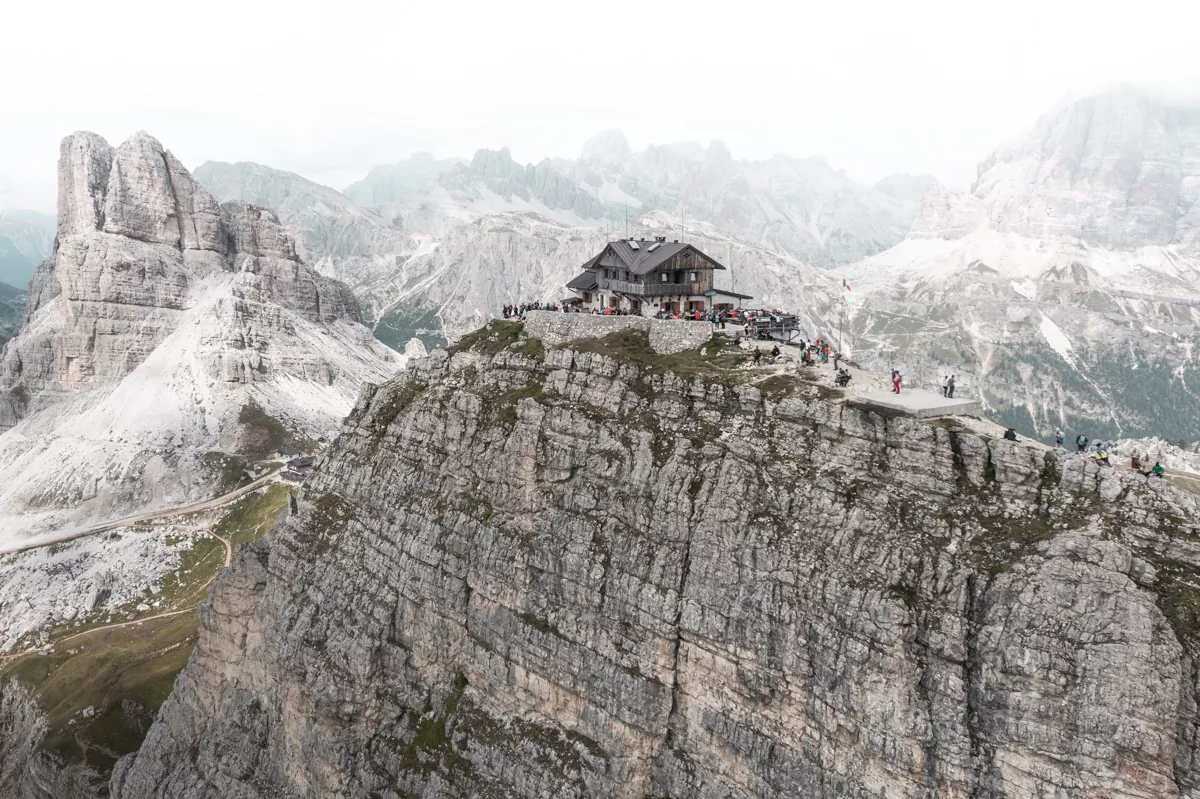 Cinque Torri
We hiked around Cinque Torri after we got back down from Rifugio Nuvolau. It's an easy walk where you'll see a lot of climbers and trace the steps of soldiers who found in the trenches here during World War I. You can read more about it in my Hiking Cinque Torri and Rifugio Nuvolau post.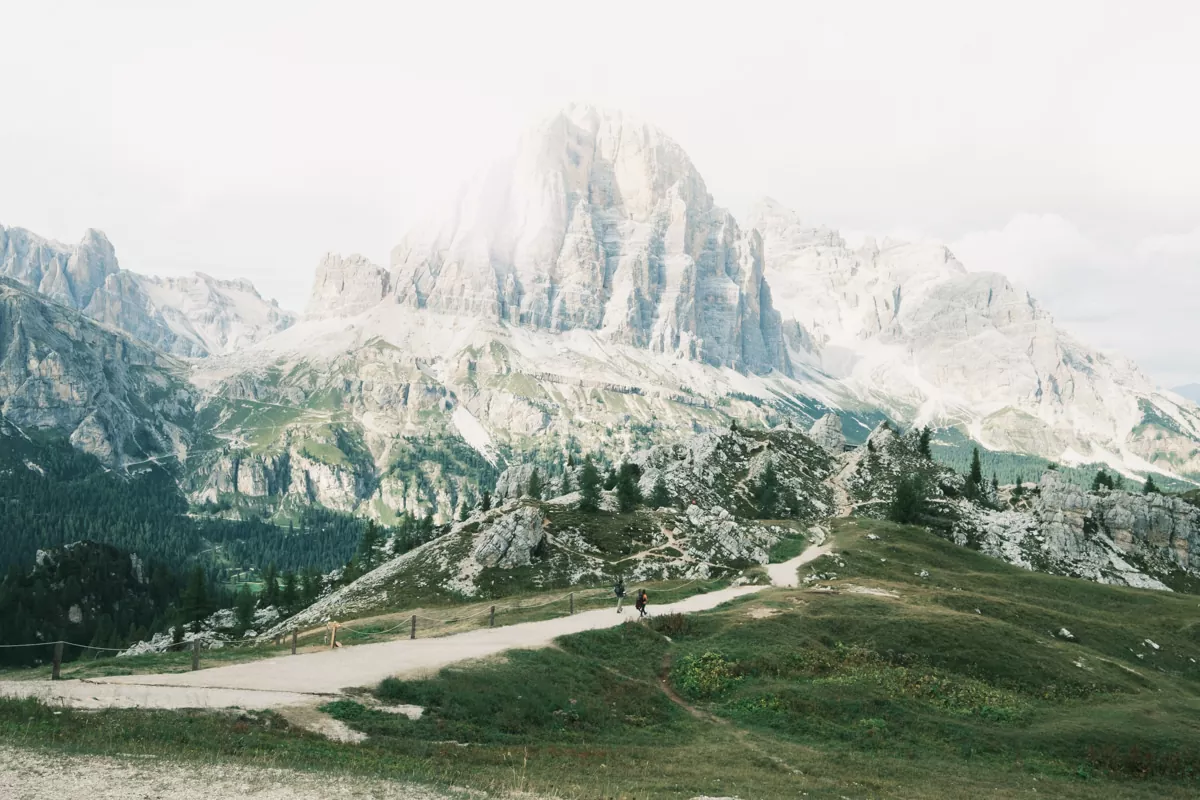 Lago Di Sorapis
Though both Lago di Sorapis and Lago di Braies are popular spots, we opted to go to Lago di Sorapis since the trailhead was right by our hotel, which meant we left there at 6 am, got there around 7:30 and had the lake mostly to ourselves. The sunrise hike was stunning with a very moderate climb most of the way. The lake was a little drier that time of year than we expected, but it was still very beautiful. You can walk around the lake and further here. Definitely go early. On our way down at about 9 am, there were so many more people coming up, who had just finished their breakfast at the hotel. You can read more about our Sunrise Hike To Lago di Sorapis.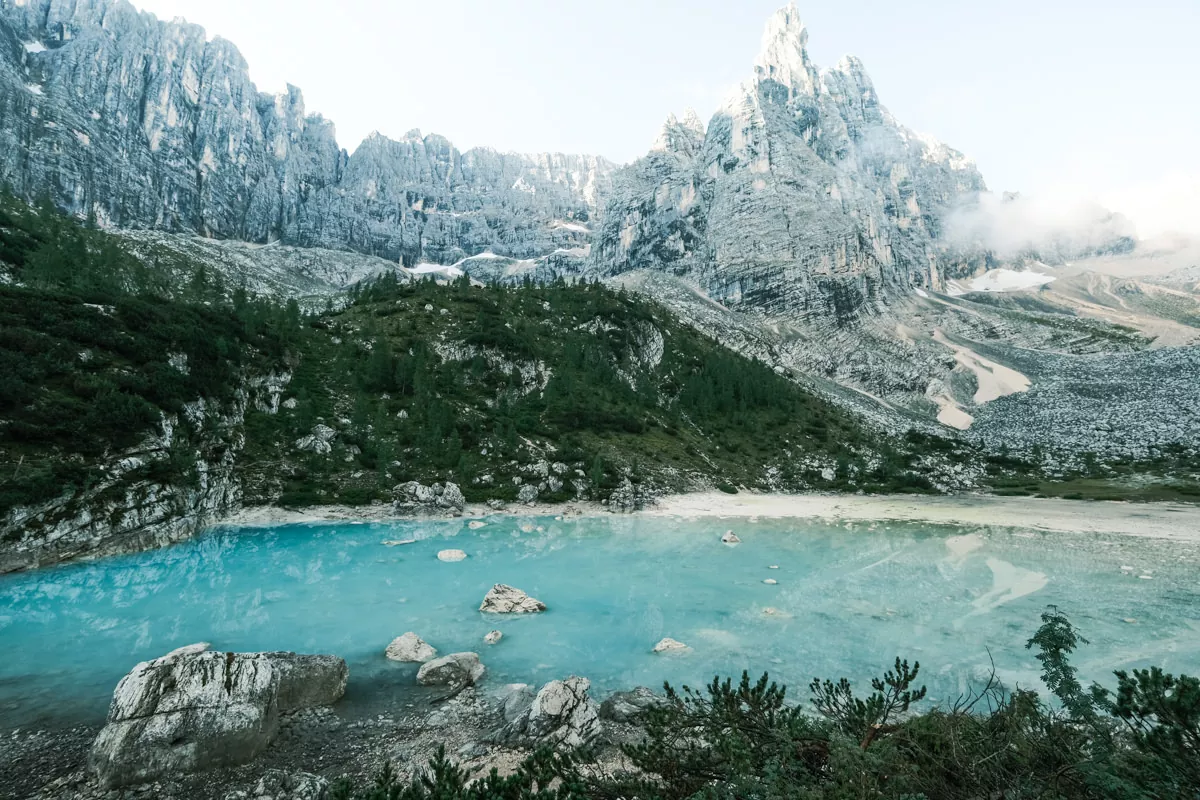 Tofana di Mezzo
Tofana di Mezzo is the 3rd highest mountain in the Dolomites and the highest peak of the Tofane mountain. It takes 3 gondolas to get to the top and it's worth it for the view (apparently). We actually had a really cloudy day, so instead of a view of the valley, we had the experience of riding into and through the clouds.
Lago Di Ghedina
We hiked here after coming down partway from Tofana di Mezzo. The hike goes through a forest, so it was a nice change of scenery from our other hikes. The lake and the restaurant itself is the payoff here. Such a gem of a find recommended to us by a local.
Top Activities To Do In Cortina In The Summer
While hiking is the main activity for most people coming to the Dolomites in the summer, there are plenty of other options for the adventurous.
Via Ferrata
Sort of a mix between hiking and rock climbing, Via Ferrata (Iron Path) is a method of traversing more difficult paths with the add of metal ladders or rains. With the add of a harness and carabiners to clip in for safety, you can take in the view from spectacular vantage points that are otherwise inaccessible if you were just hiking. I highly recommend doing this and I definitely recommend doing it with a guiding outfit so they can provide you with the right equipment and take you to some of the best routes.
Rock Climbing
Plenty of climbing options around, but the best and most famous spots are at Cinque Torri. You can get all the information you need about climbing, routes, and guides here.
Indoor Climbing
If you're not ready to go outdoors for climbing or the weather does not permit, you can always indoors at one of the many different indoor walls at Cortina360 Lina Lacedelli Climbing Gym,
Mountain Biking
Plenty of mountain biking routes and lifts to take your bike up. No need for shuttling. There are both paved and wild paths for all different skill levels. You can also rent mountain e-bikes to assist in the uphill climbing sections. This was one of our activities that we wished we had some more time for.
You can download a map of the all the mountain biking riding routes in Cortina here.
There's also a bike park with groom trails, tracks, and plenty of ramps. You can rent Santa Cruz and Focus bikes here onsite as well and there's a training area for beginners and new riders in addition to guides and instructors.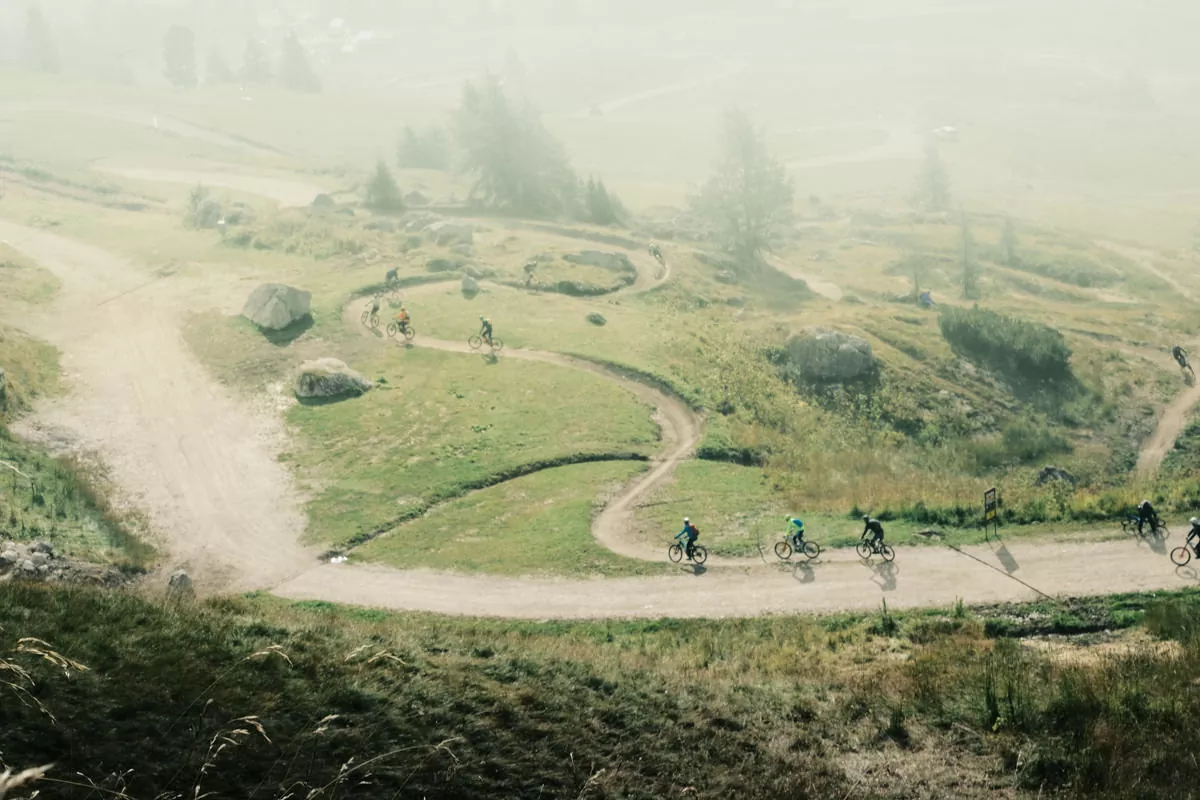 Adventure Park
For the thrill-seekers and those not too afraid of a bit of height, the Adrenalin Centre Adventure Park offers 15 equipped routes with various obstacles to traverse and 140 tree to tree passages. It's a great activity for kids and family, but it's definitely for all ages as there are multiple routes with varying difficulty levels. Prices and opening hours can be found here and the place is usually opened from late June to early September.
Tennis
There are a few public tennis courts at the Tennis A.R. Apollonio center that's open from May to September. They have 3 astroturf grass courts and 2 clay courts available to rent by the hour along with private lessons. There are also private tennis courts at the Tennis Country Club, though you might have to be a member or know someone who is a member.
Camping
When the fair summer weather, camping is a great option with all types of sites available throughout Cortina and the surrounding areas. You can find available sites here.
Where To Stay In Cortina?
Cortina d'Ampezzo is one of the more popular destinations in the Dolomites and the price of accommodations is reflected. If you are looking for more affordable, stay outside of the center of town like we did.
We stayed at the B&B Hotel Passo Tre Croci Cortina. The rooms were spacious, modern and and clean. The breakfast buffet was simple, but had everything we needed. Rooms were only about 100 euros for two – one of the cheapest hotels around. They offered a half board option, but we hadn't arranged for this in advance, so ate in the bistro cafe instead for dinner. If you are not spending a lot of time at the hotel, this is a perfect choice. It's also right next to the trailhead for Lago di Sorapis.
If you don't need breakfast, dinner or a spa, consider looking for apartments on Booking.com. I found it cheaper than Airbnb where there were all the additional fees that ended up costing way more than the listed price.
If you want to treat yourself, look at the Cristallo Hotel. This was what we wanted to book, but we decided to save our splurge nights in Alta Badia, midway through our week. Our short list of luxury choices also included the Rosapetra SPA Hotel and the Grand Hotel Savoia.
Our mid-range shortlist included the Camina Suite & Spa and the Hotel Bellevue Suites & Spa.
Weather In Cortina and When To Visit
Summer Weather
The warmest months in Cortina d'Ampezzo and the Dolomites are June, July, and August with a high-low average range between 48 and 75 degrees Fahrenheit (10 – 24 degrees Celsius). July and August are the peak months of the summer season.
Rain
Ironically, these are also the months with the highest number of rainy days. Expect up to 15-16 days of rain during these summer months. The rest of the year has average of 8-10 days with either rain, snow, or hail. That said, it doesn't always rain the entire day. We had rain forecasted the entire week, and ended up with sun most of those days, a couple of overcast, and some light drizzles in the afternoon. When it did rain, it was at night when we already back at our hotel.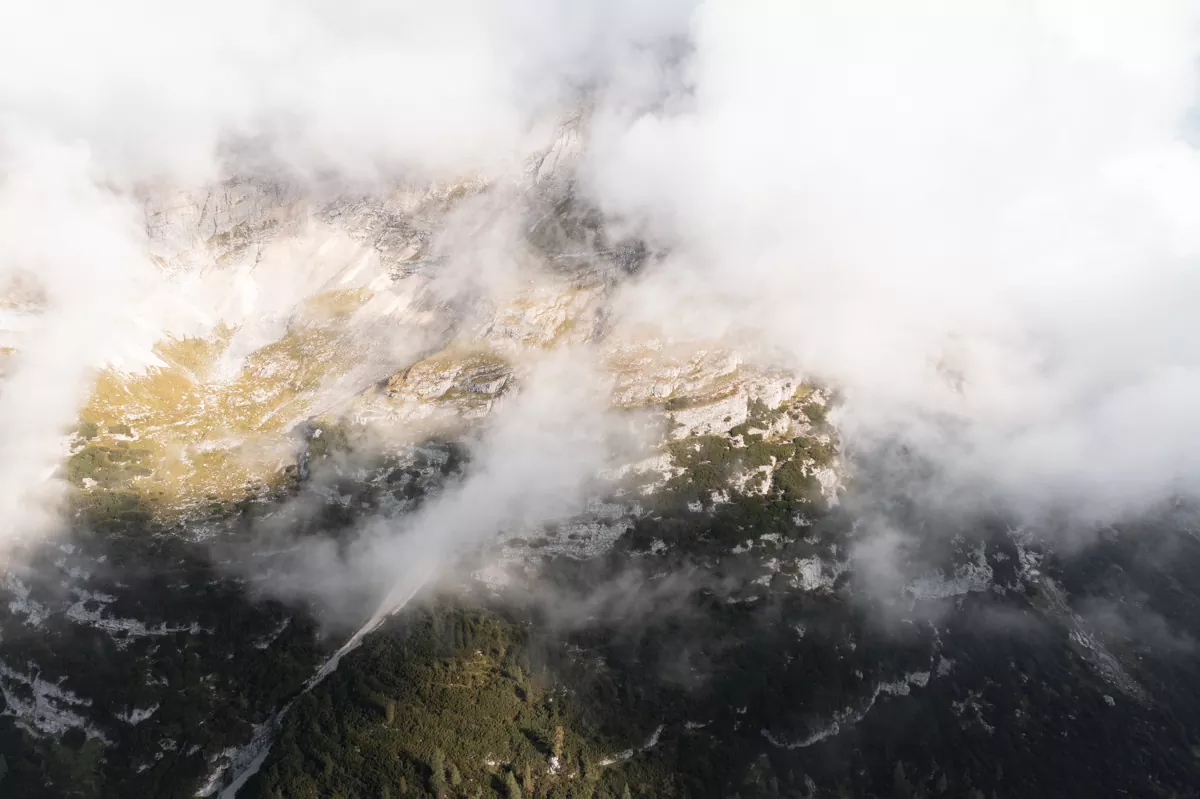 September and October are also great months to visit weather wise and the crowds have started to thin out. Temperatures are quite moderate in September with a high-low average range between 46 to 68 degrees Fahrenheit (8 to 20 degrees Celsius). October starts to colder with temperatures between 34 to 56 degrees Fahrenheit (1 and 13 degrees Celsius).
November is the quietest month in the Dolomites because it's the break between the Summer and Winter Season. The weather averages just above and below freezing.
Winter Weather
December, January, February, March, and April marks the winter skiing season. Expect the temperature to be below freezing in December and January. From February to April, it starts to warm up getting as high as 54 degrees Fahrenheit in April. You can still expect snow in April and May and many of the passes and rifugios in the mountain are not yet accessible until about June.
Regardless of the season, I recommend preparing for rain and cold as the temperature drops pretty quickly when the sun sets over the mountains, which is usually earlier than sunset and even earlier in certain spots in the valley. Night time temperatures are generally quite chilly. I've put together a pretty no-BS essential packing list in my How I Planned My First Trip To The Dolomites post.
How to Get To Cortina d'Ampezzo
Cortina d'Ampezzo is about a 2.5 hour drive from Venice Marco Polo International Airport.
I highly recommend visiting the Cortina d'Ampezzo and the Dolomites by car, which will allow you to get to all your destinations on your own schedule. While there are local buses in Cortina, they only go to some of the major spots and you'll have to stick with their schedule.
How To Get From Venice to Cortina Without A Car
There are buses and trains leaving from Venice to Cortina and Venice Marco Polo International Airport to Cortina. There's usually a morning, afternoon, and evening option. The bus is the faster option and takes about a little hour 2 hours from the airport and about 3 hours from Venice. It's also the cheaper option at about 20 euros.
I only recommend this option if you are traveling to Cortina and subsequently to the major spots close by during the high season. If you plan to go from village to village and want to do many different hikes, I recommend having your own transportation.
What To Pack For The Dolomites?
This is an important section to read and double check before you make your trip there. Winter is easy. Pack warm. Bring your gear. Spring, summer and fall is not as straightforward as you might think.
In the Dolomites, you deal with valleys and mountains where temperatures can change dramatically from hour to hour. When the sun's out, the valleys can be quite warm, but as soon as it drops behind the mountains, it can get cold quickly.
My advice summed up: layer and expect rain. But here's a more comprehensive list of essentials without all the specialized gear like climbing equipment or mountain bikes, etc.
Waterproof Boots or Trail Running/Approach Shoes
You want something with sturdy traction as the hiking terrain can change from dirt and mud to grass and gravel. Waterproof boots are great for hiking, but trail running or approach shoes are even better if you're doing something like a Via Ferrata where a bit more flexibility is welcomed. This hybrid between a climbing shoe and a hiking shoe gives you the best of both words.
Merino Layer
Whether it's a pair of leggings or an undershirt, merino wool is one of the best layering material out there because it's light, warm, breathable, temperature regulating, odor-resistant and moisture wicking. Every single one of those qualities will be appreciated in the early mornings or late afternoons when you're on the trail or high up on a mountain top rifugio.
Cloud Sandals
I used to do ultra endurance races where I was on my feet for several marathons worth of miles through the gnarliest terrain. And that's where I learned about these "cloud" sandals. Not only are they perfect for the spa after a long day's hike, but they are just super comfortable for your feet after long hikes.
Ultra-light Down Jacket
The one thing I carry on every trip is my Ghost Whisperer down jacket. It's one of the lightest jackets on the market, packs into itself down to nothing so I can toss it in any bag, and has kept me warm in below freezing weather. The 800-fill goose down jacket, like most other goose down, does not hold up when it's wet though, so when it rains, I reach for the next item on the list.
Rain Shell
Rather than opt for a bulky jacket that's waterproof, I prefer to have a light waterproof rain shell that goes over my other layers. Combined with my lightweight down jacket, and a merino base layer, but I've been warm in Iceland during the winter.
Day Pack
If you're not doing a multi-day trek, any light day pack will do, but if you plan on doing any kind of Via Ferrata climbing, opt for something low-profile with a waist strap just so you can keep it firm on your back and out of the way.
Insulated Water Bottle
If you like your water cold or warm, bring a good insulated water bottle. I also have a thermos with a built in cup for for tea and coffee that I always taking camping.
Collapsible Water Bottle
If you want to hike light, get this collapsible water bottle that I carry with me everywhere. It's great for traveling in general because, it weighs 1.5 ounces and rolls away to nothing when it's empty, but can carry a liter of water when filled up.
Portable Massager
So this is not really an essential, but I kept wishing I had my Theragun Mini with me while I was in the Dolomites. It is incredibly powerful for something so compact and would have come in handy after our long hikes.
Take You Time And Your Trip
Last words of advice. Give yourself time. Don't overpack your days so you aren't rushing to get from one hike to the next. The Dolomites are one of those places where it's not about one view or a destination, its beauty is everywhere, so you'll want to stop more than you think to take in the view or a photo.
Don't forget to check out my full guide to the How I Planned My First Trip To The Dolomites to get more of my recommendations for the other regions I visited as well as insight to how I came up with my 7 day itinerary.