From Cork to Chocolate: A Walkthrough of WOW Porto's 7 Museums
From Cork to Chocolate: A Walkthrough of WOW Porto's 7 Museums
---
As a frequently returning visitor and part-time local to Porto, I'm lucky to have the time to explore many of the city's hidden gems and unique experiences like a riding a luxury gourmet train to the Douro Valley catered by Michelin-starred chefs (yes, that's plural). And when it comes to some of its must-visit attractions, like the WOW Cultural District, I've been able to split my visits over several days to really explore the place.
If you are planning your visit to Porto and the WOW Cultural District, this guide will help you pick amongst the 7 museums and give you a better idea on how to structure a half day or a full day here.
The 7 Museums of WOW Porto
Here are the 7 museums at WOW Porto. Each unique in their own way, but all sharing gorgeous architecture and well thought out rooms and interactive exhibits. You can click to jump directly to each of the 7 museums or my mini FAQ at the end.
Which are the best museums to visit at WOW Porto?
How much time do I need at WOW Porto?
Where Are The Best Souvenirs In Porto?
How Much Are The Tickets for WOW Porto Museums?
Planet Cork: More Than A Bottle Stopper
Never would I have ever imagined going to a museum dedicated to cork. Really. And yet the Planet Cork museum is just that. But it makes sense, considering that 65% of the world's cork production is exported from Portugal.
I wouldn't blame you if you didn't think cork was interesting enough for a whole museum, but you'd be surprised. Visitors are greeted by an enormous cork tree statue upon entering and a scale that tells you how much you'd weigh in cork stoppers. 14941 cork stoppers. That's how much I weigh.
All of this sets the tone for the interactive exhibits that follow. One of the highlights of the museum is the opportunity to see a replica cork oak tree up close in the outdoor garden, a great lead-in to learn about the harvesting and processing of cork to get to its final form like the wine bottle stoppers we're all used to seeing.
Inside, visitors can learn about the many different and sometimes unusual uses of cork, including in fashion, architecture, and even spacecraft design. This part was pretty interesting for me since, I personally like products designed with cork and it was cool to see the many alternative applications that I didn't even know about.
Obviously, a lot of this goes hand to hand with wine production and it was neat to learn about the different grades of cork, the shapes, and how it goes from basically being the "bark" of a tree to something that keeps your sparkling wine bubbly.
There's even a machine where you can personalize a wine cork topper to take home for just 1€.
Pink Palace: A Rosé All Day Kinda Place
The Pink Palace is an easy one to recommend if you are a fan of Rosé wine. I'd describe it as a spin-off of the Wine Experience, where you learn about the different types of Rosé wine by drinking it and then taking advantage of being tipsy to take a bunch of photos in pink-themed sets designed for your social media selfies.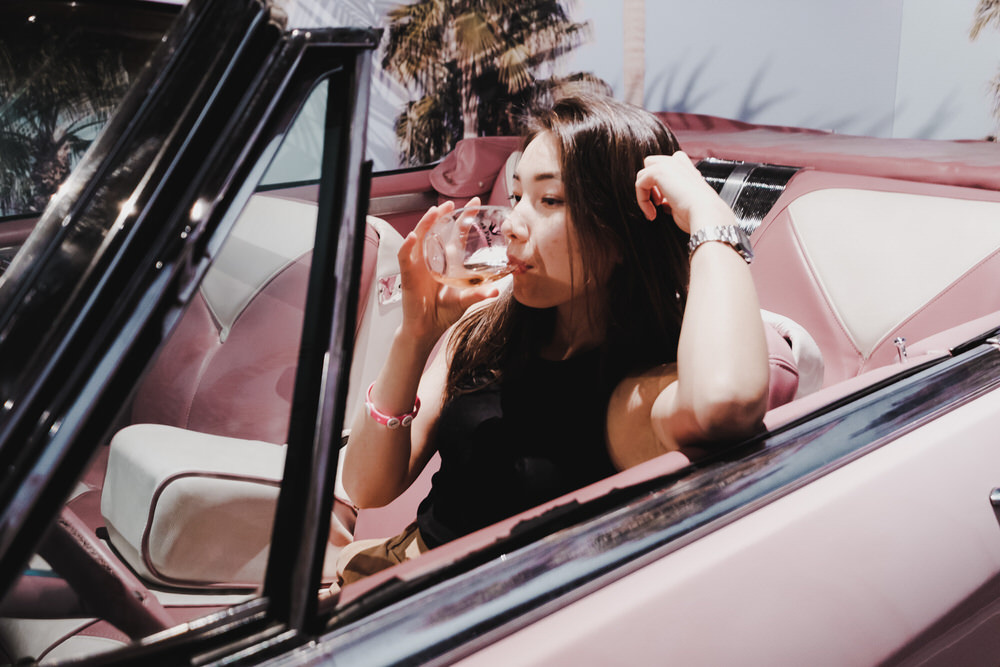 I think that sums it up pretty well and it's no surprise that it's one of the most popular of the museums. Who doesn't like to use the excuse of going to a museum to day drink with your friends…and sit in a pink Cadillac.
Upon entering, you get a pink bracelet with 5 little "buttons" that you exchange for tastings. I was a big fan of the Cartuxa sparking rosé and and the Mateus, in its distinctive shaped bottle. The latter turns out to be one of the most popular rosé products in Portugal and only costs about 4€ a bottle. I now keep at least 2-3 bottles at the ready in my Porto apartment.
We actually did this museum last on the same day I did the Wine Experience and then the Port and Chocolate pairing and I'd be lying if I said we weren't tipsy by the end. Things even started to look a bit upside down. 😉
The Chocolate Story: Unwrapping The Sweet History of Chocolate From Bean To Bar
The Chocolate Story museum is one of the most popular and easy to recommend museums at WOW Porto. The place is dedicated to the history and production of chocolate, from its origins in Central America to the present day. It features interactive exhibits that allow visitors to learn about the different varieties of cocoa, the production process, and the history of chocolate making.
You'll find everything from vintage posters and wrappers of all the famous chocolates, original molds,
My favorite part of the museum was when a staff member would just appear out of nowhere with a tray of chocolates for you to sample. This happened a couple of times and I never turned it down. It was nice to sample different chocolates types produced in Portugal and then have the chance customize and personalize my own bar to take home.
Not only do you sample the finished products, but you can even smell and crack open a freshly roasted cacao bean to taste the nibs before it's turned into the chocolate that we know and love.
My least favorite part of the museum was the crane toy machine where I came tantalizing close to winning a giant bar of Vinte Vinte dark chocolate only to see it slip out of the claw's grip right at the last second. I'm joking. I loved it and I think they should have more of these machines around.
There's a chocolate school right inside the museum so you can do workshops and learn how to make your own chocolates. If you like chocolate, you'll want to put this one on the list.
And when you're done, take a little break at the Vinte Vinte cafe attached to the gift shop and do a port and chocolate tasting there. If you didn't already know how well these two go together, you do now, so don't forget to pair the two whenever possible while traveling in Portugal.
The Wine Experience: Smell, Sip, and Savor
The Wine Experience is a museum dedicated to the history and production of wine in the Porto region. The museum features interactive exhibits that allow visitors to learn about the different grape varieties, winemaking techniques, and wine tasting. Everything from understanding the earth and terroir, to the grape varietals, the temperature, and the year long process of winemaking is broken down in easy to absorb and tactile exhibits.
One of my favorites was a room full of comical painting personifying what different wines would look like if they were a person. Very amusing, but really educational. Wine experts will probably do a lot of nodding here.
I've done my fair share of winery tours and tastings, but you also learn something new each time. Personally, even something as simple as seeing all the different bottle sizes explained and seeing the different types of bottles used over time to store wine was very fascinating.
Another fun part of this museum were the two interactive rooms where you can do a taste experiment involving an unidentified jelly bean flavor and then a smell experiment where you try to identify some of the different flavor notes that are found in wine. Bragging rights go to whoever has the snobbier nose.
And of course at the end, there is an educational wine tasting, where you learn how to identify different flavors and characteristics in the wine you're tasting.
Considering that WOW was originally called the World of Wine, and Porto is known for its wine, it's hard to argue against visiting this one – especially since I really enjoyed it. But I'll be a contrarian here by saying this, that since there are other places where you can or will learn about wine while in Porto, if you had to make a choice between this and another museum, it's something to consider.
Still, the Wine Experience is a great museum for both wine lovers, who will appreciate some of the interactive exhibits where you can play with the sense of smell and taste, and for those who know little about wine, because everything will be new and interesting.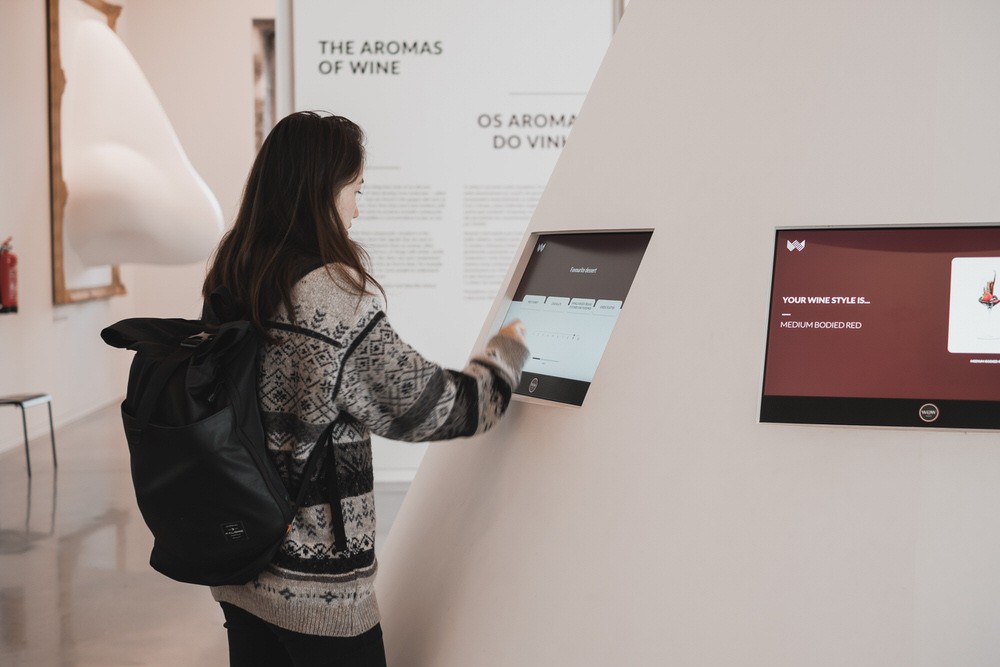 The Bridge Collection: A History Of Drinking
An apt way to describe the Bridge Collection is to call it a museum dedicated to the history of drinking – told through a rich collection of drinking vessels across time. The never-ending array of cups, bowls, carafes, and general drinking vessels come from the personal collection of Adrian Bridge, who also happens to be the CEO of the company behind WOW Porto.
I honestly didn't think I'd care to see a bunch of different cups, but this turned out to be one of my favorite museums, if not my favorite, out of all 7 museums. And I probably spent a good two hours going through the two floors worth of "cups".
At a glance, it's a museum of ancient cups and bowls, nearly 2000 of them, with the oldest cup dating back to the Jomon Period (Japan) in 7000 BC and the newest cups nearly 9000 years later. It is that, but it's also a story of civilization and our collective humanity told through drinking traditions.
From the simple origin of wine, to the lavish banquets of the Egyptians, the Bacchanalian celebrations of the Romans, the drinking games of the Greeks, the religious and ceremonial drinking of the Vikings, the use of tasters to in Royal courts to prevent assassinations by poisoning, and the techniques and methods behind the different materials used to make these cups and bowls – a history of humanity is weaved interestingly through the medium of drinking.
One of my favorite things here can be seen even before entering the museum. It's a 23 foot timeline of the history of civilization based on the Biblical calendar. The original version was created by a missionary named Sebastian C. Adams and published in 1871 and spans 6000 years of history. It's so cool and then best part is you can buy full size poster right in the gift shop.
Porto Region Across The Ages: A Walk Through Time
The Porto Region Across The Ages museum is a great place to learn about the history and culture of the Porto region. The museum features a range of exhibits, including archaeological artifacts, traditional crafts, and contemporary art installations. The rooms were designed to take you through time, with the first one being a replica of a ship galley.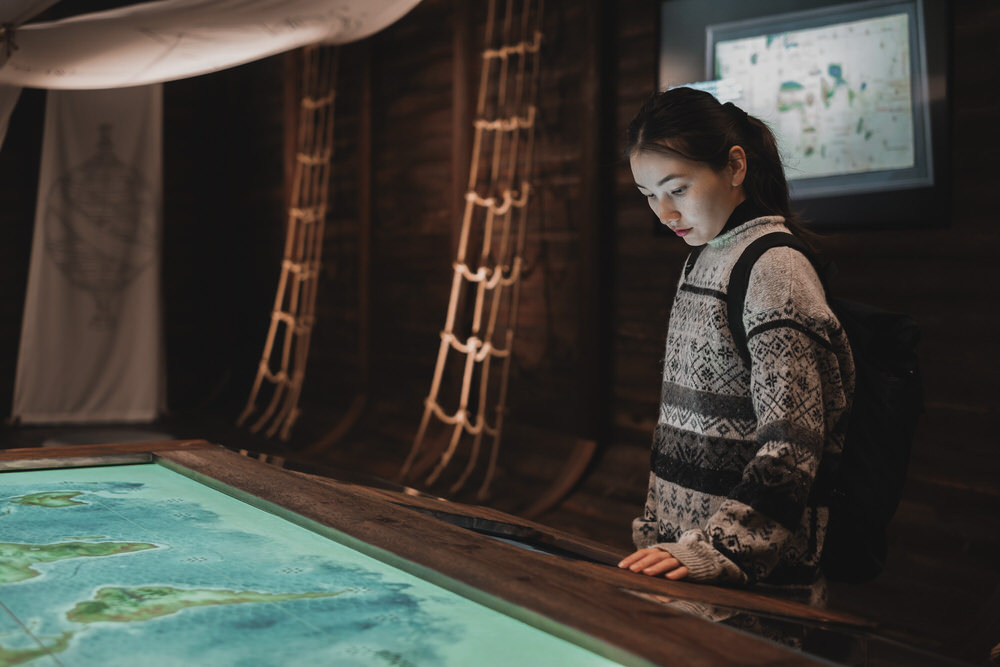 For those interested in history, this museum really takes you quickly through the most important points in Portugal's history. From its height in wealth and power, commanding one of the premier naval forces in the world to when it saw Napoleon's forces invade and then ultimately get turned back with the help of the British army.
The museum employs various interactive mediums from exhibits and artifacts to movie projections, and mixed media installations to help some of these stories come alive. I'd recommend this for someone visiting Porto who wants to learn more about the city, its culture, and history.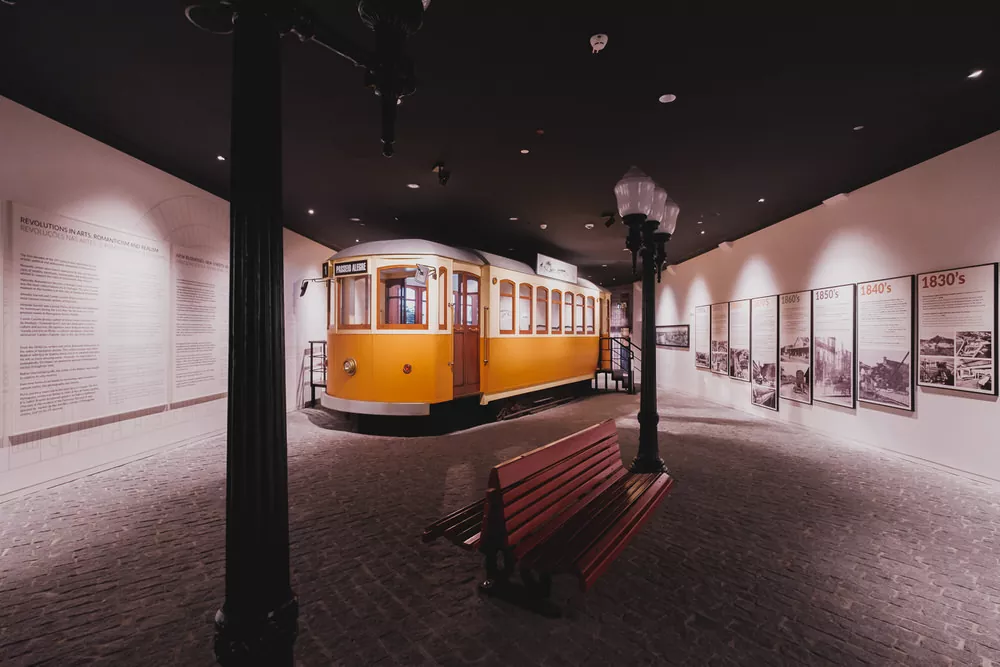 Porto Fashion & Fabric Museum: Behind The Seams Where Art Meets Fashion
The Porto Fashion & Fabric Museum is a must-visit destination for fashion enthusiasts and anyone interested in the history of textiles. The museum features a range of exhibits that showcase the fashion and textile industry in Porto, from traditional crafts to contemporary fashion design.
One of my favorite parts of the museum was the opportunity to see examples of traditional Portuguese textiles and garments, as well as learn about the techniques used in their production.
The museum also features a collection of contemporary fashion design, showcasing the work of local designers and the innovative spirit of Porto's fashion and textile industry.
The space itself was a highlight. Very minimalist and modern and probably one of the nicest fashion museum I've ever visited – which is saying a lot. It was actually my favorite museum to photograph.
I highly recommend this one if you like fashion and design. But make sure you visit before May 1st, 2023, before it closes down.
Which Are The Best Museums To Visit At WOW Porto?
This is probably the question that you brought you here. There's something for everyone and not every museum will be interesting for everyone either. So…
My recommendation is to get the 3 museum pass. It costs 45€, so each museum comes out to 15€. If you bought it individually, each museum would be 20€ and the Pink Palace would be 25€. You can buy them ahead of time online or get them at the ticket desk at WOW Porto.
First museum: If you came to WOW Porto with wine in mind, definitely do the Pink Palace. I'd probably do this first or last depending on if you want to visit the other museums already a little tipsy or not.
Second museum: I'd say do the Chocolate Story or the Wine Experience. You can't go wrong with either and they both have tastings. For families, I'd recommend the Chocolate Story over the Wine Experience, for obvious reasons.
Third museum: Go for one of the other 4 museums based on what would interest you most. The two that are most like traditional museums with their truly impressive collection are the Bridge Collection and the Porto Fashion & Fabric Museum. Porto Through The Ages is for those who want to learn about Porto itself and Planet Cork is just a fun and quirky museum with a topic that you'd probably never think you'd learn about.
How Much Time Do You Need At WOW Porto?
This is an easier question. At the very least, plan for 3-4 hours. Most museums will take about 1-1.5 hours to visit without rushing. If you're planning to visit just one museum, you should at least pair the trip with lunch at one of the 12 restaurants, bars and cafes.
Most of the restaurants and cafes have really nice views of Porto and are modern takes on varied of local and international cuisine. On my first visit, we had lunch at T&C Restaurant, an upscale Portuguese restaurant with an incredible Francesinha topped with a port wine sauce. Like the other restaurants at WOW Porto, each has its own theme and decor and I loved that some of the tables were cut into giant wine barrels.
A full day can be done but it's a lot of information to process and you'll be doing a lot of walking. So if you plan to spend a whole day here, take breaks, grab a coffee and go out and enjoy the view in between visits to the different museums.
Don't forget to use The Fork to look for reservation and special offers beforehand.
I think doing 3 museums and lunch would take almost a full day, so I personally would break up the visit to really enjoy and take in everything properly.
Also, don't forget to check out my insider tips for making the most of your visit to WOW Porto.
Where Are The Best Souvenirs In Porto?
Like most museums, you'll exit through the gift shop, but don't skip them. I can't emphasize enough how the museum gift shops are a highlight of WOW Porto.
Each shop is obviously themed to go along with the museum it accompanies, so you'll find relevant products, gifts, and souvenirs related to the that museum. But you'll also find a curated selection of some of the best products made in Porto. And they are the same price if not cheaper than you'd find elsewhere in Porto.
How Much Are Tickets For The WOW Porto Museums
Basically, all the WOW Museums except for the Pink Palace costs 20€ for an adult ticket (13 years old and older) and 9€ for a child's ticket (4 – 12 years old). Pink Palace, which includes 5 drink tastings and a souvenir bracelet and wine glass, costs 25€ for adults and 9€ for children. There's a family option that costs 45€ for 2 adults and 2 children. For the Pink Palace, the family package is 55€.
They also offer a 2, 3 and 5 museum option.
The Packs 2 Museum allows you to visit 2 museums and is valid for 1 month. It's 34€ for an adult ticket and 15€ for a child's ticket.
The Packs 3 Museums allows for 3 museum visits and is valid for 3 months for 45€ for adults and 18€ for children.
Finally, the Packs 5 Museums allows for 5 museum visits and is valid for 3 months as well for 65€ for adults and 27€ for children.
So hopefully you've come closer to figuring out your plans for WOW Porto. Make sure you make note of all the local insider tips before heading to WOW Porto. And while you're busy planning your trip to Porto, why not let the wanderlust take over and waste some time browsing through my 386 item bucket list for more travel ideas.
Updated on April 22, 2023