Bucket List: Seealpsee And The Taste Of Fresh Alpine Milk
Bucket List: Seealpsee And The Taste Of Fresh Alpine Milk
A couple of months ago, I snuck away to the town of St. Gallen in Switzerland to do some editing. Despite the Swiss Alps just a short train ride away, I managed to stick to my plan until near the end of the month when I joined my friends for a random trip to a "lake in the mountains" called Seealpsee. They told me it was a very beautiful place and I am so glad they said nothing more.
---
Driving To Appenzell and Seealpsee
The drive from St. Gallen to Wasserauen took only about 40 minutes, and if I had needed to pee, I would have wanted it to be even longer. We drove through idyllic villages and small towns in the Appenzell District that looked like they were frozen in medieval times. I half expected to see local townsfolks coming out of their ornate doors to offer me freshly churned butter and chocolates. I really did. But they didn't. The air was incredibly crisp when we arrived to Wasserauen to begin our hike. With towering mountains of granite, rolling hills and cows milling about, the place already felt incredibly Swiss.
Hiking To Seealpsee
The hike from the parking lot to the lake is 3 km and is a steady uphill climb. The time, however, passes very quickly when you are surrounded by the tranquil sound of the creek trickling by and the beech forest. At the top, I was a loss for words. I quickly ran off excitedly pointing at this spot and that spot and marveled at how everything just looked so fake.
Everything appeared to be perfectly placed, like a delicate landscape deliberately designed by a nature specialist or Bob Ross. Look at that those two boats. How did they end up there? And I hadn't even seen the best bit yet. When you first approach the lake, it's hidden behind the tree lines. Following the trail the view of the lake opens up slowly. Until this.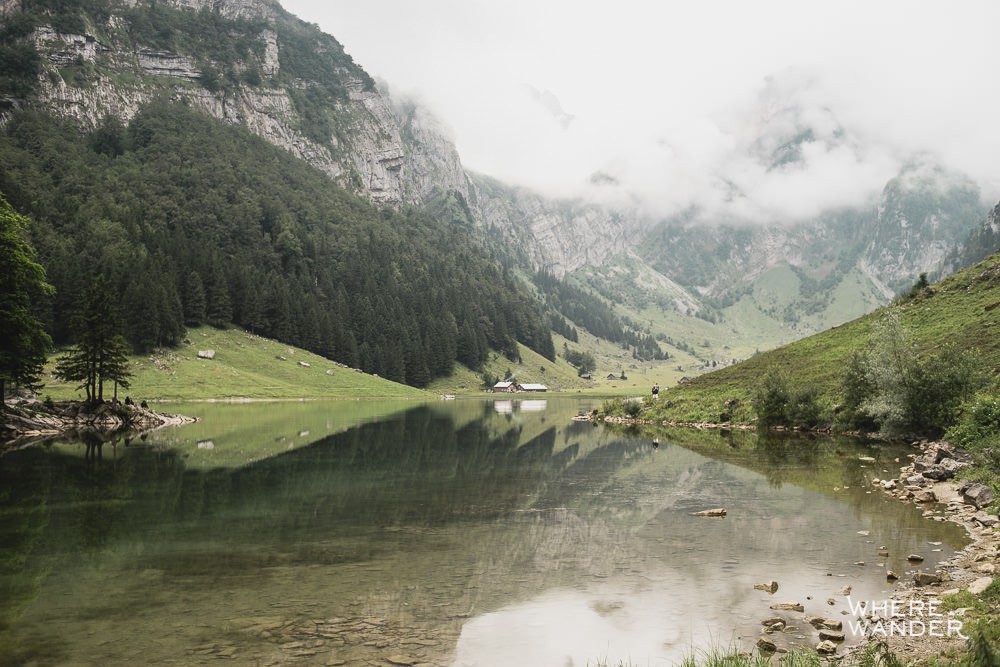 And then this.
The Magic of Seealpsee
Every corner or turn, it was the same lake, but it was new altogether. Perhaps it was the mist floating above hiding parts of the backdrop and revealing it again at different points. Perhaps it was the tones, both vibrant and muted, but coming together so harmoniously.
There were many cars in the lot and we were certainly not the only visitors, but it didn't feel that way. It was a comforting quiet that was amplified by the stillness of the water. When I decided to go for a swim, I felt a tinge of guilt for breaking through the glass-like surface. I also felt very cold because the water was glacial. Luckily, I had the foresight to do 10 minutes of exercising to warm up my core.
After the swim, we continued around the lake stopping by a little farmhouse that served fresh milk and yogurt, made from the milk of the cows that we had seen chilling about. Alpine milk. I've never tasted milk and yogurt so fresh. It could have been the air. It could have been the view. Or it really could have been the cow. Whatever it was, it was such a nice treat. I finished it so fast, I forgot to take a photo.
Further along the trail, I stumbled onto a boy fishing. Even this boy seemed like he was placed there for my photographic needs. He may not even be real. I may also have been watching too much Westworld lately.
Or this dog, who came out of nowhere just as I pressed the shutter.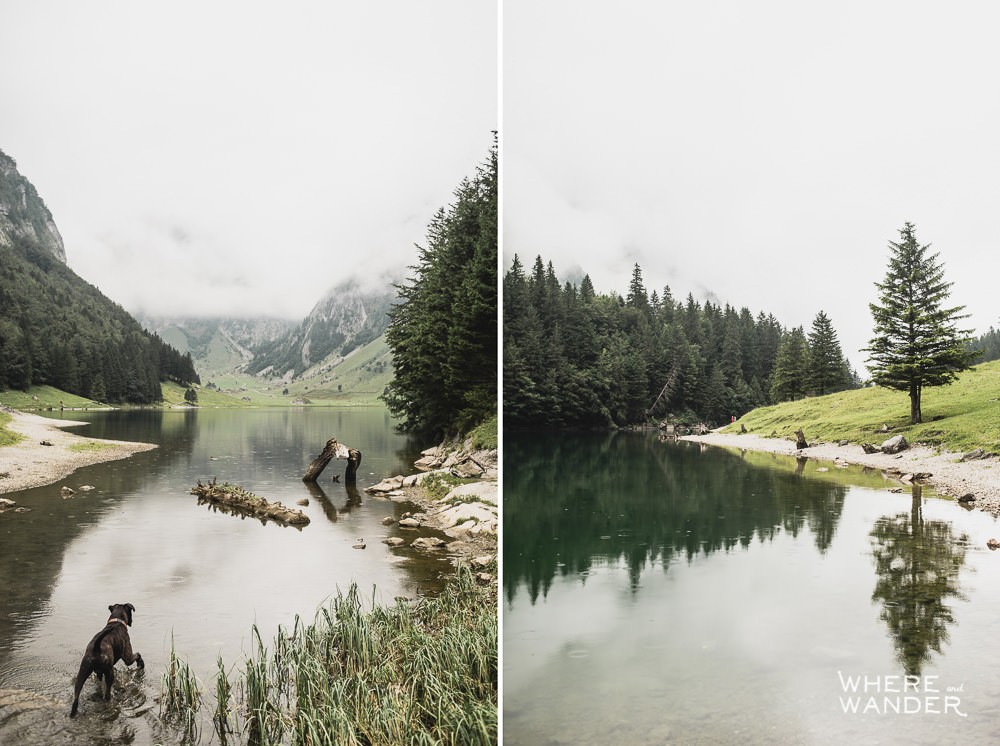 This is by far one of the most picturesque lakes I've seen in my travels. I highly recommend it for anyone who happens to be in Switzerland. We didn't have the time to visit the Berggasthaus Aescher-Wildkirchli restaurant built right in the mountain. Always nice to leave something for next time.