Switzerland Bucket List: Hiking Seealpsee And Ascher Restaurant In Wasserauen
Switzerland Bucket List: Hiking Seealpsee And Ascher Restaurant In Wasserauen
---
A couple of months ago, I snuck away to the town of St. Gallen in Switzerland to do some editing. Despite the Swiss Alps just a short train ride away, I managed to stick to my plan to sit still to edit.
That was until I joined my friends for a surprise trip to a "lake in the mountains" before leaving. That "lake" turned out to be Seealpsee, a place that had already been on my bucket list radar because of a little restaurant built into the side of a mountain.
Driving From St. Gallen To Appenzell and Seealpsee
The drive from St. Gallen to Seealpsee in Wasserauen took only about 40 minutes, and I wouldn't have minded if it was longer. We traveled south through small country roads and drove through idyllic villages in the Appenzell District that looked like they were frozen in medieval times. I half expected to see local townsfolk coming out of their ornate doors singing and offering me freshly churned butter and chocolates. I really did. But they didn't.
From Zurich to Wasserauen, which is what you would put into Google Maps, it's about 1 hour and 40 minutes, but give yourself some extra time to stop for into some of these small villages.
The air was incredibly crisp when we arrived to Wasserauen to begin our hike. With towering mountains of granite, rolling hills and cows milling about, the place already felt incredibly Swiss.
A Wanderung To Seealpsee
"Let's wanderung!" was how we started the hike. Probably not grammatically correct, but I also don't speak any German. In the parking lot is a large board with trail maps. Snap a photo of this just so you have an idea of how to get to the different spots. Overall, it's not very difficult. There is one path up to the lake and then it's one big circle around.
There are offshoots to get to other hikes scattered around and a cable car for people who just want to get up to Ebenalp and do a short walk to the famous Ascher restaurant.
The parking lot to the lake is a 3 km walk and is a steady uphill climb. The time, however, passes very quickly when you are surrounded by the tranquil sound of the creek trickling by and the beech forest. At the top, I was a loss for words. I quickly ran off excitedly pointing at this spot and that spot and marveled at how everything just looked so fake.
Everything appeared to be perfectly placed, like a delicate landscape deliberately designed by a nature specialist or Bob Ross. Look at that those two boats. How did they end up there? And I hadn't even seen the best bit yet. When you first approach the lake, it's hidden behind the tree lines. Following the trail the view of the lake opens up slowly. Until this.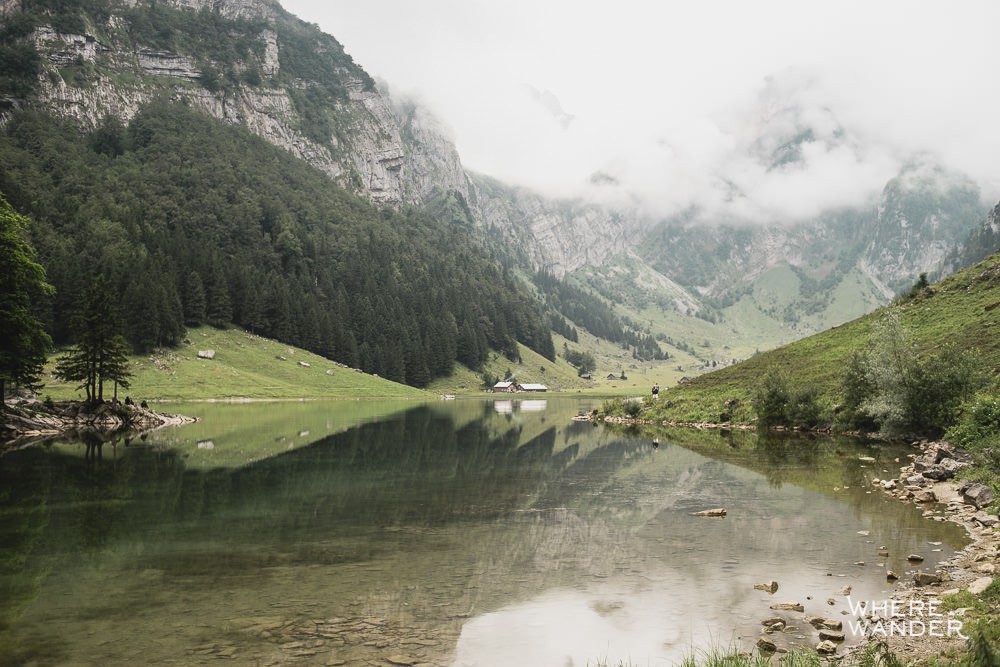 And then this.
The Best Instagram Spots In Seealpsee?
Every corner or turn, it was the same lake, but it was new altogether. Perhaps it was the mist floating above hiding parts of the backdrop and revealing it again at different points. Perhaps it was the tones, both vibrant and muted, but coming together so harmoniously.
Jumping In For A Cold Swim
There were many cars in the lot and we were certainly not the only visitors, but it didn't feel that way. It was a comforting quiet that was amplified by the stillness of the water. When I decided to go for a swim, I felt a tinge of guilt for breaking through the glass-like surface. I also felt very cold because the water was glacial. Luckily, I had the foresight to do 10 minutes of exercising to warm up my core.
After the swim, we continued around the lake stopping by a little farmhouse that served fresh milk and yogurt, made from the milk of the cows that we had seen chilling about. Alpine milk. I've never tasted milk and yogurt so fresh. It could have been the air. It could have been the view. Or it really could have been the cow. Whatever it was, it was such a nice treat. I finished it so fast, I forgot to take a photo.
Further along the trail, I stumbled onto a boy fishing. Even this boy seemed like he was placed there for my photographic needs. He may not even be real. I may also have been watching too much Westworld lately. Every spot was the "best" photo spot as far as I was concerned. It just kept getting better and better.
Or this dog, who came out of nowhere just as I pressed the shutter.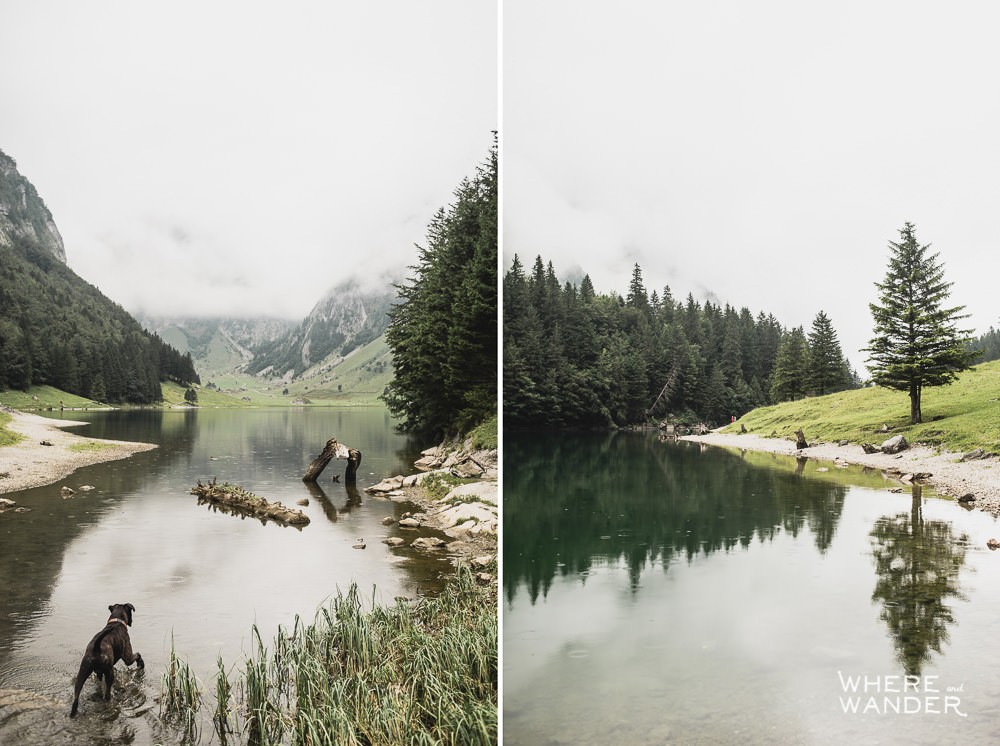 Honestly, there were too many good opportunities for photographs, so take your time. I recommend going first on the west side and making your way around before heading up to the restaurant.
Hiking to Ascher Cliff Restaurant
The hike up to the famous restaurant built into the side of the mountain adds a few km, but there's a lot of shade coverage from the mountain, if you are hiking on a hot day. It's a beautiful stretch of walking as the valley opens up below you.
It wasn't as touristy as I expected and we were able to grab a cup of coffee and a dessert before we continued onwards. Having not taken my camera out for almost a month and making this trip at the last minute, I was subjected to the most cardinal sin of photography – running out of batteries. In the spur of the moment, I decided it would be nice to deliberately not take a photo with my phone. Once it a while, I do this when I get to a place that I just want to keep in my memories.
The Ascher restaurant just happened to be one of those places because I had seen so many photos of it already. Being there and seeing it in person with the distraction of a camera just felt good in that moment.
Hiking To The Caves and Wildkirchi Chapel
Before we hiked back down, we went on further for a bit to see the little chapel and the caves. There are benches in front of an altar where a service is held once a month for pilgrims who make their journey here. From here, we decided not to finish the hike to Ebenalp since we had started pretty late in the morning and needed to get back for a party.
Bummer not to get the view at the top, but I don't have FOMO when it comes to vistas from the top. I've always found the views along the way to be pretty more impressive, because you are seeing certain things pop out for for the first time.
Check The Seealpsee Webcam Before You Go
There are a few webcams set around the lake, so you can always check the conditions in the days before your trip. It will give you an idea of whether the lake is frozen or not. They also provide temperatures at the bottom and at the lake so you can dress accordingly.
This webcast allows you to see hourly shots of the lake from the restaurant on the south side.
This is by far one of the most picturesque lakes I've seen in my travels. I highly recommend it for anyone who happens to be in Switzerland. Are there any spots that you've been to in Switzerland that you recommend. Leave it in the comments. I can't wait to go back.
Updated on January 7, 2023