Honest Reviews: Table For One At The Old Lahaina Luau
Honest Reviews: Table For One At The Old Lahaina Luau
Last Updated on September 11, 2020
Here's my disclosure: I'm not your typical cultural performance and buffet dinner type of guy, and a luau is a typical cultural performance and buffet dinner type of deal. I feel like they are reserved for families and couples on their honeymoon. Nothing wrong with that, I just don't fit the profile.
---
But it got me thinking, could I have fun at a Luau on my own? I'd be surrounding myself with groups of families, couples and probably not one other single party person. I love a good challenge and at the very least, I'd enjoy some Kalua pork, fresh poke and a few Mai Tais. So I reached out to the Old Lahaina Luau on the recommendation of a friend and asked for a table for one. Yes, I had to confirm, party of one.
Updated 2020: It is not recommended to visit Hawaii due to the rising pandemic cases. Bookings at Old Lahaina Luau are available starting October 1st, 2020.
Of course you can't really get a table for one. In Hawaii, it's all about family and community, and this was a communal type affair, so I was put at a table with two other families. If you're choosing between which luau to go to, read on and see why I chose the Old Lahaina Luau
Top 9 Luaus In Maui
Accordingly to TripAdvisor, which isn't necessarily my most trusted source of reviews, here's a list of the Top 9 Luaus in Maui.
Old Lahaina Luau
Te Au Moana Luau
Maui Nui Luau at Black Rock (Sheraton)
Wailele Luau (Kannapali Westin)
Drums of the Pacific Luau (Hyatt)
The Feast at Mokapu (Andaz)
Royal Lahaina Luau (Royal Lahaina Resort)
Huak'i Luau Maui – Journey Through Polynesia
Aha'Aina Wailea – A Grand Wailea Luau
How To Choose A Luau To Go To In Maui?
With so many options, how did I land on Old Lahaina, other than it taking the top spot on TripAdvisor?
Besides reading through about 100 reviews across all the top 10 options, I looked to see which were luaus were put on by a large chain resort hotel. From past experiences going to different luaus, the ones put on by hotels are are done out of convenience. It offers an easy to attend activity for guests and less effort is put into creating a permanent set and production (the space needs to be available for other purposes).
I don't necessarily recommend against going to one of these if you're staying at the hotel, but personally, I wouldn't go out of my way. So goodbye to:
Wailele Luau at the Kannapali (Westin)
Drums of the Pacific Luau (Hyatt)
The Feast at Mokapu (Andaz)
Maui Nui Luau (Sheraton)
Royal Lahaina Luau (Royal Lahaina Resort)
Aha'Aina Wailea (Grand Wailea/Waldorf Astoria)
That left 1) Old Lahaina 2) Te Au Moana 3) Huak'i Luau Maui.
The reviews were very positive for Old Lahaina and Te Au Moana. I liked that Huak'i Luau Maui is family run, but it also looked smaller and a few reviews mentioned that it was not by the water. That was a shame and important for me.
Between Old Lahaina and Te Au Moana, it was harder to choose, so I would probably have been happy with either. In the end, I chose Old Lahaina Luau because it had nearly 10 times the reviews of Te Au Moana. I was just choosing the big down, but clearly they must be doing something right. All the reviews were great, the settings were great, the photos were great, and I saw them doing an unveiling of the whole pig from the underground oven.
I made my booking and never looked back.
A Tasty Welcome To Old Lahaina
I arrived a little before 5:45, just as a crowd started to form around the entrance. Checking in was quick and not long after, I had a tropical drink in my hands and a fresh lei around my neck.
The experience started as soon as we arrived with the music and greeters. Each party was personally met and taken to their tables by one of their performers. Every table had a clear view to the stage with the ocean in the background. It was simply breathtaking.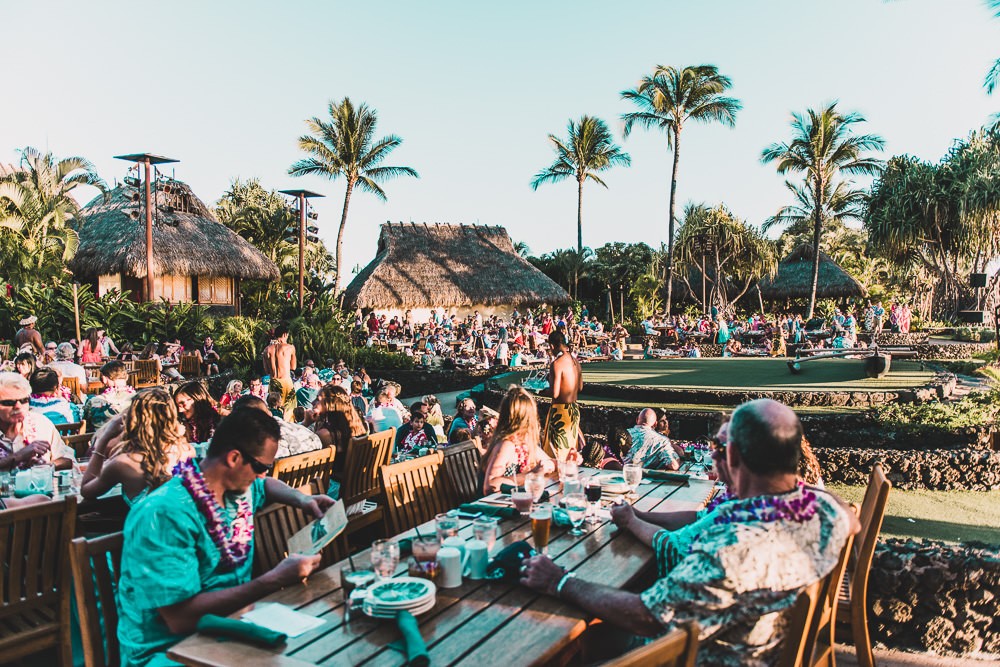 My server was a jovial guy who surprised me because I half expected someone to greet me with a canned speech filled with some Hawaiian words thrown in for good measure. He spoke normally with an authentic local flair and I didn't have to roll my eyes. Bonus points. He also told me the bar was open. Extra bonus points.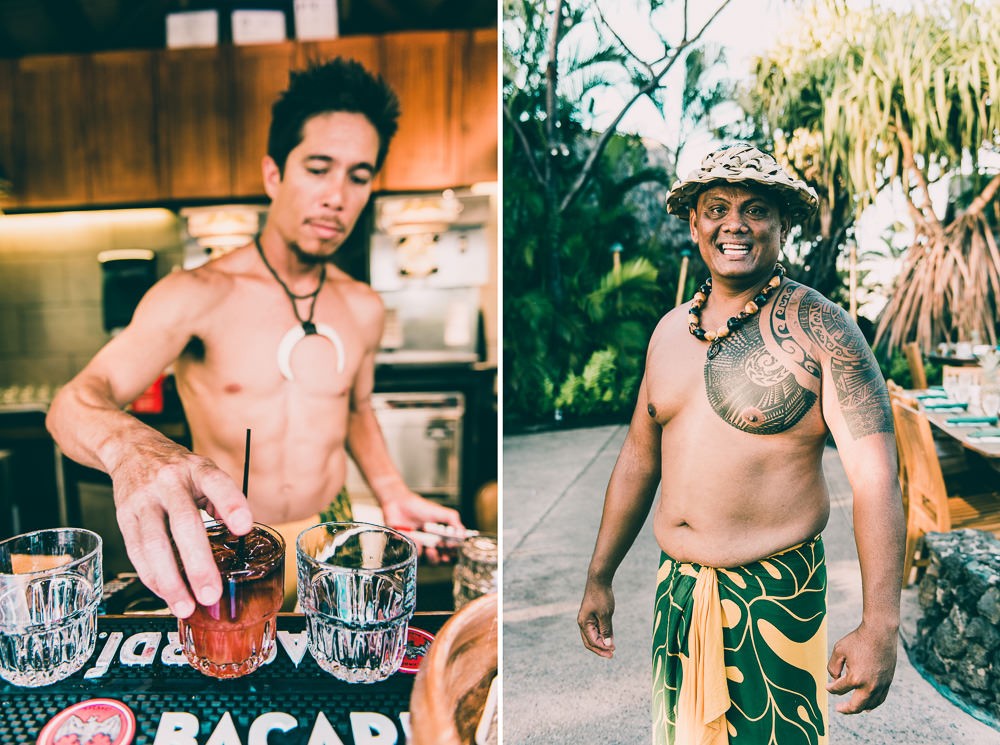 There was about an hour to kill before the dinner started, so I grabbed my drink and walked around to enjoy the festivities set up around the main stage. The sun was starting to set beautifully and I couldn't feel more relaxed taking in the afternoon breeze and warmth.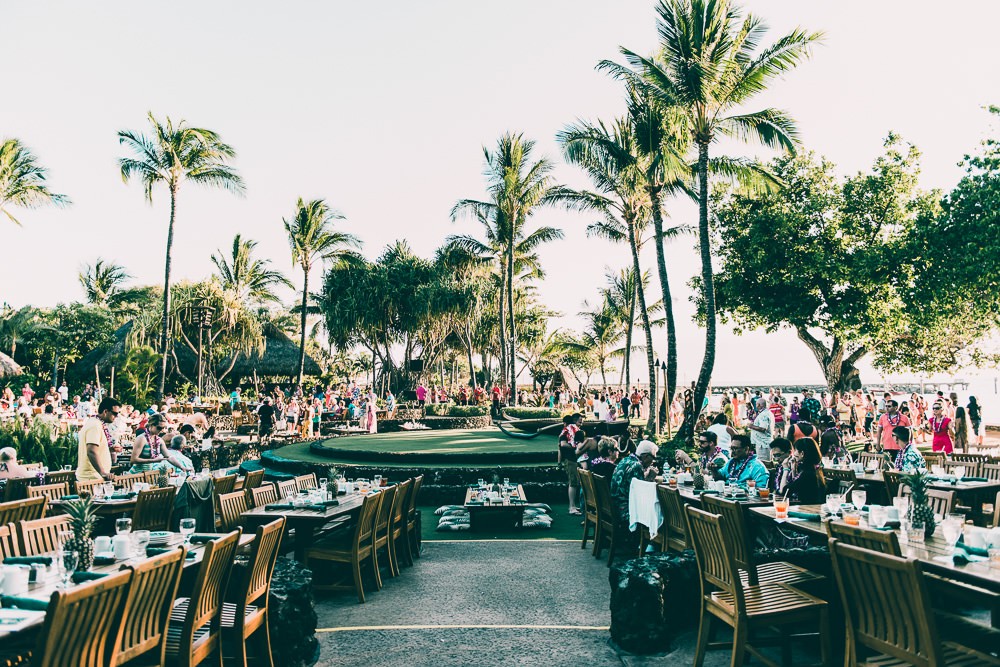 There were performers teaching guests how to dance and showing other the art of Hawaiian craftsmanship. One guy was even making some fresh poi, a paste made from grinding down the root of a taro plant.
Draping fronds from pineapple trees, lush green tropical plants and the most colorful flowers surrounded an evenly spread out array of tables.
Pulling The Kalua From The Ground
About 20 minutes before dinner, we were invited to gather a pit that was housing a precious part of tonight's delight. The children were invited to get right up close and everyone had their cameras out for the big reveal.
After a dramatic build-up, a large canvas tarp was unrolled to reveal a whole split roasted pig wrapped in taro leaves. The smell was unbelievable and the meat was falling or just hanging off the bones.
As the sun began to set, so began the feast and I made sure to pile my plates nice and high with a bit of everything starting with that pork. I reserved a whole plate just for the poke, a mix of raw fish and octopus flavored with soy sauce and an assortment of other flavors.
Old Lahaina Dinner Menu
Skip this part if you hate food and don't want to read about some of the things that were offered at the buffet.
Pua'a Kalua – imu roasted pork
Laulau –  tender roasted pork wrapped in taro leaf
Pipi Ko'ala – grilled beef steak
Chicken Long Rice – local version of chicken noodle soup
Moa – island style grilled chicken
I'a – Maui style fish
Poke Ahi – raw yellow fin tuna with green onions, seaweed and Maui onions
Poke He'e – bite sized pieces of octopus mixed with Maui onions and 'Alae salt
Lu'au Kalo – taro leave stew
Poi – steamed and mashed taro
'Uala – sliced sweet potatoes
Stir Fry Vegetables – seasonal fresh stir fry vegetables
Local Style Fried Rice – vegetarian fried rice
Island Crab Salad – crab, shrimp, peas and water chestnuts salad
Pohole Salad – fern shoot salad
Lomilomi Salmon – salted salmon mixed with tomatoes and onions
Banana Bread / Hawaiian Sweet Rolls
Assorted Island Dessert – Look at the pictures
Old Lahaina Luau Show Highlights
Timed perfectly with the last fading bit of light, the sound of drums and a tiki torch procession brought out dancers to tell the story of Hawaii's history and mythology, starting with a story about the island of Tahiti.
I wasn't able to tell if the costumes were authentic or not, but they sure looked vibrant and decorative and the dancers looked like they really enjoyed their performance. It's hard to describe the performances, so enjoy some of these photo highlights.
Here's what I can tell you. I came ALONE and had a lot of fun. The food was delicious and the view was great from every seat. I know because I moved around at one point to get photos from different angles. The VIP seats up in front are really immersive and you'll be sitting on the floor on cushions. If you don't mind that, I think those are best seats in the house. The drinks were flowing and the service was perfect. I was never without a drink in my hand. But now here's the best part and I saved it for last. The Banana Bread. DO NOT FORGET to eat as much banana bread as you can and then treasure the cute little loaf they gift you with at the end.
I was glad I went with Old Lahaina and I highly recommend you put this luau on your bucket list when you get to Hawaii.