Bucket List: Bagan And The Days That Were Like Two
Bucket List: Bagan And The Days That Were Like Two
Last Updated on January 7, 2020
From my personal journal.
"Our days are split in two. We go to sleep twice and we wake up twice. This morning, I'm up about an hour before dawn just as Evie is also waking. I'm greeted by her big smile even if her eyes aren't quite open yet. It's warm in bed and I know it's a lot colder outside in the crumbling fields of Bagan. I force myself to get up quickly, like I did yesterday, before I change my mind. We both put on every warm piece of clothing we have and get on our e-bike. It's a small electric scooter that's not really meant for two, but we manage, despite a near fall yesterday sliding on the soft sandy path leading to one of the pagodas. It makes me a little nervous, but it's the most convenient way of getting around. It's still dark outside when we turn out onto an empty street and the only sound we hear comes from the rattle of the motorbike and the wind against our faces. Somewhere out in the darkness is one of thousands of ancient pagodas sprawling across miles of barren plains that we will ascend to watch the sunrise. We head towards one of them, anyone of them, to see the day rise over the horizon like it has for thousands of years before."
---
The City Of A Thousand Pagodas
At the height of its empire between the 11th and 13th century, the Kingdom of Bagan in present day Myanmar was home to over 10,000 temples, pagodas and monasteries that stretched over a 40 square mile area. Repeated invasions by the Mongols in the later parts of the 13th century reduced the city of Bagan and its residents of between 50,000 to 200,000 to a just a ghost of its former self.
700 years later, a little over 2000 of these structures remain and I've arrived with my friend, Evie, to see what's left of it.
How Did I Get Here?
Myanmar has long been on my list of countries to visit, but until a few days before, it wasn't on my immediate itinerary. After nearly 8 months on the road and recently capping off a rickshaw journey across India, I felt ready to go home. I flew to Thailand to decompress and meet with a friend. It was there on Koh Lipe that I serendipitously met Evie, a fellow traveler from the Netherlands, herself on a four month trip through Asia.
Over the span of 2 days, we developed a connection built on a foundation of mango smoothies and cheap massages. Evie was continuing onto Myanmar while I would be flying back to San Francisco. Ready as I thought I was to be back in my own bed, life had other plans, and a couple days after she left, I took Evie up on her offer to join her in Myanmar. I arrived just in time for her birthday.
Getting To Bagan
How To Get To Bagan
Most travelers will travel to Bagan from the capital city of Yangon. Buses take roughly 10 hours, while the train journey is about 16 hours with different class options, including a sleeper class. Buses and trains can fill up, so book in advance. I recommend the VIP bus that has reclining seats, much like you'd find on a business class flight. The costs are comparable.
After a couple of days of eating and catching up in the capital city of Yangon, we booked an overnight bus to Bagan and arrived a couple of hours before dawn. Half awake upon arrival, we were bombarded by taxi drivers offering to take us into town. I've done this dance before, but 4 am was way too early to be negotiating of sound mind. So instead, I spotted a guy with a horse cart and decided that this would be the best means of transport.
Bouncing on the back of his cart, we trotted our way into the city while the moon still hung above us. Time has already started to stand still.
Like most days, We spent the first part of it with long meals and easy conversation. Today, we needed a little nap. Waking up after noon, we wandered about the town look for an e-bike to rent. I would have preferred a proper motorbike, but here, our options were limited to these battery powered scooters. It was evening by the time everything was arranged and we've dovetailed right into another meal. A good day.
Bagan City Entrance Fee
This is not a scam. It costs 25000 Kyat or roughly 20 USD to visit the Bagan Archaeological Zone for 5 days. You have to pay this as you enter the city, so be sure you have at least that amount in Kyat. They take USD as well, but it needs to be in crisp bills.
Tips For Riding E-Bikes In Bagan
Don't overload it. These things are not as strong as the scooters or motorbikes you're used to renting in Asia. It's quite easy to sink in or slide out on the soft sand around Bagan.
Remember to apply both the front and back brakes equally and gently when stopping and slowing down.
Wear a scarf and sunglasses if you can. It's quite dusty and you will get a mouthful if you're riding within distance of someone in front kicking up dust.
Adventure By E-Bike
The next morning, our alarm goes off at around 5:30 am and we headed out to find our e-bike waiting for us, just as promised. Evie asks if I can ride this thing and I assure her that I could and that I have a motorcycle named Emma waiting for me back in San Francisco. She remained skeptical, but gets on and we ride off with only the vaguest idea of where we were headed.
20 minutes and a few random turns later towards what we were hoping to be tall enough Pagoda to watch the sunrise from, we found ourselves "lost" and bumping along an uneven dirt path. I had absolutely no idea where we needed to go, and mentally reprimanded myself for not having spent any time the night before doing research. Luckily for us, we spotted a group of bicyclists and decided to follow them.
This plan worked. As it turned out, they were on a bike tour and had a guide who DID know where he was going. It didn't take long before we saw an imposing pyramid up ahead and broke ahead from the cyclists.
The First Sunrise In Bagan
The sun had yet to come up, but we weren't the first ones there. Although we didn't know where we were, we somehow ended up at one of the most popular spots to watch the sunrise. I turned to Evie and we both weren't exactly thrilled with the crowd, but at least we weren't lost anymore.
And then everything went quiet for me. As the first light of dawn broke, I saw the silhouette of other pagodas fade into existence out of the darkness. One by one through the haze of morning.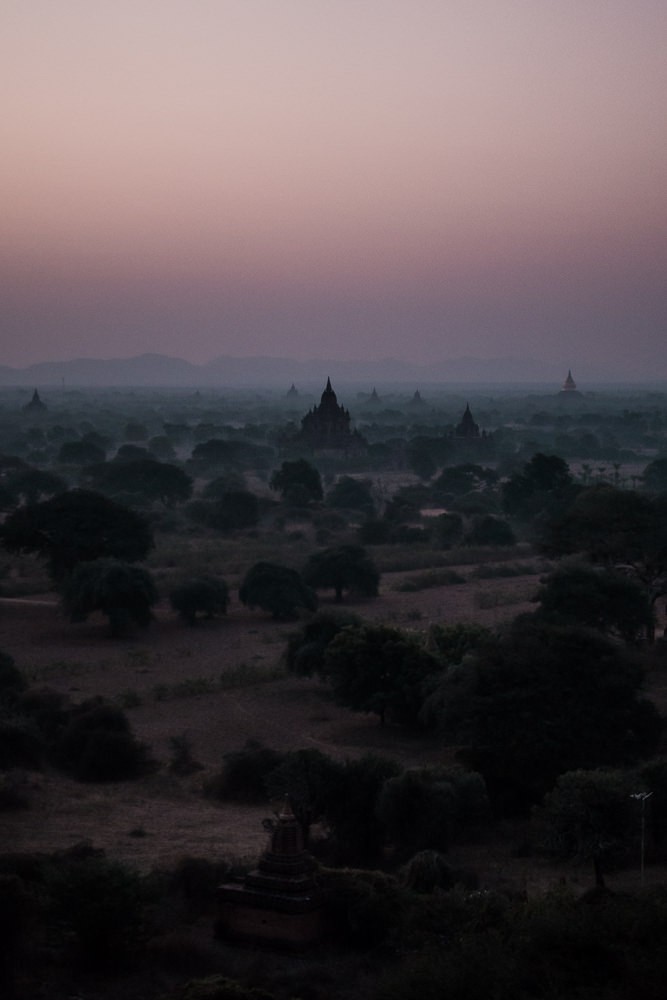 Though we stood amongst many others and the silence was broken by the rapid fire of camera shutters going off one after another, it was still magic. The light itself changed every minute and the landscape with it.
By the time the sun made its entrance, the vastness of the plains was fully revealed and with it a collective of hot air balloons floating just barely above the temples and pagodas below. How different it must have been to viewing the same scene play out from the air like Icarus towards the sun.
Hot Air Balloon Ride In Bagan
If there is a place to get on a hot air balloon outside of Cappadocia in Turkey, it's here in Bagan. It's really popular, so book well in advance. Almost all the companies have internationally trained and licensed pilots at the helm, so it is very professional.
It is not a cheap excursion, with flights running between $250-$400 USD per person depending on the size of the carriage.
Where To Watch The Sunrise In Bagan
As it turns out, we ended up at, Shwesandaw, one of the most popular spots to see the sunrise. It's one of the few terraced pagodas that visitors are allowed to climb. Don't mind the crowds, it's worth it. The steps are steep, so take care in going up and down.
Evie and I stood in silence and awe for a while until we remembered that we were cold and hungry. Satisfied for the moment, we headed back to our hotel to fill our stomachs and warm our bodies.
A Second Day Unfolding
We woke again in the early afternoon, just like the day before and started our day a second time with a long leisurely lunch followed by an afternoon of exploring the inside of some of the many temples and pagodas. Like the morning, we just got on our e-bike and picked a bearing to heads towards. We had an unspoken understanding and feeling that it didn't really matter where we went, the itinerary would just work itself out.
And it did. We found pagodas large and small, each having its own unique appeal. We took reprieve from the sun in the coolness of the temple's hallways amongst ancient art that survived both man and nature's many attempts to destroy it. Photos can only do so much justice for a place that rivals Angkor Wat in terms of an volume and beauty.
5 Temples To Check Out In Bagan
Htilominlo Temple
Ananda Temple
Manuha Temple
Shwesandaw Temple
Sulamani Temple
As the day began to fade, the light treated us to one more showing of its ability to change the landscape. It did so in a single moment as we were walking along an empty dirty road towards our final pagoda for the day. Even from a distance, I could already see the photograph that I would create.
A single frame of a family walking towards us, flanked on one side by the trees and on the other by the pagodas they just passed. The younger child is holding onto the hand of his mother looking directly at me. His sister is carrying a large sack on her back, her face painted in the Burmese tradition of Thanakha. The sun is bathing them in its glow. I will keep this moment forever in my memories, almost exactly as the photograph captured it.
Still reeling from this scene, I sat down on the steps of the next pagoda and was ready to see the sunset retreat for the day. It was special enough to see the sun rise that morning, so it was almost an overindulgence to see it set below the horizon.
Even now in recalling these moments, I can't help but feel like we experienced multiple days worth of adventure and exploration in one. Time passed differently here. We stayed for a few more days, each morning rising before the sun to see it rise from the top of some pagoda somewhere. We'd take a nap and wake up to start another day within the day exploring what felt like a never ending city of temples. Every evening, we'd watch the sunset like it was the first time it ever happened.
For more adventures in Myanmar, check out my incredible hot air balloon ride over Inle Lake.