Bucket List: Hot Air Balloon Over Inle Lake In Myanmar
Bucket List: Hot Air Balloon Over Inle Lake In Myanmar
---
From my personal journal.
"Remember this moment, I tell myself. I close my eyes for a few seconds and try to etch the view into my memory. To my left, the sun has just peaked over the mountains and to my right is a girl with a big smile lost in thought and staring out at the sky. I'm floating above a emerald green lake, and the water is clear enough for me to see the reeds beneath. The air is crisp and it is effortless to breath. It is almost completely silent except for the occasional blast of flame coming from burner above us. 232 years after the first man touched the skies in a hot air balloon, I now share and understand the same emotions he must have felt."
The Must-Do "Must-Do" Thing In Myanmar
The only activity I had heard about prior to coming to the country of Myanmar was flying in a hot air balloon over the temples of Bagan. The photos were stunning. A fleet of oval shaped balloons hovering over a endless landscape of ancient pagodas just as the sun is rising from the East. It immediately made my list of top things to do in Myanmar.
I came to Myanmar on a whim, extending my Asia trip after meeting Evie in Thailand, who was already planning to travel through Myanmar. The alternative was to go home, so you can clearly see how this was an easy decision. We shared the same penchant for traveling without much of a plan, hopping on random buses, booking hotels at the very last minute, and choosing where to go next when we felt like it.
Bagan was our first stop after arriving in Yangon. I immediately reached out to all the ballooning operators only to get a similar response that they were fully booked out for the next week or two. This was a little disappointing, especially when we rode out to the temples at dawn and watched those balloons fly overhead. On our last day in the town, the manager at Oriental Ballooning reached out and asked if we would be interested in flying in Inle Lake instead, which also just happened to be destination we had just chosen a few hours earlier.
There were two spots for the day after we arrived. Coincidence or fate?
The Ride to Inle Lake
Our pick-up was at 5:15 am, normally an ungodly hour, considering we both like our sleep to be long and late into the morning. This morning we were ready to go. Cold, but ready nonetheless. We jumped into the back of an truck and headed down to a canal where we boarded one of the long boats operated by Oriental Ballooning.
Within minutes, covered up in warm blankets that were provided, we cut through the darkness down a narrow channel that would take us to and across the Inle Lake. This part of the journey alone was worth waking up for. Above us, the stars were still out and a crescent moon was the only source of light for the boatmen to navigate. We picked up the other two passengers just as the first light appeared and headed straight to the launch site.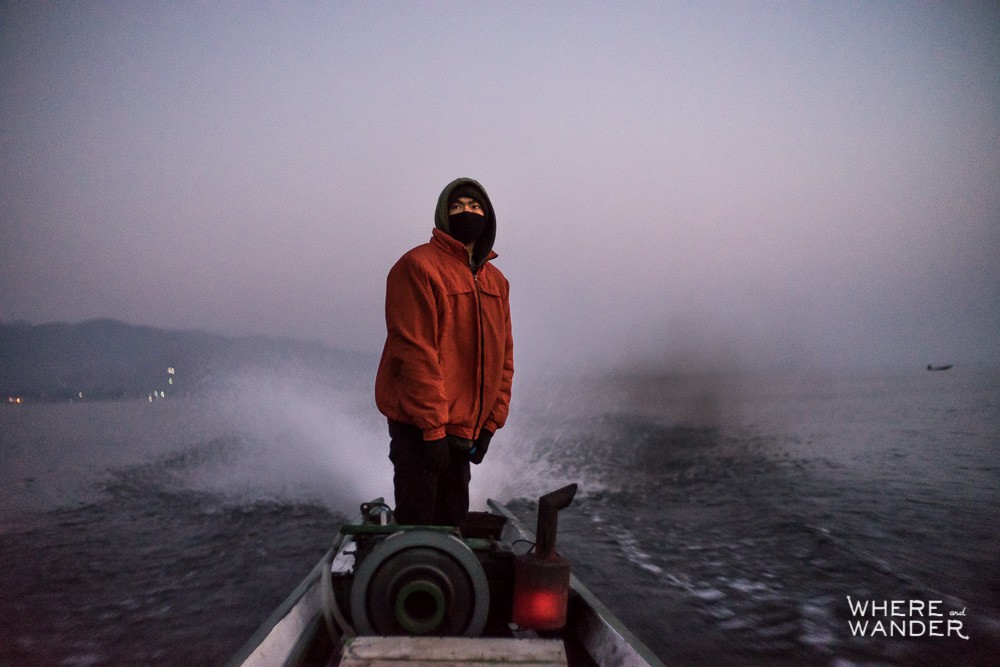 Launching The Balloon
There, we met our pilot, Chris and enjoyed a lovely breakfast while a crew of about 15 guys laid out the balloon and started the inflating process. This was fun to watch and you don't fully realize the enormity of the balloon until it starts to rise and dwarf the basket that would carry us.
While I was taking photos and stuffing my face with a croissant, the Chris gave a very informative explanation about how hot air balloons work and the safety procedures for our ride. Chris is from the UK and flies in Myanmar for a part of the year. Most of the companies here are owned locally, but hire international pilots who have years of experience flying around the world.
When the balloon was fully inflated, we climbed in and waited while the crew did their final safety checks and the pilot adjusted the burners for launch. Sure, I didn't finish my cappuccino, but with each roar from the burner, I was fully awake. The take-off was so smooth that I hardly realized that we were rising up and away from the guys below as they waved us off. Like that, we were off.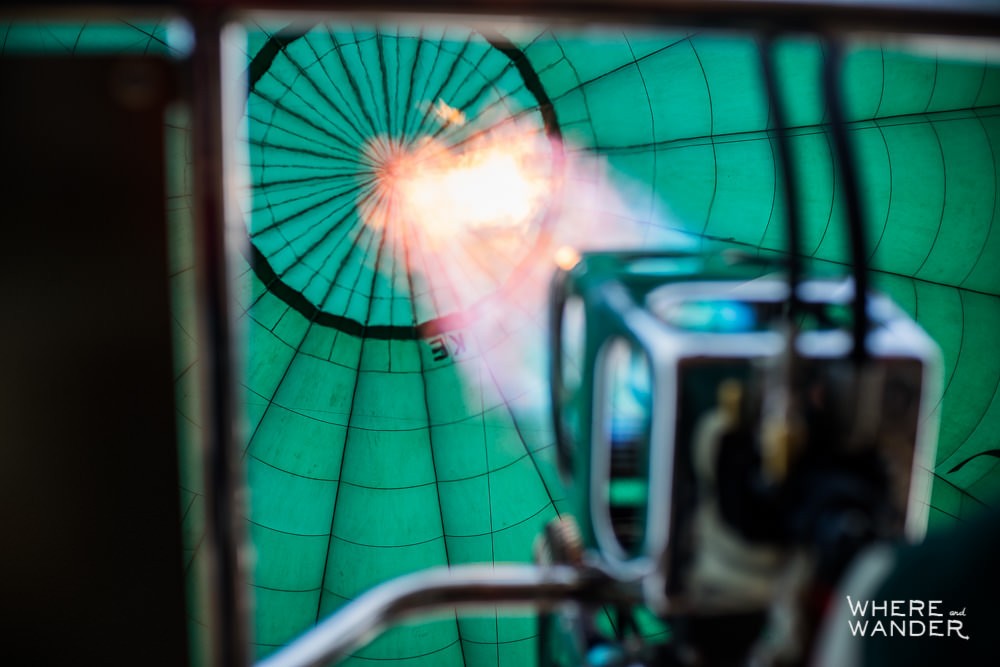 Flying Over Inle Lake
Considering the relaxing pace that we rose, it was quite surprising how quickly we gained altitude. As soon as we left the launch site, we flew over the water and the villages on the wetlands. Since the water levels rise and fall throughout the year, all the houses are built on stilts and somehow manage to stay upright.
Below us, the crew was following on a connected double boat with a landing pad in case we needed to make an unexpected landing over the waters. In most Asian countries, where there's no word for seat belts, and helmets are optional while riding 6 to a motorbike, this was a degree of safety and precaution that was very welcomed.
These guys would follow us the entire way to track where we'd end up landing and wait with a nice surprise.
From time to time, we'd descend lower just barely hovering above the landscape as patterns emerged that couldn't see from the ground. This was especially fun for me as a photographer because everywhere I turned, there was something new and different to photograph.
Even Evie got in on the action.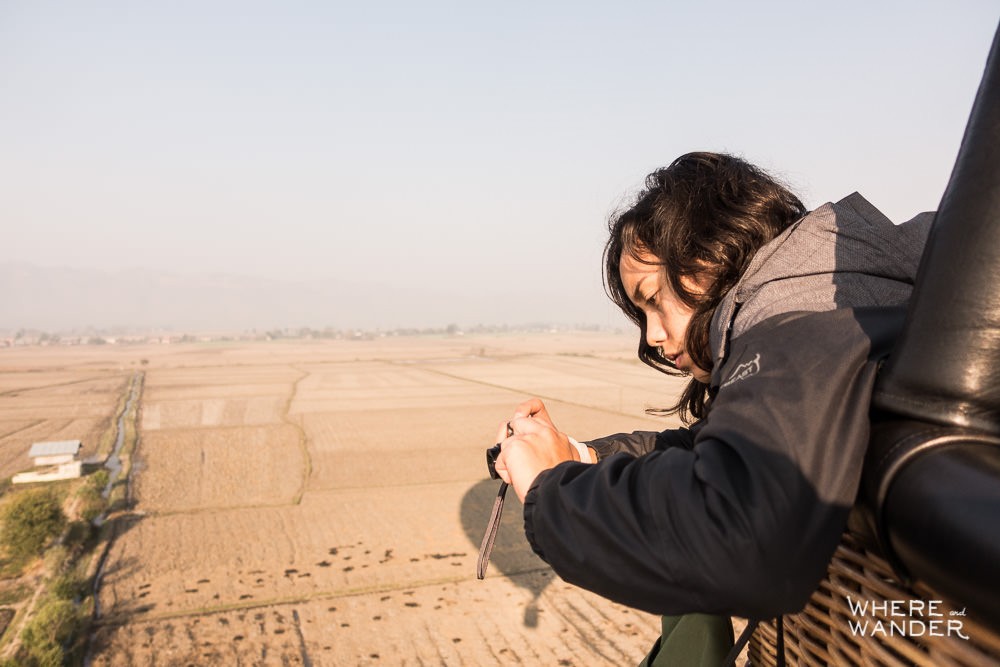 A Second Sunrise
Although the sun had technically risen, we were treated to a second sunrise of sort when it peaked over the mountain range. It doesn't matter how many times I see a sunrise, it's a breath taker every single time knowing that a new day was beginning again; that this little ball we live on floating out this small corner of the universe just completed a full rotation and the light of the sun is reaching the same spot it reached the day before.
These were the types of thoughts I was having. Up there, I found clarity.
The further we flew from the launch site, the closer we were to the landing site and everything around us continued to change, even the colors and light, especially as we rose up higher again.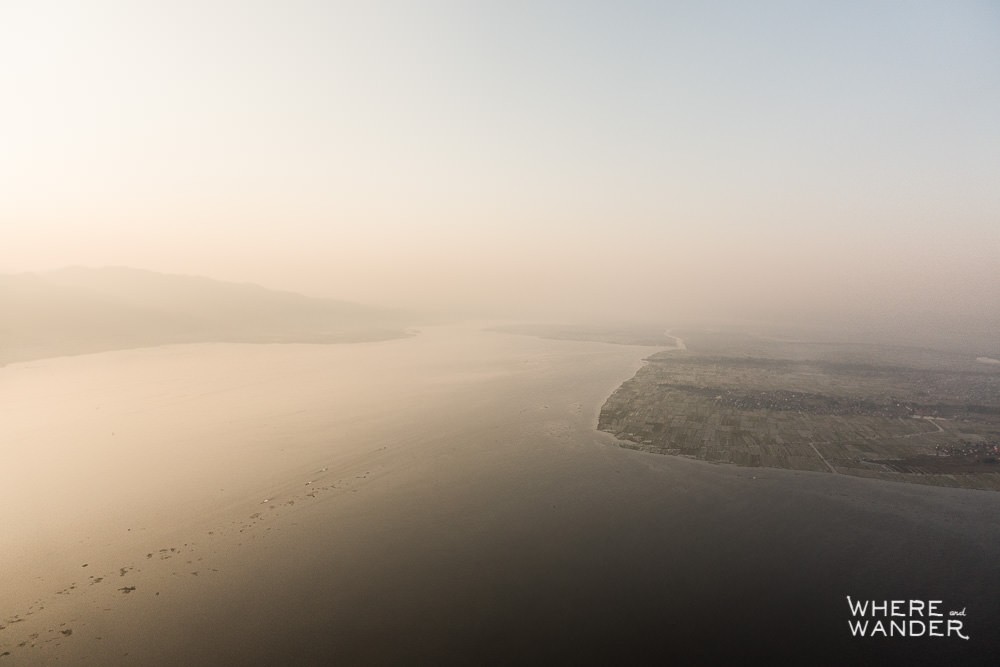 In contrast to the 20+ balloons we saw flying in Bagan, there was only one other balloon flying that morning and we flew different paths. It felt special to be only one of a handful of people flying over Inle on that particular day. We were also treated to the sight of the other balloon doing an intentional water landing.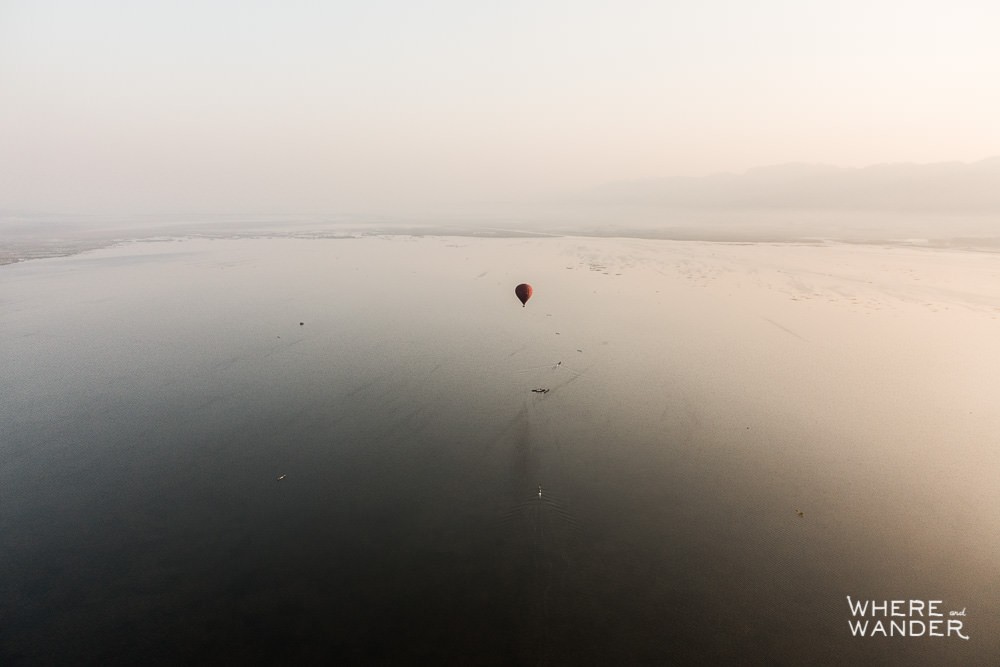 The World From Above
When the sun got up higher, we caught our own shadow over the grassy marsh below and then again over the water that was no longer bouncing the light from a side angle. This made me think about what it must have looked for the fisherman and villagers below. You'd think this was a familiar sight, but most people we flew over were staring up like it was the first time they had seen the balloon and waved back when we waved hello down to them.
The flights over Inle were also longer than the ones in Bagan, which allowed me to even take out my GoPro for a couple of fun selfies.
About an 1.5 hours into the flight, we started to looking for a place to land over Nyaungshwe. Since you can't really control exactly where you fly, it means you can't control exactly where you land. That's an interesting concept and I like it.
We continued to fly across the town until we could find an appropriate place to touch down, which was a lovely way to get an aerial view of village life below. This was one of my favorite parts of the flight as we rose and descended as necessary.
Eventually, we found an open sugarcane field and went in for a landing, with most of the crew from earlier already waiting for us…with champagne and fresh fruits. This was awesome and a perfect way to end the flight, but it was also a little strange since we were just sitting in some random field sipping from our glass flutes.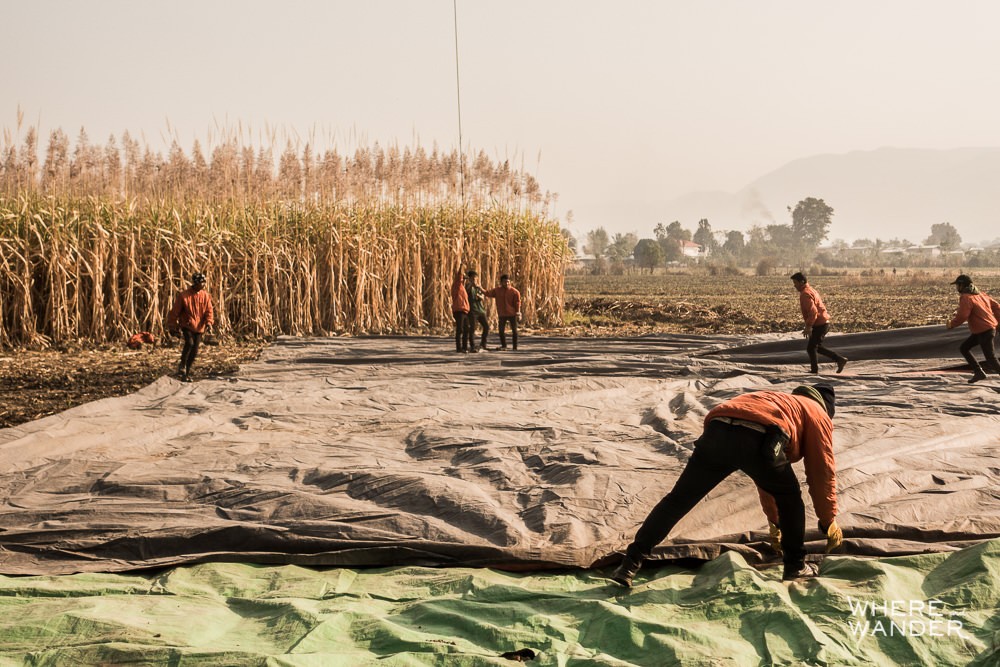 I could not have asked for a better start to the day. While watching the crew deflate the balloon. I wondered what else there could be to do after this incredible experience. As it would turn out, we went for a nice massage, had a long lunch and rode some bikes to a vineyard for some sunset wine tasting.
Is It Worth It?
The air balloon ride costs $420 per person. This is pretty much one of the more expensive activities in Myanmar, so that could definitely be a deterrent for some. So was it worth the cost? I think this definitely needs to be done when if you're in Inle.
Compared to the flight in Bagan, this one lasts a lot longer and the Oriental Ballooning baskets carry only 4 people at a time instead of the 6-12 passengers on those flights. Considering the number of people required to help make the flight possible, I can see how the cost is easily justified. The champagne and breakfast is just the cherry on top. This was one of my favorite memories from Myanmar.
For more adventures and ideas for your next trip, check out my ever expanding Bucket List.
Updated on January 8, 2022