Behind The Video: Morning Vietnamese Iced Coffee With My Dad
Behind The Video: Morning Vietnamese Iced Coffee With My Dad
Last Updated on January 5, 2022
Last Updated on January 5, 2022
https://vimeo.com/429565815
With Father's Day coming up, I wanted to share a special story about one of my dad's routine. Whenever I visit, my dad would always bring me a Vietnamese Iced Coffee after he returns from the gym every morning at 11 am. He's been doing this for years. And it's one of my favorite parts of the day.
For the last few months, I've been sheltering in place at home with my family in Los Angeles and he hasn't stopped doing it, except now he makes it himself every morning when he wakes up.
---
I made the decision to leave San Francisco because I wanted to be close to my mom and dad during these times, helping them with everything they need so they minimize any exposure to the coronavirus.
My mom is 64 and a cancer survivor while my dad is 77. Both take medications for high blood pressure and are at a higher risk because of it.
With all my projects on hold and me not leaving the house much, I have turned my filming focus on my parents. At the moment, I only want for them to be healthy and safe, but should anything take a turn for the worse, I didn't want to miss the chance to start telling stories about them.
Vietnamese Iced Coffee With My Dad
For this short film, I wanted to keep it simple and focused on one thing: my dad making Vietnamese coffee as part of his adapted routine during the shelter-in-place. Instead of being able to go to the gym and then stop by a shop to get the coffee, he is now confined to our home.
Side note: If you haven't tried Vietnamese coffee, you are missing out. It's very dark filtered drip coffee (almost espresso like) with condensed milk. It's best served with a lot of crushed iced and you drink it slowly so the melting ice slowly dilutes the coffee with each sip.
Though the coffee is a small gesture, it carries a lot of meaning for me. My dad is a relatively simple man with simple needs. For half my life, he worked as a butcher 6-7 days a week at minimum wage. For the other half, he's taken care of the home in retirement, while my mom works. He cooks, cleans and loves to his daily Jeopardy/Wheel of Fortune combo. He never wants for anything and rarely, if ever, complains about anything. He just takes care of the home and tries to make my siblings and I comfortable whenever we are at home.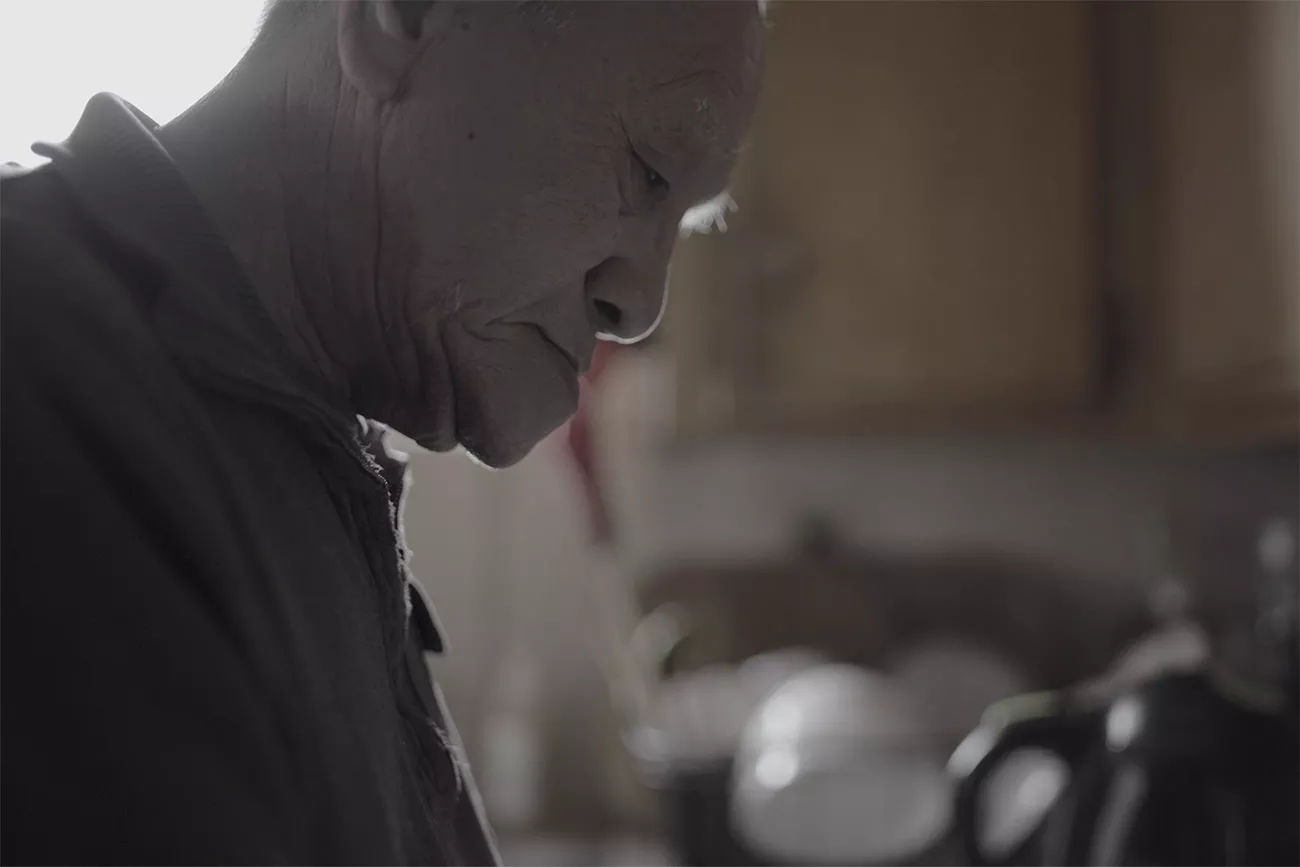 Though there is much love in our family, we grew up very traditionally Asian where there wasn't much hugging or expressing our feelings out loud. The coffee run is perhaps one of his way of reminding me that he cares about me, even if that was never in question. And he does it without fail whenever I'm at home.
Now that I'm here indefinitely, it's become a part of his daily routine and I get to wake up every morning with a glass of it waiting for me in the fridge.
As this standalone piece, it touches on the subject of our current relationship, but I hope it will be a bridge, in my full series, to give a better understanding into a man whose life before me, growing up in Vietnam, was full of stories – many of which I want to find a way to tell.
I started to write about it a few years ago about How My Dad Became A Patriots fan at 73.
For those interested in the technical aspect of the film, continue reading below for a detailed break-down of how I shot and put together everything.
Shooting Light
For my projects, I am usually tasked to capture real moments in real time without much of a lead-in storyboard. Having a lighter set up allows me to be extra mobile and to shoot and adjust quickly so I don't miss a shot.
To capture my father's morning routine, as he would normally do it, without making him conscious meant I would keep this type of minimal set up. To do this, I went with a cage-less Sony A7III with a SmallHD Focus monitor mounted on the hot shoe and a RODE VideoMic Pro+ mounted to the side of the monitor.
This setup gets me 4K S-Log footage that I can easily and quickly grade. Though I didn't expect any dialogue, I still wanted to capture clean ambient audio, especially since it was really quiet in the morning.
Capturing The Sound of Silence
I do very basic sound editing in post, so I usually leave the high pass filter on at 75Hz when things are relatively silent. A dead cat on top of the mic also helps. On camera, I will usually monitor with a set of headphones to adjust the audio levels, but in this case, I expected to get decent workable sound at around 10-15.
As an experiment, I tried recording the voice-over with just the built in microphone and the Voice Memos app on an iPhone XR. I did this because I was recording at 3 am in the house and couldn't use my normal volume. This effectively means I'm recording a voiceover with less headroom, or the space between my highest peak level and 0 dB. I held the phone about 6 inches away from my mouth and at a slight angle to prevent clipping. This worked out surprisingly well. I'm open to suggestions.
In post, I added a limiter set to -2 dB and boosted the bass to warm up my voice. Other than playing with the volume between the ambient noise, the music track, and my own voice-over, that was about it.
Like most projects, I get my music from Artlist.io. It's a great source of copyright-free tracks on a subscription service.
Shooting One Take With The 35
I shot the whole sequence in one-take without saying anything to my dad. For documentary type filming, my favorite go-to lens is the Rokinon 35mm t/1.5 Cine DS. Paired with the built in stabilization on the A7III and I can usually get a smooth and stable shot hand-held even when rack focusing.
If you've never used this lens for filming, give it a go. I love the way it flares when there's a direct source of light behind a subject. The build quality is pretty good, even if it is nowhere near what you would expect from true (and way more expensive) cine lenses. Image quality is more than good enough for most run-and-gun projects and documentary films that I've shot.
Since this was a one-take and one-shot sequence, I would often shift between the action of my dad making the coffee and the expression on his face. This allowed me to do cut-away shots in edit that looked like there were two cameras going at once.
The rest of the time I would hold a position for at least 20-30 seconds and rack focus slowly if when his hands moved to different objects. I didn't want any big camera moves unless he stopped doing anything for more than a few seconds.
Putting It All Together
I always edit in Final Cut Pro and this was one of the easier edit since it was one long shot. I put the clip on the main timeline and started blading at points where I had big camera movements that were not usable.
After removing those sequences. I would find my "second camera" shots by blading before a move from his hands to his face and vice-versa. Where it matched, I could place one clip over another, to cut between two angles.
When a rough cut was put together, I added the track to begin about 20 seconds in, to allow the first few scenes to play as an ambient cold-open. I then Airdropped my voice-over clip to the computer and threw it out a few seconds after the music started. I only had to shift parts of the voice-over a few seconds here and there, so it was pretty straightforward.
The last step was to add a basic color grade adjustment. I start with a plug-in called Cinema Grade that gives me a quick interface for adjustments that's similar to how I would edit a photograph in Adobe Lightroom. On top of that, I added a curve adjustment from within FCP X's color module to just bring down the highlights, whites and to increase the mid-tones a bit.
For the film, I think the whole less is more applied well.
Finding Your Stories
Though it might seem like a lot of people are complaining about just watching too much Netflix, Zoom calling and letting their hair grow out, I think people who are sheltering in place actually have many stories to tell.
Even if you can't get out of the house, I think you can take ordinary or routine moments and create a narrative to give others a glimpse into your life. Reach out and let me know what's going on in your world. And stay connected with my pages if you want to see the rest of my stories in this series.