Bucket List: Moonlight Kayaking Through Melbourne's Harbour
Bucket List: Moonlight Kayaking Through Melbourne's Harbour
Melbourne is the one of the few cities that feel so much like San Francisco that it's almost like being home for me. The food, the vibe, and even the waterfront setting has all the makings of my hometown, but perhaps even better. One of my favorite activities while I was there was doing a moonlight kayak through Melbourne's harbor. It's one of the nicest way to see the enjoy the water, the architecture, and even a fish and chip dinner.
Let me say one more thing. I don't generally like tours, but this one is worth going on just because you're mostly doing your own thing but with others at a very relaxed and easy pace.
---
Getting Acquainted With Your Kayak
The "Moonlight Tour" with Kayak Melbourne is 2.5 hours long and starts at 6:45 pm (as of January), but I think that depends on the time of year and when the sun sets of course. You meet at the Community Hub at The Dock. 912 Collins St, Docklands.
From here, one of the guides will equip you with a lifejacket and give you a quick crash course on how to kayak. It's pretty simple, but always good to get a run through if you haven't done it or a refresher if you haven't done it in a while. You DO NOT need any kayaking experience to do this tour, so it's for everyone.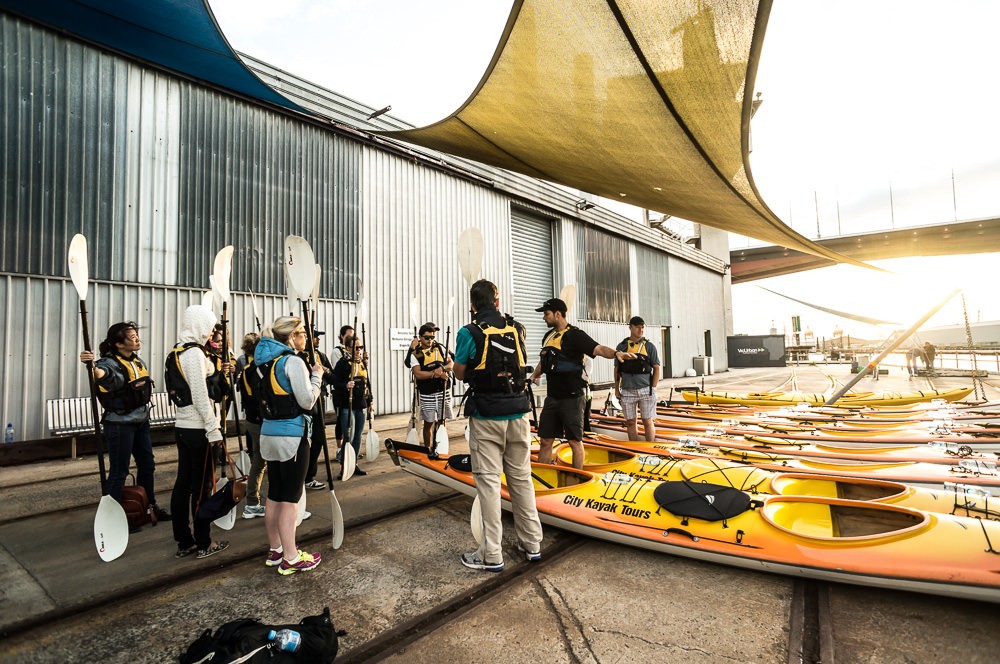 As the sun begins to set, the fiberglass Sea Bear kayaks are dropped into the Yarra River and you get in. Honestly, this is probably the hardest part for most people, and it's not hard at all. Just relax when you get in and you're off. You start off with the last bit of light and kayak for about 20-30 minutes around Victoria Harbour before you take your first break.
So About That Fish And Chips
When you tie off to a dock on the marina, a pretty unique, literally on the water dinner is served. This is where you stop for a hot fish and chips dinner, that's included,  right in your kayak. I thought this was pretty cool and the fish and chips were good, so don't eat before the tour. It's also really massive, so you'll have plenty of calories to fuel the rest of your kayaking trip.
From here, you continue through the waterway under the Bolte Bridge and through Melbourne's downtown as dusk turns into night and the moon comes out. You'll continue past Southbank where you can wave to the people having their dinner and drinks along the waterfront, wondering why they aren't out on the water. Really. This was how I found out about the tour in the first place.
The tour continues on with regular breaks in between. The guides will stick around to ensure no one is left behind. The water is very calm save for a few passing boats that are usually well out of your way. When the tour ends, you are at the Rowing Shed across from Federation Square.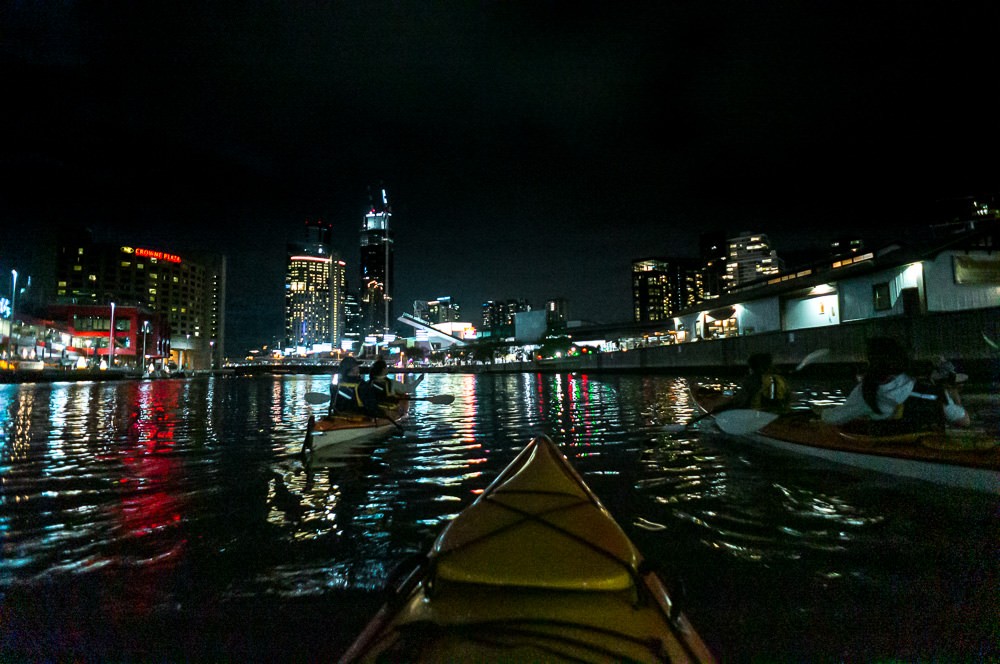 What I Love About The Tour
Water level view of Melbourne
Giant fish and chips dinner right in your kayak
Super friendly guides
The looks on people's faces when you kayak right by them having dinner
The perfect length of time kayaking
Doesn't feel like a normal get you in and out type of mass group tour
How Much Does It Cost?
The "Moonlight Kayak" currently costs 99 AUD and you can book with them directly here. If you don't want to do it in the evening, Kayak Melbourne also runs a slightly cheaper day tour and can also do custom tours.