Cooking With Mark Best At The Sydney Seafood School
Cooking With Mark Best At The Sydney Seafood School
Since I had been subsisting on a diet made up mostly of meat pies and McDonald's soft serve while driving through New Zealand, I decided to change it up a bit upon my arrival to Australia. Enter the Sydney Seafood School, Australia's largest cooking school and something right up my alley.
---
Seafood School Manager Roberta Muir invited me out to attend one of their classes taught by Mark Best of Marque and I said "Yes". Best is one of the top chefs in Australia and his restaurant, Marque, is one one of the top restaurants in the world. Besides learning from a master chef, I was just excited to be cooking again and eating something that didn't start with the word meat and end with pie.
I arrive just before 11 am at the Sydney Fish Market with an empty stomach and a giant appetite. It was cruel to see all the fresh seafood on offer at the fish market restaurants and I had to muster up all my willpower to turn a blind eye (and nose) and walk up the stairs to the school.
The first thing that struck me was the giant wall panel that looked like an imprint of a giant prehistoric fish. A stunningly fitting design to welcome students into the demo kitchen auditorium. Stepping into the "classroom", there are 5 rows of tiered seats in a warm setting facing a marble demonstration island. The entire curved back wall is lined with a supple sandstone colored fish skin leather that beautifully contrasts with the darker oak paneling across the room. Ceiling spotlights complete the look.
After finding an empty seat, Mark comes out in a blue t-shirt and a Nike cap. Maybe I'm primed to expect the verbose and animated celebrity chef-types a la Gordon Ramsey and Wolfgang Puck, but Mark comes off more Anthony Bourdain let's have a cigarette and cook than Guy Fieri's I'm going to make cheese explode in your mouth as far as first impressions go.
The array of ingredients are laid out on the tabletop and show a heavy Japanese influence. I see Panko, rice wine vinegar, seaweed sheets and mirin along with a wok and a dutch oven. When he goes over the 5 dishes that we are planning to prepare, my stomach lets out a muted growl.
Menu of the Day
Cucumber Salad
Grilled Calamari and Grated Daikon
Panko Crusted Butterflied Prawns
Seafood Broth With Snapper and Root Vegetables
Rice Topped With Snapper, Seaweed and Bonita Flakes
Cucumber Salad
Grilled Calamari and Grated Daikon
Panko Crusted Butterflied Prawns
Seafood Broth With Snapper and Root Vegetables
Rice Topped With Snapper, Seaweed and Bonita Flakes
As he's prepping the ingredients, Mark talks about how the simplicity of Japanese cuisine effectively showcases the individual ingredients. In today's case, it's the seafood. All of the dishes only required a handful of ingredients and pretty simple preparation. Close-up of his handiwork is shown on the 4 large flat screen LCD panels hanging above the island. The setup is modern and elegant. Within the hour, he's prepared all the dishes to a round of applause and we all head into the adjacent room to prepare the same meal ourselves in small groups of 5-6 people.
The room is more industrial with multiple stainless steel cooking station that befits the term "state of the art". Each station is equipped with a slide-out refrigerator and freezer, an oven, 4 stove-top burners, a sink and several slide-out compartments to house everything we need to prepare our creations. The walls are painted with paint allowing for hand-written menus, techniques and drawings with the seafood theme. Just being in this room itself made me excited to cook. One can argue that it's not always about the equipment and tools…but I don't like to argue and I like it when the stuff you have to work with is top notch.
I'm drafted in with a family on holiday from Melbourne and we set about dividing up the task. Not to intimidate potential students, but over the next hour, it appeared like everyone was a natural in the kitchen. I was charged with prepping the broth, shaving the Daikons, making the dipping sauce for the prawns and grilling the calamari.
With printed step-by-step instructions and the demonstration fresh on our minds, everyone took to their tasks quiet efficiently. While I was creating an emulsification with the prawn oil and egg yolk, Mark came over to offer some advice on how to beat the mixture quickly but deliberately to thicken the sauce. He would float from station to station watching over us and assisting when requested or necessary. The hands-on tips were welcomed and useful. Oddly enough, I forgot about my hunger during the cooking process, but when the prawns hit the deep fryer and the broth began to simmer, I was more than happy to hang up my apron and skip right to the eating.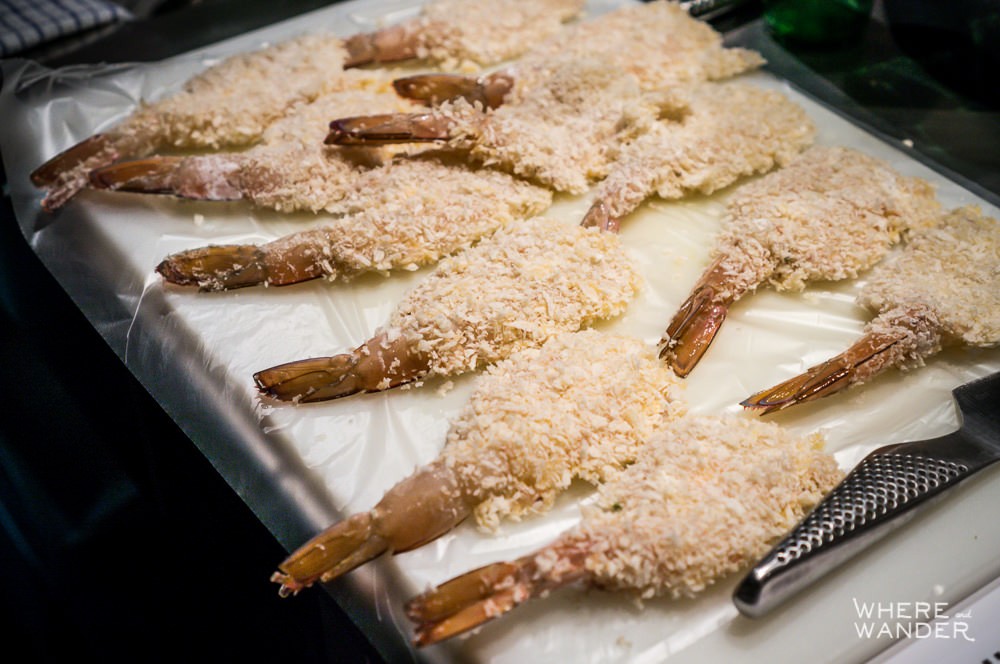 After prepping all 5 dishes like demonstrated, we move to yet another beautiful room with tables to feast. The obligatory photos were taken and it was time to taste test.
Perfection. As I expected, my favorite was the Panko-crusted prawn, which was plump and juicy on the inside and lightly crunchy on the side. The richness of the prawn oil was really evident in the sauce and added another layer of flavor to the dish. I also really enjoyed the simple preparation of the chopped up sashimi-grade snapper over the bed of vinegar rice and julienned dried seaweed. Wine and beer was served, we were merry and my stomach was happy.
While you can find cooking classes in many places, I rarely pass up the opportunity to cook with local chefs on travels. It's a great way to learn how to prepare cuisines with local ingredients and always a fun activity in and of itself. This easily goes on my obligatory top 10 list of must-do things in Sydney. Not only do you get a chance to sample some of the freshest seafood around, you get to learn from some of the best chefs in Australia in one of the coolest test kitchens I've ever been in. This is a great activity whether you show up alone or in a group. And guys, this isn't a bad date idea either. Just saying. For a list of classes on offer, check out their class schedule. Classes range from 90 to 165 AUD and is well worth the money considering the wonderful meal you get at the end.
First floor of the Waterfront Arcade
Sydney Fish Market
Bank Street, Pyrmont, Sydney
Tel: +61 (02) 9004 1111
Updated on January 10, 2020