Falling In Love With Taylor Swift All Over Again At The Rose Bowl
Falling In Love With Taylor Swift All Over Again At The Rose Bowl
Last Updated on May 23, 2018
I am an unapologetic and unabashed fan of Taylor Swift and her music. Before she became a global pop icon, she was a 16-year-old country singer-songwriter that wrote about her heartbreaks and some guy named Drew. And although I was not a teenage girl in high school, I still related to the emotions and honesty of what she was writing about.
---
For some reason or another, it took me nearly 12 years, but I finally attended one of her concerts on May 19, 2018 and I admire her even more now than ever.
I Was Country When Country Wasn't Cool…Sort Of
Growing up in Southern California in the 90s, I had as much exposure to country music as I did to….ebola? One afternoon while stuck in traffic, I was scanning the radio stations and landed on a country one without paying too much attention to it. I didn't know it at the time, but I was enjoying some Shania Twain, George Strait, Faith Hill, Garth Brooks and Tim McGraw, future staples of my iTunes library. This was around 1998.
After hearing Cyndi Thomson's "What I Really Meant To Say" in 2001, I finally admitted to being in love with country music despite years of having friends roll their eyes when I said that it was my favorite musical genre. When Carrie Underwood won American Idol and stormed the Billboard 100 in 2004, country became mainstream cool, and I felt a bit of vindication. After Rascal Flatt's cover of "What Hurts The Most" in 2006, I decided I wanted to write a hit country song myself. It's still on my Bucket List. This was around the same time Taylor was coming out with her singles and it was hard not to like her catchy pop-country tunes.
It started with "Tim McGraw," and "Tied Together With A Smile," then "Invisible." Then even a Christmas song won out as my favorite Taylor Swift song of the moment. "Christmases When You Were Mine" if you remember that. This continued through the years as she continued to write hit after hits that were fresh, but still quintessentially Taylor. I've loved so many songs from each album I've wondered when she'll run out of that creativity. Her latest album, Reputation, certainly marked the biggest departure from what we've known as Taylor, but in light of everything that's been going on in her life, this might just be the most raw version of her we've heard yet.
You Had Me At Floor Seats
Flash forward to last Saturday. I changed my flight earlier in the week to fly in for the concert when two floor tickets became available for the second night of her Rose Bowl appearances in Los Angeles. I was planning to be here later in the week to take my parents to Europe for the first time, so the timing worked out perfectly. My concert companion would be my 17-year-old cousin, who shares my same enthusiasm and knows all the words to Taylor's latest album. The pieces just fell into place. That being said, I would have been happy with any seat just to be able to sing along my cousin and a bunch of other fans without being judged.
We showed up early to have some time to walk around and not miss Charlie XCX and Camila Cabello's opening acts. This gave us plenty of time get in line for the Fujifilm Instax "polaroids" booth and to pick up our floor access wrist bands.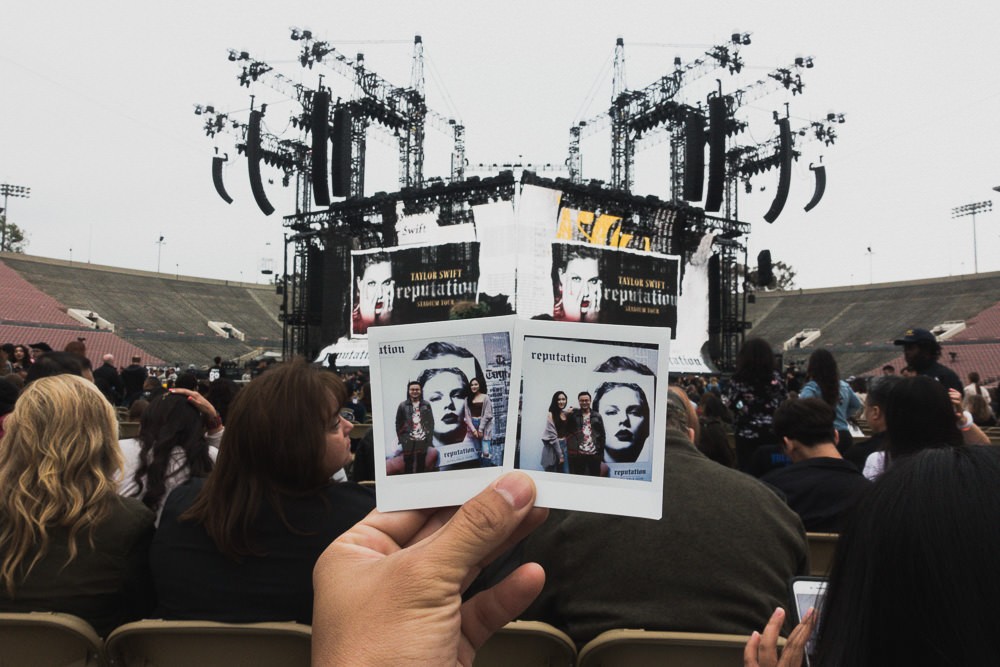 We were also given PixMob bracelets that are wirelessly controlled to light up and sync during the concert. It's pretty cool technology that uses the crowd as a canvas for a lighting show that beats along with the concert.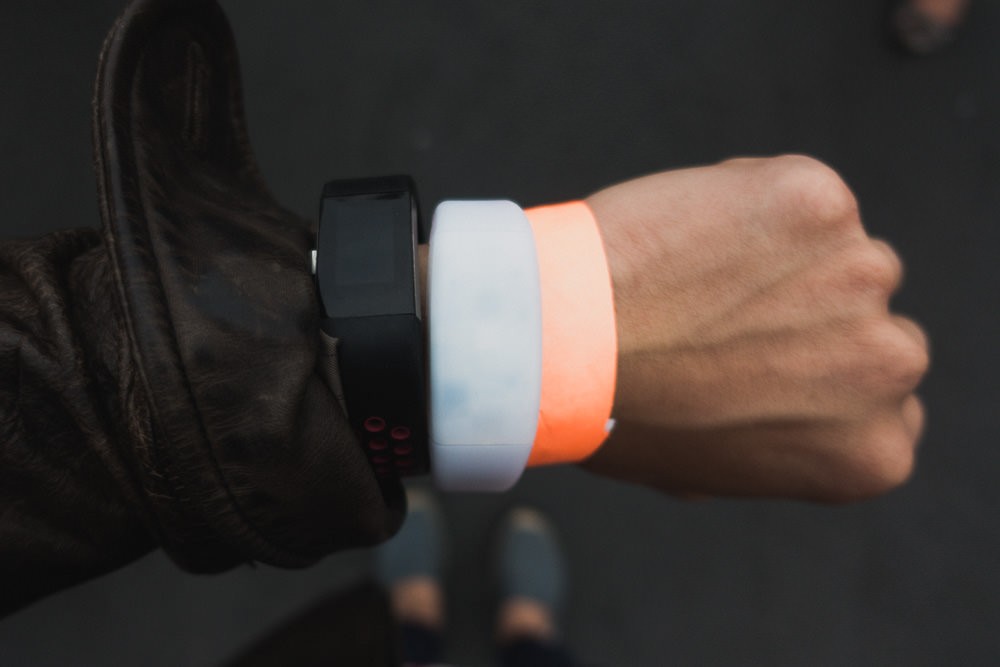 Before we settled into our seats, we decided to wander a bit and went up pretty close to the stage during the opening acts. I didn't feel so bad temporarily occupying the seats up front because much of the section was still empty. Being that the concert was in Los Angeles, I expected quite a few celebrities to show up, especially in the front row area, and I was not disappointed. Kobe Bryant happened to just walk by on the way to his seats.
Charlie XCX kicked it off with "Boom Clap" in an outfit I'd describe as wearing my underwear with a full body see-through poncho suit. It was cool. Camila Cabello came on and performed through the last light of the day throwing down with some sick salsa moves. I expected she'd close with her hit "Havana" and she did not disappoint. Both great opening acts.
But we hadn't seen anything yet.
…Ready For It?
Shortly after, Taylor came out to the raucous roar of a 60000-strong crowd, and it was just electric. For the next 2.5 hours, she performed 26 songs covering practically the entire Reputation album and peppering in many favorites from her past albums. Starting with "…Ready For It?" it was just non-stop from song to song with surprisingly little downtime between wardrobe changes and water breaks.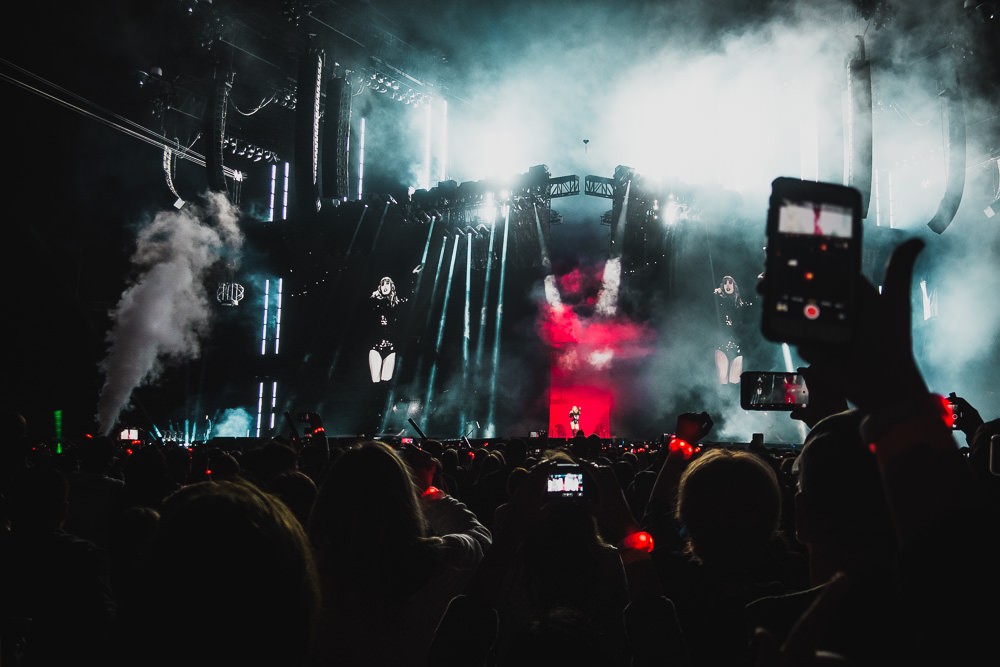 As an endurance athlete, I could not help but admire how fresh she still looked by the time she performed "This Is Why We Can't Have Nice Things" to close out the show. The production itself was mind-blowing, but a lot of it hinged on her ability to nail all the choreography, stage movements, and lyrics across 150 minutes. And she did it flawlessly with an air of ease that showed no sign of rust with taking a break from touring. When she took her first break to talk to the crowd and introduced "Gorgeous", I randomly happened to be counting the number of times she said, "Um" and the grand total was ONE. So polished.
While the first song was accompanied by pyrotechnic fireworks shooting overhead, "Look What You Made Me Do" brought out the production big guns in the form of a giant cobra that hovered behind Taylor. It was preceded by an intro video with Tiffany Haddish doing a refrain from the song:
"The old Taylor can't come to the phone."
"Why?"
"Oh, 'cause she's dead!"
Taylor made a point of explaining the significance of this defiance and the adopting of the snakes theme, something she embraced after being called a snake on social media last year. This was definitely some shade thrown at Kim Kardashian and I was all for it.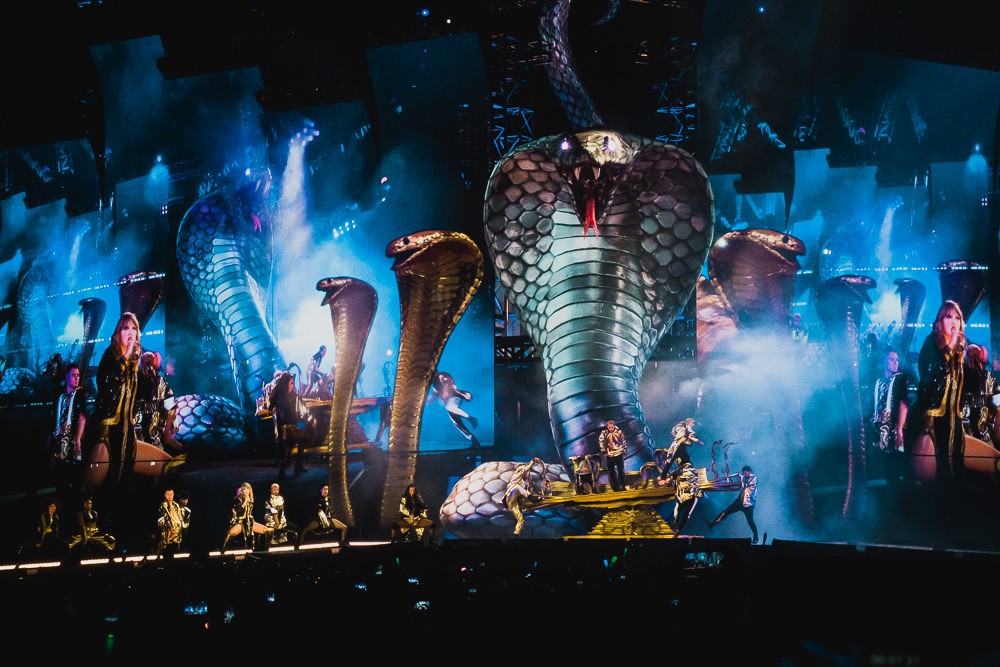 Every song was accompanied by giant visuals that melded the live performance footage with the stylings of a music video. It was very well done and I was blown away that this was all done in real time. Some of the video graphics looked so realistic and three-dimensional that I could see how it easy replaced what would normally be real set pieces without compromise.
ROSE BOWL SET LIST
…Ready For It?
I Did Something Bad
Gorgeous
Style / Love / You Belong To Me
My My My! w/ Troye Sivan
Look What You Made Me Do
End Game
King Of My Heart
Delicate
Shake It Off
All Too Well
Dancing With Our Hands Tied
Blank Space
Dress
Bad Blood / Should've Said No
Hands To Myself w/ Selena Gomez
Don't Blame Me
Long Live / New Year's Day
Getaway Car
Call It What You Want
We Are Never Ever Getting Back Together /
This Is Why We Can't  Have Nice Things
The Old Taylor Is Not Dead
To not alienate those concert goers who may not be fully familiar all the songs from her latest album, Taylor threw it back pretty early on with a mix that combined "Style", "Love Story" and "You Belong To Me". You could immediately hear the crowd's sing-a-long decibel go up.
The day before, she surprised everyone by bringing out singer Shawn Mendes, so expectations were pretty high for tonight. She ended the first act bringing out Troye Sivan as her special guest and they performed his hit "My My My!" together, much to approval of the crowd.
Halfway through the show, Taylor did something that you always hope for if you aren't in the front row. She hopped into a glittering basket that carried her across the stadium to a smaller stage right in the middle of the crowd and dropped her latest single, "Delicate," immediately followed by "Shake It Off" with Camila and Charlie XCX back on stage. Everything was turned up to 11.
Earlier in the night while addressing the crowd, she had said, "if you think I can't see you in the top rows, you're wrong, I can see you." This is just a part of what makes her so well-loved by her fans. As popular as she has become, she is still relatable and accessible, whether it's through her bringing in hard core fans for a private preview of Reputation, interacting with fans on social media, or picking some diehards from the crowd for a meet and greet after the concert.
To slow things down, she performed a stripped down acoustic version of her most requested song, "All Too Well." I was facing the back of the stadium now and it was breathtaking to see all the bracelet lights pulse and surround Taylor like a sea of stars.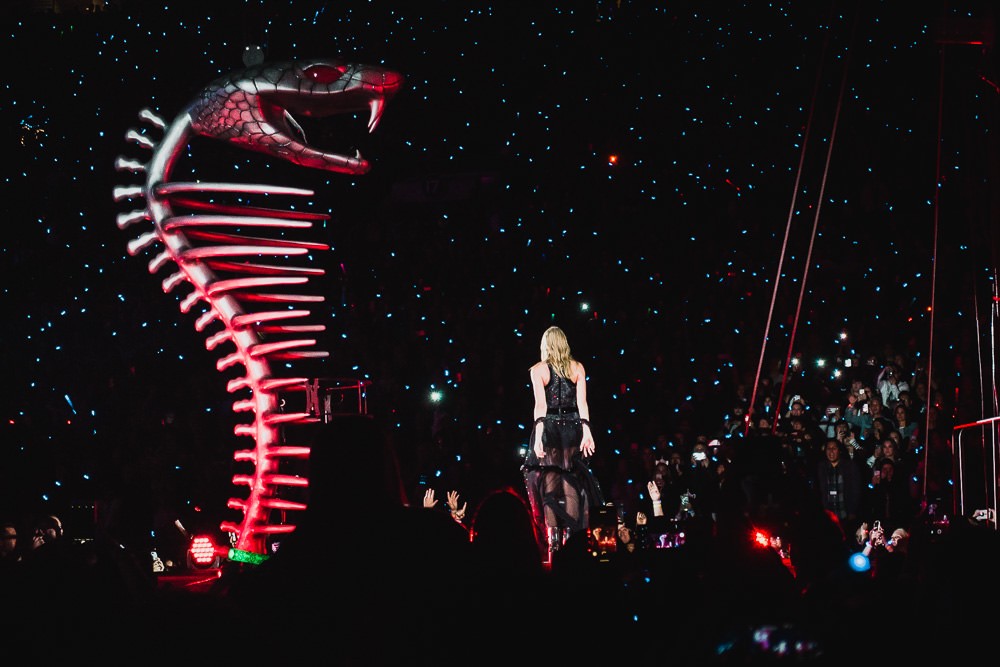 To not leave the other side of the stadium feeling left out, she jumped off one stage and just walked across to the other high-fiving a number of lucky fans along the way. For some reason, I noticed people moving out of their seats and filling into the empty space around the stage (previously the walkways). My cousin was amongst this group so I jump over my seat as well to follow, as much because I didn't want to be responsible for losing her and because who doesn't want to get closer. Especially for "Blank Space."
"Why She Disappeared"
When she fell, she fell apart.
Cracked her bones on the pavement she once decorated
as a child with sidewalk chalk
When she crashed, her clothes disintegrated and blew away
with the winds that took all of her fair-weather friends
When she looked around, her skin was spattered with ink
forming the words of a thousand voices
Echoes she heard even in her sleep:
"Whatever you say, it is not right."
"Whatever you do, it is not enough."
"Your kindness is fake."
"Your pain is manipulative."
When she lay there on the ground,
She dreamed of time machines and revenge
and a love that was really something,
Not just the idea of something.
When she finally rose, she rose slowly
Avoiding old haunts and sidestepping shiny pennies
Wary of phone calls and promises,
Charmers, dandies and get-love-quick-schemes
When she stood, she stood with a desolate knowingness
Waded out into the dark, wild ocean up to her neck
Bathed in her brokenness
Said a prayer of gratitude for each chink in the armor
she never knew she needed
Standing broad-shouldered next to her
was a love that was really something,
not just the idea of something.
When she turned to go home,
She heard the echoes of new words
"May your heart remain breakable
But never by the same hand twice"
And even louder:
"without your past,
you could never have arrived-
so wondrously and brutally,
By design or some violent, exquisite happenstance
…here."
And in the death of her reputation,
She felt truly alive.
I have to say that as counterintuitive as it may sound, it was a smart move from security to just let this happen. Despite the chaos, everyone was surprisingly respectful. After she zipped back to the main stage via a snake shaped cage basket, people followed and this was where things broke a bit and a number of people rushed to the front past security.
Couple this with Taylor's announcement that she had another surprise guest in Selena Gomez and everything was a little crazy. We made our way back to our seats around the same time they were performing "Hands To Myself." I remember remarking at this point just how long the concert was going on for; we were at the 2 hour mark with no signs of it ending anytime soon. And that was fine with me.
I Said Remember This Moment
My favorite sequence of song came next in the form of a "Long Live" / "New Year's Day" medley on a grand piano to close out the fifth set followed by a short video interlude over her "Why She Disappeared" poem. In this, she talked about some her recent experiences that left her battered and "bathing in her brokeness," but arriving stronger at the end of that journey. It was well-written and read very sincere.
The video segued right into a beautiful performance of "Getaway Car" that looked like came straight out of a music video. Of course, all good things must come to an end and the end finally arrived with a flourish.
When she jumped around the stage getting completely soaked during the performance of "This Is Why We Can't Have Nice Things," you got the sense that she is accomplishing exactly what she came to do following a rough couple of years in the headlines of the tabloids: to declare that reports of her fall from the spotlights were premature. That Taylor Swift was back if she was ever gone.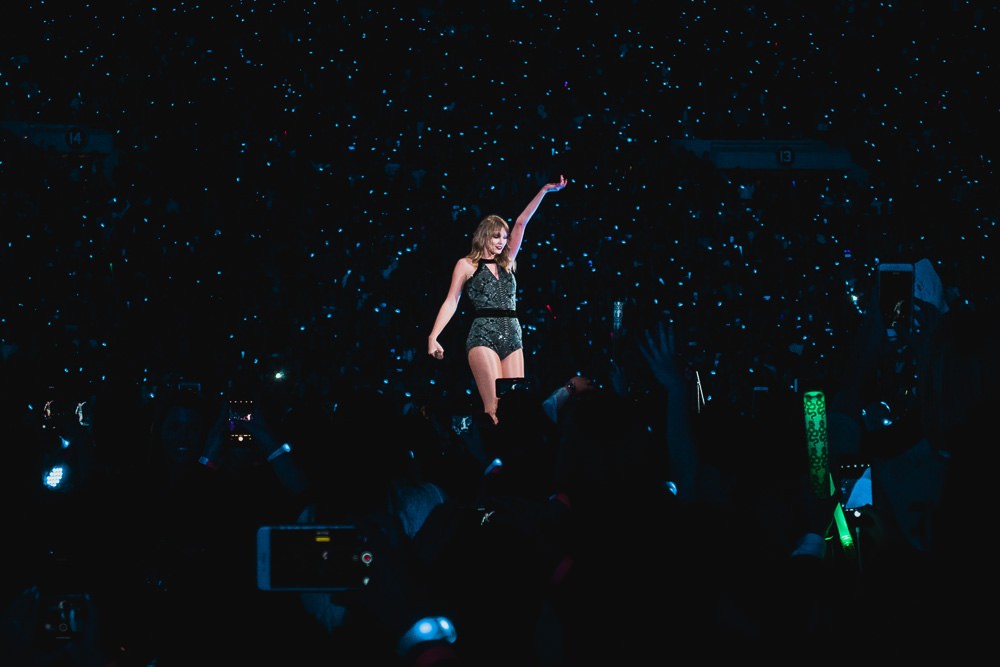 This was by far the most amazing production I've ever been to and ups the ante for future mega-concerts. For me, it's been a fun journey to follow along as her style has evolved from album to album. While fans of her country days may lament, she balances the changes by continuing to write from her personal experiences, something that surely resonates with her loyal fans who wants to just hear Taylor Swift be herself, regardless of the style. Her messages resonate because she makes her personal experiences, as remarkable or outlandish as some may be, relatable. I'm glad to see her back having weathered the media scrutiny of the past couple of years. I started enjoying Taylor's music 12 years ago and I will continue to enjoy it today and as long as she keeps writing. Haters be damned.