SISU IRON 2018: 44 Hours Of Suck And Pork Buns
SISU IRON 2018: 44 Hours Of Suck And Pork Buns
Last Updated on May 26, 2018
48 hours after this year's SISU Iron, my feet are still swollen from the 60+ miles of running, climbing, jumping, bushwhacking, ass-dragging that I put it through. In the last 18 hours of the race, I worked my legs the hardest when it was barely able to support me just standing up. At this point, I'm still somewhat processing what happened and making sense of all the emotions I've been feeling. There's gratitude, anger, confusion, relief, and even a little emptiness all stewing around in my head.
---
Strongest is the gratitude for everyone involved in this event. The Iron is not a race that's put on to make money. It's funded by the mind-blowing time and effort dedicated to it by people who understand what this race means to the racers who are willing to suffer for over 36 hours (in this case, my race lasted 44 hours) to finish. Even when the staff members are "no longer your friends" when the clock starts; you know they care every bit as much about what you get out of this race. Each year, they make sure the event is different, so it's no wonder why people return year after year to suffer. To get so much out of this event, my heart is filled with thanks for these guys. I'm grateful for my buddy Tony Matesi, who followed me for most of the race to film our documentary on the race and to every volunteer and racer who did not hesitate at all to help me, whether I asked for it or not. And then there's that sip of iced Yerba Matte that came out of nowhere when I didn't know what I needed. It really helped me begin to get my mind right for what would ultimately be an anger-fueled push to finish.
Racing In Anger
Anger. It would take too much away from everything if I pretended that I wasn't angry for a large part of the race. For this type of endurance race, I'm a strategist first and an athlete second. If the goal is to finish, it's all about pacing. Knowing when to turn it on and make the hacks, and when to ease off to conserve the body is the key to succeeding. This year's race, however, introduced a points scoring system meaning that for a number of people, that meant going at a higher gear for the entirety of the race if they wanted a spot on the podium. I was one of those people.
So from the start, I was already a little confused. Did I need to draw a line between winning versus helping my fellow racers out, and where was the line?
For me, I answered that early on, and so one seemingly small decision had a cascading effect that would change the course of the race for me.
"When This Baby Hits 88 MPH…"
Our first task was to gather up what we would need for the next 24 hours and start on a 12-mile "warm up" run to Old Town Pasadena. We were purposely kept in the dark about how the scoring worked, but if there were points to earn, I wanted to make sure I stayed near the front-runners. This pushed me a little harder than I should have gone out at this stage, but I arrived somewhere in the top 10, and even managed to buy some Taylor Swift tickets during the run.
Our next task was a checklist scavenger hunt around Old Town. Again, with points on the line, I planned to get as many as I could in those 4 hours in hopes of building a cushion for any activities where I'm not the fastest or the strongest.
While most were running around to start earning points, I patiently sat still for a good 45 minutes to come up with the most efficient route to find and score on every challenge. It involved a lot of Googling, a lot of miles and a carefully timed (and allowed) Uber near the end to get some high-value challenges that were miles out of the way, but it worked.
This part of the Iron was incredibly fun. We got to interact with so many people, including a few strangers and it challenged us to go out of our comfort zone. Picture running around Old Town Pasadena on a busy Friday night in full race attire and asking random strangers to, amongst many other things, dance a waltz, play a game of hopscotch, say "Kien love to eat tacos", or write on your arm all while getting filmed.
I grew up going to Old Town Pasadena and it was especially nice to explore a little more in depth and spot things I never noticed before. I even got to act out a scene from Back to the Future in front of Doc Brown's House. Who knew that was in Pasadena?
"If my calculations are correct, when this baby hits 88 miles per hours…you're gonna see some serious shit."
I expected to do well during this part of the race and I ended up winning the Scavenger Hunt. Doing so came with a price; I was on my feet for most of the 4 hours and had no rest time before the next portion of the race began, but fortuitously, it would also come with an advantage later on.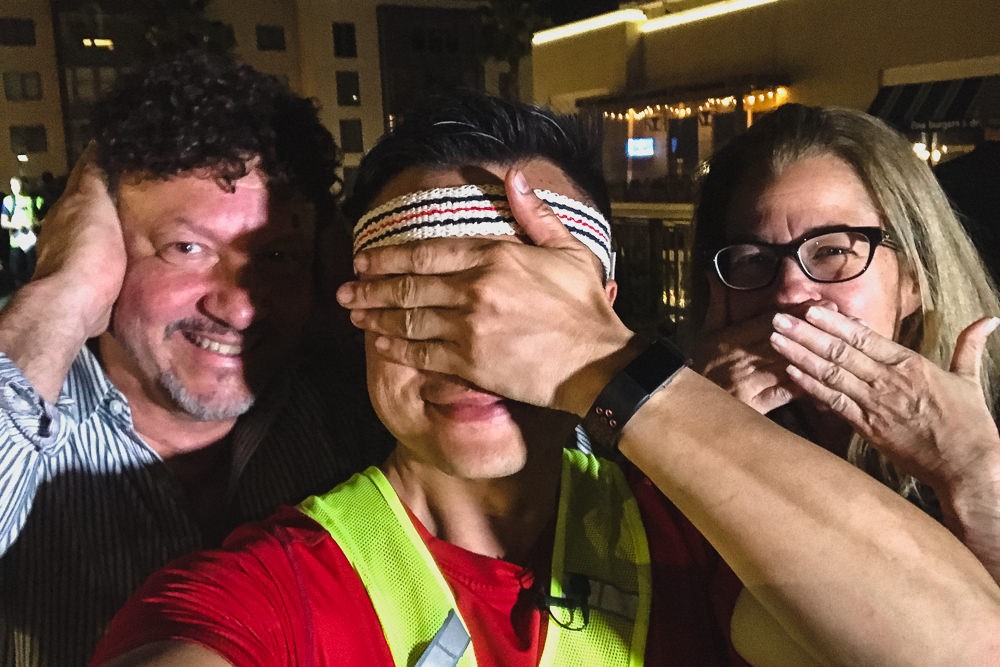 Living The Theme
From the Yard House in Old Town, we had 1 hour and 45 minutes to cover the 5 miles to the Henzinger Flats trailhead.
I started off running but noticed a few racers already struggling this early on in the race. With this year's theme of "selflessness" in mind, I decided to hang back with them to offer some encouragement and pacing. I wanted to see as many people get as far as possible. Even at a walking pace, I was confident we would arrive together to the destination in time. Based on past experiences, I assumed arriving earlier just meant having more rest time. Worthwhile tradeoff.
But I was wrong, and it put me near the back of the pack, which led to extra PT and a delayed start for the 13-mile hike to Adams Pack Station. I made up some time, but there would be a disastrous compounding effect as a result.
Carpe Noctem
We started the hike at around 2:15 am. For the first 3 hours of it, I mostly kept my head down and just power walked through the stiffness that was developing in my shins and ankles. The air was cool and it was completely dark save for the bobbing light of my headlamp. We had about 4000 ft of elevation to gain over the first 7 miles. Since I was released in the last group, my goal was to catch up to as many people as possible to be on safe the side. By morning, I had caught up to a few people released in the first group.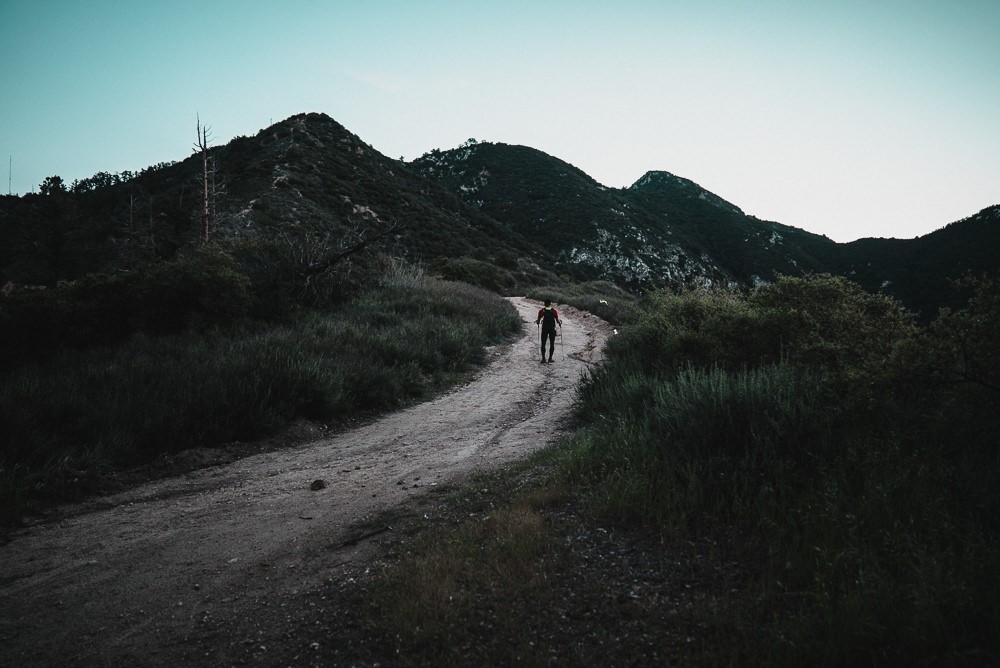 I prefer the night because its much cooler, but that morning's sunrise was a hard one to pass up. Tony and I took a short break to share my ration of pork buns and brownies as the sun began to warm us up. Around this time, we came up to one of the fastest runners in the race, Gaspar Vasquez, and he looked to be struggling. I was happy to catch up, but I never want to see a strong competitor in bad shape. This guy is all heart and as soon as he saw us, found a second gear and started running. After the break we were joined by a couple of other racers and started the downhill section together.
I love technical downhills, but could still not break away from the stiffness in my shins and ankles. I resorted to a fast walk with a lot of weight shifted to my trekking poles. Gaspar and I would pass each other several more times and just as the finish was in sight, he caught up once more and we bought decided to make a run for it together.
It took about 5.5 hours to complete the hike and I treated myself to a fresh layer of trail toes and a cold Coca-Cola before we had to do some community service.
Bad Directions or Bad Luck?
By the time I was released to run the 10 miles back to Camp Trask, I only had 2 hours and 45 minutes to get there. This was doable, but my gut feeling put me on high alert right when we were given "modified" instructions to get to Trask. By the time I was released from the community service we were required to do after arriving at the pack station, I was joining the tail end of a group briefing and didn't catch any of the instructions. I felt the anger welling up instantly when the "directions" I received made no sense and was just told to book it to make the time hack.
Sure enough, when I got down to the aqua duct that marked the modification to the directions, I had no idea what to do next. I ended up walking the length of the aqua duct four times and the area around it to scout for any course marking. Nothing. Instead, I went back to the crossed out section of the directions and just climbed the fence in hopes of finding ANY way to Trask. That diversion cost me about 50 minutes, a couple of extra miles, and the rest of my fluids.
The temperature was now in the 90s and 3 miles up the trail to Trask, I had to make the call to turn back down and find some water. A few miles later, two Rangers found me near a closed exit point. They didn't want to let me go back in and insisted that they drive me to Camp Trask. I understood their concern, but I asked to be dropped off at the bottom of Canyon Road so I could at least walk up to Trask myself and "finish" the race on my own two feet. On that hot walk up, I was frustrated and furious with what had happened, and I was looking at a big fat DNF.
I made it back to Trask 8 minutes before the cut-off, so in truth, I could have pretended like none of this happened. But I couldn't. After a few shameful minutes of having to endure people congratulating me on making the cut-off, I found Daren. I told him everything and thanked him for race.
It's Not Over Until You Run Out Of Pork Buns
But my suffering wasn't quite over yet. To my surprise, Daren de Heras, the Race Director, said a similar thing happened to a few other racers and they took an Uber back to Trask. The staff decided to let the other racers decide our fate. After deliberation, the consensus was that we would be allowed to continue the race, but no longer be eligible for any points or podium positions.
Truthfully, I was glad Tony's efforts weren't wasted and we could continue filming the documentary, and I was grateful to the racers, who made the time hack fairly, to allow me to continue, but I was also pissed as all hell. One part of me felt like even a finish would have an asterisk next to it, and another part of me felt that it sucked that I wouldn't have a chance at the podium for something that was out of my control.
At least I wouldn't have to waste the pork buns I had left.
We had a bit of down time to recover for the next part of the race and I struggled to get my mind right about everything. I even questioned whether it was the wrong decision early on to stay back with those other racers to offer moral support. Was I selfless or just stupid? It was all horribly confusing.
Sometimes You Just Need A Drink
As I was walking aimlessly back to my transition area, Mayra, a volunteer, came along and told me to drink down some iced yerba matte. It was refreshingly cold and with one long cool exhale, some part of all that anger dissipated. I jumped into Frog Lake to cool off, ate some much-needed food, and changed into fresh clothes for the next leg of the race.
This was where everything changed. I wanted to yell out "I didn't take a fucking Uber up to Trask" but instead I just let out a loud feral scream that seemed to get the blood flowing in my legs again. The anger was still there, but it was different now. I was determined to win as many of the remaining challenges left and beat out anyone who would ultimately podium. I wanted, needed, to prove to myself that I belonged there.
After all the extra miles in the heat, my shins felt like hard stumps, and I needed my trekking poles just to stand, but I didn't care. I told myself I'd fucking figure it out somehow. It wasn't over yet.
Winner Winner Chicken Dinner
Before we began the rest of the race, they announced the winner of the Scavenger Hunt. For my efforts, I was awarded 2000 SISU dollars that could be used to make potentially make challenges easier. I was awarded another 1000 SISU dollars for two acts of voluntary community service before the race began. If used right, this could give me that advantage I needed.
Chop Chop!
Our first task was to chop up 200 lbs. of firewood. My legs were shot, but my arms were fine, so it was a welcome relief just to stand and release some of that anger hacking away at the logs. I thank Kevin Kierce for this exercise. When our 200 lbs. were weighed, we had to run up to the shooting range to collect an envelope and return down to the amphitheater. While others were running, I limped up and down slowly with Tony by side reminding me that I no longer needed to worry about placing. We both understood he meant well, but we both also understood that I couldn't get the competition out of my system at this point.
Caesar Shift Anyone?
The envelope contained an encrypted puzzle courtesy of Ande Wegner, the race manager. If there were to be a challenge in my favor, it would be this. We were given the option of running back up to the shooting range for a clue. With my legs still decommissioned, this was not an option. Instead, I took out two pork buns and began to solve the puzzle. The puzzle consisted of a phrase that required decoding.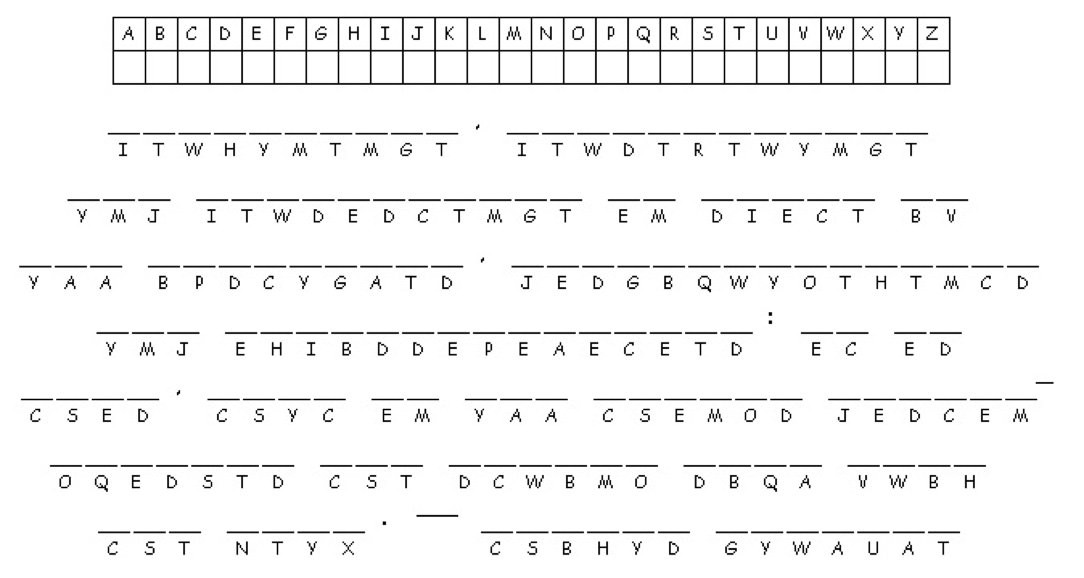 To solve it, you would typically start with a three letter word that could possibly be "THE" or "AND", This would give you the clue to start filling out the rest of the puzzle.
I got cocky and thought it was a simple Caesar Shift cipher that moved every letter over 5 spaces to the left. This made sense if Y M J, a word repeated twice, turned out to be T H E. It was not and I wasted 2 minutes and marked up my puzzle incorrectly in pen. I then took a second guess that Y M J was A N D instead and went from there.
Next, Y A A, repeated twice, required a 3 letter word that had two of the same letters at the end. The words T O O and A L L came to mind, the latter of which made sense if Y was indeed a substitute for A. The rest of the puzzle took about 6 minutes.
All in, it only took about 8 minutes to solve, but I was disappointed that I wasn't the first to finish the puzzle, having started behind half the group. Still, this would turn out to be a considerable enough lead.
Where The Hell Is Wesley?
I was somewhere around 3rd place at this point heading down to meet Daren for the waterfall hike. Our task was to bushwhack our way through the creek towards the waterfall and climb up all the dams along the way. I remembered doing this hike as our last task during the 2015 SISU Iron. It was a lot of fun scrambling along the rocks and through the creek and climbing the dams along the way.
This was not like that. I ran into Camille McCue, one of the racers ahead of me, and found her cussing at the lack of a path. We knew that Wesley Kerr, one of the perennially speedy contestants, was ahead of us, but agreed that there was no way he had taken this path.
Based on the heavy bushwhacking I had to do, we were definitely the first to go through it. And it sucked. But oh did it feel so good. For the first time over the last 40 miles, my legs were not subjected to the same repetitive pounding on pavement or trails. This was tricky scrambling, but it allowed me to use muscle parts that were less sore. The sun was starting to set, and I knew that, unlike most other racers, the night was where I would be getting my energy.
At the waterfall, two things happened. I learned that I was the first to arrive, which meant that Wesley was not. This was alarming because there were really only two ways to the waterfall. The trail, which Camille and I did not take, would have been much faster. You never want to assume the worse, but we told the volunteers that something bad could have happened to him.
Tony and I made our way back up to Trask. Being in the front, I pushed the pace to extend the lead, all the while looking to see if we could find any signs of Wesley along the way. At this point, groups of racers were heading towards the waterfall, so we hoped that if he had stumbled somewhere we hadn't passed by, he would be found by the others.
On our way up the mountain, we started seeing more cars come down asking about him, so the concern was real. Tony and I were the first back to Trask, but we started to have doubts that the race would continue if a racer were seriously hurt or missing. I was told to stay in the Fort and get some rest. I used this time to refuel and closed my eyes for a bit.
He Fell Down A Ravine
When I awoke, there was news that Wesley had been found and airlifted out. He was safe, and we were all relieved. The race was off schedule, but it was back on. After a few minutes of regrouping, we all gathered in the Fort for group burpees to warm back up again. Just after our first set of 50, Wesley showed up to much relief and applause from everyone.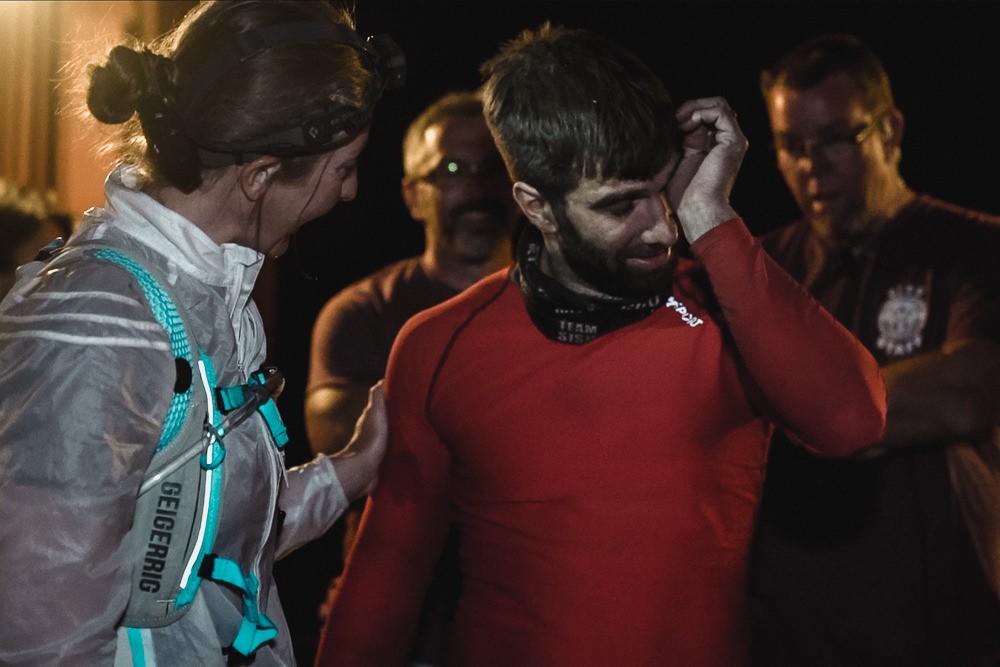 This is why the Iron is such a different race from anything I've done. People spend a lot of their time and money preparing for and getting to this race. What ended up being an unintentional mistake by one individual led to the race being temporarily called off, people mentally shutting off, and any lead accumulated up to this point practically wiped away. This should have pissed more people off. Instead, I believe everyone was genuinely happy to see him in one piece and welcomed him back into the race with open arms. I don't even think people were that mad when he lost the game of War to Meg Ramirez for the entire group, and we had to do another 50 burpees. No one complained, when have stopped racing and cooled off, had to turn it all right back on and get right back in line. That is the resilience of SISU.
Magilla Gorilla AKA Baby Steps AKA Dragging Ass AKA Booty Scotty
Since the whole waterfall section was wiped away, I lost the lead and lined up 2nd based on the Cryptogram challenge placing. We were released incrementally about 20-30 seconds apart to run up to Rob Barger at the amphitheater. With each challenge drawing from the personality of the staff member leading it, I expected this challenge to be part sadistic and part hilarious. It was exactly that. We had to wrap duct tape around our ankles and lower back in a full bottom squat position.
From that position, we would use our hands and propel forward like a gorilla, up and around a long rocky dirt path. This was the exact same loop where I had my right ankle zipped tied to another racer's left wrist, and my left wrist zipped tied to her right ankle during the 2015 Iron. We had to slowly and painfully coordinate and "walk" around that quarter-ish mile loop. My partner dragged my ass, literally, over the rocks and this sucked even more.
I booked it out of the Fort and passed the leader, arriving first to the challenge. I carefully wrapped the duct take around twice to make sure it wouldn't rip. If that happened, I'd have to start over. Then I zoned out.
I would move and count ten "steps" and then stop for a short rest to keep from cramping. Repeat. Ten steps. Breathe. Repeat. Occasionally, I would look behind to see if anyone was catching up. I built up an early lead and tried to keep at least 50-100 feet between 2nd place and myself. During the downhill section, 2nd place started to make a move, so I stopped resting and went all out to ensure I finished in 1st.
The last few years, I've filled out a few questionnaires for shows like America Ninja Warrior, Selection, and Amazing Race. When asked if I was competitive, I was always unsure about the response to that question. I suppose sometimes you just need something extraordinary to help you find the answer. If there was any doubt before tonight, it was put to rest; I am competitive.
Cirque Du Iron
Our next challenge was to perform a few "circus acts" at the chapel and then write a SISU haiku. This was mine:
SISU is so fun
I want to win it so bad
But I can't, oh well!
You can tell what was my mind.
For the circus acts, I chose to juggle, walk backward heel to toe, traverse the line twice, and somersault down the aisle of the chapel. Earlier on during the scavenger hunt, some random person asked if I was on Amazing Race (since Tony was running around with a giant camera rig filming me). I said no, but now it sure felt like it. Strategize, execute, win was all I was thinking about as I gritted through the pain in my legs.
Frog Lake Fill-Up
I rushed to the next spot and immediately realized the challenge was going to be a doozy. Down at the amphitheater, Dave Lokey, another co-founder of Team SISU, told me we would be "making SISU great again and draining the swamp." In Iron speak, that meant filling our buckets to a line about 1/3 of the way up, using water from Frog Lake, and with only a red Solo cup.
The "ha-ha" thing here is that the lake was about 70 feet away and the bucket was at the top of the amphitheater. The cup also happened to be a 2-oz miniature version of the party cup we're used to. A quick calculation put the number of required trips at around over 200 trips assuming you filled it right up to the brim and spilled nothing along the way.
I tried to buy my way out with SISU cash but only got as far as negotiating down to ¼ of the designated line. And so the grind began. Slowly, the amphitheater began to crowd as all the other racers completed the other tasks. I noticed a few people trying to find any way to increase the amount of water they could carry including holding the dirty water in their mouth or using the lid to transport more water. Eventually they were caught and called out, so everyone settled back into the slow task, save for a few who used their SISU cash to buy another cup. At this point, I still had 2500 SISU cash left and wanted to save it for activities down the line. I held out for a few more trips before I too decided to spend another 500 for a second cup.
Estimating that I had a pretty substantial lead between having the two cups and a much lower target than anyone else, I took a 15-minute break to refuel. When I returned, to my completely and utter dismay, I was told that someone had completed the task. Impossible. I did see someone with 3 cups, but mathematically, it was still improbable. I checked in with Dave and he told me the line had now been cut in half. I, too, was now done, but I had also lost my lead because the rules were changed again.
You know it's always a possibility in a race like this. The rules are fluid, but it still sucks when you are forced to change your strategy and lose another substantial lead. I turned off my microphone, and grumbled to Tony off the record, that this was bullshit and he once again reminded me that the points didn't matter for me. But he was wrong.
It mattered more than I could articulate at the moment. If it didn't, why was I pushing myself so hard and risking injury with each step? It had to, right?
The End Is Near
I caught up with BJ Pierce, the new leader and we started the next challenge together: the Burpee Broad Jump. Do a burpee, jump forward, repeat. We had to do this for about 500 feet and then do it backward. Burpee, jump backward, repeat. The back of my right knee inflamed and refused to fully stretch out, so I had to put more of the explosiveness onto my left side. I don't know if BJ was hurting or not, but I went at it a little faster to take back the lead.
The Iron Triathlon
The final challenge (although we didn't know it at the time) was a "triathlon" designed by Daren. He waited until we were both ready to give the instructions. The "Swim" was five laps back and forth across the length of Frog Lake. The "Bike" was inch-worming with an ab-roller across that same 500 foot length of rock and dirt road. The "Run" was filling up a bucket to the brim with water from the lake and carrying it up, without a lid, to the chapel.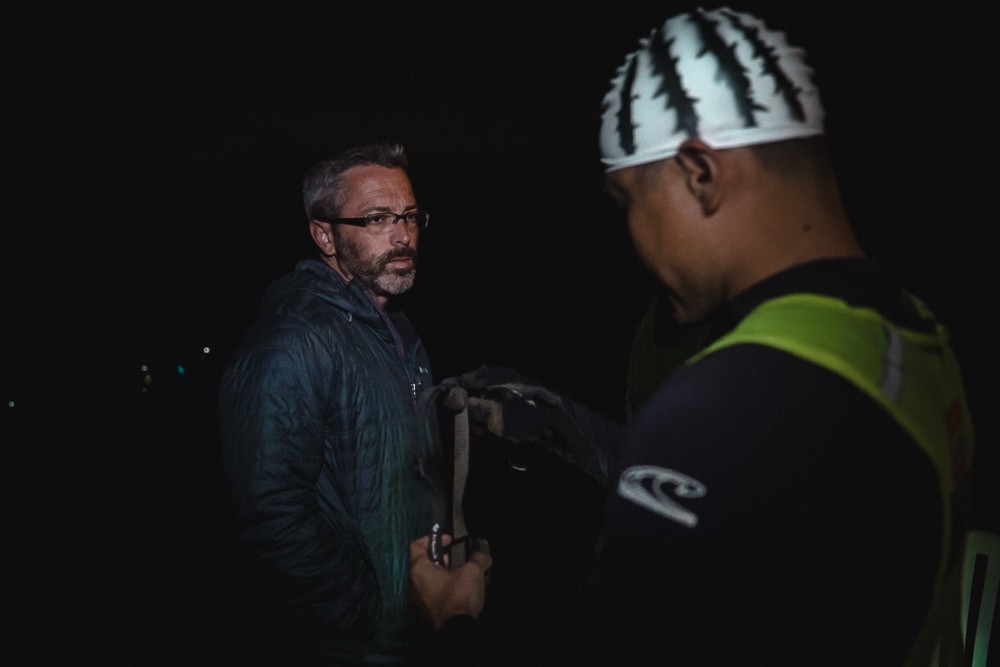 I tried to buy my way out of it with SISU cash but was denied. So much for that. I'd up with $2000 in unused cash.
As soon as we started, it was clear I couldn't hold the lead. Once I hit the cold water, the tendons behind my knee just seized up and I had to mostly breaststroke using my left leg to push against the squishy bottom of the shallow lake. I had no idea what I was stepping through and was eternally grateful that it was dark.
The inch-worm wasn't any easier. My body started shaking after the 4th lap in the water and the cool night air did not help it any as I pushed out those 2 feet at a time on the ab-wheel and dragged my feet in towards it. 2 feet at a time and then collapse. Each section's finish line was sweet beyond all. My last task was to get back in the lake and fill up that bucket for the final climb.
I tried hoisting the bucket up to my chest, but the water kept sloshing about, so instead I held the bucket up by the handle and sumo-squat style walked up the hill. Near the top, I saw BJ coming down. He said no one was up at the chapel. Since Tony was also staff, he agreed to take a photo of both our buckets at the top as proof.
I was so ecstatic walking those final few steps down the aisle of the chapel. After I put down the bucket, BJ and I had a quick embrace and posed for a photo. Though he was my competitor at this point, it was never antagonistic. I thoroughly enjoyed the chase and the push.
That wonderful feeling we were feeling disappeared so fast when we heard Ande call out in the dark to dump our buckets and "book it back down" to the fort because the event was going to end any moment now. If we didn't haul ass, it was over. BJ and I both said that was bullshit because we were the farthest ones along, but that didn't stop us from running down that hill like it was the first hour of the race.
I have no idea how I was able to actually run again, but fear certainly motivates. We stayed together until he looked at me and said, "go ahead." I couldn't full stretch out my right leg, but that's the fastest I've ever hobbled.
I ran up to the gate of the Fort, handed my empty bucket to Daren and allowed my legs to buckle right by fire pit. It was over.
One More Thing
And then it wasn't. I was told to change into dry clothes immediately and pack my bag with some food and water. And a bucket.
I wanted to groan at what this could mean, but didn't even have that time because we were back out hiking down from Trask within minutes. With a bucket in one hand and a trekking pole in the other, I slowly made the 2-mile hike to Daren's house where we boarded a bus.
Amongst the racers, there was a rumor of skydiving. Our destination turned out to be Skull Canyon for some ziplining. On the bus, we were instructed to put the bucket over our heads and get some sleep. You didn't have to tell me twice.
I know the ziplining was supposed to be a fun reward like the bungee jumping from last year's Iron, but for me it was just painful. Every step of the hike hurt, especially after sitting on the bus for over an hour. I've ziplined so many times in the past, so as much as fun as each of the lines were (and they really were), I just wanted it to be over.
And when it was, Daren, Ande and the rest of the staff were there at the bottom of the last zipline to hand us our finisher's spike. I hugged each person there, and then it WAS really over.
44 Hours Of Suffering And For What?
And I felt empty. To be honest, I didn't know what else to feel at that point. In a way I was happy to finish, but I knew that when we would sit down for the awards, all my extra effort at the end was for naught. Nothing in the books will indicate or acknowledge how far I got. It didn't matter that I was first to finish Daren's triathlon. Only one person officially finished every task. And it wasn't me. It all came back to getting lost or bad directions or tampered course markings or whatever the hell that was earlier on. Bluntly speaking, I could have gone and hid somewhere, or hell, just sat down right next to Dave Lokey at the amphitheater for the last few hours eating pineapple buns and spaghetti-o's and the result would have been exactly the same. Exactly the fucking same for me. I would still be just a finisher.
It didn't take until the end to know this. I knew this as soon as I was let back into the race. It was my choice to give it everything. Luckily, that empty feeling only lasted a little while because I remembered why I did it. Not for the finisher's spike. Like my other one, it will just collect dust sitting on my shelf somewhere. Not for the bragging rights, because no one outside of the event will fully understand what we went through. I did it for the same reason that I signed up for this ridiculous race in the first place. I did it so I can see what my mind and body was still capable of. I did it so I could be spend time with everyone who was a part of this mad affair. I did it because someone like Tony, who himself could easily gone through and finished the race, was willing to follow me around with a heavy camera rig for most of the race and push me to go faster when my body wanted to slow down. What kind of story would our documentary tell if it was over before it really even began?
I could name so many other names of all the people involved and what they gave to the event and it would take forever to read through, like this has taken, to write. But what's a few more words. So in no particular order: Daren de Heras, Ande Wegner, Dave Huckle, Rob Barger, Dave Lokey, Kevin Kierce, Edgar Landa, Rick Legacy, Guy Matthews, Meg Ramirez, Louis Lopez, Bonnie Mobley, Scott Parker, Mayra Rodriguez, Dylan Plante, Anna Tarasova, Nick Waddell, Farah Waddell, Khanh Nguyen, Justin Ngo, Diana Ngo, Kenneth Herzog, Paul Bustamante, Sheree Wood, Marion Powell, Nicole Wesselmann, Daniela Stratman, Zac Cromwell, and Seth Napel. I hope I didn't miss anyone.  These guys helped to make the best race I've ever competed in. Period.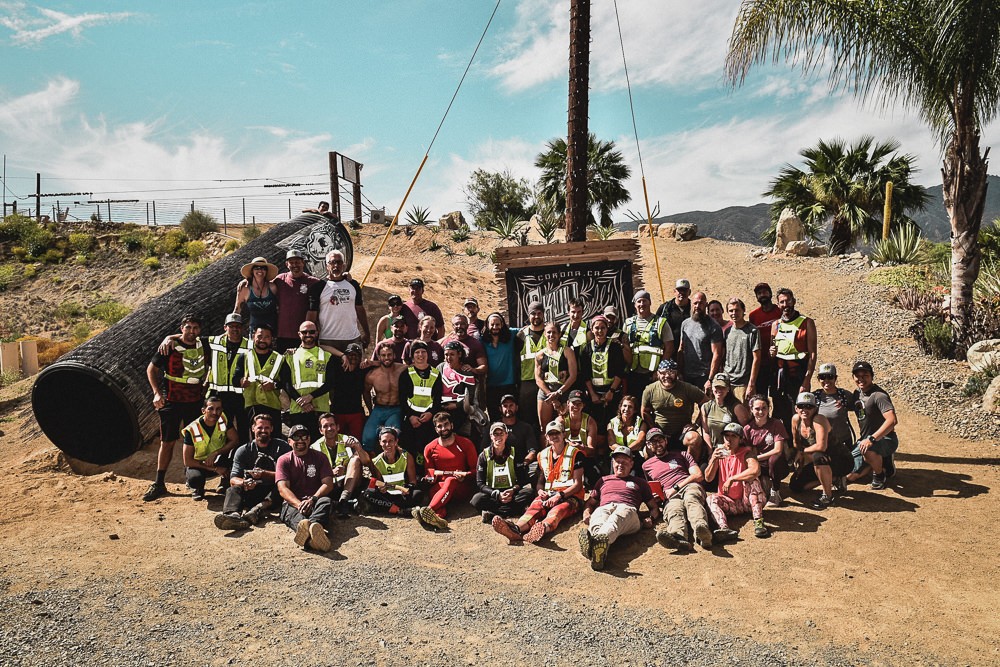 During the awards, I felt relief. When the winners were announced, it felt over. These guys were amazing competitors and absolutely deserved it. I'm privileged to be racing amongst so many beasts. Congratulations Alex Stavdal and Ella Kociuba, you guys deserve the top spots, to Wesley and Mindy England for Iron Man and Iron Woman, Ryan Tworek for an unprecedented 5th finish, and Chris Jones and Nate Moore for the Iron Squirrel award. To my surprise, I even won something. For my efforts in the Scavenger Hunt, I was awarded a beautifully framed piece of canvas art with the word "selfless" on it. I didn't need this, but I love it, and it helped remind me of everything that did go right in the race. Over the 40+ hours, I shared long stretches of my journey with many of you incredible individuals and enjoyed some great conversations along the way. You guys and gals know who you are, and however long or short our time together was, it was memorable for me. The only reason I'd wish this event was longer is to be able to have a meaningful interaction with each and everyone one of you.
It's an amazing feeling to be able to do a race where you get so much out of it and also give back. The minds behind the Iron are the ones to thank for that. They know they are lucky to be able to have access to many of the venues we trample through and do their best to give back in so many ways. Between the many man-hours of volunteer work as part of the community service, and asking for a donation "care bag" from each racer so we can help out the foster children at the Children's Bureau of Southern California, these guys definitely give as much as they take.
Pork Buns and Trail Toes
If I had credit a few things that helped me to a strong finish, here's the list in no particular order: Pork buns, pineapple buns, this stuff that I rubbed all over my feet and crotch (no indication that I just raced 4 times in the last 7 days, except for a bit of swelling, ABBA (I didn't have my earphones, but I was playing the song in my head during random parts of the race), and Tony Matesi (everyone needs a Tony to follow them around during a race this long, although he needs to remember to bring his own food, so I don't have to keep sharing my pork buns during the race).
Every Iron is different and everyone runs their own race. For me, this one was 90% physical. I managed myself mentally, and the idea of quitting or stopping was never given a thought. The only way I wasn't finishing the race was if I was pulled out or didn't make a cut. If I could change one thing, I would have kept my ego in check and eased into the race during the 12 mile run. I never quite recovered after that and had basically zero rest for another twelve hours leading to some heavy inflammation and tightness in shins, ankles, and the tendons behind my knees. I also would have brought along another 4-6 pork buns.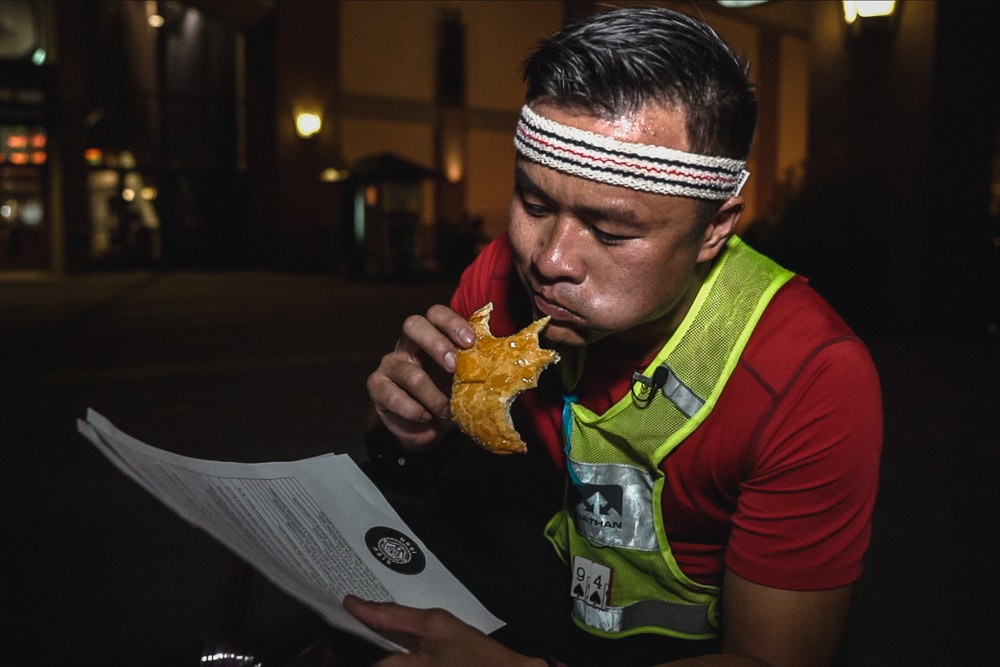 It's no fun to sit here aching and to wonder how long it'll take before I'm fully recovered. It certainly was no fun hobbling around trying to pack up after it was all over to go home. We left the place as clean as when we arrived, cleaner perhaps. No trace of the madness. No trace of the Iron. All we have are the memories and the experience. And that's what most things really come down to. Memories of our experiences.
Photography Credit: Tony Matesi of Up, Beyond Media and Khanh Nguyen.