Geigerrig Rig 500 Review: Drinking Muddy Water Sucks
Geigerrig Rig 500 Review: Drinking Muddy Water Sucks
Last Updated on May 14, 2018
I'll be the first to admit that I have way too many backpacks. I've got one for backcountry hiking, one for backpacking, one for all my cameras, one for one of my camera, one for my cameras if I want no one to steal it and even one that I can pack inside my other packs. Obstacle course racing hasn't helped. Now I had to find a hydration pack. Between running a Spartan Beast in 115 degree weather, rucking for 12 hours overnight through Santa Monica and lasting through the 30 hour SISU Iron, it's been damn near impossible to find a perfect hydration pack — and I haven't even figured out my needs for the upcoming Death Race. The one consistent through all these events is that I've used one particular product: The Geigerrig Hydration Engine.
---
Hydration bladders aren't usually too exciting, but the Geigerrig Hydration Engine ("GHE" for short) is a little different. I didn't realize it at first, but the bladder is split into two compartments with two separate hoses. One pumps air in, the other pumps water out. By pumping up the first compartment with air, it effectively pressurizes the water compartment allowing the water to shoot out of the drinking valve. Most, if not all bladders, require you to bite down on the valve and suck the water out. Since the GHE is pressurized, you can bite or press down on the valve and the water will shoot out. No sucking required. Until you've tried it, you don't quite realize how nice this feature is. So let me tell you. It's really nice.
The Best Hydration Pack?
If you've searching for the best hydration pack for a Spartan Race, Tough Mudder, Battlefrog or just to walk down the street, I seriously recommend starting with Geigerrig Rig 500 Ballistic. It's got a 2L bladder and 500 cu in. of space split up between the main compartment and 2 side zip pockets. This is great for organizing all your fuels and hydration. On long day hikes, there's enough space to store a light jacket, your food, water and miscellaneous things like sunscreen, a camera or a taxidermy squirrel. There's an earphone slot and 3 molle webbing if you need to attach something to it via carabiner like a taxidermy squirrel.
It sit pretty flat on your back with a fair amount of cushioning. To give you a sense of scale, I'm 5'6 and 140 lbs. As you can see below, the pack goes right down to my waist level. While running or hiking, the pack can be further secured with a chest and hip strap. I've particularly liked this pack on weekend backcountry trips. I'll pack it flat inside my bigger pack and use this for day hikes instead of taking out the full pack. In addition to the zippered pockets on the back, there's two more organizer pockets in the main compartment for keeping things separated and easy to access.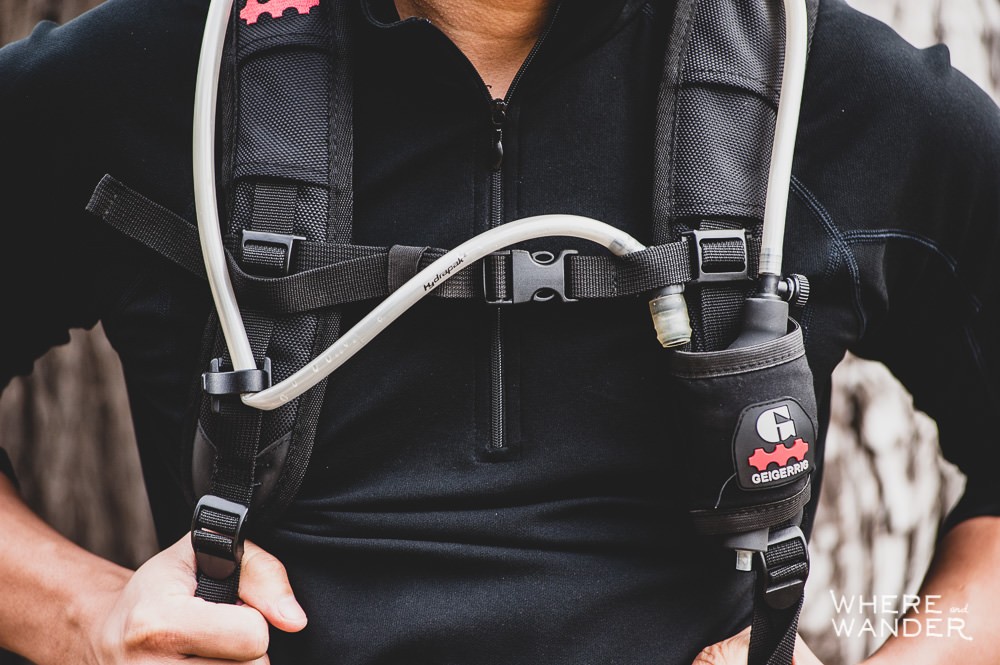 One Size Does Not Fit All.
As nice as this pack is, it's still not the perfect bag, but through no fault of its own. Sometimes you just need more space. Geigerrig offers a variety of packs in different sizes, but you can use most packs and simply use the GHE. I've had to do this a few times when I needed more space. During the Spartan 12 Hour Hurricane Heat, we were required to carry a ridiculous gear list and enough weight to surpass 30 lbs dry weight. I used my Camelbak HAWG pack, but replaced it with the GHE. This was where it really shined.
2 hours in, we had to crawl on all fours through a muddy trench. You can see how dangerously close my drinking valve came to the mud. Right after this picture, I actually slipped and went right in, hose and all. This was not a problem because once I was out, I was able to rinse away the mud on the valve by spraying some water into my hands and cleaning the mouth piece. I was also able to spray away some of the mud that got into my eye.
During the race itself, I ran by a runner who was cramping and down for the count. Since I was making good pace on my time hack, I stopped to offer some salt tablets and water. I probably wouldn't have wanted to have someone else sucking on my hose (shame on you if you're picturing something else), but since I could just press the valve and spray some water out, I offered him some cold clean water despite my entire pack being covered in mud.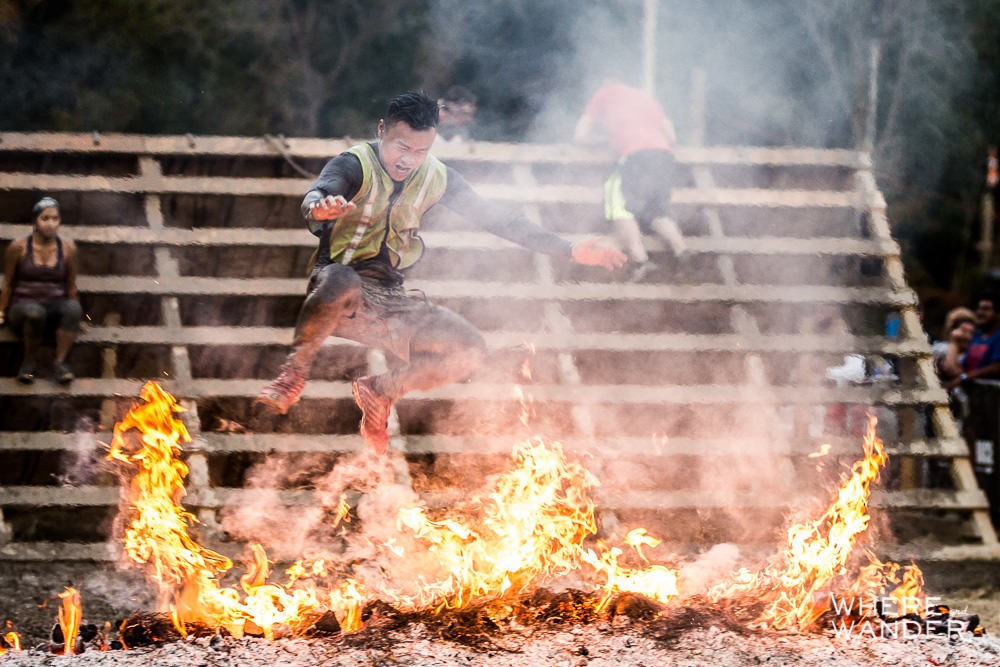 The last shot is just gratuitous because I like how I look jumping over fire. So that's all. Get a Geigerrig and thank me the next time you see me at a race.