How To Take Better Travel Photos: People and Portraits
How To Take Better Travel Photos: People and Portraits
Last Updated on May 18, 2018
This is the second in my series of write-ups on "How To Take Better Travel Photos". In this series, I'll explain my philosophy and etiquette for how to take better shots of people you encounter on your travels, whether they are locals in their natural environment or just interesting looking people. If you need a refresher on the basics, start with Exposure.
---
This Is Not A Zoo
Personally, I don't wear a turban, a burka or a bunch of gold rings around my neck when I'm at home in San Francisco. So it is quite an interesting sight when I encounter people who do wear these things on my travels. I'm immediately tempted to take a picture of them, as I'm sure many people would be and do. I've walked through the bazaars in Morocco and seen tourists standing from afar and snapping photos of the Moroccans going about their day. Sometimes it's obvious, other times they try to sneak in a shot when the person isn't looking. I'll flip the scenario around for a second and ask if you'd like it if a group of tourists from some tribe in Africa came around to your office and started taking photos of you sitting at your desk typing and then oohing and aahing in a foreign language without ever saying a word to you? Seems a bit weird right? Like you were on display at a zoo or something?
Say Hello
It's perfectly normal to want to capture a picture of people from different cultures. Often times, they'll even be flattered, but you would never know if you just snapped a shot and walked away without even so much as saying hello. I've found that there are more ways to communicate than just with words. Hand signals and simple gestures like a smile can bridge a gap between two strangers and two cultures just as easily. Once the ice is broken, you can just as easily ask to take the same shot, but with the approval and acknowledgement of your subject. When I first started travel, I did the same thing and I don't believe I've ever "stolen" a picture of someone that was better than a portrait or even a candid image I've taken after I'm talked to them and ask if I could take a photograph.
I've encountered individuals and groups of people partaking in rituals and activities that I really wanted to capture. Sometimes it's not easy or even possible to interrupt to ask to take the picture. Sometimes, it'll even disrupt that moment. Contrary to what I said earlier about asking, sometimes a photographer needs to just capture a scene as it happens. That's photojournalism; documentary photography. What I've learned is that as a photographer, I can use my pictures as a way to communicate with people, even if I didn't know speak their language.
While trekking in Nepal, I stopped in a village where a group of children were running around and playing with each other. I wanted to make some portraits of them. So I took a picture of them playing and then stopped to show it to them. As children often are, they were curious and gathered around this strange guy and his camera. They laughed and pointed at the picture indicating that they recognized themselves. I then turned the camera onto myself and gestured for the little girl to push the shutter button. She pressed it and I made a funny face. She pressed it a couple more times and laughed. I now turned the camera back towards her and pointed to the button. She nodded a yes and flashed a big smile. I showed it to her and she flashed a bigger smile followed by fit of laughter. Every other child wanted their own picture now. They all turned out to be some of my favorite images captured during this 14 day hike and ones that I otherwise wouldn't have been able to capture if I just tried to take them from a distance.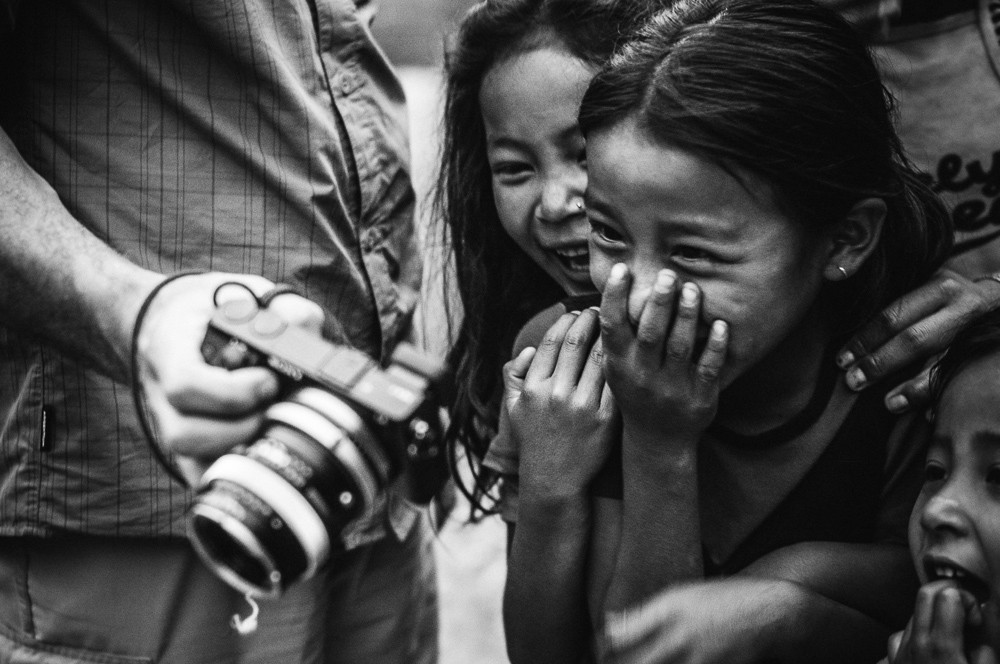 Capturing People In Their Natural Environment
When I take portraits of people, I don't always take the same type of pictures. What makes a portrait special is not just the face or the clothes, but also the environment. I sometimes try to incorporate that into the shot to give a better idea of who the person is. I captured this shot of a vendor in his shop. He wouldn't negotiate with me at all and I happily agreed to his prices. If you know me, you will know that this is highly uncharacteristic as I've been kicked out of places for bargaining way too low. There was just something honest and genuine about him and his prices were fair to begin with. After we had a chat about his craft, I wanted to take a portrait of this man who out-negotiated me without even trying. He immediately carried his little boy up and I watched his posed smile transform into a bigger natural smile when he looked at his son. He was a happy and proud father and that was what I wanted to capture.
In Egypt, I spent 3 days sailing on a felucca with just myself and two Nubian sailors. They navigated, sailed, cooked and entertained me. One of the sailors didn't speak any English so he would just smile or laugh whenever I tried to talk to him. I tried to capture a serious portrait, but he would just laugh every time we tried. It was funny, but I pretty much gave up on the idea. On our second day, we stopped by a village for a quick food and supplies run. I asked to tag along and he acquiesced, even though I think this was supposed to be his break. He stopped by a shop for a coke and a smoke. Maybe it was the cigarette, but he looked lost in thought and didn't even really notice my presence anymore. I was able to get my serious portraits when he was completely comfortable.
Interact With Your Subject
It may take some time, and a bit or a lot of effort, but the best images will be captured from genuine moments. As a photographer in such places, you'll naturally be a foreign element in an otherwise normal daily routine. To change this, you have to allow people to get used to you being around and either understand or feel safe enough with your capturing their lives.
Lighten Up
Gear is important, but not in the way you might think. While I shoot with and LOVE my Nikon D810, on the road, I opt for a smaller mirrorless system that allows me to retrieve and shoot faster as well as more discreetly. Imagine how intimidating it might be to have a giant DSLR with a large 70-200 zoom lens mounted on staring you right in the face. In 2014, I traveled with the Sony NEX-6, which has now since been replaced by the Sony A6300. I currently shoot with a Sony A7III and a couple of prime lens, which allows me to shoot both photos and video at a quality that I'm happy with along with a size that is manageable. To go even lighter (without the interchangeable lenses), I recommend the Sony RX100 IV. I think this might be one of my go to travel cameras since it can shoot up to 4K 24p video and has an effective 24-70 f/1.8-2.8 lens. The less you have to worry about gear and which lens to keep mounted, the more you can shoot. It's as simple as that.