How To Visit Hobbiton And The Shire Movie Set In New Zealand
How To Visit Hobbiton And The Shire Movie Set In New Zealand
---
Latest Status: Hobbiton Movie Set is currently open and operating normally.
"Will you follow me one last time?"
If you are a fan of Peter Jackson's Lord of the Rings and The Hobbit trilogies, I don't need to convince you to put a visit to the set of Hobbiton at the top of your must-do list when visiting New Zealand's North Island.
I remember picking up a copy of The Hobbit in 7th grade, introduced for the first time to this fantastical realm and joining Bilbo Baggins on his grand adventure. It was one of my favorite books growing up and seeing the world of Tolkien come to life when the Lord of the Rings came out was a true geek-out experience. When I decided to come to New Zealand, I treated it like coming to Middle Earth. And you can't come to Middle Earth without a visit to the Shire.
My friend, Corey, and I saved this bit for the end of our grand camper van adventure exploring New Zealand. With a bit of luck, I was able to arrange access to a private walk-through of Hobbiton at sunrise to photograph the permanent set when there were no other visitors around. I didn't want to waste the opportunity to be here and shoot when the sun was hanging high and harsh overhead. This bit of pre-planning and good fortune made my visit to the Hobbiton Movie Set an absolute highlight of my travels in the land of Kiwis.
There And Back Again…In New Zealand
The morning of the shoot, I woke up well before dawn even though we had parked our camper van just 10 minutes away from Hobbiton. Empty memory card. Check. Spare batteries. Check. The elvish translation for ZOMGTHISISGOINGTOBEEPICSAUCE. Check. All set.
We met up with Henry, Hobbiton's point person when it comes to promoting the location (as if it needed any extra promotion), at the Shire cafe and took a ride in his car to the set. Somehow I thought we'd be transported in via giant eagles or Gandalf's carriage.
Hidden In The Hills
From the entrance across the street from the Cafe and ticket office, it looked so much like the same scenery we had been driving across for the last month. Endless rolling hills. And at least a handful of sheep. Henry tells us that one of the appeal of the location was that it was on a private land and Hobbiton itself could not be seen from any of the main roads in the area offering Jackson and the crew the privacy they needed to shoot.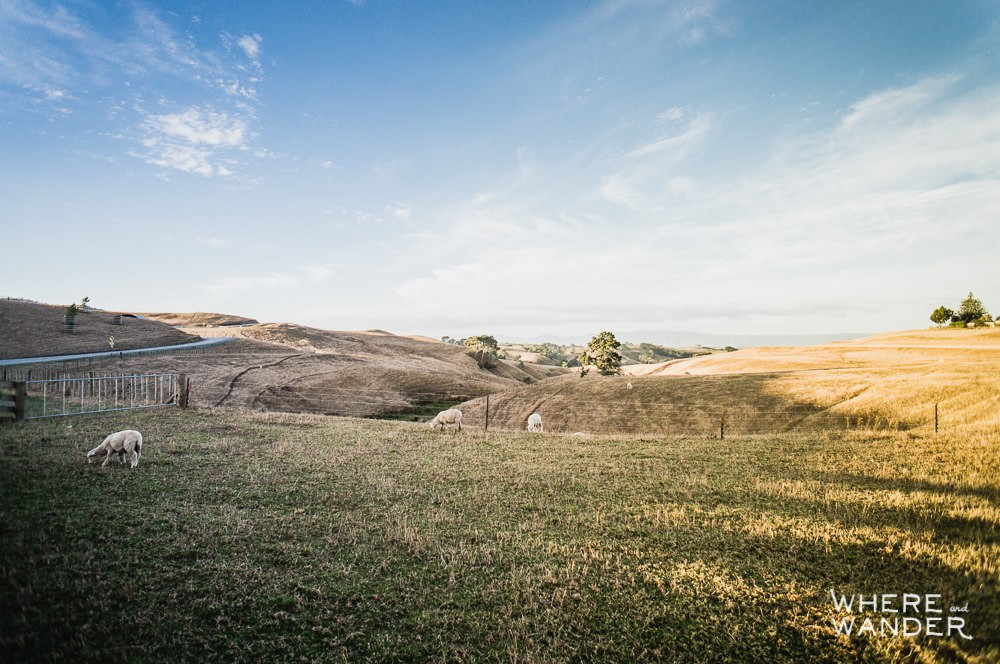 After about 20 minutes of driving, we pulled up to a plain parking lot with a small sign welcoming us to Hobbiton. The morning fog had blanketed the hills as we drove in and didn't look to clear anytime soon so most of it was still hidden, further heightening my anticipation. As I walked down the stone path leading into the village, Henry pointed out that this was where the Gandalf first rides into the Shire. Holy Galandriel, indeed it was.
Don't Wake The Hobbits
The sizing and the fog threw me off at first, but we had officially entered Hobbiton. And then there it was. A real hobbit hole. And it looked exactly like it did in the movie. Better even, because it was right in front of me. Most of the time, movie sets are made of some light, cheap material and then painted to look realistic. This was not that, the gates were made of wood, the walls were laid with real solid bricks and even the vegetation and tools in the garden were real.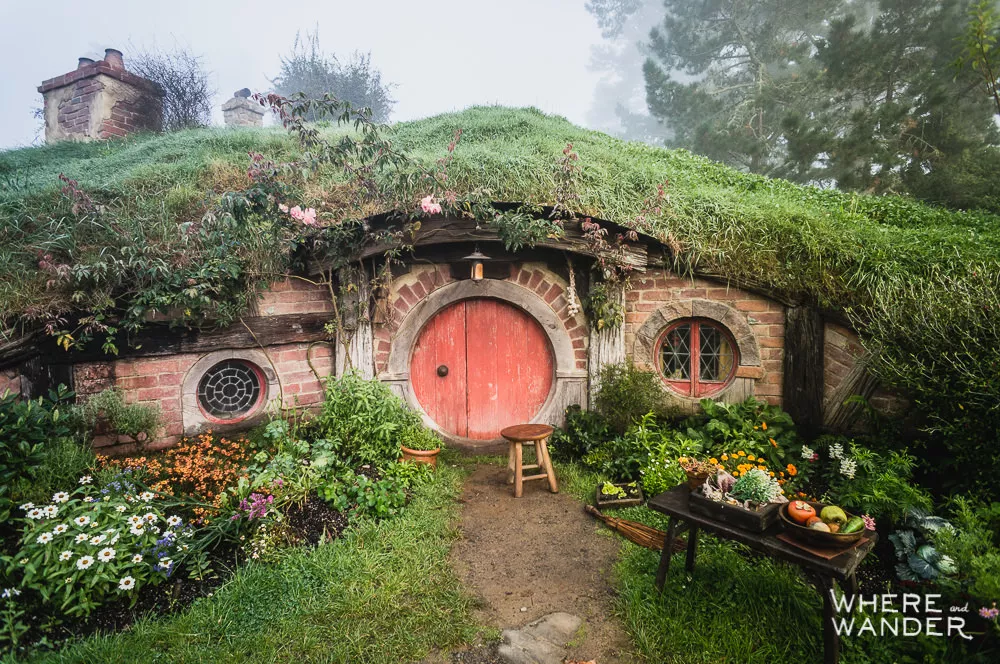 Though the fog was still covering most of Hobbiton, I could make out the paths leading through the rest of the village. As we walked through, I found myself trying to stay quiet half-worrying that I would be waking up the hobbits still slumbering in their homes. It was just that realistic. Before we headed to the top of the Bag End, Henry took us to a small lake looking back towards the village. I was stunned.
When The Magic Happens
While Henry explained how the set was rebuilt to be a more permanent attraction when The Hobbit trilogy began filming, I took the time to capture a time lapse of this view as the fog was whipping across the scene. It's a favorite of mine in my Time and Again video. I tried to get as clear a view as possible by getting as close to the lake as possible without falling in. Within minutes the fog was dramatically changing the landscape. Again, absolutely incredible.
And then the sun tried to peak through behind the fog. I turned around and captured this light flooding through the trees. No hobbits required for me to turn my attention away from the hobbit hill for this shot.
We continued our walk back through the village giving me the chance to get some close-up of all the "props" of this set. Whether you come as a fan of the movie series or not, you can't help but appreciate the attention to detail that Jackson's team put in. Interesting factoid: the hobbit houses higher up on the hill are wealthier and so that is reflected in how their gardens were kept and maintained relative to the ones at the bottom of the hill.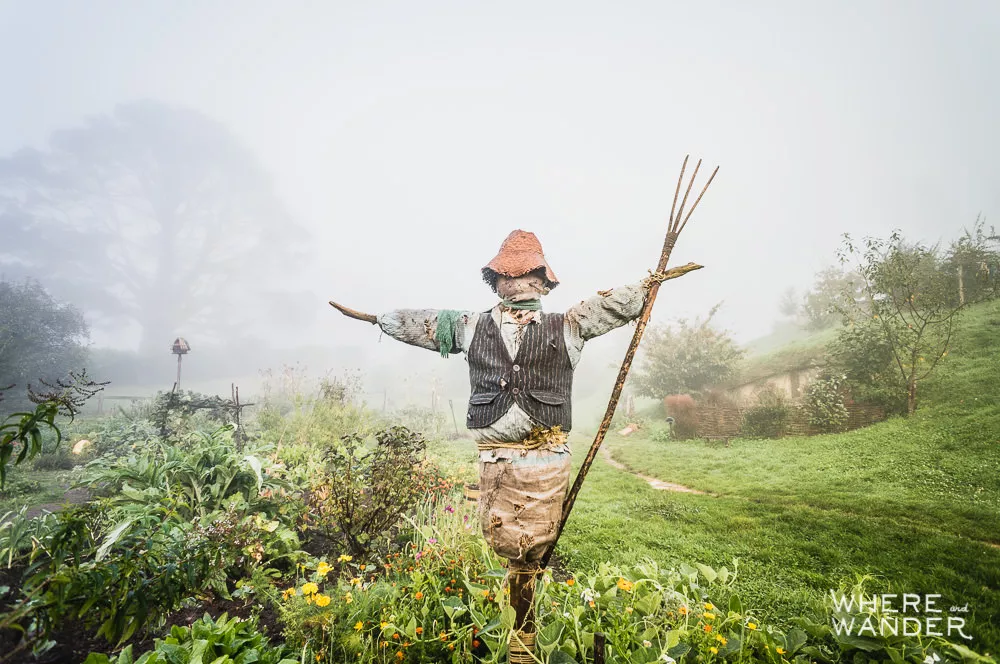 Real Vegetable Gardens
The vegetables grown are seasonal so they change depending on when you come to visit. I'm sure they can replace a gourd or two with some of the plastic variety to save from having to have a team of gardeners maintain the place, but the fact that they don't should be noted. And it's not about keeping a static vision of Hobbiton. In the wintertime, the grapes wouldn't be hanging off the vines, so in true fashion, it doesn't when you come and visit during that time of year.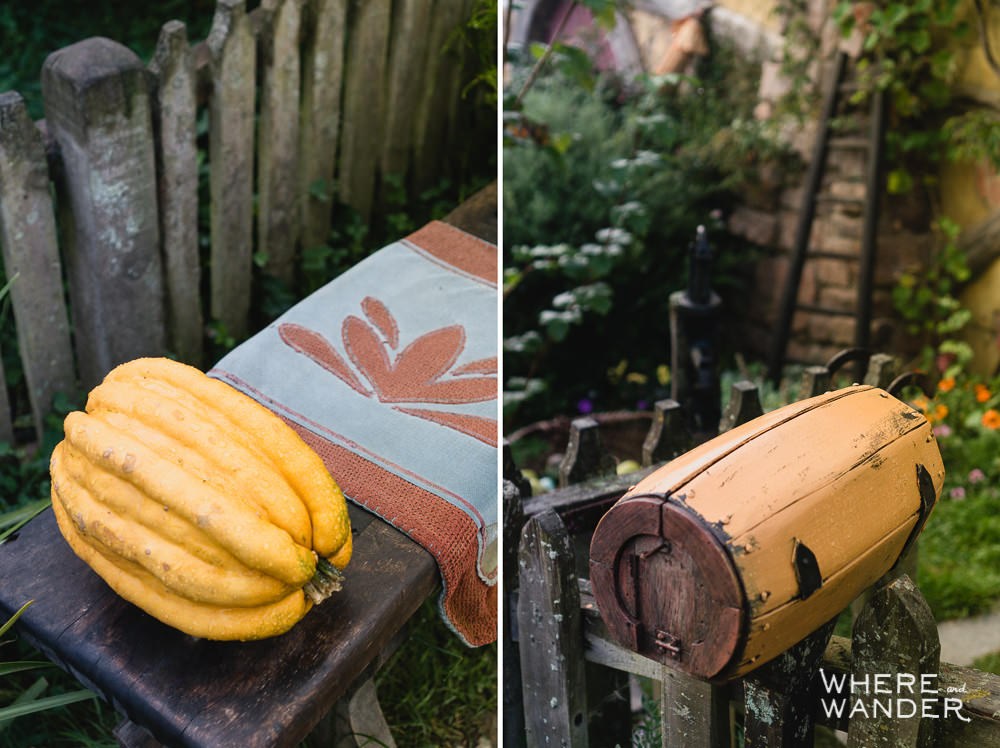 Visiting Bag End
At the very top of the hill was Bilbo Baggins' Bag End. Say that 10 times. We were first introduced to this place when Gandalf enters the gate with the now iconic "No Admittance Except On Party Business" sign and greets Bilbo at his front door only to be turned out before being recognized. Remember that scene?
Bilbo: "No thank you! We don't want any more visitors, well-wishers or distant relations!"
Gandalf: "And what of old friends?"
It was so familiar, I felt like I was coming home. And THAT DOOR.
This part is off limits on the tour, so don't be too disappointed if you can't pose in front of the door. From here, we exited out the gate and wandered down the hill back towards the old mill next to the bridge that leads to the Green Dragon Inn.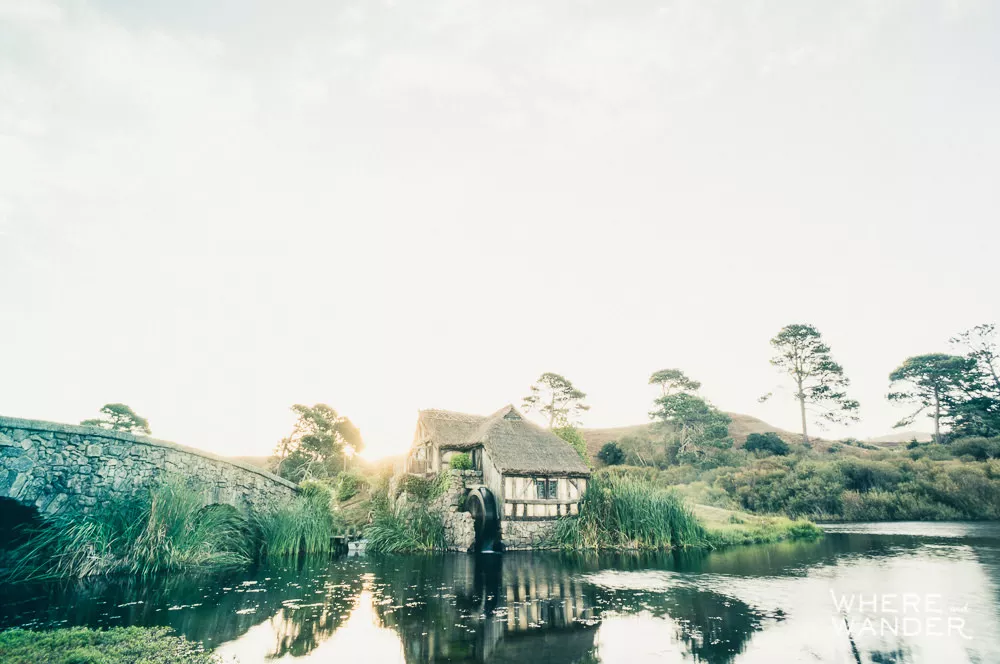 Have A Drink At The Green Dragon
Yes! The Green Dragon Inn is a real pub. With real beer, cider and ale. During the filming of Lord of the Rings and the Hobbit, they brewed a beer specifically for the movie and the actors, with a lower than usual alcoholic content (you don't expect the actors to have the same tolerance as hobbits and dwarves for all the multiple takes do you?). Take 2!
When they built out the full Green Dragon Inn for the Hobbit, they came up with a range of beers and cider just for Hobbiton. And it's included with the tour. You can choose from an Amber Ale, a Stout Ale, an Apple Cider, and a Ginger Beer. I went for the Apple Cider. Who am I kidding? I went for all 4. Let's get sloshed Hobbit-style. I wasn't driving.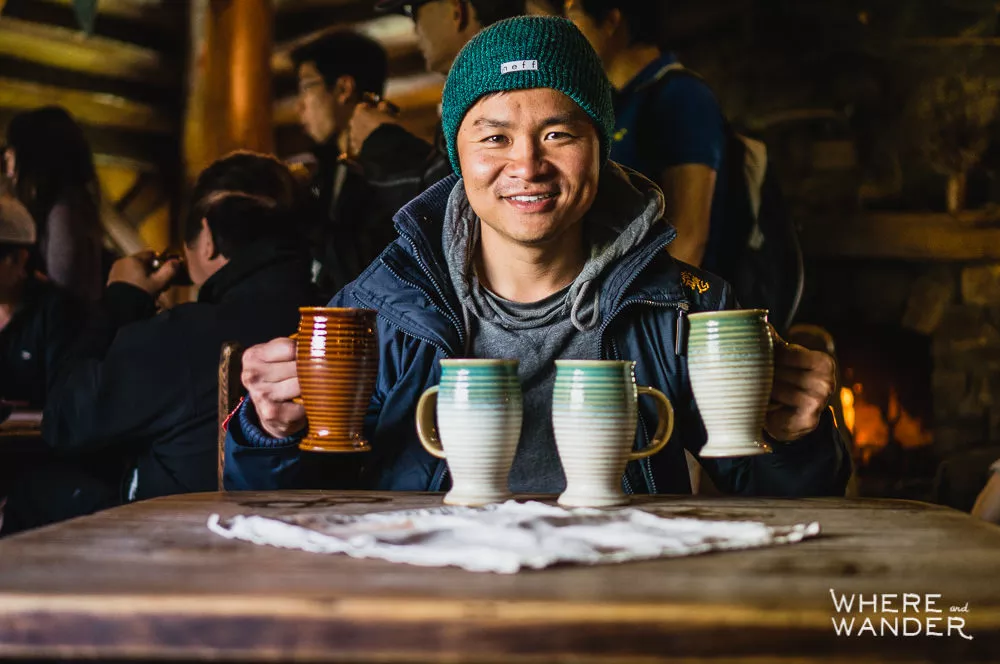 Dressing Up As A Hobbit
I left pretty happy at this point. I should have been satisfied at this point having gotten some great photos and a pretty special time lapse. But I wasn't. Secretly, I wanted to dress up as a hobbit and use Bilbo Baggin's Bag End as a backdrop to film a quick scene for my New Zealand video. I had noticed earlier that there were some jackets hanging on the rack in the Green Dragon Inn. And they looked just my size.
Maybe it was that 4th drink, but I felt like I had nothing to lose so I rung up Henry after the tour and asked if I could come back around sunset to get more photos. Nice guy that he is, Henry agreed. So after the last of the tours left, we returned to Hobbiton and met up with Henry once more, who had already done his full day of private tours starting with meeting us before dawn. I knew we were only dragging out his day, so I had to make the most of it.
Coming Back For Sunset
He asked me what I wanted to shoot and I calmly explained my idea – to dress up as a hobbit. Confident and professional on the outside. A nervous wreck on the inside. His response? A quick "sure". Wow. If only all requests were handled with such a quick and positive answer. The reputation Kiwis have for being really really nice and hospitable people. Absolutely true and Henry was just another case example of that. So grabbing a vest, jacket and hat along with ridding myself of shoes (only time I wish I had hairy feet), this is what I looked like.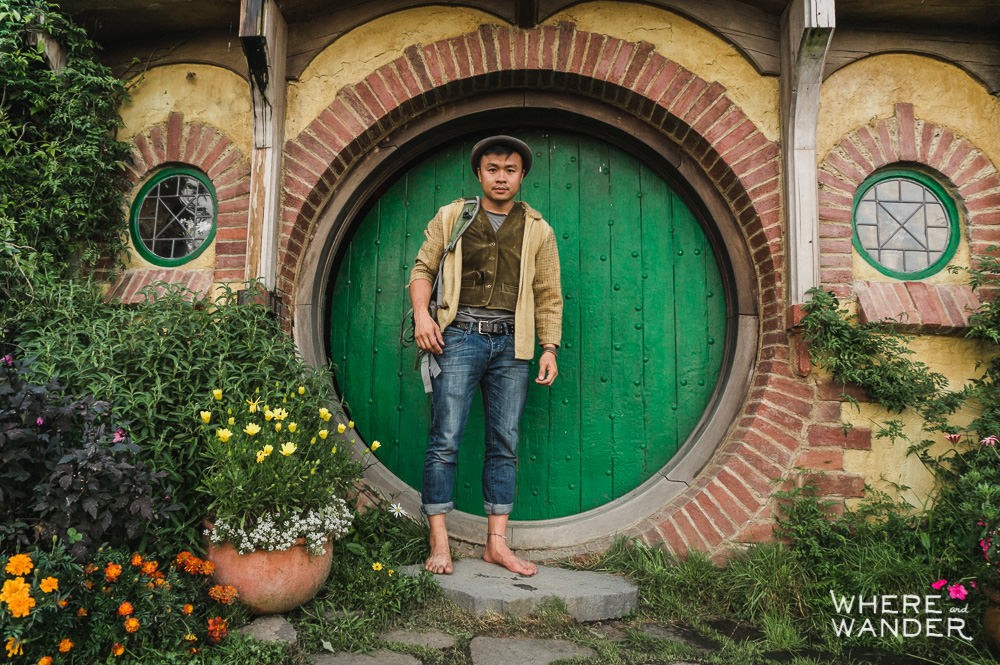 "I'm going on an adventure!"
I spent about 10 minutes opening and closing that green door countless times filming what is hopefully the opening and closing sequence for my video. Immediately afterwards, I ran down the hill to capture another time lapse as the last light of day began to fade. Barefoot and barreling down the now familiar hobbit path, I nearly ran off an overhang into one of the hobbit's front yard. Back down at the lake where I shot the morning sequence, I set up for the time lapse as Henry headed to the Green Dragon Inn for a little surprise.
Hobbiton At Dusk
All of a sudden, lights came on through the windows of the hobbit houses. Magic. And I refuse to believe anything else. Even if the explanation is that they had recently installed lights in all the hobbit houses to get ready for the launch of their evening dinner tours. I think people are going to love it when that happens.
Quick Tip: The first and last tour of the day are usually the best and least crowded times to go. It's also the best time to get photos with better lighting.
So that's Hobbiton at dusk with the grand party tree in the background. And with that my day in the Shire came to an end. I was actually pretty bummed I had to return the clothes. Sadly, it fit all too well. If you are looking for something to place on your New Zealand Must Do Activity list, this is an absolute can't miss. It just doesn't exist anywhere else. Check out Middle Earth and the Shire's appearance in my around the world time lapse.
How To Get To Hobbiton In New Zealand?
The movie set is located in Matamata about 2 hours south of Auckland, 45 minutes north west of Rotorua, 1.5 hours north of Taupo and 1.5 north east of Waitomo.
In Matamata, you go south on Hineura Rd and then turn right onto Buckland Rd until you see the signs for Hobbiton Movie Set.
From the East, you go west on Highway and connect with Buckland Rd. From the South and West, you head north on Highway 1, connect north to Highway 29 and then turn left onto Buckland Rd.
Are There Covid Restrictions In Place In 2022
As of December 3, 2021, there are COVID restrictions in place to prevent the spread of the virus. It is currently operating under Covid-19 Protection Framework "Orange."
All visitors and staff are required to be vaccinated and wear a mask during their visit. You will need to check-in at the gate or via a Tracer app to visit the Hobbiton Movie Set.
How Much Are Hobbiton Entry Tickets?
Whether you come as a fan or not, you will enjoy the tour. Dwarves honor. They offer daily tours leaving from Matamata or Hobbiton and a Dinner Evening Tour every Wednesday where you can experience Hobbiton after sunset.
A tour of the set along with a visit to the Dragon's Inn and a complimentary beverage is $89 NZD ($59 USD). It's $44 NZD ($29 USD) for Youth 9-16 years and $225 NZD ($150 USD) for a Family Pass (2 Adults and 2 Youths).
The Dinner Banquet Tour
Hobbiton offers a different experience in the evening that combines a tour of the Hobbiton movie set with a dinner banquet. If you have an appetite, you will enjoy their massive selection of food fit for a Hobbit.
The tours start at 5:45 pm with a tour of the set, followed by a drink at the Dragon's Inn before moving on to a 2 course banquet feast. After dinner, you get a special moonlight walking tour to digest and take in Hobbiton at night.
Evening Banquet Menu
Dinner
Selection of homemade breads and condiments
Desserts
Evening Banquet Tickets and Booking
It costs $199 NZD ($133 USD) for Adults, $162 NZD ($108 USD) for Youth (9-16 years) and $104 NZD ($70 USD) for Children (5-8 years). Reservations are often made in advance so book early if you want to ensure a spot for you and your family on a specific date.
So nice to get this thing checked off my bucket list. What's on yours? If you need some ideas, check out my bucket list  and go out there and have an adventure.
Updated on October 24, 2023