Don't Listen To The Haters…Go To The Blue Lagoon
Don't Listen To The Haters…Go To The Blue Lagoon
Last Updated on January 7, 2022
---
Twice, I've asked for recommendations on Iceland and on both occasions, I've gotten conflicting opinion. I haven't seen a place that has people more divided than the Blue Lagoon in Iceland. In case you don't know what I'm talking about it, the Blue Lagoon is an outdoor thermal pool in Iceland that was made famous through the potent combination of Instagram and cheap (non-defunct) WOW Airlines flights to the remote island country.
Half the people I talk to say it's a must do, especially at the beginning or end to your trip and the other half say that it's overpriced and a little overrated. Because of the divisiveness, I took everything's opinion with a grain of salt and then completely ignored it.
Only way to find out was to pay and see for myself.
The Icelandic Local Love/Hate Relationship With The Blue Lagoon
I always ask locals what they think of a place and for their recommendations and there's a common refrain amongst those with whom I had a conversation. I'll paraphrase.
"It's nice, but a little touristy, and too expensive now."
I'll jump ahead and say that my feelings about the Blue Lagoon touches on all parts of that statement.
The Blue Lagoon Is Nice
It's absolutely nice. It's more than nice. It's one of the most beautiful man-made thermal baths I've visited to and I've been to some nice ones in Switzerland and Japan. When I came, the water was an opaque milky blue that fit so well with the moody Icelandic winter tones.
You have a volcanic backdrop and the steam rising up only adds to the atmosphere of the whole experience. No one will dispute this part.
The Blue Lagoon Is Too Touristy
Of course it is. It's a 20 minute ride away from KEF airport. There are buses that can transfer you there and back directly from the airport or Reykjavik. If a place could be a mascot for a country, it would be the Blue Lagoon. Let's not forget about the first point. It's nice. If you were visiting a country, wouldn't you want to see some of the nice things they have to offer.
Now that we've established that, let's not forget something. If you're reading this, you're probably a tourist too. How nice if we could be that special tourist that can sit on his high horse and pretend like he's a local only doing things locals do where locals do it? The Blue Lagoon is touristy and it caters, especially now more than before, to tourists. It's a business and they know that a bus carrying a weary bunch of Chinese tourists fresh off a flight from Beijing will bring in a lot of money. They will come in, soak for a bit, get their photo and leave allowing another bus load of tourist to literally lather, rinse, repeat.
Don't worry, below are some tips on how to get around this.
The Blue Lagoon Is Too Expensive Now
Since Iceland was on my radar years ago, I've occasionally checked on the prices of the Blue Lagoon (I like checking on the price of things) and they have definitely gone up over the years. Do a Google search on Blue Lagoon Price Increase and you'll occupy yourself for a good 30 minutes reading all about it. At the time of writing, it costs 11990 ISK (~$94 USD) for their basic Comfort entry, which includes entry, a drink, a silica mask, and the use of a towel.
Expensive is relative, but no matter how you spin it, $94 to take a bath is a little pricey. You know who this really sucks for? The locals, who can remember a more rustic time before all the renovations when they can go for a soak here for a fraction of the price. Luckily for them, and possibly for you, there are a lot of other outdoor thermal bathing options scattered all over Iceland.
But ponder on this. You've made it all the way to Iceland and have accepted that everything from accommodations to food and even a beer is expensive. The photos of this place looked amazing on your Instagram feed and you want to experience it for yourself. Do you suffer from FOMO or the 'Fear Of Missing Out'? Is $94 enough to stop you? You don't have to answer that out loud.
How Much Does The Blue Lagoon Entry Ticket Cost?
Updated September 2020: The usual price is 11990 ISK (about $94 USD), but the prices have dropped dramatically during the pandemic, perhaps due to a lack of foreign visitors. It is currently $43 for the basic comfort package, which gets you entry, a silica mud mask, use of towel and a free alcoholic or non-alcoholic drink. The Premium package is $64 and includes a second free drink, second mask of your choice, use of slippers and robe, and reservations at the Lava restaurant. If you choose to dine there, you'll also get a glass of sparkling wine.
Prices are the same everyday of the week, but can be found for cheaper during the early morning or late evening bathing hours.
6 Things To Know To Make The Most Of  Your Blue Lagoon Experience
I've presented you some logical arguments for and against going to the Blue Lagoon. If you're still reading this, I hope you have already made up your mind and are continuing because you enjoy my writing.
This past February, I finally visited the Blue Lagoon (twist my arm) as the last stop of my 7 day Iceland South Coast Road Trip. I spent 5 hours there and loved every bit of it, despite coming in with a bit of hesitation. Here's what I learned to make the most of your experience here.
1. Go Early
It's highly recommended to book your visit to the Blue Lagoon way in advance regardless of the time of year. Most time slots get booked out early. Fortunately for us, our procrastination paid off because only the 8 am and 9 am entry time slots were available the day before our visit (in the winter). We opted for the 9 am.
Mornings at the Blue Lagoon
Arriving 30 minutes late (there's a 1 hour window to keep your slot), we watched as a bus full of luggage rolling tourists started unloading. That was enough to add a pep in our step to enter just ahead of them before a line formed. This probably saved us a good 15-20 minutes.
There was already a small crowd when we slid into the body and soul warming water, but just a small one. I was able to still easily take a selfie with no one in the background. We grabbed our drinks (the smoothie is legit) and mask around 10:30 am and there was no wait at all.
Afternoon at the Blue Lagoon
By noon time, the main part of the pool started to pack out, so we moved to the outer edge of the baths to continue with some more quiet relaxation. We then took a break and went to the relaxation room for a quick nap and then a bite to eat downstairs at the cafe.
When we returned to the pools, it was a lot more crowded than in the morning. It's fine. Go to the outer pools and it's always a little more quiet. Generally, I find that people are surprisingly lazy and don't like to move, even in the water.
2. Blue Lagoon Discount
As far as I know, the Blue Lagoon doesn't offer any discount codes and all the booking agencies will charge you the same if not more. That said, if you don't care to see it in the day time, the last couple of time slots for the day gives you a near 50% discount off the normal admission price. You'll only be able to stay for a couple of hours, but if that's enough for, you can get in for 6990 ISK (~$55 USD).
3. Go During The Winter
Honestly, I think what made the experience so worthwhile was that we went during the winter when it's brutally cold. Coupled with putting it at the end of our trip when we had already spent a week freezing and trekking and you can see how the 40-42 °C water was the best gift we could have given to our bodies.
It's also extra atmospheric with the clouds in the snow all around you. It was actually snowing while we were in the water, and that was just a magical and truly unique experience.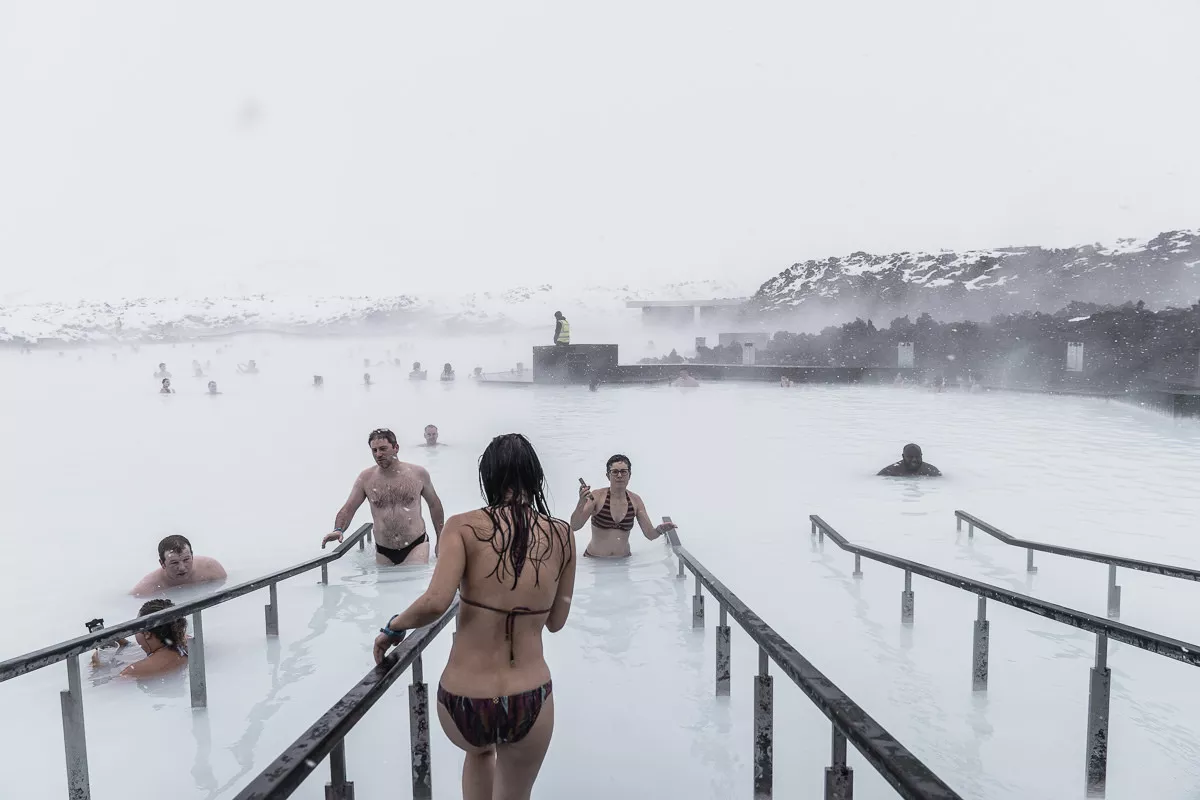 I'm sure it's nice in the summer too, but I can't imagine I would enjoy it nearly as much, especially with the even larger crowds. And perhaps that's one more reason why people are divided about this place.
4. Be Careful With Your Phone
Leave the big camera in the locker room. Your phone is good enough to get photos. Almost all my shots from the Blue Lagoon were taken on an iPhone. A lot of phones nowadays are rated IP67 which basically means its waterproof down to 1 meter (for a certain period of time).
Your phone will be able to handle the splashes, but because of all the minerals, silica and algae in the water, take caution with submerging or dropping it in the water. If you want to feel safer, you can get one of these universal sized waterproof cases to give you some peace of mind.
5. Condition Regularly
They will tell you to rub the provided conditioner into your hair if you plan to soak your head in the water. This is to prevent your hair from caking up and drying out. Still, the conditioner will wash out if you're dipping your head in and out of the water enough times. Take a break and reapply.
6. Don't Forget To Go For A Walk Outside The Blue Lagoon
As beautiful as the Blue Lagoon itself is, the surrounding area is naturally beautiful. You can do this walk before after, but don't miss it. In fact, if you aren't planning to pay for the Blue Lagoon, I'd say the area around it is worth a visit and it's free.
So what are you waiting for? If you are planning a trip to Iceland, I recently did the perfect 7 day winter road trip along the South Coast of Iceland. I highly recommend you check it out to get ideas of things to do, where to stop, what to expect of winter road conditions, where to stay, and what to eat (without paying an arm and a leg) while you're in Iceland. I also wrote about all the coolest things we were able to do like dry suit snorkeling between two tectonic plates, exploring the most spectacular glacier blue ice cave, and visiting that abandoned plane in the middle of nowhere.
What else is on your bucket list? Check out my mine if you need some more ideas?