Jemaa El-Fna: How Do You Like Your Sheep Brains?
Jemaa El-Fna: How Do You Like Your Sheep Brains?
If there's one must do thing in Marrakech, for me, it's watching the food vendors set up their collective stalls at dusk in the Jemaa El-Fna square.  Before the day turns to night, the heart of the Old Medina transforms before your eyes. Locals and tourists making their way out from the souks blend together to create a stirring buzz. There's movement in every direction. Smoke fans from the open grills and the smell of meat and spices dominant your already overloaded senses. But don't stop there, make your way through the crowd of people, motorbikes and cars and sit down at one of the endless stalls serving up everything from merguez sausages and harira (tomato and lentils) soup to lamb mechoui, boiled snails and stewed sheep brains. Is your mouth watering yet?
---
This is what my friends looked like before they saw the snails and the brains?
The hard part is choosing which stalls to eat from. Near the edge, vendors well trained in the art of attracting your attention call out to eat at their stall. The "freshest", the "best", "very cheap". Skip past these guys. Head further in and look for a bench where the locals gather. You'll have to squeeze right in. Don't be shy. Use your best high school French, hand signals and ask the guy next to you what he's having. In my experience, the best places to eat anywhere in the world will specialize in one or two dishes rather than twenty. It's no different here.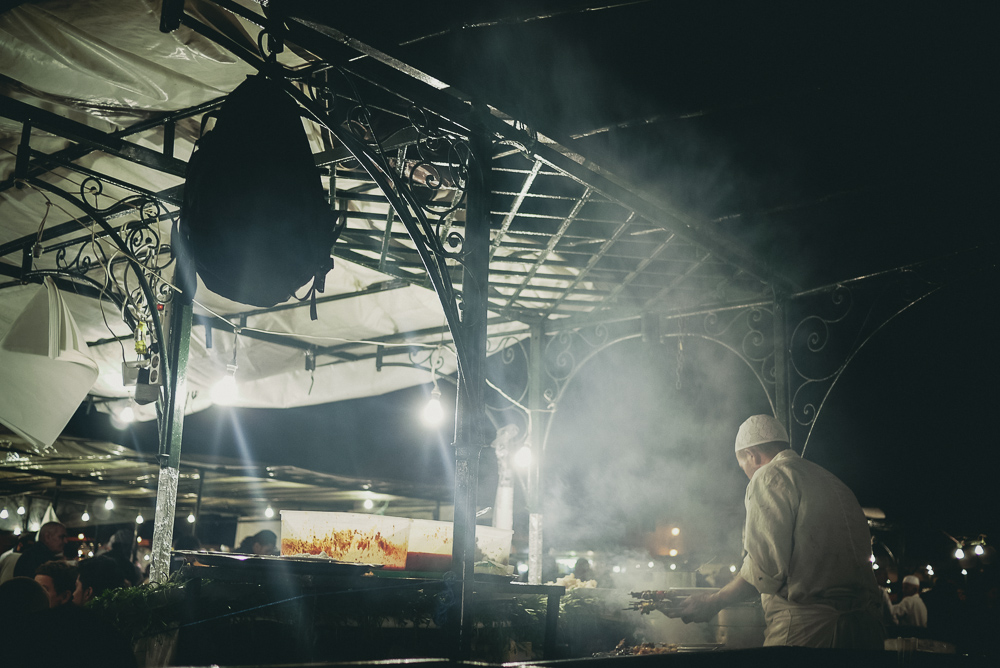 I love lamb. I love goat. I love meat in general, but I really love lamb. Naturally, I will always be drawn to the stalls serving it. While the 5 stewed sheep heads sitting next to the cauldron of bubbling braising sauce might be a turn-off for most (and it was for 2 out of the 3 girls with me), for me it meant they were serving the meat from the cheeks and quite possibly the brains. I asked and the man said, "yes, brains and Mechoui". I'll take both.
How do you describe the texture and taste of brains? It's soft, it's fatty. It almost melts in your mouth, but doesn't. To me, it tastes like an organ should taste. What can't easily be described about it is what makes it so special and delicious. But enough of that. The other lamb dish, the Mechoui made me just want to close my eyes and sit there in silence for a whole minute despite the crowd and noise around me. It was tender and flavored with all the spices that I had been smelling and buying earlier in the souks. Cumin, coriander, tumeric and garlic mixed together and generously rubbed all over the lamb before the roasting process begins. The thing comes out so soft. The only problem was I had to order multiple orders because it was so good. It also comes with bread to mop up all the flavors in the sauce.
After you've eaten your fair share, go for a walk. The square is bustling with people. Some heading to dinner, others doing exactly what you're doing and walking it off.
Others still choose to burn the extra calories with some fun games. Putting anyone?
Or this "fishing" game, where you're supposed to use the ring strung to a stick to try to lift a bottle of soda from its side.