The Best Place To Eat Mechoui and Sheep Brain In Jemaa El-Fna
The Best Place To Eat Mechoui and Sheep Brain In Jemaa El-Fna
---
If there's one must do thing in Marrakech, for me, it's watching the food vendors set up their collective stalls at dusk in the Jemaa El-Fna square.  Before the day turns to night, the heart of the Old Medina transforms before your eyes. Locals and tourists making their way out from the souks blend together to create a stirring buzz. There's movement in every direction. Smoke fans from the open grills and the smell of meat and spices dominate your already overloaded senses.
Make your way through the crowd of people, motorbikes and cars and sit down at one of the endless stalls serving up everything from merguez sausages to harira (tomato and lentils) soup and of course the famous, lamb mechoui.  Is your mouth watering yet? It will be when you are there, so listen carefully. Control yourself.
If you want to try lamb mechoui at dinner time, the Jemaa El-Fna evening market is the place to go.
How To Find A Place To Eat at Jemaa El-Fna
I'll start by telling you how not to find a place to eat in the Jemaa El-Fna square. I promise that you will be overwhelmed the first time you decide to enter this mass of food stalls and restaurants in the evening. The savory fragrances, the smoky steam dancing in the air  and the clatter of pots and pans. It is enchanting to say the least. But amongst those things playing to your senses will be the sound of vendors calling out for you to sit down. Some offer a seat, others insist, and a few downright aggressively block your path to try to "sell" you on their restaurant.
Avoid these guys and their bigger "restaurants" at all cost. They pay a premium for the spots along the edges of this little "city". There food isn't that bad, but you'll notice that there are a very few locals eating there. They hunt for tourists and hope to get you early in the search process. You will pay more and for food that just isn't as good. I know, I've sat down at a couple with some other tourists just to see if I would be wrong. I wasn't.
The nice cafes surrounding the square are great for catching a view, especially in the later afternoon as the stalls are setting up, but you can find better food elsewhere.
Eat Where The Locals Eat
Instead, walk another 20-30 meters. I know, I'm asking a lot. Venture just a little further in and look for something that attracts your eyes and stomach. And then look for a bench where the locals gather. You'll have to squeeze right in. Don't be shy. Use your best high school French, hand signals and ask the guy next to you what he's having. In my experience, the best places to eat anywhere in the world will specialize in one or two dishes rather than twenty. It's no different here.
Look for the steam coming up, and find places where they serve just a couple of things. Imagine trying to prepare fish, lamb, chicken, 3 different rice dishes, a bunch of appetizers. Most of this restaurants serving everything will have cooked it in advance and they just heat it back up.
Instead find the stalls that just just one or two dishes in large quantities. You will know that they are cooking something they specialize in.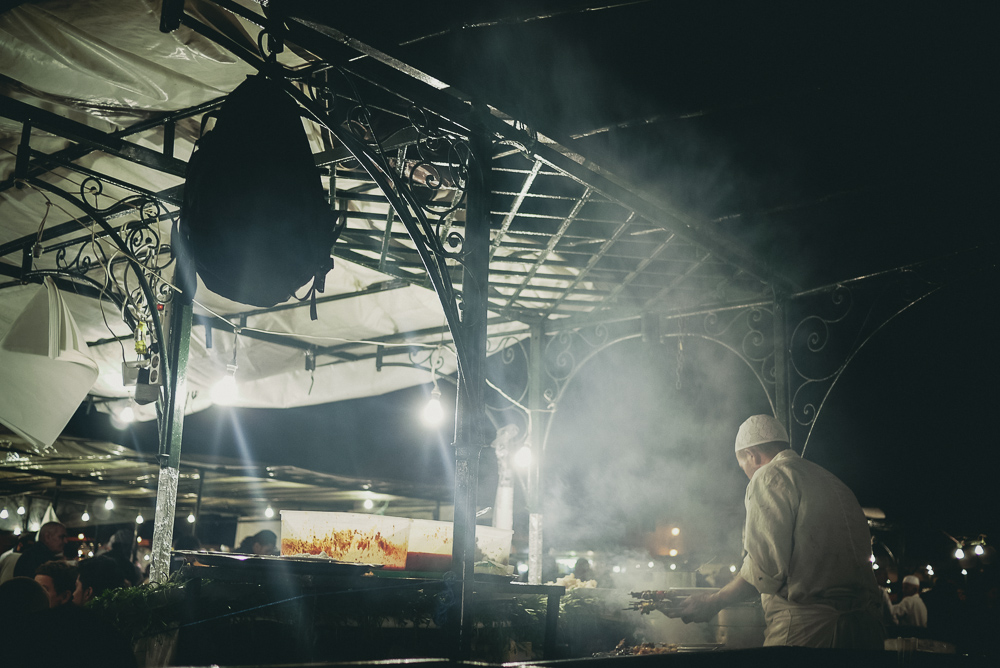 I love lamb. I love goat. I love meat in general, but I really love lamb. Naturally, I will always be drawn to the stalls serving it. While the 5 stewed sheep heads sitting next to the cauldron of bubbling braising sauce might be a turn-off for most (and it was for 2 out of the 3 girls with me), for me it meant they were serving the meat from the cheeks and quite possibly the brains. I asked and the man said, "yes, brains and mechoui". I'll take both.
Trying Sheep Brain At Jemaa El Fna
How do you describe the texture and taste of brains? It's soft, it's fatty. It almost melts in your mouth, but doesn't. To me, it tastes like an organ should taste. What can't easily be described about it is what makes it so special and delicious. They served it sliced up after being boiled in a flavorful broth. The simple read that its served with gives a harder texture that contrasts with the brain. It also offsets the richness of it. It's a great dish and if you're not squeamish, I highly recommend you try it.
The Best Place To Eat Mechoui in Jemaa El Fna
The other lamb dishes, the one I came for was the lamb Mechoui and lamb stew, or tanjia. Lamb mechoui is a roasted leg of lamb that takes half a day to full day to prepare. It's marinated and rubbed with an assortment of fresh spices and then slow cooked in a clay oven or pressure steamed. The meat just melts in your mouth. The lamb stew is similar except its cooked in a tomato base stew in a sealed clay pot that perfectly preserves the richness and fattiness of the lamb.
Inside Jemaa El Fna, I tried little portions of these dishes at 3 different places. And they were all amazing. You don't need a name of a stall or a number. Just do what I said earlier. Look for a place that is crowded with local people and big cauldrons or clay ovens where they pull out big chunks of lamb. The lamb heads sitting there waiting to be chunked in half was a good sign for me.
At every place, the meat was so tender and flavored with all the spices that I had been smelling and buying earlier in the souks. Cumin, coriander, tumeric and garlic mixed together and generously rubbed all over the lamb before the roasting process began.
Mechoui Alley And Truly The Best Place To Eat Mechoui In Marrakech
Outside of this evening square, which I talked about first because its such an experience in and of itself,  the definitive place to try mechoui is at Mechoui Alley on the north side of Jemaa El Fna square on Derb Semmarine. And it's only open for lunch.
Here, each shop is fun by a family who has been doing this for generations. Whole portions of lamb, goat, and muttons are cooked in giant clay pits built right into the floor. You'd miss it if you didn't see them open up a hatch in the middle of the room.
There are also rows of tanjia that have been sealed and cooked overnight with the coals that are used to heat the hammans.  These terracotta amphoras make my eyes widen and my nose perk up every time I walk by.
Here in Mechoui alley, you order by the weight. The meat is dished up with bread and you simply enjoy it with salt and cumin. It can't be any less complicated nor more delicious than this.
Don't fret about which stall to eat from – they are all good. Just make sure you don't miss out on Mechoui alley and go early. It's only open from 11 am to 2 pm
Updated on September 13, 2020