The Ultimate Guide To Eating In Sayulita 2022
The Ultimate Guide To Eating In Sayulita 2022
Last Updated on September 24, 2022
---
Updated September 2022: Between each of my my last visits, a surprising amount of new places opened, while others have closed, rebranded, and/or opened in new locations . It's sad to have to delete some of my favorite places that are no longer around, but I'm enjoying the new restaurants and have added the worthwhile new restaurants to this list as soon. 
One of the many reasons I come down to Sayulita in Mexico at least a couple of months every year is to eat. If you know me, you'll know that enjoying food from around the world is what keeps me traveling and returning to places. I can't think of many spots in the world with such a concentration of good food and stalls in such a small area.
Over the years, I've made it a challenge to eat at every single place in town (at least a few times). There are over 100 places to eat here in this small town and I've tried almost every single place, but it's a never-ending task – new restaurants keep popping up.
With so many options for every taste, dietary restriction and budget, those with limited time might find it a little overwhelming. So for you lot, I highly you first check out all my favorite places. You can't go wrong. You also really can't go wrong with trying any of the food stalls on the street, especially the ones where you see a crowd.
For those with a little more time, I've broken it down by different categories and budgets, starting with my 8 favorite go to spots. You'll definitely see some overlap in different categories.
Admittedly, this list is more centered around the main part of Sayulita, but some are across the bridge, which sounds farther than you think. Sayulita is small.
One last note. There are some places where you really can't go wrong with most things on the menu, and there are some places that have specific items on the menu that make my list. I'll do my best to point them out.
One more last note. I get a lot of feedback on this guide from bought new visitors and local alike. Once in a while, I get a comment about someone getting sick eating at one of the restaurants. I'll say this. You're in Mexico. The same water might make one person sick and will be fine for someone else. Even swimming in the ocean can make you sick, especially after it rains. It can happen anywhere and anytime you're traveling. My friends and I have eaten at all of these places time and time again. No place has repeatedly made anyone sick. Just keep this in mind.
Favorite Places | Best Vegetarian/Vegan | Best Seafood | Best Steak/Chicken | Best Places On The Beach | Best Tacos | Best Street Tacos | Best Burgers | Best Breakfast and Brunch | Best Places For Groups/Celebrations | Best Italian | Best Far East | Best Coffee | Best Cocktails/Drinks | Best Desserts |
My Favorite Places To Eat In Sayulita
These are the places that I immediately throw out when someone new arrives and asks for recommendations. They are also the places I go on a regular basis and are in no particular order.
1. El Itacate. There's so much to say about El Itacate that I'll spread it out because it makes several lists. Their main thing to get here are the steak tacos, but EVERYTHING on the menu is great. It's THE place to go if you love cheese, because they make a great burrito that's wrapped in fried cheese instead of a tortilla. They have a hibiscus taco that vegetarians will drool over and they bring out 3 trays of salsa, beans, fire grilled onions, and pico de gallo for you to top your dishes with. It's the first place I eat at every time I get into town.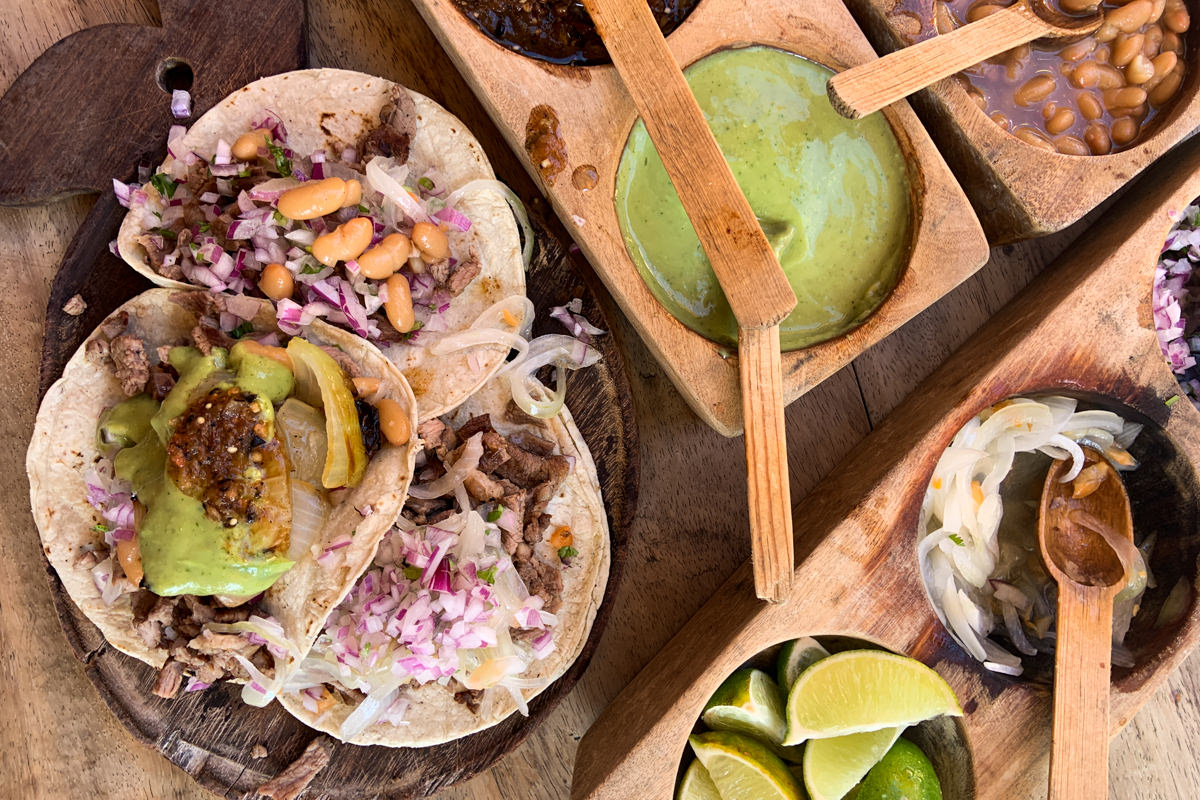 2. Mary's Tacos. They have the best and most filling shrimp and fish tacos in Sayulita. Everything is cooked to perfection and topped with so many fresh ingredients. Two will fill me up. My go to dishes are the Sayulita Taco and the Cazuelita, a bowl filled with every soft of goodness. You can get it as a vegetarian dish, or topped with any of their proteins. The vegetarian and the shrimps are my favorite.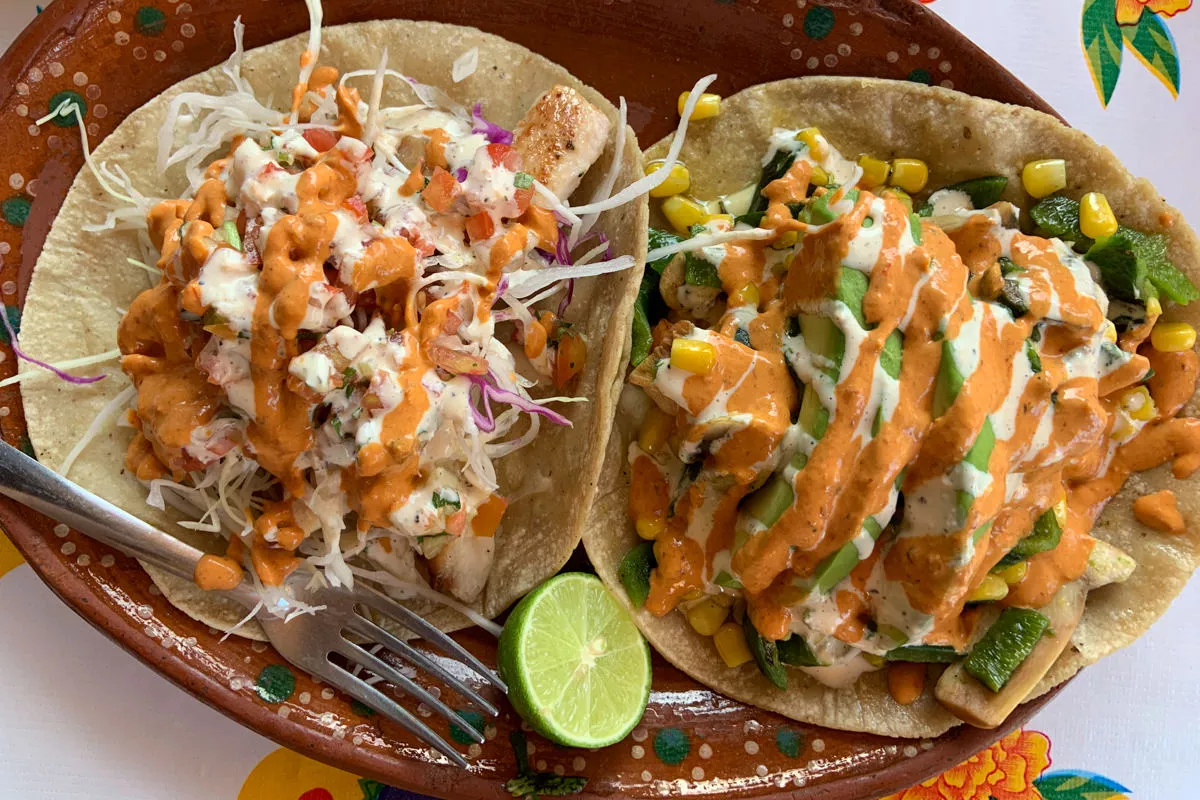 3. La Fogonera. When I need a break from Mexican food, it's not hard to convince any of my local friends to head La Fogonera, or "Techno Taco" as it's affectionately known here for the music always playing from this food truck eatery. Don't expect indoor seating or 5 star service, but it's a for sure go to place.
I come for the burgers, probably my favorite in town, but the quesadillas and tacos are good choices as well. Vegetarians love their hibiscus and zucchini options for the quesadilla and burgers – and I'm a fan too. They also serve kombucha and the agua fresca is always tasty. Scroll down to read more about what makes their burger so good.
4. Barracuda. This is one of the nicest place to eat in Sayulita right on Calle Delfines (the Main Street heading to the beach). They serve up the some of the best seafood of any restaurants in the area.
If you only had one meal in Sayulita, this is where I would send you.
I've tried most things on the menu, but I most highly recommend the seafood molcajete – a volcanic cauldron filled with giant prawns, octopus, arranchera steak, bacon wrapped peppers, and big slabs of queso all swimming in the most delicious sauce.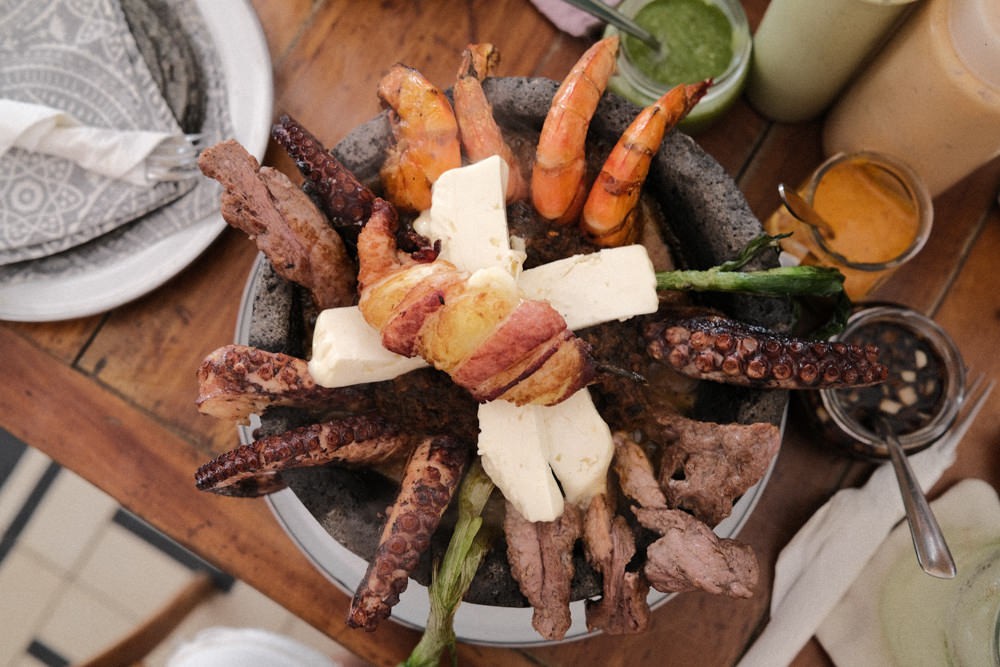 The chicharron de pescado is another favorite and the tuna sashimi is a great fresh starter. For a quick lunch, I recommend their pepito de arrachanera (tender steak on a French baguette with a chipotle sauce). And everything should be washed down with either a limonada (with sparkling mineral water) or a frozen mango margarita. Trust me on that last recommendation.
5. Anchor Cafe. This place makes the list because I love to get out of my place and do some work at a cafe. It's always a toss up between Anchor Cafe and Miscelanea, but I give the edge to Anchor Cafe for all their healthy bowls and giant smoothie options to break up the heaviness of everything else in the town.
They have a nice selection of sourdough toasts topped with everything from avocado, poached eggs, and smoked salmon to bagels/ciabattas stuffed with Serrano ham, goat cheese, apples and honey (to name a few). I also love the chia cups, which is basically a chia pudding topped with a thick smoothie.
6. Achara. There aren't many asian options in Sayulita, so it's really to get good Thai food and great cocktails at Achara. They've been in business a few years now and have nailed the entire menu. From curries, fried rice, and pad thais down to their imperial and springs rolls and even the mango sticky rice and Thai iced tea. It's an easy go to option.
7. El Tiburon. While there isn't one particular dish that jumps out about this place, it's one of the nicer spots to dine in town. There's a big eclectic menu that comes classic Mexican with American and Tex-Mex dishes. The burger was one of the best I've had in town and I enjoyed their wachos, which are waffle fries topped with carnitas and green onions. Overall, a lot of classic dishes done right with good cocktails. Not the cheapest place in town, but if budget isn't an issue, you'll very much enjoy it here.
8. Alas Blancas. This is a great spot to eat on the beach without sacrificing quality. There are some unique dishes here that you won't find elsewhere like sweetbread and bone marrow tacos. With seating on the beach, this is a good spot if you've got a larger group as well.
Best Vegetarian/Vegan Places In Sayulita
I have a lot of vegetarian friends who struggle on the road sometimes. I've kicked off the list with some of the best places serving vegetarian and vegan options that are healthy and delicious.
1. Anchor Cafe. All the smoothies, smoothie bowls and chia options are obviously vegetarian friendly, but they also have the avocado toasts and bagels with so many delicious veggie combinations. There are so many good choices here that it's an easy place for a healthy breakfast or lunch.
2. Northswell Sabor Flavor. This plant-based shop started as a vegan dessert spot that specializes in mouth-watering gluten-free recipes without refined sugars. They were post-surf snacks. The desserts are still amazing, but they now have a full menu with crepes, bowls, tostadas, burritos, sandwiches, and salads at very good prices. This place has jumped pretty high on my list in the last few months and I love that the local owner, Clarissa, is also the one doing most of the cooking and recipes.
3. Organi-k. This place was one of the original spots serving up vegetarian and vegan bowl options along with a few acai bowls. They are still an easy option for vegetarians. I think the bowls are priced well for what you get, but the smoothies are a little overpriced.
4. Orangy. Next to where I get my laundry is a little nook of a juice bar that serves up the thickest and most delicious smoothies and shakes. They also do a lot of energy dense balls.
Update: I still kind of like Orangy, but the quality is widely inconsistent depending on who's working. Some days my smoothies are thick, some days they are more watery. Some days it's overflowing, other days, it's below the line. What really bothered me the last time was that I ordered two smoothies and one was filled 75% of the way and the other was overflowing.
5. Attico. Not only is this one of the best outdoor bars to go to for live music every night, they've got one of the better vegetarian menus. Try anything with the yaca (jackfruit) or go for one of their bowls. Large portions, cheap prices, really high quality ingredients. Probably the best value as far as bowls. I was pleasantly surprised the first time I ordered food here, since I had only ever come for the drinks and the music. They do breakfast and lunch here as well.
6. Hamsa. There used to be a restaurant called Falafel and Friends that I liked to go to every once in a while for falafel, but then it closed. Hamsa is a welcomed option now for Mediterranean food with falafel and hummus plates and a shakshuka on the menu.
7. La Fogonera. This little food truck serves up one of my two favorite burgers in Sayulita. For vegetarians, they have an option with hibiscus and zucchini that's always tempting me away from my meaty meaty burger.
8. Mary's Cafe. A repeat from my go to. Get the cazuelita de vegetales. And their jamaica (hibiscus) aqua fresca.
9. El Jakal. I wouldn't call this a vegetarian place, as the selection isn't very large, but I will come here for their jackfruit (yaca) dishes, especially the jackfruit with mole.
Note: Sayulita is pretty vegetarian friendly in general and most restaurants will offer enough of menu that you can find something to eat pretty easily.
Best Seafood In Sayulita
Not only do these places offer the best seafood, they are probably the nicest and priciest restaurants in Sayulita. You don't have to dress up, but maybe put on some shoes or sandals. There's only 3 restaurants on this list, because you'll find seafood at almost every restaurant. These just take it one step up.
1. Barracuda. My favorite of the bunch. The seafood molcajete is why I come, but I like going with others so we can share multiple dishes. The fish is always a fresh catch of the day and cooked to just the right degree of doneness. Every dish will delight. Also, check out the pulpo, if it's on the menu. If you want something fried, I would get the chicharron de pescado or the calamar Frito.
2. Matiz. Tucked away in a little plaza called the Agora between Delfines and Marlin street, this place is well loved by anyone in the know. It's seafood all the way here with all your typical options like fresh tuna tostadas, fried fried tacos, ceviche, also with some slightly different takes on these classics, like their ceviche veracruzano or their molcajete, which is like a giant ceviche for two served in a stone cauldron. It's a lot of seafood for 250 pesos.
For a quick lunch, their fish tacos and the tuna tostada are a must. Two things that put this place high on my list is they start you off with a little soup with a giant prawn in it – think a large sized amuse bouche. Update: Sometimes they bring it out, sometimes they don't. Maybe they run out, but sometimes they'll bring it out only after I ask. No idea what to think here. Their aqua fresca is gigantic and only 25 pesos and might be the best value in town when it comes to this refreshment.
3. La Rustica. This is on par with Barracuda for serving up the most beautiful dishes. I love the blue and white enamel plates and bowls that everything is served in. La Rustica is an Italian restaurant, but they serve up the single best bite of fish taco in Sayulita to me.
The only problem with those tacos are that they almost too pretty to eat and a little on the smaller side. I recommend getting the grilled octopus here and the mussels, which comes in the creamiest sauce. Update: The octopus doesn't seem to be on the menu anymore, so definitely try the mussels and the tuna tartare.
4. Costa Pacifico. A new spot just opposite from Attico, where the old Falafel and Friends place used to be. Prices are higher than what you'd expect for things like fish tacos and tostadas, but you get what you pay for.
On my first try of this restaurants, I ordered a scallop tostada that did not hold back on the fresh bay scallops, 3 deep fried crab tacos and the fried shrimp taco with 4 giant fried shrimp. One of the better handmade tortillas in town. Note: Add soy sauce to the scallops tostada. It's a little on the bland side.
5. El Pescador. A new seafood spot that's a little hidden away save for a sign downstairs directing you up. Tucked away, but still right in the plaza with two floors of seating. This is just a great overall place for seafood and poke bowls. Their burritos are a steal at around 60 pesos, but really, they just do so many things well here that's an easy option if you want good seafood.
Best Steak/Chicken In Sayulita
1. Trattoria Toscana. Right across from Barracuda is one of many, many Italian restaurants in Sayulita. I don't much care for their pastas, pizzas, or salads, but this is the place if you want a big steak and don't mind paying for it. If I'm going there, I get the more reasonably priced 'Cowboy' steak (400 pesos) that resembles a mini version of their 1 kg Tomahawk (1100 pesos). This might actually be one of the more expensive places in town, but that's to be expected when you order a big steak.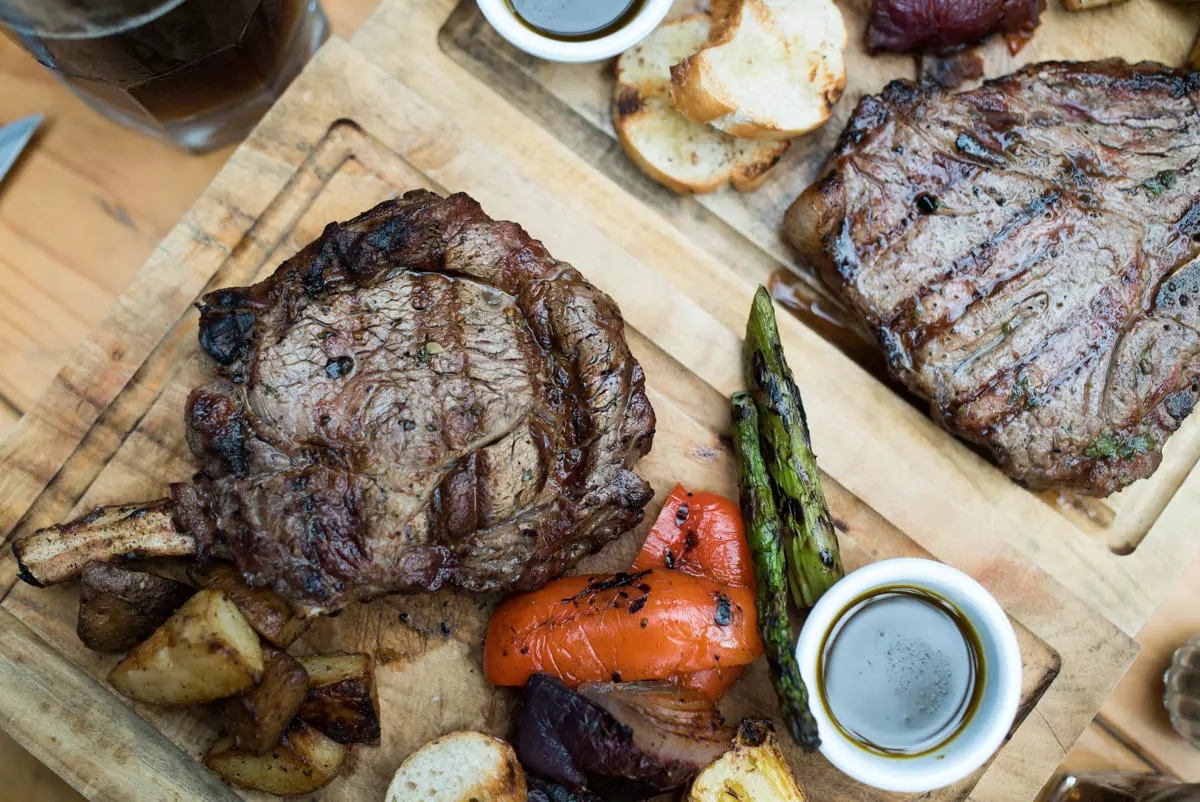 2. El Itacate. My favorite little spot makes it onto another list. While you don't get the whole steak like at Trattoria Toscana, you do get the best meat in any taco or burrito in Sayulita here. The arranchera just melts in your mouth. They serve such generous portions that I always split each taco into two. This is by far the best taco value in town for the amount of meat you get.
3. Mr. Ribs. A new location from transplanted from the original in San Pancho. The quality of the food is really good, even if it's not quite there compared to the original spot. I'm giving them a little time to get it right.
Ribs are full of flavor, especially if you get the BBQ or the Garlic sauce option and the skirt steak is super tender. If I remember correct, the chicken is in a rotisserie in San Pancho, but it's done a la plancha (on the grill) here. The best options in my opinion is the 3 piece chicken with garlic sauce, or the Parillada for 2. I'm eyeing the molcajete for next time to see how it compares to Barracuda.
4. Pancho Pechugas. A small chain of chicken rotisserie. I used to have walk all the way over to the local dental office to get to my rotisserie chicken (and I still do), but now, there is another option closer (just across the bridge near to Organi-K). You really can't beat the rotisserie chicken here. Prices have gone up, but it's still a easy option for chicken.
5. Yolanda's. If you want flame-grilled chicken, check this take-away spot (just up the hill from Attico). For 60 pesos, you can get a quarter chicken with rice, coleslaw and and tortillas. 90 gets you half a chicken. You'll recognize it with the giant grill on the street covered with marinaded chicken creating a smoke storm.
Best Places To Eat And Drink On The Beach in Sayulita
1. Alas Blancas. The best food on the beach alongside Barracuda. They dishes are beautiful and tasty. I'm a huge fan of the costenas tacos, which is a giant bone marrow topped with shrimp and octopus. The burgers are big and they've even got a fried sweet bread dish served with guacamole. I'm always excited to go to try out different things here.
2. Barracuda. One of, if not my favorite, restaurant in Sayulita has two locations. I still prefer going to the original location, but the one on the beach serves basically the same thing, but it's on the beach. You can't really go wrong here.
3. Coco's Beach Club. When we fancy a nice lounge chair and umbrella with a big margarita in our hands, this is where we go. Whenever we're there, I like to remark that this is what it feels like to be on holiday. They've got a menu that has way too many items, but I can recommend getting their seafood tostadas and ceviches to snack on while you drink under the sun.
4. El Patio. This is our favorite spot for an afternoon michelada. You get a generous portion of michelada mix with a beer and then can keep topping it off with another beer until you finish the whole thing. They serve up some nice small plates too.
5. Bar La Isla. Cross the river and you get a more quiet and rustic beach spot with one of my favorite margaritas on the sand. Sometimes I just come out here to nap on the beach and then wake up and have a drink and some tostadas. This is sort of a more chill and less crowded doppelganger of Coco's as far as the cuisine goes.
6. El Costeno. This constantly packed restaurant is right off the Main Street down to the beach. Very much a no frills type of place that serves up generous portions of grilled fish and the largest margarita you will find in Sayulita. Don't get tempted by the extra grande one. It's like 10 margaritas in one. This place is packed with locals and tourists alike and one of the cheaper options to eat on the beach.
Best Tacos In Sayulita
This is a hard category and anything I say might be seen as controversial by some and affirmed by others. I could have easily broken it down into multiple categories, but this list would be ever longer than it is now. The only category that I broke out of this is for 'street tacos' which you can find in the next section. Every place on this list serves handmade tortillas. You can't start out any better than that.
1. El Itacate. I don't need to say anything else about El Itacate. A great place to fill up for very good prices.
2. Mary's. My second favorite taco place makes the list because of their Baja style fish and shrimp tacos. I like the Sayulita Taco and the Mary's Taco because of all the extra things they put on top. And their chipotle sauce. Sometimes, I just want to bring food from other places and ask if I can use their chipotle sauce.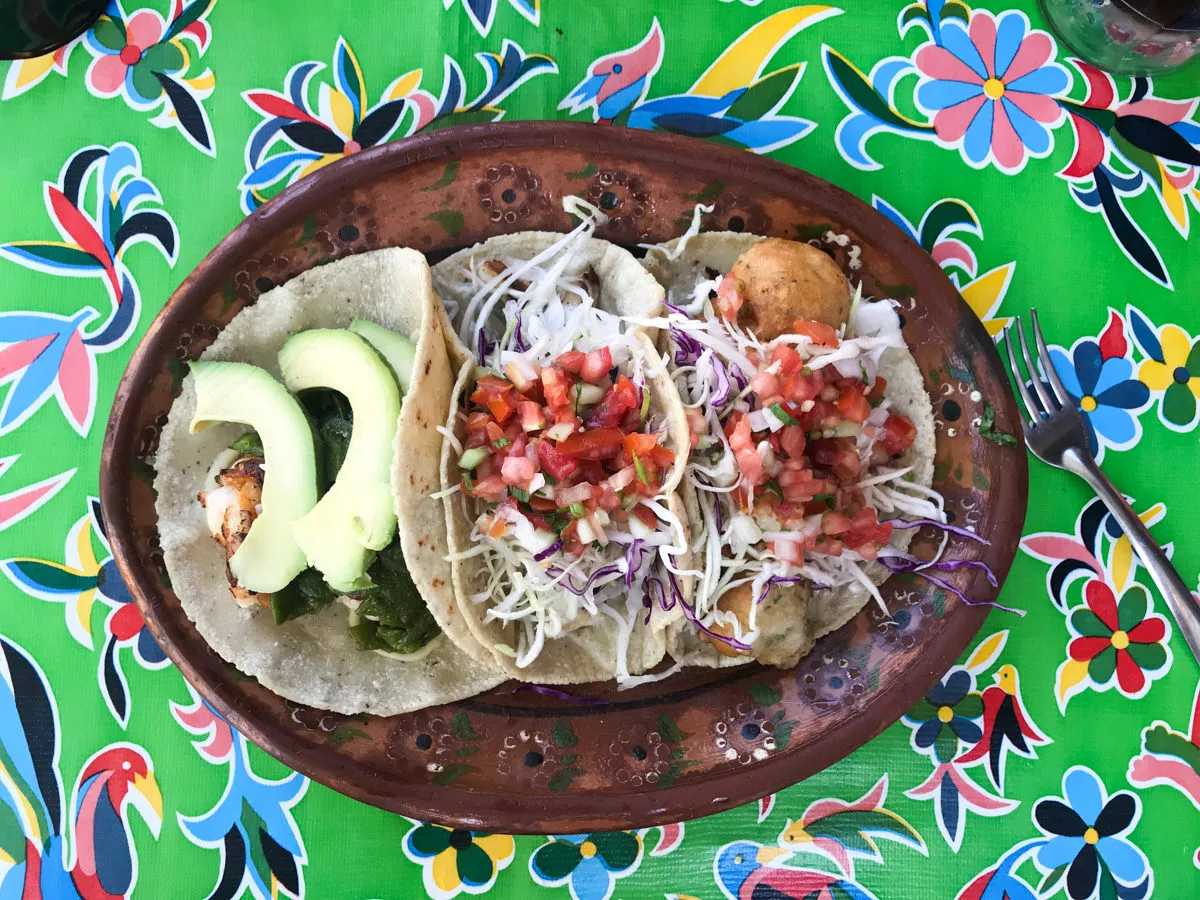 3. Naty's Cocina. This kitchen serves up a lot of the classic tacos you find in Mexico, but oddly don't find in Sayulita. That's probably because a lot of these dishes take hours to prepare so it's a different type of eating experience. The step up restaurant is almost like a cafeteria, where you choose from the different trays and bowls that include a mole and cactus taco that I can still taste as I'm writing this.
This is probably one of the cheapest tacos in Sayulita and I much prefer it to the street tacos, which only fill me up with tortillas.
4. The Real Fish Taco. I almost wanted to hate this place because of their name. I came in a little biased, but I came out reluctantly agreeing with their confidence. The tacos are not big, they are not the cheapest, but the fish is sublime.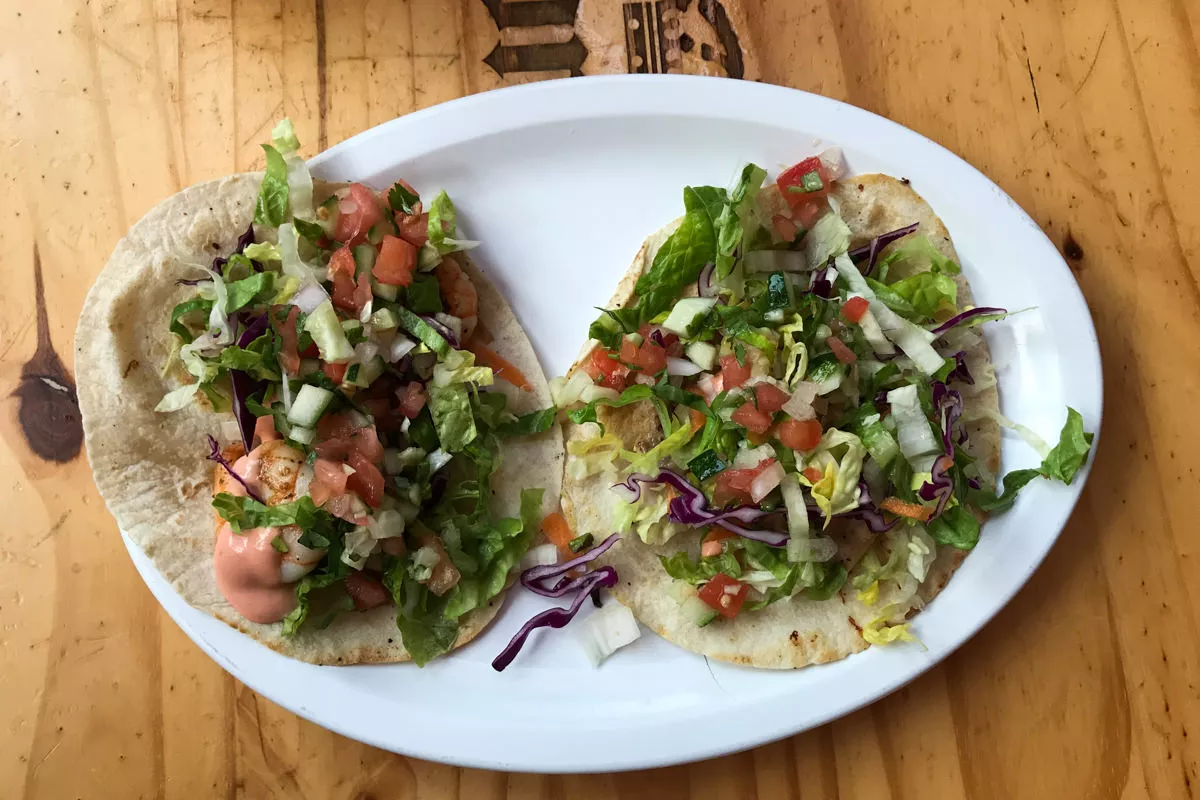 5. La Rustica. This place, in my opinion, has the best looking and gourmet tacos, if price isn't taken into account. Think fancy tacos that are small and costlier, but damn are they tasty and different from what you normally get in town.
6. Costa Pacifico. Their deep fried shrimp and fish tacos are fresh and really delicious. They offer a few sauces that are different from what you usually get everywhere else.
7. Luna's. You get your very classic meats like asada and adobado here. The prices are cheap to begin with, but the value is great when you see how big the tacos are. I always forget this and order too much.
If you're heading to Sayulita, check out my 'Complete Guide To Sayulita' before you go so you can make the most of your trip and find the places to stay and things to do.
Best Street Tacos In Sayulita
I love street tacos in Mexico, but I don't really love them that much in Sayulita, to be honest. By street tacos, I usually refer to these carts with a giant rotating 'trompo' of meat. This is Mexico's version of fast food and late night eating. In other parts of the country, you can find these tacos al pastor for as little as 5 pesos. They are greasy and delicious but the meat to tortilla ratio is disappointing.
In Sayulita, they run between 15-20 pesos, and I need to eat like 6 of these to get full. For that price, I can eat at so many other spots that are way better. But a couple places do stand out (and they aren't all carts) when it's really late at night and everything else is closed.
1. Tacos Tono. A raved about spot that's well loved by the locals. For vegetarians and meat lovers alike, I'm dragged here more often than I'd like and I never regret it, but my cholesterol levels are not helped by partaking.
2. Tacos Tal Ivan. This is one of those places I'm talking about that I'm not the biggest fan of, but everyone eats here because it's right on the street or when its 3 am and you're taking a breather from one of the nearby bars. It's definitely a part of the Sayulita nightlife experience.
3. Rinconcitos. This is another spot that has been around for as long as I've been visiting Sayulita. These ladies serve up some fast tacos during the day. I think they moved to a more permanent spot that's off the street now.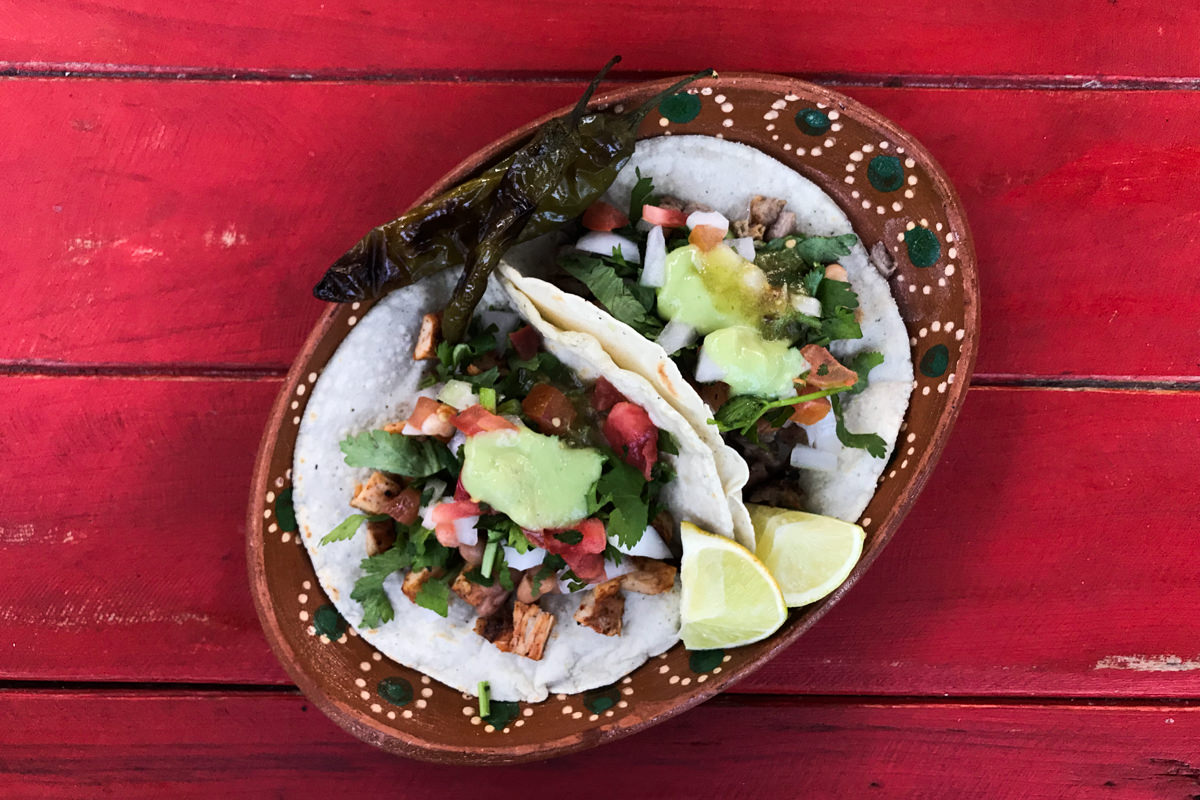 4. Birria Cart. I don't recall ever knowing the name of this place, but it is a little cart that you'll find a crowd standing around during the daytime near the seafood market and Rinconcitos. They serve up these fried birria tacos that are artery clogging good.
5. Cabeza Cart. Another one with no name. It's usually around earlier in the day in front of Orangy. I love it for the cabeza (head) and lengua (tongue) tacos. They occasionally have sesos (brain) too, and that's my favorite.
6. Tacos al Prieto. This place serves carnitas until 3 pm everyday and tacos dorado on Sundays. The rest of the stuff is pretty good, including their fresa jamaica agua fresca, but I come here for carnitas and tacos dorado.
7. Carnitas. Right at corner before you cross the bridge, is a little shack that serves up really tender carnitas for 20 pesos. I love it. There are a few other places that do carnitas and they are all equally good, so I can't put one above another.
8. El Takora. This no-frills spot is a local favorite that serves up a large variety of tacos for 15 pesos. The man who runs the place is really friendly and I like eating here with my friends.
Best Burgers In Sayulita
When it comes to something as classic as the humble hamburger, everyone has a different opinion on what a good burger should be. Some purists have argued that between the two buns should just be a beef patty, raw sliced onions, sliced tomatoes, and lettuce. For me, it's all about the bun and nothing can beat the brioche. I also prefer mine with a runny egg and something to give it a bit of sweetness, like caramelized onions.
1. La Fogonera. This place easily takes the top spot despite strong competition and some really smashing burgers offered around town. Fogonera offers a handful of sirloin beef and vegetarian burgers with one of the best hand crafted brioche buns around for around 80-90 pesos. It's topped with black sesame seeds and toasted to give you that crunch on the outside and the sweet fluffiness on the inside. The meat is well seasoned. The lettuce, tomatoes and pickles keep things fresh and the caramelized onions finish it perfectly. I'm a fan of the Munchies burger that comes with bacon and a fried egg that I order over easy (medio cocido), but the Hawaiian and the Vegetarian are just as amazing. Now, the most important thing is remember is to put the Chipotle Cremosa on the burger.
2. El Tiburon. This American/Tex Mex spot that's in the same alley spot where El Conejo used to be offers very excellent comfort cuisine and service. During my burger review binge, I ordered their Gringo Burger and was almost ready to proclaim in my favorite in Sayulita. It was close.
The waffle fries that come with it were by far were the best fries I've had in town. Their take on the caramelized onions is Coca Cola onions, which I assume are onions cooked with Coca Cola. The bun is a brioche, so that's a winning start there.
My only knock on it is that for 225 pesos, it's definitely a little on the pricier side. It's also an extra 25 pesos for bacon or avocado and 15 pesos a fried egg. Compared to La Fogonera's Munchie burger at 90 pesos, the equivalent would be 265 pesos.
3. Ruben's Deli. Ruben's is a sandwich place (so technically not burgers), but it definitely deserves a spot here because it's an easy go to spot for amazing hot sandwiches and pasta salads. It's right on the main street (Delfines) heading to the beach and serves up some buttery, grilled sandwiches with a side of pasta (usually 4 that you can choose from). There are so many good choices like the Reuben, the Patty Melt, and the Pastrami. The cold pasta selection is amazing as well, and I never choose anything except for the Asian noodle salad.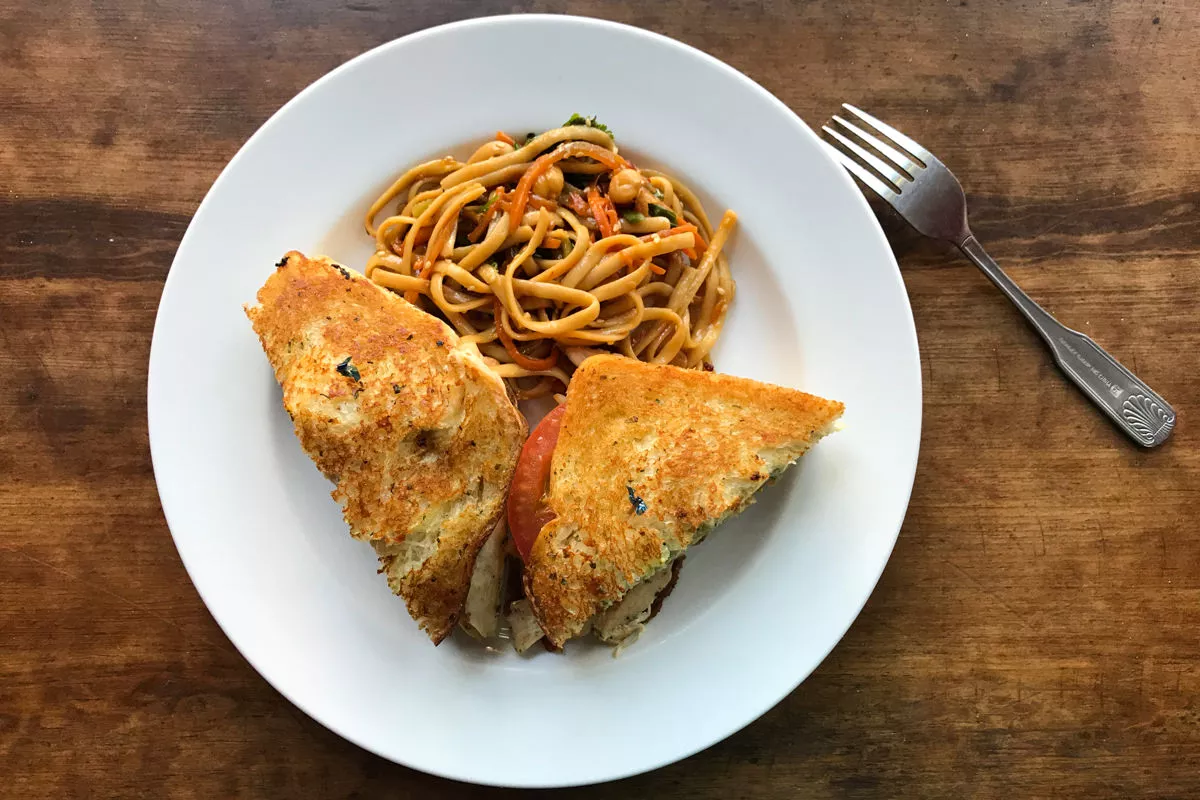 4. Public House. This is sports bar/pub spot that offers a simple but well executed menu. I'm a fan of their Cobb Salad with fried chicken, but the burger here is also done pretty well. At around 180, it's not cheap, but if you prefer to chase down your meal with a good selection of craft beer right in the plaza, this is a great spot. They also have a Beyond Burger, which uses a plant based patty that tastes just like real beef.
5. La Katrina. Another spot in the plaza with live music, where Wendy's sports bar and the cheap cerveceria used to be. There are a few different burgers here with my favorite being the Sayulita Suprema that's your classic burger topped with shrimps and chipotle sauce. At 155 pesos, it's in between El Tibuon and La Fogonera and it's in a great spot in the plaza with live music. Their classic burger is 125 pesos and they have a nice Portabella burger option that's 115 pesos. If I don't want to always eat at La Fogonera, I'll come here.
If reading this guide is already making you feel like you've added some extra calories, know that there are many many different ways to stay active in sayulita. take up a surf lesson with MAREA SURF SCHOOL or a private yoga lesson with Happy YOGA SAyulita.
Best Breakfast and Brunch Spots In Sayulita
1. Yah Yah. This health food haven is my favorite place to have a quiet breakfast and coffee away from the crowd. It's also a great place to do some work or get in some reading. I can't say enough about this place because there are so many options to choose from whether you go the loaded bagel/croissant route or the pretty-Instagram bowl route.
They've got Vietnamese coffee so that automatically gets an extra star in my non-existent rating system. It's organic-friendly, vegan-friendly, gluten-friendly, and so many other types of friendly all in one high-ceilinged modern café.
2. Anchor Cafe. My go-to spot for breakfast/brunch/lunch on a working day. They close at five and everything is good there. Scroll up and read more about why this place makes it into my "favorites" list.
3. Pakeke. A new spot in town that serves up a very simple menu, but done so well that I return regularly for their thin pancakes (almost like a crepe) and smoothies. It's a cute spot and just a place I love frequenting.
4. Orangy. If I want a liquid breakfast that is packed with all the nutrients and macros I need, I will turn to Orangy. Their smoothies, are by probably the best in the town, and you can get them with protein powder too.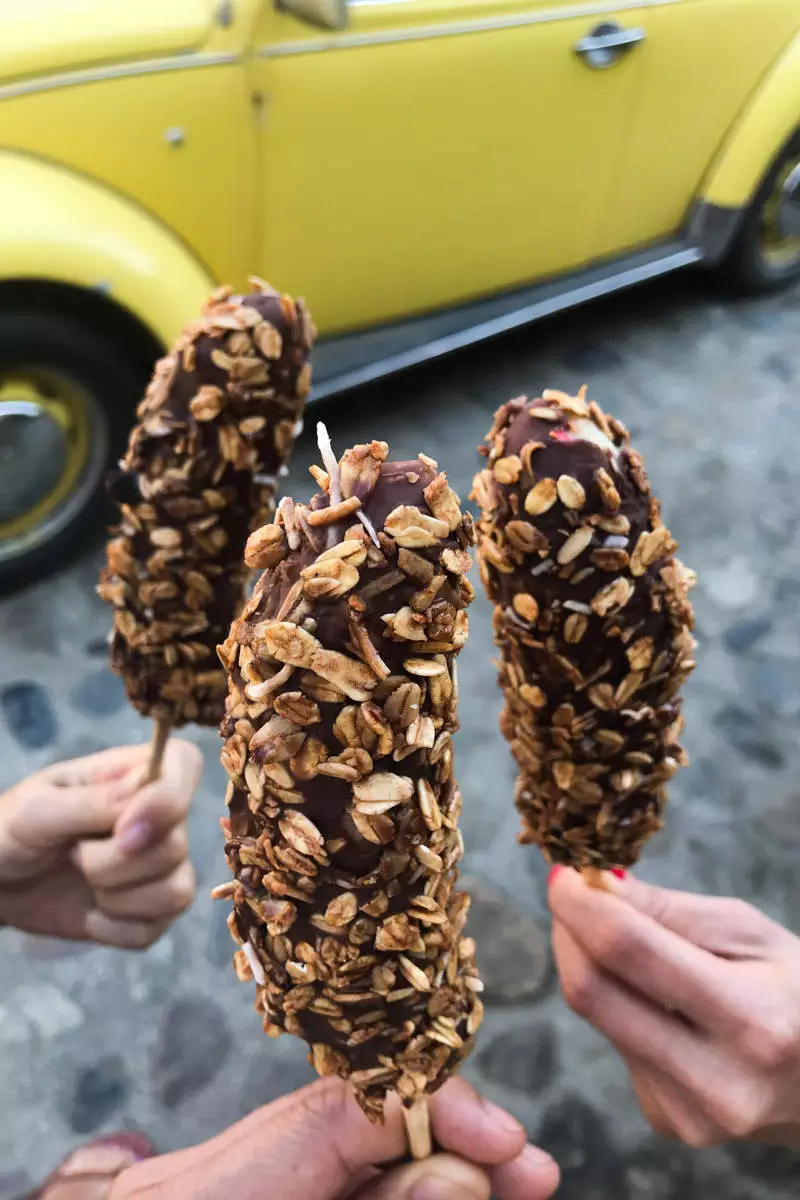 5. Chocobanana. This is one of the oldest restaurants in Sayulita. Named for their offering of chocolate covered bananas, which you absolutely need to get. Bring a lot of friends, because the more you buy, the cheaper it costs.
This is also one of the go-to spots for tourists who miss the breakfasts they get at home. Sometimes you just want bacon and eggs or a full English breakfast as a break from huevos rancheros.
6. Tierra Viva. I'll keep this simple. Come here for their Eggs Benedict. Everyone comes here for their Eggs Benedict. So come here for their Eggs Benedict. I like mine with shrimp.
Best Spots For Large Groups and Celebrations
I've been getting a lot of private questions about where to go for a large group or a birthday celebration, so here's where I recommend. For obvious reasons, I'd call ahead or just walk to the restaurant and make reservations or arrangements ahead of time.
1. La Rustica. This is probably the easiest recommendation because they have a lot more seating indoors than what you see on the street. All their dishes are great and some are my favorites in Sayulita. It's also one of the classier spots with a large selection of cocktails and wine, so it's perfect for celebrating. Location wise, it's right in the center and there's always some street performance happening most nights of the week right in front. The only downside I see is that it's always a crowded place. If you are looking for something a little private or intimate check out the next place on the list.
2. Don Juan's. This is a favorite of many locals and expats and a lot of tourist will miss it because it's not in town, but that's their loss. The food is great here and there is parking. For a group celebration, you'll find it's much more private than most of the places in the center, like La Rustica. It's a little out of town, but only about a 10 minute walk down calle Pelicanos and Nuevo Gallicia to the Punta Mita highway.
3. Alas Blancas. For something on the beach, Alas Blancas is one of my two go-to spots, alongside Barracuda. The food is great and the location is perfect if you want to see the sun come down. It's on the main stretch of beach, so it's a pretty crowded area, but it doesn't take anything away from eating here.
4. Barracuda. There are now two locations in Sayulita. The original one in town is where I always go, but the seating is a lot more limited. You might be able to get a large reservation, but I've never tried. There's a second location on the beach, which I think would be easier for a larger group. Barracuda is one of my favorite restaurants, so you can't go wrong with any of the dishes on the menu.
Best Italian Food In Sayulita
For a Mexican town, there is a surprising number of Italian options in Sayulita, and they are all quality ones serving up hand made pastas and oven fired thin crust pizzas.
1. L'Ulivo. The latest 2021 Italian addition to Sayulita just happens to be my new favorite place to get Italian food – and that's saying a lot. It's on Pelicanos towards the beach and not the nicest street to put up a restaurant, but that's the only knock on this place. The food and drinks are top notch and on pair with the best Sayulita has to offer.
I am in love with their Burrata and aged Proscuitto appetizer dish. I would come in just to share this dish as a snack with a friend. The pastas are superb and the way the sauce sticks to the pasta passes my test for what makes a good pasta dish. Their Aperol Spritz is the best I've tasted in Sayulita.
2. La Rustica. La Rustica narrowly beats out Marcolino here because they've got a larger selection and variety in their offerings. Their wood fired oven pizzas are not large, but they are so delicious and possibly my favorite slice in town. The pastas honestly remind me of the stuff I eat in smaller Italian villages. I think the number of ex-pats here is the reason why there are chefs trained by proper Italians.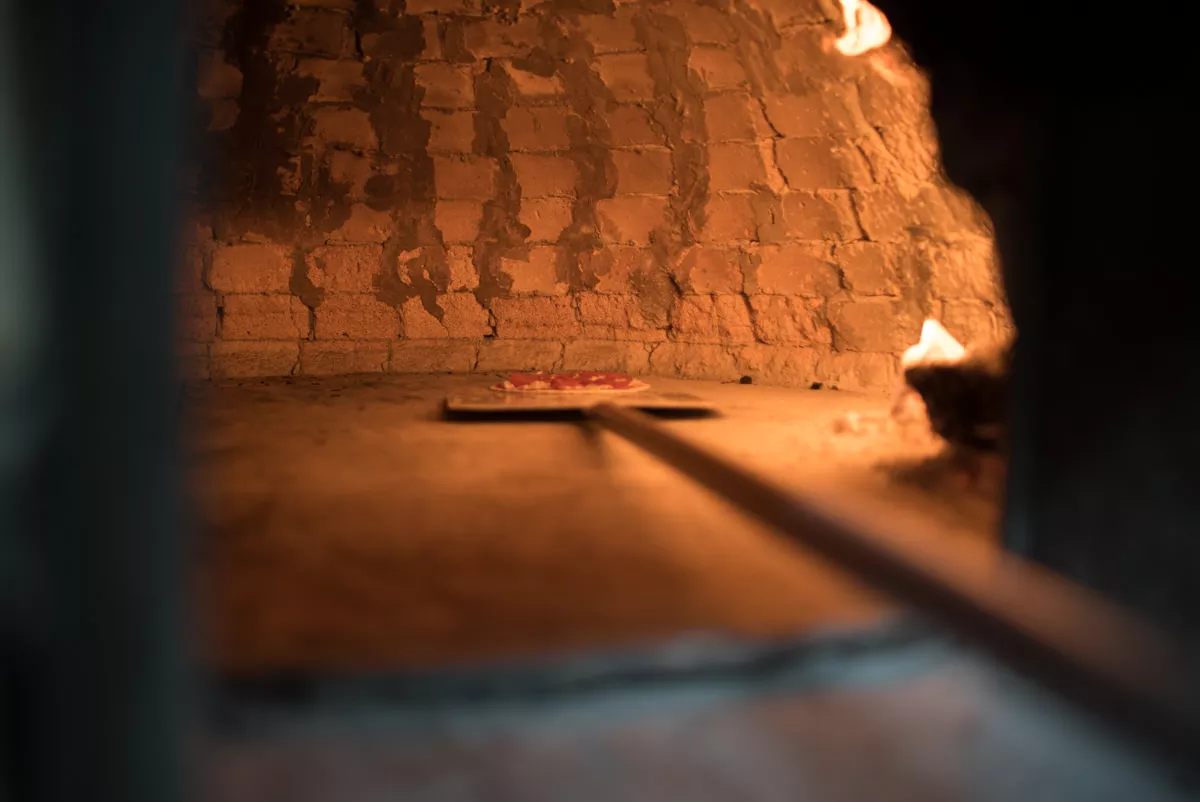 3. Marcolino. This place used to be called Mamma Mia's, but they've expanded their kitchen into the space next door and now it's Marcolino. Their pastas are homemade and in general, it's a huge improvement over a few years ago with the new kitchen. The only thing that sort of bugged me is that they add cream to their pasta carbonara.
I'm a fan of their Italian cocktails and their pizzas are really nice as well.
4. Cesaro. Opened in late 2021/early 2021, Cesaro is the new restaurant from the owners of Leda, after they closed down that restaurant. The menu is Italian and generally well done with the vibe and feel of a hip urban restaurant. The food is pretty good, but I think you go here more for the overall feel and location.
Prices are on the higher end and they have a small wine list that ranges from 600 pesos for a bottle to a ridiculous 75000 pesos ($3750 USD) for a bottle of wine. This honestly makes no sense for me at a place like this and I hope no one gets recommended this bottle without seeing the price.
Best Asian Food In Sayulita
For the longest time, Asian food was missing in Sayulita. Then came Achara with one of first proper Asian restaurants, serving Thai. In 2021 and 2022, quite a few new spots have popped up. Finally, there is some decent Asian food in Sayulita.
1. Achara. This restaurant serves really good Thai food. Their curries and pad Thai are pretty close to what you'd find in most Thai restaurants around the world. It's more on the upscale side as far as their interior decorations go and a nice place to spend the evening. A pad Thai dish runs around 195, so it's not the cheapest place to eat Asian food, but it's worth it.
Updated June 2021: The food has has improved immensely since I first ate here a few years ago, which is to say, it's even better now than before.
2. Henshin Sushi. This placed opened right at the end of 2021 inside the Casa Nawalli Resort and was one of the first spots in Sayulita to offer true high-quality sushi in Sayulita. They do an omakase-style dining where the chef prepares a multi-course meal for you based on your food preferences, budget, and hunger level. Reservations are required. They are only opened for dinner from 5 to 10 pm and they are closed Sunday and Monday.
3. Sushi San. This is one of Sayulita's newest restaurant and brings fancy sushi options right to the center of Sayulita. It's located next to the Amaia Hotel in the plaza. I no longer have to go into Puerto Vallarta for sushi.
4. Cocina Feliz Express. Full proper take on greasy Chinese fast food takeaway. I'm glad to see this place open up and so are the locals. Cheap asian food was something missing in Sayulita until now. Don't expect fine dining, but it will hit the spot if you want something deliciously greasy and will fill you up for 70-90 pesos.
5. Paku Paku. Proper Japanese ramen has always been missing in Sayulita. A few places have tried, but it wasn't close. I wouldn't call Paku Paku's ramen authentic, but it comes a little closer. It's Japanese themed, but serve a mix of Japanese/Korean food like gyozas, yakisoba, rice with kim chi, and sushi.
Check out the '16 Top Things You Have To Do In Sayulita' if you need some activity ideas to burn off all these calories.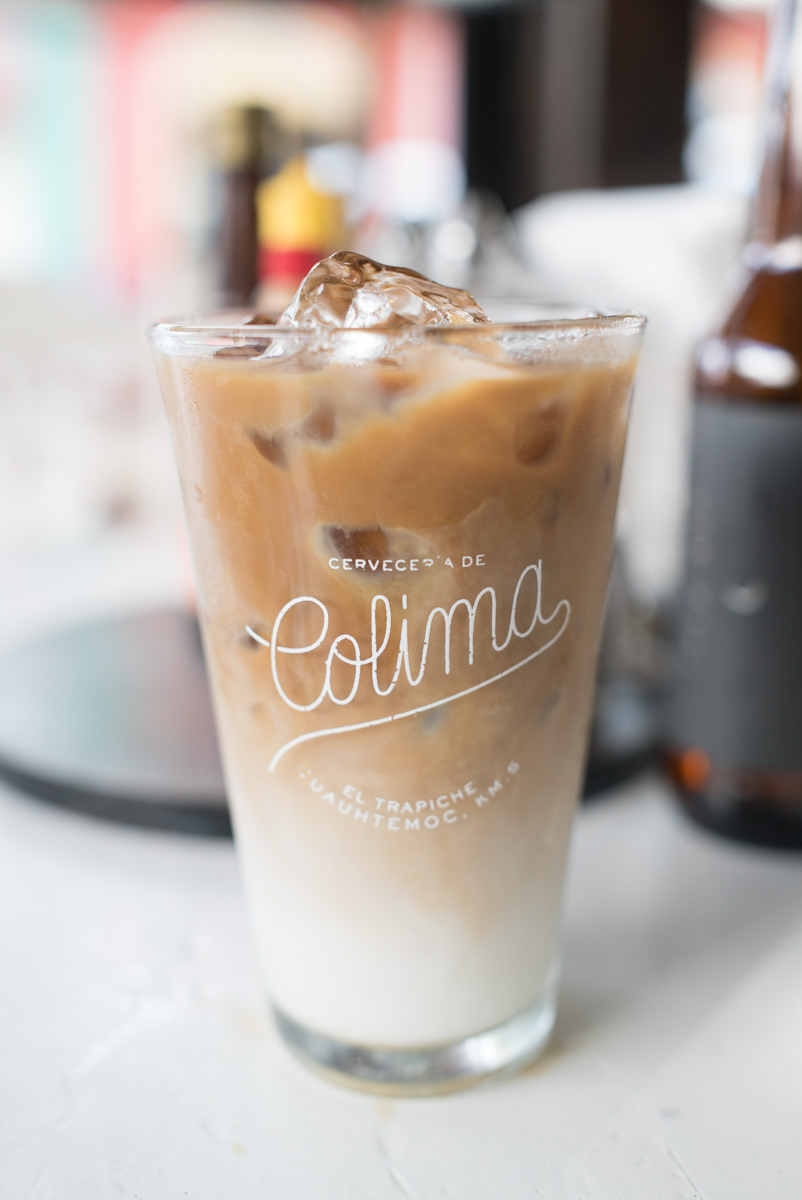 Best Coffee In Sayulita
The ordering and even selection in this category could cause endless debate, depending on who you ask. Just ignore them. These are my favorite places.
1. Miscelanea. This is my go to working space/coffee shop. It's well hidden away with only a small sign next to Emelianos. This coffee place would fit right in with the Portland or Melbourne coffee scene. You can get your flat white and drip coffee filtered through a Chemex or V60 filter, amongst other options. For me, the best coffee in town.
2. Paninos Window.  This little walk up window serves up espresso like I get in Europe. Probably my most frequented place for coffee since it's so quick and tasty. I actually keep a container of condensed milk and make Vietnamese coffee with their dark espresso poured into a cup of ice.
4. Yah Yah. My favorite breakfast places serves up a nice selection of coffee that's just as good their space is quiet. It's just a farther walk than the other places that keep me from coming here more often.
5. La Liberaria. This quirky coffee stand is just outside of the La Liberaria, a little hidden gem of a bookstore wherenyou can buy and sell used books. You definitely have to stop by at least once. It's a little further away from where I usually stay, but worth 8 minute walk for a cold iced coffee.
Best Places For A Nice Drink In Sayulita
My friends and I sometimes like to just get a few beers from the OXXO and drink on the beach. For something nicer, we head to these places regularly. Just because you're drinking barefoot does not mean you're getting anything less than some of the best cocktails, mezcal and tequila in Mexico. Note: There are quite a few restaurants that make really delicious drinks, but this is list is for drinking only places.
1. Escondido. This place should be more popular than it is. They make the best and most inventive cocktails in Sayulita. It's probably the priciest of the cocktails in town.
2. Lucid. If you like a little tucked away spot where you can drink moscow mules out of copper cups, then this is the place to go. This is my go to spot for happy hour drinks between 4-8. They've got a cucumber mojito for 60 pesos, a tangerine margarita for 50 pesos and and a Michelada for 50 pesos amongst other things.
These are some of the best prices for cocktails in town and they are delicious, especially the Michelada. It's not on the beach, but there's a nice view right down to the ocean.
3. La Zouave. A super popular hangout spot for the blondest (literally) crowd in Sayulita. I'm just calling it like I see it. They have really nice margaritas that you can have with tequila or mezcal.
4. El Patio. More of a day drinking spot, but this place has excellent micheladas and margaritas and right on the beach. It's either Lucid or El Patio for me when I want a drink before the sun goes down.
5. Aloha. Another spot on the beach, this place has a little "garden" area where you can watch the sun come down (behind the mountain). I'm a fan of their drinks, though I prefer their blended margaritas to the ones on the rocks here.
6. Cava. A close second to Escondido, in my opinion is Cava, which delight you with their creative cava and mezcal based cocktails. I'd put this number one if what you're after is a tequila or mezcal based cocktail.
7. Sayulinda Rooftop Bar. This is one of the highest spots right in the center of town to watch the sunset and there's a swimming pool, ping pong table and hammocks. It's really just beautiful. The only catch is that you need to pay for a "day pass" to get up here. It's 600 pesos ($30 USD), but you get 400 pesos ($20) in bar credits, so I don't actually think it's a bad deal to spend the day lounging by a pool at a hotel you're not staying in.
Best Desserts, Ice Cream and Pastries In Sayulita
There is no order at all to this list. I visit these places regularly in between meals for some sweet or a quick snack.
1. Casa Gourmet. A simple bakery that offers my favorite pastry in town if you can manage to snag them right as they come from the oven. The croissants are done in the classic French style. I try to avoid walking by this place, because when I do, I always stop for a pan de chocolate.
2. La Empanaderia. This place closed down a few years ago and I was devastated. It reopened in 2021 in a new and more upscale location, but the empanadas are the same – ultra flaky. It's more croissant than empanada, but it honestly doesn't matter, because there are so many different fillings that you can eat here easily a few times a week.
3. Paris Delice. This is a small bakery owned and operated by a Parisian woman. If you fancy a croissant, pan au chocolate, tart, eclair, palmier, or a number of other French treats, you'll love it here. The croissants were a little on the greasy side for me when I had it, so I'm hoping to try it again to see if it was just a bad batch. The pan au chocolate was very big and puffy and had a chewy bite that I liked (but it wasn't really flaky or crispy).
4. Mexicolate. Another transplant from San Pancho, this place is amazing for chocolate lovers. Try anything with the spicy chocolate. Their hot chocolate is a great breakfast treat too and very thick in good way.
My favorite is the cacao smoothie or smoothie bowl with strawberries (all my friends prefer banana though). Another must-try item is their aqua de cacao (cacao water). It's so refreshing and flavorful.
5. Northswell Sabor Flavor. A new plant-based and gluten free spot by one of the nicest people I know in Sayulita. This cute shop offers up some amazing desserts, some that shocked me because it tastes so much better than gluten-free desserts usually do. Clarissa also sources coffee beans locally from the mountain range of Compostela in the Nayarit region. Check out their instagram if you want to see what's on offer.
6. Postres Tables in the Plaza. On the western side of the main square, you'll find two tables filled with all sorts of delicious cakes and cheesecakes. One serves cakes from Costco and the other is homemade.
Honestly, I prefer Yvonchi's cheesecakes, which are the store bought ones. She's opened up a cute little storefront to just across from Tierra Vive, so if you want to have the same dessert sitting down in an air-conditioned store, now you can. I go here at least 3 times a week.
7. Buonissimo. If you want gelato, this is your place. I can't get enough of the Ferrero Rocher flavor. Always get 2 scoops.
8. Wakika. Popsicle heaven. Everything is made with fresh fruit. There are non-dairy and dairy options that are made with yogurt. There are so many cool combinations, but my favorite is the plain yogurt dipped in chocolate and covered with nuts. I also like the yogurt ice cream in the soft scooped variety as well.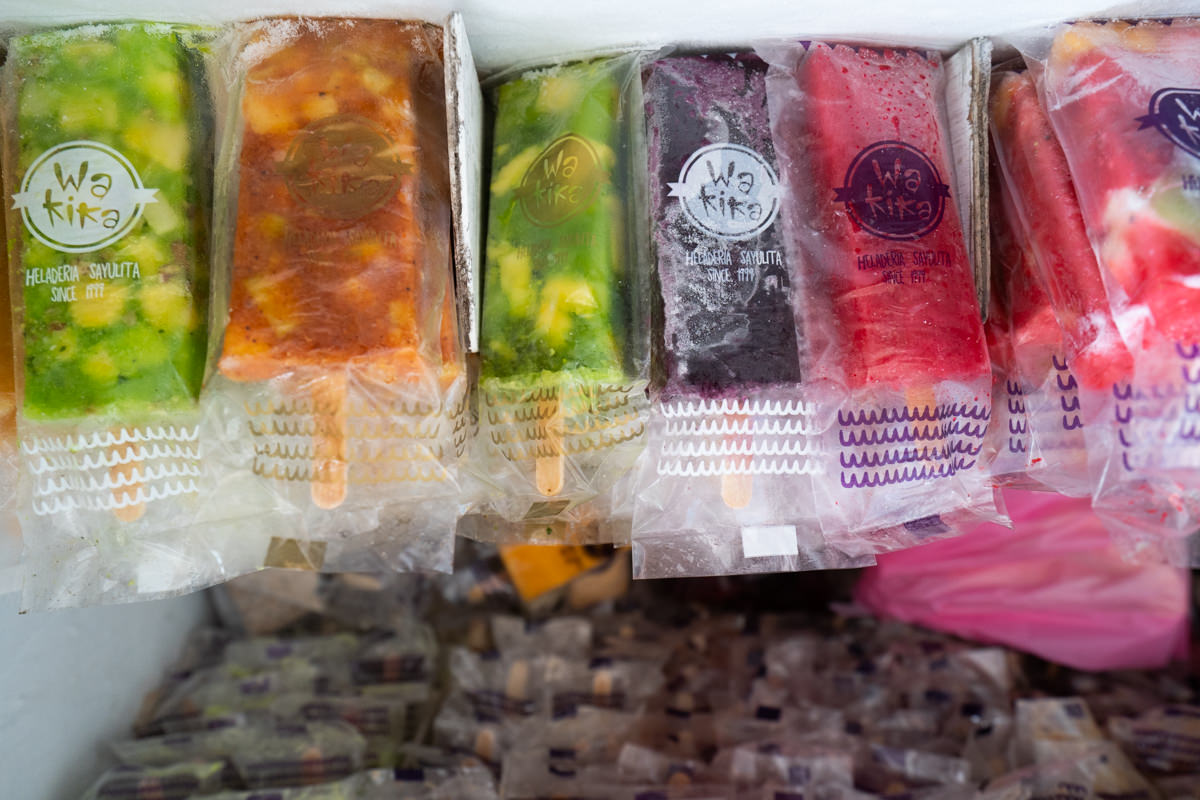 Other Things You Have To Try In Sayulita
Lastly, there are a few other things you'll find in different locations around Sayulita. Try these if you bump into them.
1. Banana Bread. You can find these from the people walking around on the beach selling them for 50 pesos. Get it. They are so moist and delicious.
2. Churros. There are a couple of vendors selling freshly fried churros. One sells a bag for 30 pesos right after you cross the bridge and the other is in the plaza where you can get it 'relleno', which is stuffed with chocolate or caramel.
3. Ceviche. It might look sketchy being scooped from a plastic bucket on the beach, but so far I haven't gotten sick from these ceviche tostadas.
4. Elote. Hot corn with mayonnaise, butter, chili, and lime. Yum. There's a place next to the OXXO at the corner of Avenida Revolución and Calle Gaviota. It's just in front of alley where Tiburon is at. There's also another cart across the bridge with a sign that says "Hay Elote". It's between 20-25 pesos for whole corn or a cup topped with cheese, crema fresa, and your choice of salsas.
5. Marquesitas. These Mexican crepes will satisfy that sugar craving of yours depending on what you want to put inside the rolled up crispy little crepe. You can find a cart near the plaza and another just by Cesaro.
6. Agua Fresca. It's the local and fresh version of juices. They are made with real fruits and there are so many good flavors. My two favorites are maracuja (passion fruit) and jamaica (hibiscus).
In parting, I recommend you bookmark this list before you trip. I didn't include every restaurant because there are just too many. There are a lot of small stalls that I didn't couldn't include them all. I think the fun is trying those out randomly and discovering on your own the ones you like. As far as these lists are concerned, you really can't go wrong each at any of these places I've mentioned. There are many I left off because they were just you average far and a couple that I didn't care for or found overrated. If you're heading to Sayulita, don't forget to check out my Ultimate Guide to Sayulita.