Review: Onsen SF Brings Japanese Bath House To San Francisco
Review: Onsen SF Brings Japanese Bath House To San Francisco
---
I'm so deeply traumatized by the cold in San Francisco that when there was mention of a new Japanese style spa opening up here, I had to try it for myself. In fact, I reached out almost immediately to owners Sunny Simmons and Caroline Smith before they even opened their new establishment, simply named Onsen. The photos on their website looked promising, even though the idea of opening up a spa in the Tenderloin seemed a bit strange. Who was their target clientele besides me?
Flash forward to opening week in November and I had the chance to try out this intimate bath space for myself on an appropriately cold and rainy day.
Updated October 2023: Onsen SF is temporarily closed until further notice due. You can check their website to see when they'll be able to reopen.
Located on Eddy street in an old auto repair shop space, you might drive by and not even realize its there, but walking up to the door with its glazed wooden handle, you'll know that you're in the right place.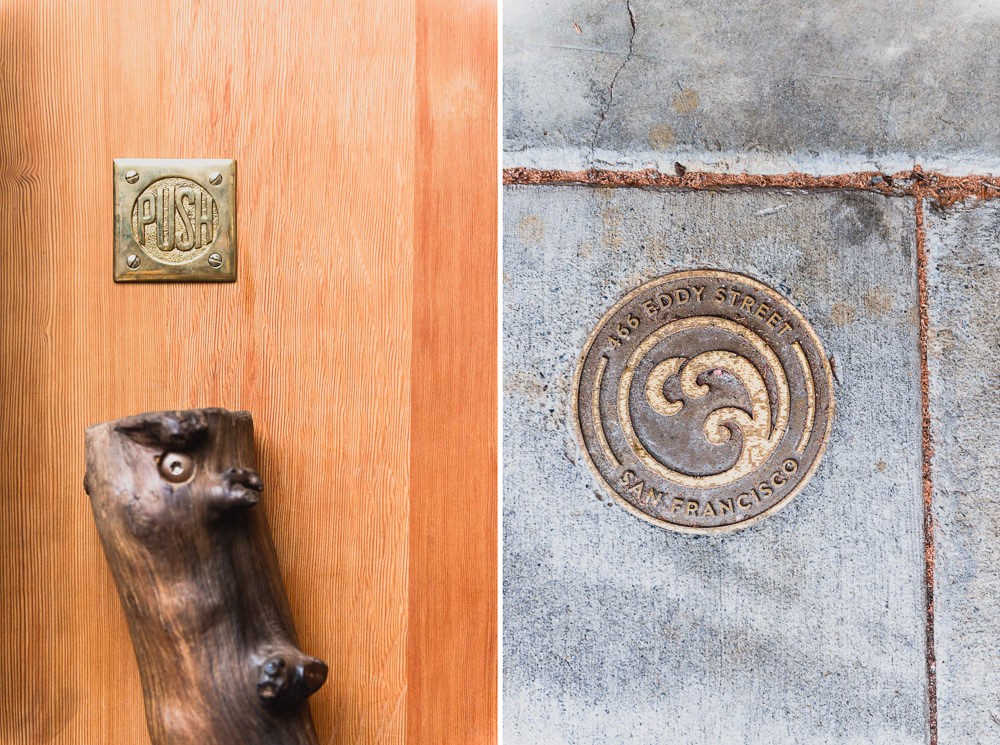 Upon entering, you're met by a stylish dining room fronted by a large open stool counter and flanked by a large brick wall. Onsen SF is part spa, part tea house – a perfect pairing that's reminiscent of the onsens I visited in Japan. Caroline greeted me by the tea counter and gave me a brief tour of the space. But first, tea.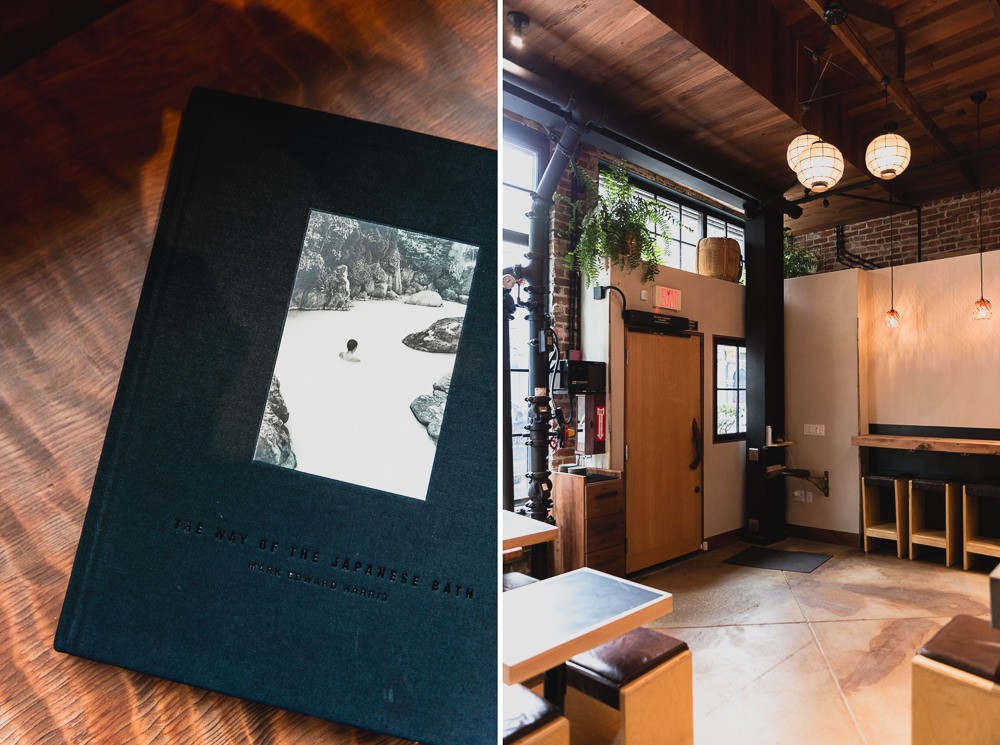 Best Afternoon Tea In San Francisco
I perused the menu and wanted to try everything, especially the kombucha, but I was freezing, so I opted for a warm cup of the Hibiscus Immune Boost tea. (Side note: I'm also a fan of the smokier Puer, so it was nice to see that they had one on the menu.)
I was told that there's also a food menu that they is served a little later on in the day. Why did I arrive so early?
The Hibiscus tea was served in a sleek glass and cork tea press and a custom designed ceramic cup. Each tea is served in a different combination of cups, mugs and pots, so naturally I asked for the green tea if only to see how traditionally it would be served. It took a few minutes to brew, so I walked around admiring the rest of the tea collection and glassware.
Naked and Not Afraid
After warming up a bit, I headed to the back to change. I was there on a Wednesday, which is a men only, bathing suit optional day. They alternate between single sex and co-ed days, so check out their schedule before you go. And they're closed on Tuesdays.
As part of the $40 entrance fee, you're provided a kimono type robe and two towels. The provided lockers already come with a key, so you really could just rock up without any preparation. There are also special reduced pricing for certain days.
Special Hours:
Men's Only Soak         $30            Wednesdays    3:30p-5:30p
Women's Only Soak   $30            Thursdays        3:30p-5:30p
Early Soak                    $25            Saturday – Sunday       10:00a-11:00a
Short Film Series $40 Wednesdays 8p-10p
The short film series changes monthly and each series is inspired by one of the Five Elements in Eastern Philosophy.

Short Film Schedule:
November: Wood
December: Metal
January: Earth
February: Water
March: Fire
You really don't need a bathing suit on men only or women only days as the custom is to bath in the buff at practically every bath house in Japan or Korea. Still, the robe is a nice touch if you want to just lounge about outside of the communal tub or feel a little shy at first.
Down the hall to the bath area, there are sliding door rooms for massage and acupuncture treatments. This was something I'll have to return and try out. Through the blue draping curtains, I entered the communal bath area into a tastefully designed space. Sunny and Caroline spent 3 years getting this space built incorporating warm redwood into the original brick structure and complementing this with vintage and hand-made furniture from an old school.
Right away, I noticed a fragrant smell emanating from the wood that is punctuated by a crispness in the air from the hanging gardens. The room is large enough for about 20 people to use comfortably and feels intimate without being claustrophobic. This is helped by the sun roof that lets in a lot of natural light.
The communal tub is the center piece of the space. The crystal clear blue water is kept at 104 degrees, but felt like 102 when I was there at 11 am. And before you roll your eyes, I stand by my internal reading and know what an extra 2 degrees of warmth feels like, especially when I'm writing this now in my freezing room at home and can see my own breath.
In the corner is an octopus-like contraption that's a cold multi-head shower. The flowing metallic pipe worked well with the rest of the decor and is a necessary addition since there isn't a typical cold plunge pool like you would find in an onsen.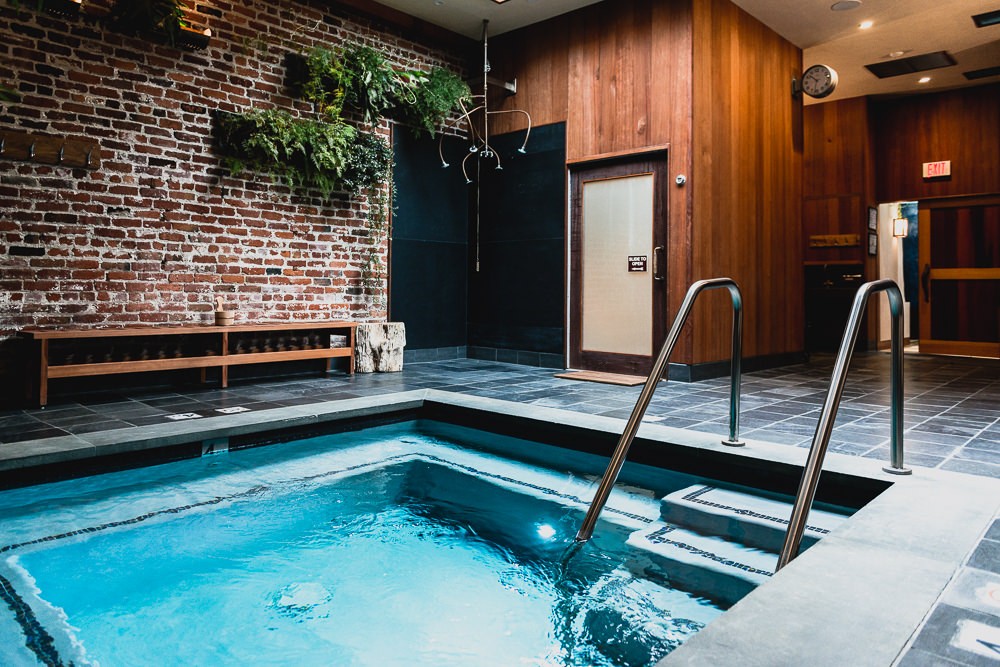 Next to the cold plunge shower is the steam room, which deviates from the rest of the interior design and goes for a black and white tiled look. And directly across the room is the sauna, which unlike the bright steam room is almost completely dark, save for the orange glow coming from the translucent brickwork in the wall.
Beside the communal tub are a few lounge chairs and benches. I recommend bringing a book and kicking back between sessions in the tub or sauna with a nice cup of tea or water that's also provided. The entrance fee is good for a 1 hour and 45 minute session, so there's no rush. I even took a 10 minute nap after coming out of the steam room.
At first, I noticed that the ambient temperature was cooler than I was used to, but after coming out of the sauna or the communal tub, it was quite refreshing and I wondered why other spas don't keep a cooler temperature.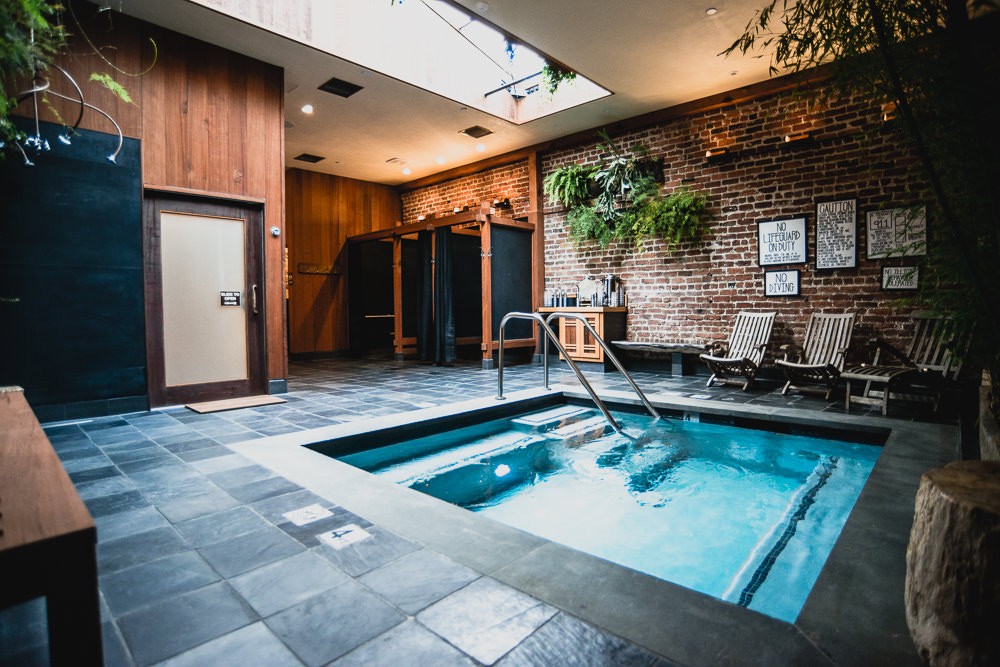 When you are ready to leave, there are three shower stalls near the entrance and bath products provided. You should expect to leave really refreshed or super lazy. For me, it was the latter with the rain still coming down outside. At one point, I went to use the rest room and was pleasantly surprised that they installed a Japanese toilet. You don't get any more high tech than this when it comes to finding a place to park your glutes. I also really liked the bamboo lighting fixtures and wooden ema tablets that filled up the bare walls.
Onsen SF vs Korean Bathhouse vs Traditional Japanese Onsen
I'm a fan of the the Korean style Jjim jil bang bath houses with their large communal spaces and multiple rooms for you to relax in. Other than the space requirement, I can't figure out why San Francisco or even its surrounding area doesn't have any proper ones.
The closest thing I can find are the Kabuki Spa and Imperial Spa. The latter is a very clean but spartan facility and where I go if I want a good full body scrub-down (you come out with a new layer of skin, but only after they've viciously scrubbed all the previous layers off of you first).
Kabuki is closer in style and spirit to Onsen. The space is larger there and there's also a cold pool. At $25, it's a little cheaper than Onsen, but also more crowded. There's no time limit at Kabuki, but I rarely stay more than 2 hours, so I don't find the time limit at Onsen too restricting.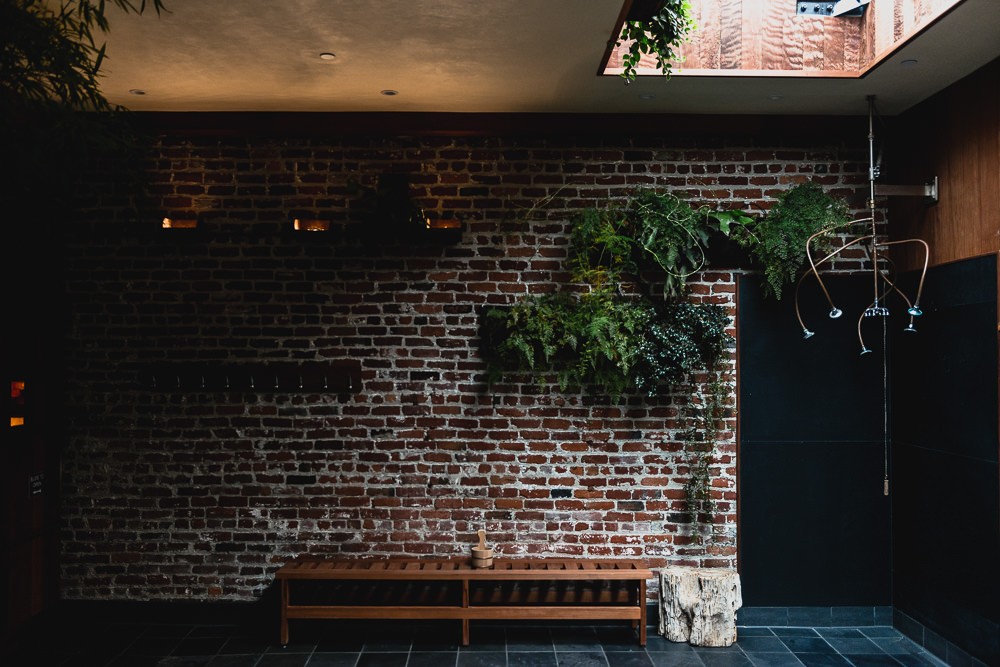 I'm not sure how Onsen SF would feel like when it's fully occupied, but the capacity is much less than Kabuki, so it should still be more intimate. With the time limit, I feel like there's a better flow of people coming in and out, so that should help a bit with the crowd control. Luckily for me, there was only 3 other people while I was there, so it was a most relaxing experience. And I can't say enough about the warm and relaxing interior design of the space.
Compared to the onsens in Japan, I found this to be much more intimate with a much more modern design. It takes the concept and adapts to a different taste and I liked it.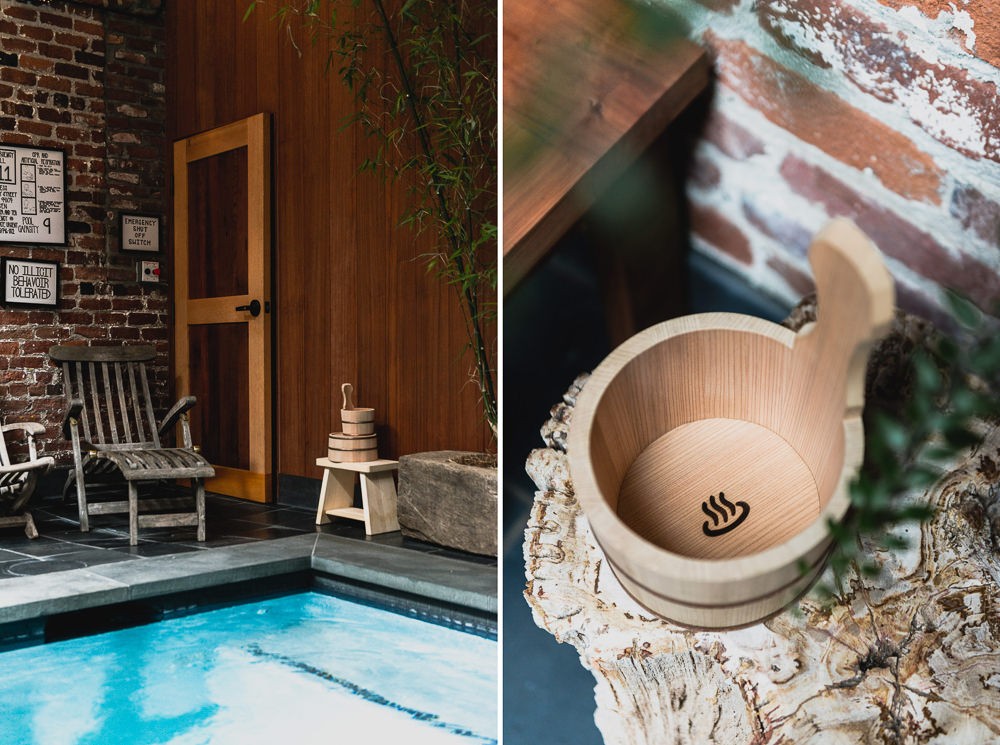 Is The Spa Really In The Tenderloin?
Back to my original thought about the type of clientele that would use a spa in the tenderloin. This initially seemed like an odd location to open up a luxury service business, but I warmed up (no pun intended) to idea pretty quickly after seeing the place.
For one thing, there's a lack of options in the surrounding downtown area. I can totally see someone working nearby popping in here for an hour at lunch to get a tranquil break and quiet tea time in the day.
It's close enough to many other neighborhoods that you can easily get here for some quiet time after work or in the evenings with friends (on co-ed days). There is music played at night for a more social environment, so that's certainly different from the typical spa experience.
So yes, this place really is in the Tenderloin, but as soon as you enter, you'll forget what neighborhood you're in. Until someone breaks into your car. Just kidding, maybe. Take an Uber here.
Updated on October 21, 2023