Bucket List: Spa Day At The Tamina Therme In Bad Ragaz
Bucket List: Spa Day At The Tamina Therme In Bad Ragaz
Last Updated on January 7, 2022
---
If you are in Switzerland and looking for a little day trip escape from Zurich, Bad Ragaz should definitely be on your radar.
After a spur of the moment 18 mile run across the entire length of Liechtenstein and my legs needed a good soaking, I was glad to know that a thermal bath was waiting for me in a town known for its healing waters.
What's Bad Ragaz?
The translation for Bad Ragaz is literally Bath Ragaz. This place, a short hour train or drive from the hustle and bustle of Zurich, has been a spa destination for hundreds of years dating back to Medieval Europe and the Tamina Therme bathhouse has been welcoming guests since the 19th century.
Here, the thermal spring water bubbles out at a warm 36.5°C after a 14 year journey through the Swiss Alps. The water is known for its healing effect and that's what I was after.
I happened to be visiting during the time where hundreds of internationally-renown artists have installed massive art sculptures all over the town as part of the Bad RagARTz exhibition. Nestled in the Swiss Alps, these pieces made the walk even more pleasant.
The Tamina Therme Experience
To get to the Tamina Therme spa, you turn into Hans Albrecht-Strasse and walk up about 100m. From the outside, it's a beautiful white building. The architecture is something to behold and the white exterior perfectly matches the design and feel of what you'll see inside the spa.
Inside, you'll pass a beauty gift shop to a reception area where you'll pay for the entrance. The admission price runs from CHF 22 to 47 depending on when you enter and how long you stay. Below the current price list for the Tamina There Spa.
The spa is opened from 8 am to 10 pm except on Friday when it closes at 11 pm. For the full hours of operations, see below.
I came in for the morning soak, so it was a bit cheaper. Considering what I had been paying for EVERYTHING in Switzerland, this was a bargain.
You'll get an electronic key that you use to access your locker. I was initially a little confused where to go first, but someone kindly directed me downstairs to the locker room. It's on a different level from the main area of the spa called the Thermal Water World. There's a separate Sauna Area with additional rooms and services for an additional fee of CHF 14.
Thermal Water World
When I finally changed and went out to the baths, I was blown away at the massive space that housed all the pools. Like I said earlier, the white architecture was stunning. The pools were large and with a lot of empty space between them separated by giant structural columns that were just as elegant as they were functional.
In one word, the place was CLEAN. I'm sure the white walls and the blue water accounted for all of that. It was also very spacious and the place was flooded with natural light. This was a stark contrast to most of the spas I've visited (Japanese, Korean, Turkish, Russian, etc).
I'm used to the warm wood and darker environment that typical spas used to promote calmness and relaxation. This was not that, but it somehow served the same purpose.
The Attraction Pool
I chose to enter the large pool first. It's called the Attraction Pool and yes, I was attracted to it. Each pool had a different temperature and this one was 34°C (93.2°F), warm but not hot tub hot.
I found a spot to settle in, took a deep breath and immediately felt my tension slip away. I laughed a bit inside thinking that this was my Friday morning. After about 10 minutes, I moved over to one of the massage jets to work on my back.
"Oh my…" were my exact thoughts. Like a buffet, I had to move on to the next dish, er, pool, so over to the 36.5°C (97.7°F) whirlpool. What a difference a couple of degrees made.
I would have been happy to just stay here for the rest of my visit, but there was more exploring to be done. I took a break to walk around. Upstairs, you could look down on the entire open structure. There was a quiet area with some reclining chairs, which I imagined were for relaxing or taking a nap.
I found a couple of doors, but had no idea where they led to since everything was in Swiss German. Maybe the bathroom?
The Outside Pool
The next part was pretty neat. To get to the outside pools, you could walk out the door, or simply swim through a little opening that connected the inner pool to the outer pool. Whoever designed this place made sure to pay as much attention to the outside design as they did with the building itself.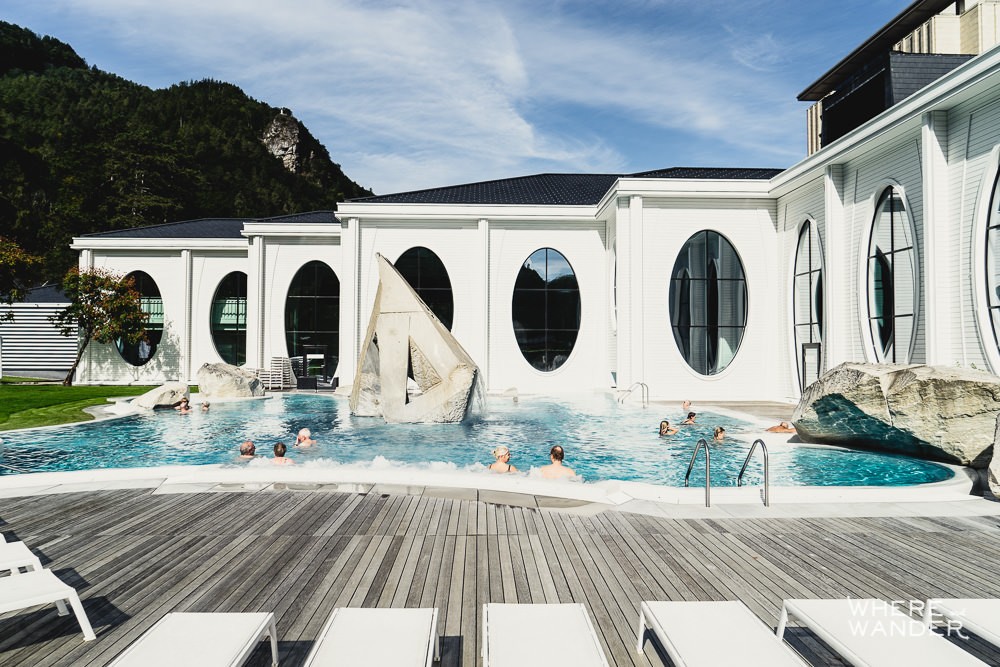 The outer pool was also 34°C and surrounded by a deck with chairs for sunbathing…or napping. In the middle was a large stone structure with a mini waterfall that was strong enough to give me a nice head massage. And that was even the best part. On two sides of the pool were a few rows of massaging recliner built right into the water.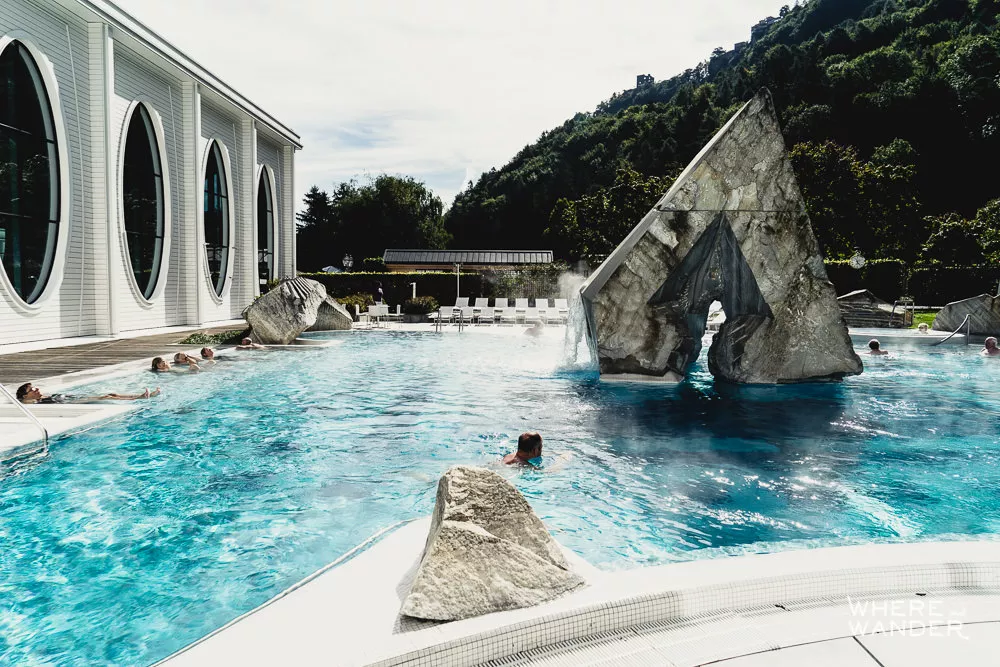 Underwater Massage Recliner
The massage recliners were my favorite part of the outside section. Spaced a few feet apart (to avoid having to awkwardly vibrate next to someone perhaps), these underwater recliners were on a timed schedule that shot out jets of warm water all around you. It was like being in your own little hot tub, but in a curved reclining position.
If only someone could have come out and fed me fried chicken, I would have considered moving here.
Time To Say Goodbye
I wanted to stay here all day, but had to catch the Bernina Express train through the Alps to Northern Italy in a couple of hours, so I did another round of moving through all the pools to remember this place. This was certainly one of the highlights of my time in Switzerland and a definite must-do if you find yourself in Bad Ragaz or anywhere near this place.
It's such a quick trip from Zurich that I think it's a perfect weekend escape to get away from the city. I can't say for sure if the water really has any healing properties, but I definitely felt ready to run another 18 miles after this quick visit.
Where To Stay In Bad Ragaz?
There are nice mix of boutique hotels and grander hotels. I found offerings that catered to solo travelers who just need a place to sleep to nice getaways for couples and families.
1. Palais Bad Ragaz. The place to ball out if you want to feel like royalty. It's located right in the same complex as the Tamina Therme so the location is perfect. They describe it as a boutique hotel, but when I walked in, it was more of a palace. I mean, look at that room. Who would think to put two benches at the base of a bed. That's fancy.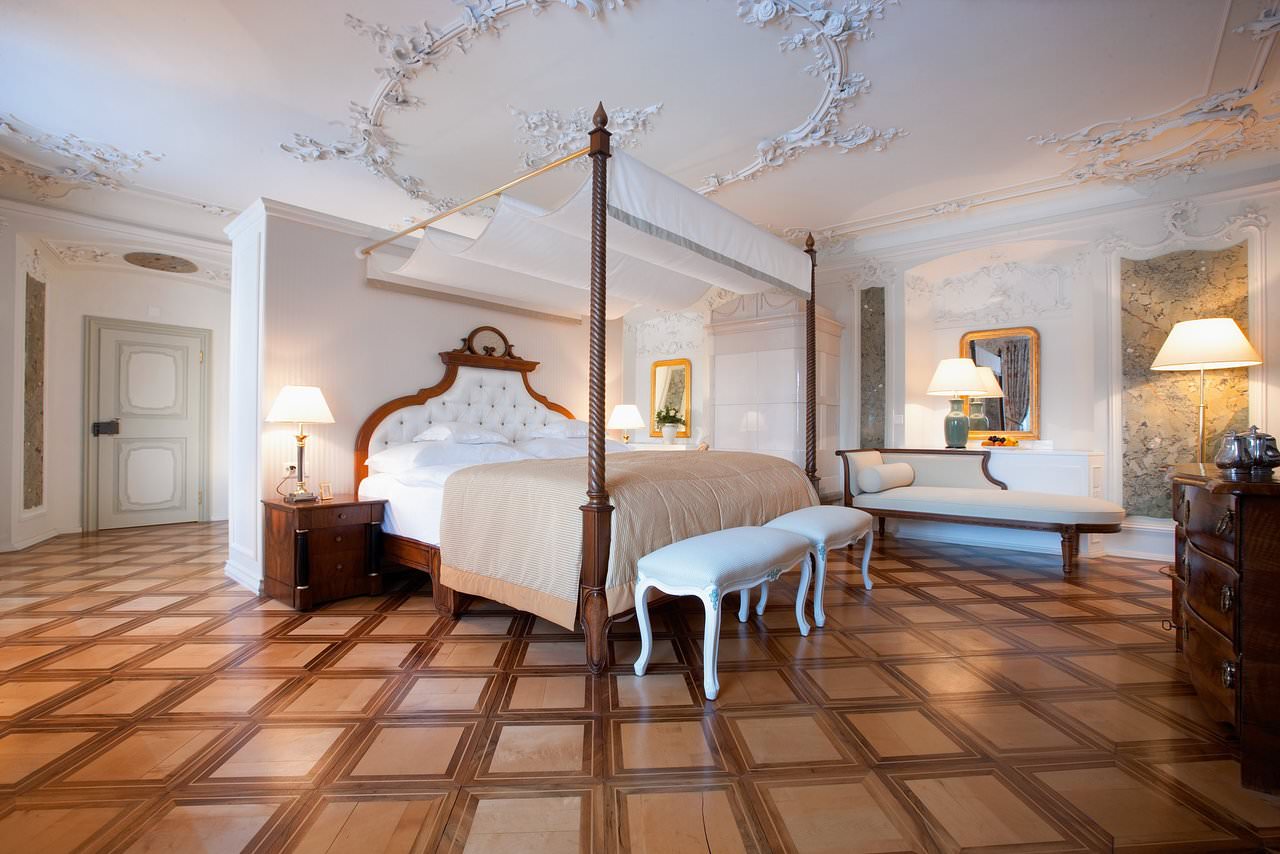 2. Grand Hotel Bad Ragaz. The only place fancier than the Palais is the Grand Hotel, which is actually 3 separate hotel option, all of which provide 5 star accommodations that are more modern than the Palais in aesthetics.
At the Grand Hotel Quellenhof, tradition meets contemporary style with all the luxury in between. The Grand Hotel Hof provides the same luxury but with a more at home comfort feel. The Spa Suites is full modern and takes their cues from designing around wellness. 3
3. Hotel Schloss Bad Ragaz. Though not quite as grand as the Palais, it's a fraction of the price and still gives you the charm of an old world hotel with modern amenities.
4. Cubilaris Motel. Don't let the motel part turn you off from this apartment style accommodation. This boutique hotel is clean and perfect for those on a budget who don't want to skimp on comfort.
How To Get From Zurich To Bad Ragaz?
It is only an hour's drive to get from Zurich to Bad Ragaz, traveling southeast towards Liechtenstein. It's about 100 km. By train, it takes about 1 hour and 1 hour and 15 minutes and costs around 34-57 CHF.
You can book your tickets on the Swiss Railway SBB website. I found that in Switzerland, you can often book the day before for a specific time and get a heavily discounted ticket, so try that out.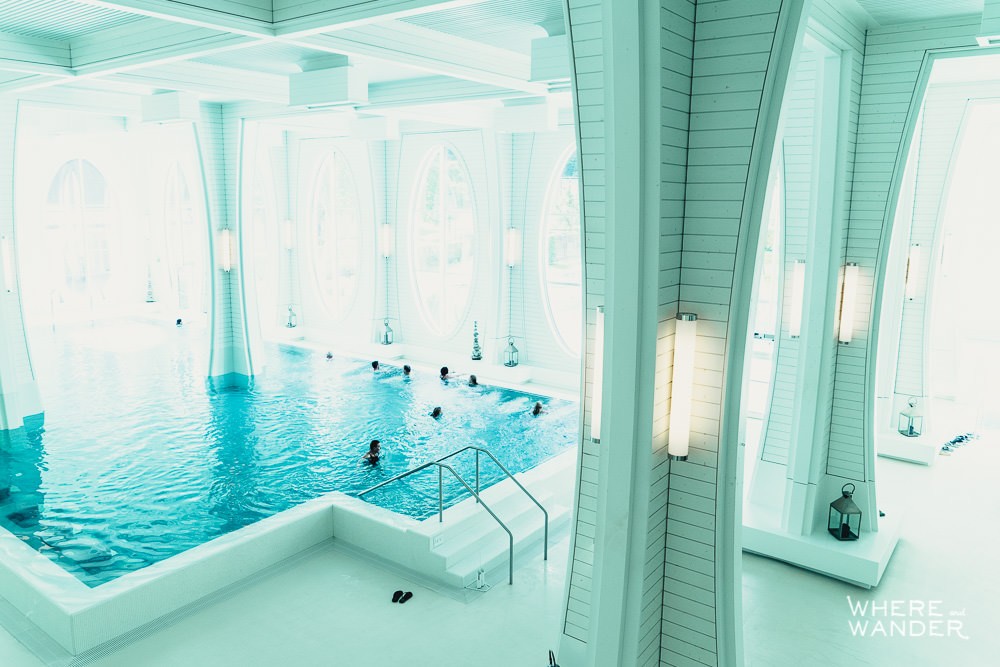 Other Things To Do In Bad Ragaz
Although you come here for thermal baths, there are plenty of other activities to do, so definitely keep this list in mind.
1. Check Out The Tamina. The Tamina is a river that starts with the Piz Sardona in the Alps and eventually merges with the Alpine Rhine, running a total length of 18 km. It's a great spot to go for a shady hike with pathways that run alongside the river.
2. Hike The Taminaschlucht. Just an hour's hike from Bad Ragaz is the beautiful gorge and walkway with views of multiple waterfalls. Since it's in a gorge, it's a great option on a hot day if you want to some respite from the sun. Be sure to get your ticket ahead of time for the incredible lightshow in the evening. It costs 5 CHF to enter and opens from 9 to 5 pm everyday between May and November.
3. Go Skiing In Pizol. During the wintertime, the snowy mountain and slopes of Pizol is perfect for skiing and snowboarding. During the summertime, it's perfect for those who want a uphill hike.
4. Visit The Lake At Schottensee. Just a short distance out of Bad Ragaz is Schottensee where you take in another of Switzerland's magical lakes high up in the mountains.
5. Run Across Liechtenstein. Ok. Maybe not for everyone, but it's right there. I took a bus from Bad Ragaz to the top of Liechtenstein and then ran all the way back down the one continuous street through the country towards Bad Ragaz.
Sound out, let me know if you've been to Bad Ragaz and what your experience was. Let me know if there's anything else I've missed here so I can add it in.
If you need any more travel ideas, check out my Bucket List to see if anything jumps out and inspires you.