Traveling Back In Time To Venice
Traveling Back In Time To Venice
Last Updated on March 10, 2020
Venice is one of those cities that is busy and bustling, but mostly with travelers of the sort that lug around large suitcases over cobblestones and carry spare selfie sticks. It's a place that pulses with so many different languages the world and yet sometimes in such a way that the local Italian is drowned out. The cuisine of the people is renowned for flavors that go beyond the spices, but most piazza restaurants will be content to dish out 3 course tourist menus that's a shade of the dishes you are meant to consume.
---
And yet despite all this, it is still one of my favorite cities in the world. Turn left down a narrow street when the rest turn right and around the next corner you might be transported to a Venice of a different era. Because, despite what the 'floating city' has become today from mass tourism, it holds within it still, a beauty that is timeless – a charm that I've glimpsed for short fleeting moments.
I wanted to capture this and inspiration came to me by happenstance in the form an exhibition called 'La Dolce Venezia' at the Wilmotte Foundation. On display during my stay in Venice was a series of black and white photographs capturing a Venice of a different time.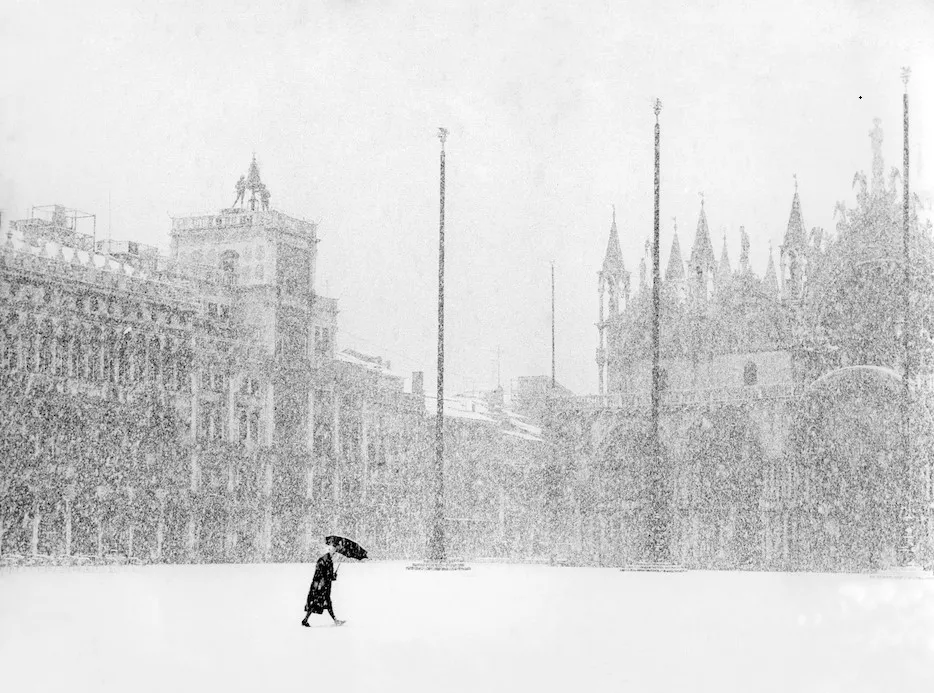 Venice In Black And White
I found beauty in the simplicity of the images – the stark contrast between the blacks and the whites. I sought to see Venice in that same black and white. In the process, I hoped to shoot like I did with a film camera – deliberate and with a stinginess that each shot was impermanent and precious.
For two days, Venice was shrouded in mist. It created a kind of natural isolation that kept drew my eyes to the stripes of gondolier's uniform. Though the 300 or so of these men now just ferry tourists around, I still sense a line of pride that has been passed down across the centuries from the gondoliers that numbered in the tens of thousands before them.
On a gondola, you are much closer to the water. I believe it's from this perspective that you're meant to see Venice. The buildings do not change, but they look different than when you view them straight on from land or from above standing on a bridge. Down here, you feel Venice.
The first image on the left was taken from the Pont dell'Accademia. I kept finding myself returning here time and time again. One morning, I rushed here from Giudecca when I saw the mist. I had a feeling that I needed to see the view from here at the point. It actually only dawned on me later when I converted the image to black and white that I was drawn to this view because it was timeless.
Almost nothing in this scene betrayed when it was taken. This could have been taken 20 years ago, 54 years ago or if cameras had existed 200 years ago, perhaps then. I returned later and close my eyes to let the scene reappear from the blackness as though I had travelled back in time.
On my travels, I always look at people with their luggage and, for a few split seconds, wonder, 'are they arriving or are they leaving?' Are they filled with the excitement of what's to unfold or the memories of what they've already seen? In the second image, Venice is to my back, like looking through a rear view mirror. My time here is done for now.
Late in 2019, the city experienced the highest tide in over 50 years. Venice flooded for weeks and people walked around at times with the waters up to thighs. With climate change and the acqua alta rising higher each year, I wonder if this city that has managed to stay timeless for so long will still remain as it has.
I want to return another time and stay longer. I want to wander the labyrinth of each sestiere and explore the city, not with the rush of a tourist, but the urgency of a city that might disappear.