How To Get To Lago di Sorapis In The Dolomites
How To Get To Lago di Sorapis In The Dolomites
---
If you're looking for a very manageable sunrise hike, without the crowds, while staying in Cortina d'Ampezzo, Lago di Sorapis is an exceptional choice. With a moderate ascent through a forested path and a beautiful turquoise blue lake at the end, this was one of our favorite hikes during our trip to the Dolomites.
Because it's a roughly 1.5-2 hour hike from the parking lot, you won't get the crowds like at Lago di Braies.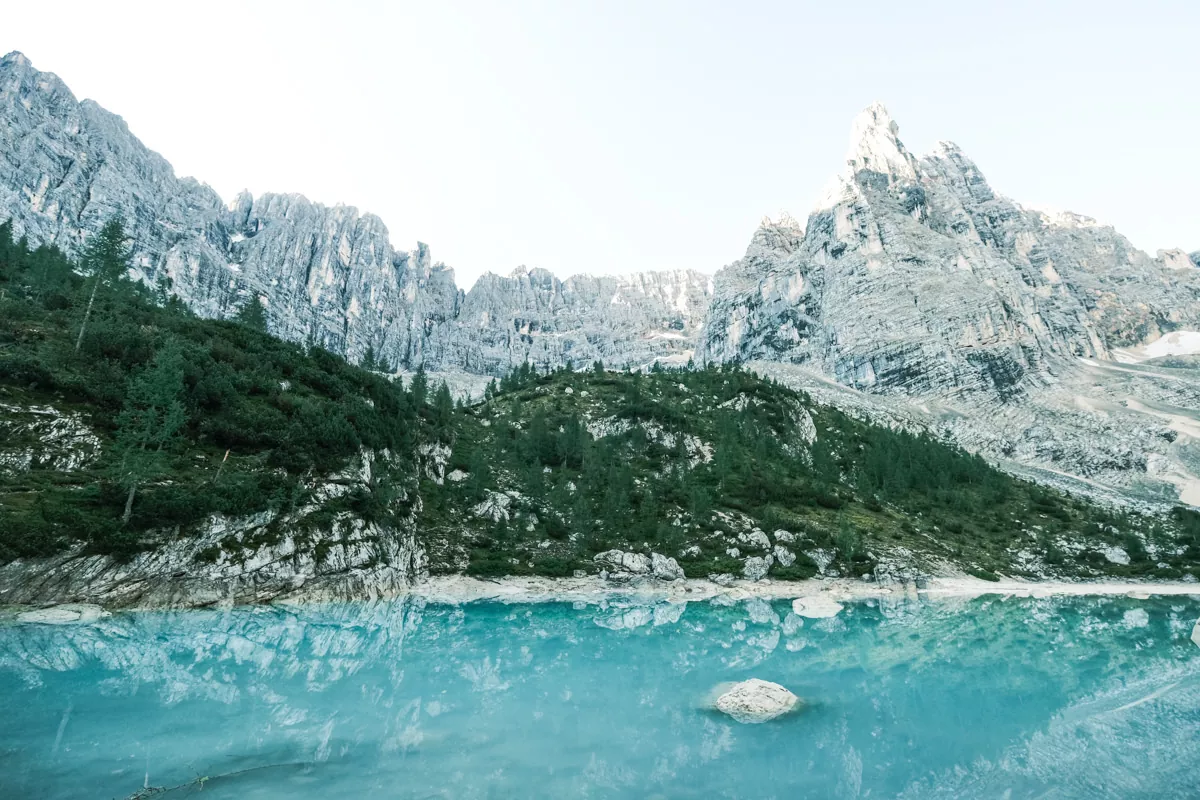 Lago di Sorapis Trailhead and Parking
The trailhead for Lago di Sorapis is just about 50 meters east of the B&B Hotel Passo Tre Croci Cortina on SR48. This was where we happened to be staying. It's about a 15 minute drive from the center of Cortina d'Ampezzo.
You can find parking along the side of the road and in the lot to the side of the hotel marked "Parcheggio per Sorapis" on Google Maps.
Hiking To Lago di Sorapis
The hike to Lago di Sorapis is roughly 13 km there and back. It took us about 1.5 hours hiking up and just a little less hiking back down, but we were hiking at a pretty brisk pace that morning. Expect about 2-2.5 hours each way.
This trail is generally open from June to September, but you may be able to hike in at the end of May or beginning of October depending on the weather conditions.
I'd categorize this as a moderate hike because there's a variety of terrain from dirt and grass to gravel and stone. The positive elevation gain is about 434 m or 1400 ft on the Cortina Tourism Board website, but it felt higher than that because the winding ascent seemed endless as it wrapped around the mountain.
We really wondered where this lake could possibly be while going up. But, indeed, it is there.
Start At The Meadows
From the road, you walk through a small meadow and enter through a forest path. The entire trail from start to finish is pretty straightforward. There was split pretty early on with one path going up and one going down, take the one going down. If you go the higher route, you'll find very shortly, that it just ends.
Enjoy this section, especially if you are doing it just before sunrise. The panoramic view is spectacular and you'll see the colors start to the change in the mountains to your left.When we started, the mountains were still blue and covered in mist.
Shortly after, we saw the sun cutting through the dew and morning mist and flooding onto our path. The mountains themselves start to light up like fire.
I can only describe the feeling as very energizing. Also enjoy this section because it's quite flat. You'll also cross a rocky section with a small waterfall.
Steady Ascent Over Exposed Ledges
After you pass through the forested section, you'll start to ascend on ledges cut around the mountain. A lot of sections are exposed, but nothing too dangerous. There are sections with some metal cable rails and metal ladders.
You can bring a climbing hardness and some carabiners to clip into these rails, but I honestly didn't think it was necessary as they are not very difficult and the ledges are not that narrow.
This section can feel a little endless with the elevation gain, but don't despair. The views are still very beautiful because you're starting to get up high.
Eventually you'll see the Rifugio Vandelli, which means you're close by. Just another few minutes and you'll pass a helicopter landing pad and a path directly to the lake.
As Blue As They Say
My friend, Yasmine, and I had slightly differing opinion on our first view of the lake. Though I'm usually the jaded one when it comes to places that have been highly acclaimed, I was very pleased by what I saw. I had seen a couple of photos, but dismissed the strong milky turquoise colors as being edited and thus held my expectations in check. Yasmine on the other hand looked at so many photos of the lake and burned into her head this image of a full, super blue, lake not accounting for the fact that these photos she had seen were taken at different times of year, different times of day, and with all different types of weather conditions. She came away a little disappointed. So what was the reality?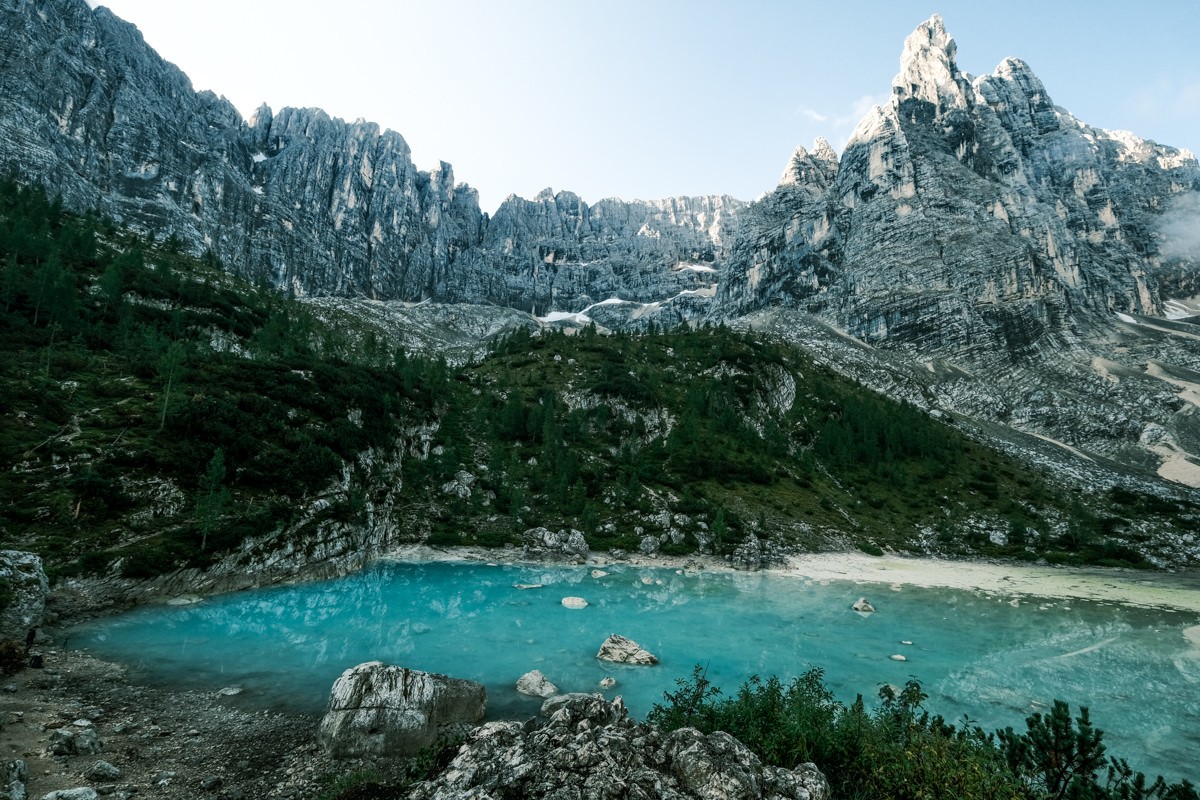 Objectively, I thought it was wonderful. We had a lake with that milky blue tone to it, a green hill surrounding it and then a jaw dropping mountain with sharp jutting towers overlooking the whole thing. And it was almost completely empty of a crowd- there were only a few other hikers there and everyone was respectfully quiet.
To our backs, the other mountains were still covered in clouds as the sun was really starting to rise. I can imagine this lake being even more beautiful in a month when the water levels are higher.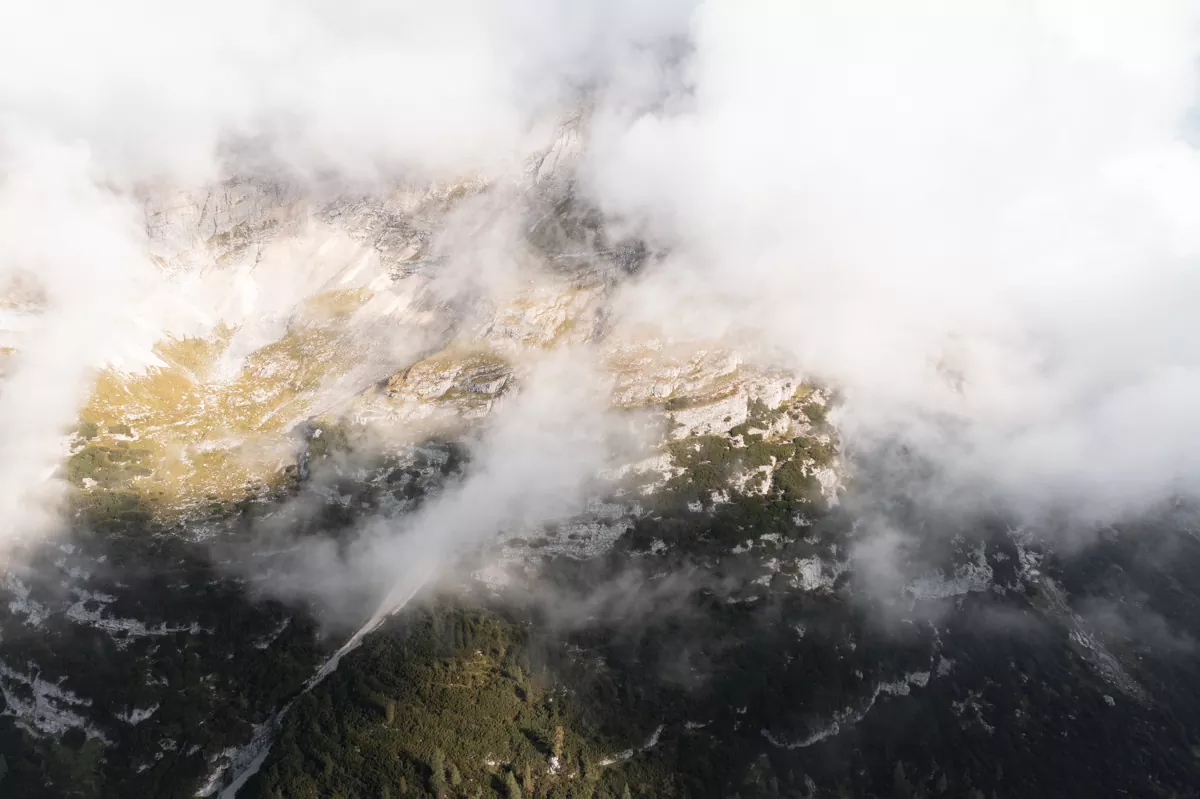 When Is the Best Time To Go To Lago di Sorapis?
That morning silence in a place like this? You don't find it very often.
We stopped here for a good while to take in our breakfast and the view. There was a perfectly place curving log that we used as the foreground for some of my photos. I can see this being one of those spots where people will line up throughout the day for a similar shot. We were very glad we started the hike at 6 am and not after breakfast at 8 am.
I'd say morning time between 6 to 8 am  is the best time to visit the lake since the hike there will be cool for the uphill climb and it is not crowded.
Unfortunately, we didn't have more time to hike around the lake since we were meeting up with our guide at around 11 am and had to match our fast pace back down to do so. On our way down, we started to see groups of hikers ascending and then many more groups. Near the bottom, we hit several traffic jams, and we were quite happy we were going down instead of up.
By 9 am, things would already start to get busy.
One last tip for hiking the lake is to layer up. The beginning of the hike, regardless of the time of the year, will be quite chilly. As you start ascending, you'll heat up and want to shed some layers, but as soon as you get to the alpine lake, it'll be cold again.
If you're a big sweater, my little go to tip is to bring an extra t-shirt or base layer that you can change into when you get to the lake and you're not longer moving as much. It'll help keep you warm and prevent the moisture from further reducing your body temperature.
Since you're planning to visit Lago di Sorapis, check out my Cortina Read First Guide for other tips and recommendations in the area. If you're planning a broader trip to the Dolomites, check out my How I Planned My First Trip To The Dolomites post for a lot more information including our 7 day itinerary and favorite hikes.
Updated on October 21, 2023