Bucket List: Swimming With Whale Sharks In Oslob
Bucket List: Swimming With Whale Sharks In Oslob
Last Updated on January 5, 2022
---
Update: As of January 1, 2022, the Philippines are still closed to tourism. I'm keeping an eye on when the islands will open up because I plan to do a trip there this year.
As a diver, there's been 3 things I've really wanted to see underwater and those damn 3 things have eluded me for the last 6 years across countless dive sites. Number 3 is a pygmy seahorse. They are about the size of a quarter and hide really well. When I find it, I will eat it. Just kidding. Maybe. Number 2 is a mola mola. The oceanic sunfish is a really weird looking fish about the size of a house. If I find it, I will eat it. Just kidding, it's too big.
Number 1 is the majestic whale shark. This shark (not a whale), can get to as big as a really really big bus and are stunning to behold, or so I was told by all the asshole divers who had dived with one, sometimes mere days before or after I dived at a site.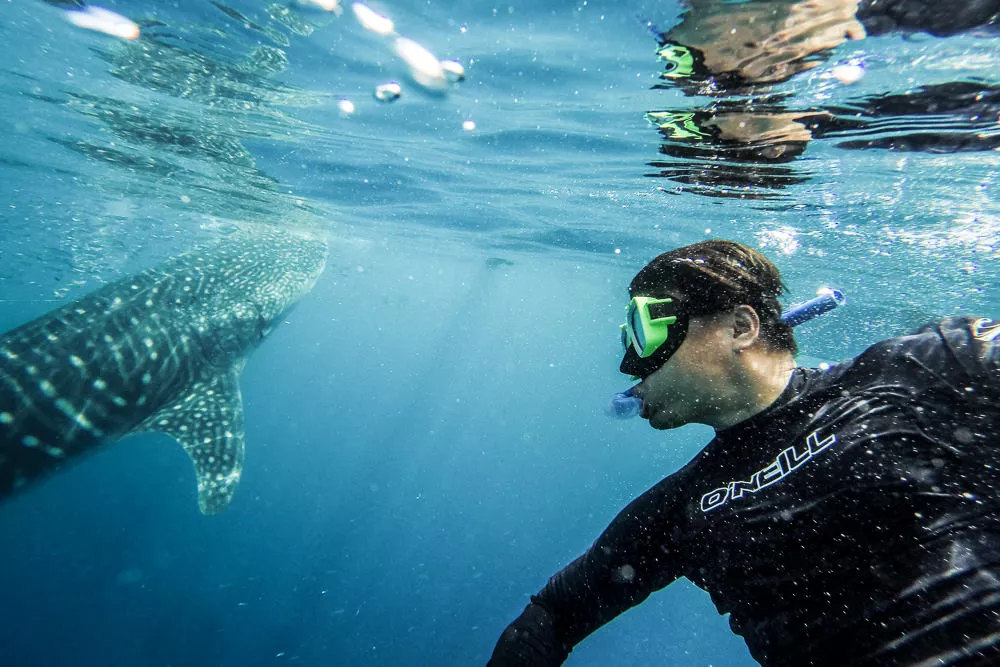 There's just something about swimming with a creature the size of a bus that feels out of this world.
My plan after swimming with the thousands of jellyfish in Palau was to head to the Philippine Islands and try to catch one of these majestic beings at the start of their annual migration season (November – June). The two main areas with a higher likelihood of encoutering them are Donsol and Oslob, located on Luzon Island and Cebu Island, respectively. That was where I needed to go.
Donsol or Oslob For The Whale Sharks?
Researched Tip: I recommend going to Donsol over Oslob if you have the chance. From what I've heard, the whale sharks there are much larger and it's not like a petting zoo.
This was the first question I had and likewise the most frequently asked question I found in my research, so here's what I know about the best or at least the most easily accessed place to snorkel with whale sharks. You are pretty much guaranteed to see whale sharks in Oslob most days of the year. In Donsol, there's a season and the sightings are not guaranteed. Seems like a pretty easy decision to make, but it's not quite so.
In Oslob, there's about 10 or whale sharks that are always there just about 150 meters from the shoreline because they are fed. In Donsol, you go out to the ocean on boats with spotters and jump in when they find them. In season, they say there's a good chance you'll see them, but it's not a guarantee. Seeing them in Donsol is akin to meeting them in the wild, while Oslob is more like a petting zoo. Since I had a 3 weeks in the Philippines, I had planned on doing both to compare, but mother nature had different plans in place.
"Donsol was hit by a typhoon, we recommend that you visit another time."
Oslob By Default
While diving on Panglao Island, I received an email from a dive shop I had been corresponding with in Donsol that the typhoon sweeping across the Philippines hit the area pretty hard; the electricity in the town was out and the water conditions were not conducive to diving. I was advised to delay my visit, which was a no-go.
At the same time, I was not hearing very good things about the whale shark experience in Oslob from the dive shops on Alona Beach. Conflicted, but still determined to see the whale sharks, I jumped on a boat anyway that would make the 3 hour trip to Oslob and back in a day. Side note: Does this look like typhoon weather to you?
The Oslob Whale Shark Experience
At 6 am, I dragged myself out of bed, grabbed my two underwater cameras and headed to the designated meeting point. The RX100 IV in the Nauticam Underwater Housing was my main underwater camera capable of shooting 4k video footage and the GoPro on the selfie stick was to get some of shots of myself with these gentle giants since I was traveling alone. I managed to pass out for most of the boat ride and only slumped onto the shoulders of the girl sitting next to me two, possibly five times.
Respect The Whale Sharks"
Rule #1: No sunscreen. That stuff comes off in the water and is harmful to the whale sharks and all other sea life.
Rule #2: Stay 3 meters away. Try. It's hard, but try.
Rule #3: Don't touch them as tempting as it is. This should be obvious.
As soon as we docked, we were directed in a beeline straight to the office, where like lemmings we lined up to pay our fee: 500 pesos ($11) for locals and 1000 pesos ($22) for foreigners. I jokingly tried to pretend I was Filipino and even belted out a few lines from Celine Dion's "It's All Coming Back To Me Now" to prove it, but they still charged me 1000 pesos.
Immediately after, I was ushered to grab a life jacket and a random mask and snorkel from the bucket (was it clean?) and put on a outrigger of sort with about 8 other people. It felt like a meat packing factory, but at least they were efficient. Within 15 minutes of getting off the first boat, I was out in the water again and heading towards the mass of other boats. Don't get me wrong, despite all this, I was still really excited to catch a glimpse of one of these things in the water.
Photographer's Tip: I suggest a wide lens with a focal length between 16mm and 24mm. You will be able to get pretty close to the whale sharks (but stay at least 3 feet away still), so a wider lens will allow you to get more of this massive creature in your frame.
With both cameras in hand, I dived in head first off the boat as soon as the guide pointed out the first whale shark. I hadn't even put on my mask yet at this point. When I finally did and caught my breath, I lost it again as one of these beautiful spotted creatures swam within a few feet in front of me. I estimated it to be about 20 feet in length, massive, but pretty much a baby compared to how big they can get.
Don't Get Hit By A Whaleshark
When I composed myself again, I saw another one swim right towards me following a spray of plankton that was being thrown in by a guy in a kayak. I tried to swim out of the way, but it was a little harder without fins and just barely moved kicked myself out of its direct path. I'm pretty sure it didn't see me nor cared because just a few seconds later, I was swiped by its massive tail.
Etiquette: If you're going to do this, be mindful with where you kick your legs. They no longer allow fins to help minimize any the damage to the whale sharks.
It's Just Too Crowded
After that initial excitement, I saw it. A bunch of limbs flailing from just off the boats, head above water and completely oblivious to what they were doing. Between the whale sharks swimming blindly behind the food and the crowds of tourists, there was not a whole lot of open space. What I heard about this place was pretty accurate.
Twice I came up for air after free diving down and was nearly clipped by a kayak on the way back up. Actually the picture below actually shows that I did hit the kayak and probably that guy's foot.
There was also an urgency about the whole thing because we only had about 20-30 minutes in the water. I did not want to waste a second of it looking at anything other than the whale sharks swimming about me. It was incredible how close I was able to get to the whale shark and how often I had to actually swim out of the way. I really can't imagine having this many passes if I were to see one in the wild.
As Close As You Can Get
That was perhaps the one advantage I saw of seeing them in Oslob like this. The proximity allowed you to marvel at the mesmerizing pattern on their bodies and get a sense for how large they are. The downside was that up close, I also saw some of the damage and injury that probably sustained from this type of interaction and it made me feel a little guilty.
When they guide said it was time to come in, I took one more deep breath, dived underneath the closest whale shark, and stayed for as long as I could. I even closed my eyes to try to remember the moment. And then like that it was over. I returned my mask and grabbed a quick lunch before returning to the big boat.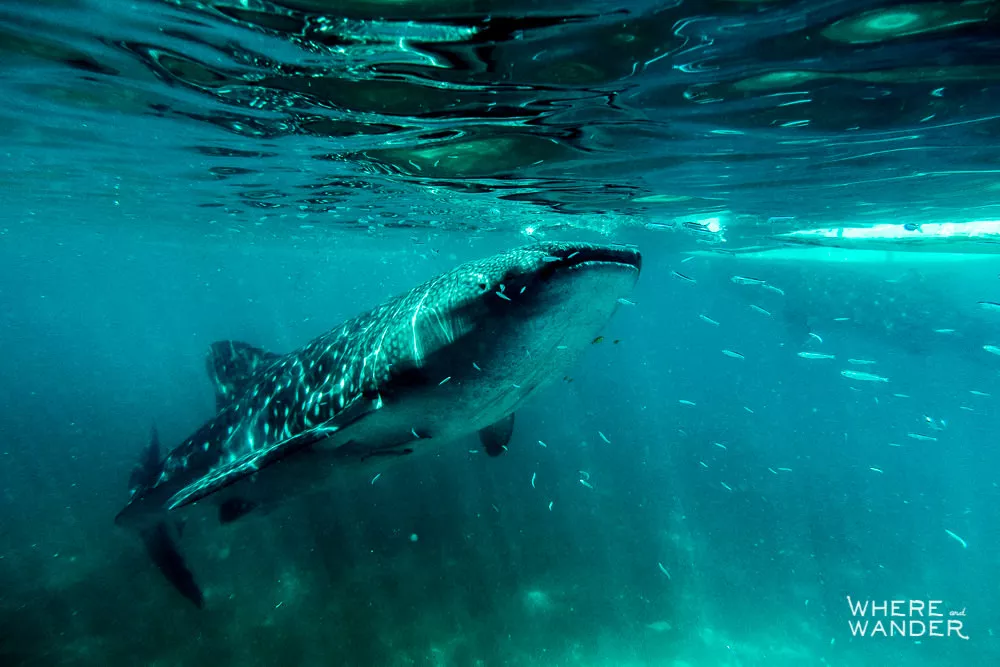 On the ride back, I mentally checked "Swim with Whale Sharks" off my bucket list, but put a little asterisk next to it. For many and most, this would have been enough to even spot them from inside the boat. I wanted to see them again, under better circumstances. If this means having to fly to Indonesia, Mexico, Bonaire or South Africa to do it, I'm not going to complain.
That's me pretending to fall underwater.
How To Get To Oslob From Bohol
Oslob is a coastal town that is located at the southern end of Cebu. As such, there are a few places that are within a few hours transport to Oslob.
I departed from the beach town of Panglao on a boat organized by one of the local tour agency. The ride on an outrigger boat took about 1.5 hours and is faster than the ferry from Bohol to Oslob, which drops you off at Momo Beach. It costs about 700 to 800 pesos or a bit under $15 for the transport. It doesn't matter who you book from, so just find the best price. They all funnel to the same two outriggers.
They will take you back when the tour is done. For more adventures and ideas for your next trip, check out my ever expanding Bucket List.