Iceland Bucket List: Dry Suit Snorkeling Silfra In The Winter
Iceland Bucket List: Dry Suit Snorkeling Silfra In The Winter
---
It was a little hard to wrap my head around it at first, but in the middle of Iceland is a fissure filled with some of the clearest water in the world. On one side is Europe and the other is North America, separated by just a few meters.
The place is called Silfra. And as soon as I learned about it, there was a new entry into my bucket list.
Technically, it's the European and North American tectonic plate, but nonetheless you are able to swim, snorkel and dive in a divergent rift right between these two continental plate. The visuals were mind-blowing. Perfectly clear blue water flanked by what looks like two cliffs with over 100 meters of visibility.
Every year this rift that runs right through Iceland gets wider as the plates continue to move. Silfra just happens to be a popular spot to experience this because of its incredibly clear waters and photogenic location.
Why Did I Go To Silfra in February?
The only small problem I had with this place was that the regardless of the time of year, the water temperature is constantly around 2–4 °C (36–39 °F). So very, very cold. You could brave it in a thick wetsuit or do it with a dry suit. I always knew I would opt for the latter.
In cold month of February, I finally made it to Iceland for a 7 day road trip, choosing the tail end of winter to visit so that I can potentially 1) see the Aurora Borealis and 2) go into a glacier blue ice cave that's only accessible during the colder months. With the ice and snow, this only strengthen my resolve to go the dry suit option. This was a good time because the worst parts of winter was over and daylight hours were being extended every day we were there.
Do You Need To Be Dry Suit Certified To Dive Silfra?
The answer is now YES. Companies apparently were more relaxed in the past as long as you were certified to dive, but as usual, we just can't have nice things and some people panicked having never dived in a dry suit and now that's no longer. Whether companies make exceptions on a case by case basis is not for me to say, but officially, you need to be Dry Suit certified to dive.
You, however, do not need anything to dry suit SNORKEL, so that's the option I went with because I had never dived in a dry suit before, nor have my friends, and I didn't want us to be one of those people.
Silfra Winter Snorkeling With Adventure Vikings
The thing is that you can't just show up and hop in for a quick swim, even with your own gear. You need to go with one of the companies that have permission to guide. I always go with smaller local companies when I can and Adventure Vikings fit the bill.
Spoiler alert: they were great and I recommend them if you want to dry suit..or wet suit snorkel in Silfra.
On the morning of our dive, we drove to the Silfra meeting spot in Thingvellir National Park. They also offer transfer from Reykjavik. The weather was pretty mild the day before, but it had snowed overnight so the small spot was completely blanketed when we arrived. This was going to be a proper adventure and I was stoked.
Snorkeling With A Dry Suit
Before we could get into the water, we had to get past the first obstacle of squeezing into our dry suit. We were instructed by our guide, Adam, to keep on our base layers and as many pairs of socks as we had. I also kept on a sweater. It was pretty strange to think that I'd be snorkeling in glacial water wearing what I wore to sleep the night before. That's one of the best parts of being in a dry suit.
The next layer was a thermal onesie that was provided to us to go over our own clothes. It was followed by what looked like a heavier and bulkier version of a loose fitting wetsuit. And though it looked that way on the outside, the inside was a tighter layer meant to provide another seal.
Slipping into the bottom half of the dry suit was easy. The shoes were built into the suit, so it was like putting on another onesie. To prepare for the top half, Adam liberally sprinkled baby powder into the sleeve and neck openings. All the openings were very tight to ensure a proper seal, so having the powder on our skin helped us slip our hands and head through. This was still not an easy task and Adam was there to help.
Graceful we were not.
A few minutes later, we had everything on and began a briefing of the site before walking over to the entry point.
Are You In or Out?
Like an airport control tower, each company and subsequently, the groups they lead, are given an entry order so you didn't have to wait around in a line. When it was Adventure Vikings' turn, we were in the second group. From the metal stairway, we watched for the reaction of the people entering the water.
Within the first minute, one member of the party looked like he was struggling. One of the guides came over and helped him out of the water. When asked, he didn't say why he didn't want to continue. This, in turn, made my friend a little nervous.
I was the first to enter in our group and dived right in. Nothing. No cold. No anything. The dry suit was amazing. I didn't even need to make an effort to stay afloat. You were so buoyant in this thing. This meant no free diving down, but otherwise, I wished all my snorkeling was like this.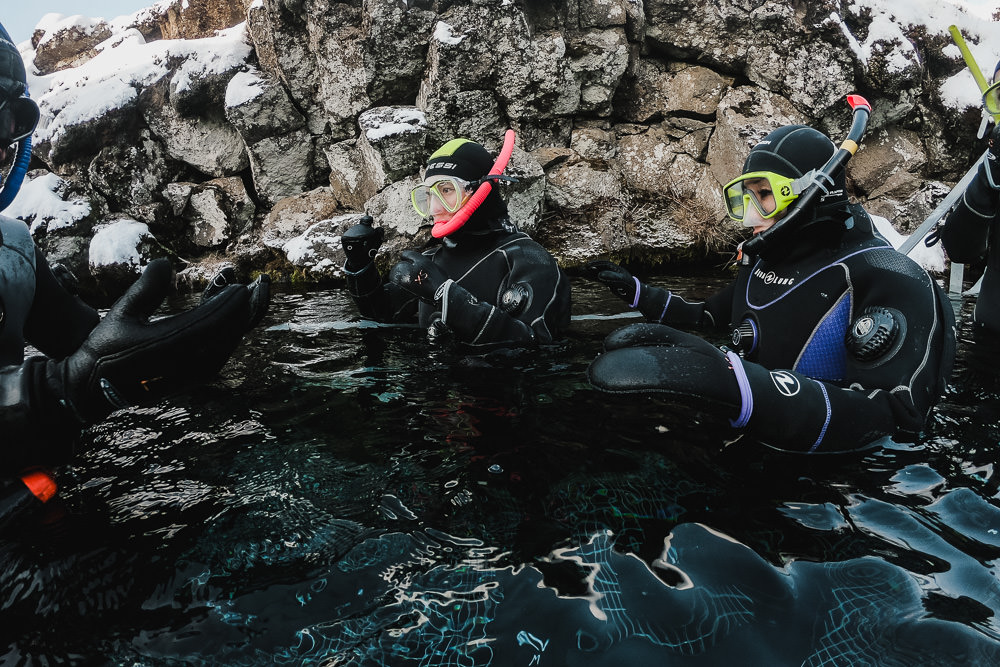 We were definitely in and I gathered my breath before that dipping my face into the water for the first time. Like every bucket list experience, I was a little nervous that what I saw in real life would disappoint. Photographs, as you know, can be deceiving.
Between Two Worlds
What happened next was such a rare moment where what I saw matched almost exactly what I had seen in photographs beforehand. On the surface, we were in what looked like a river flanked on both sides by snow covered rocks. Underneath, those rocks cradled a lane of water that was crystal clear and extremely blue. I took a few moments to metaphorically catch my breath and then started taking photos instinctively.
After a minute or so, I righted myself up and returned to the surface, which was like being in completely different world. It was hard to comprehend the transition between the white snow and dark water on the surface and the blue underneath because there was no transition. As soon as your eyes move a few centimeters up and break the surface, it was like exiting a portal into a different place.
For the next 20 minutes we floated pleasantly through the water. The only cold I felt was in my hands which were covered by a normal pair of wet neoprene dive glove. Still, I was comfortable the entire time.
Iceland Snorkeling In the Snow
I can only speak to doing this during the winter time, but I'd dare say that it's better than other times of year. Sure it's a little cold getting dressed when it's freezing out, but being in glacial water and snorkeling while it is snowing is not an experience many will be able to lay claim to. That part alone was a surprise and much welcomed bonus. There is nothing I've ever experienced like it – where the colors and tones of the world I'm immersed in changes in a blink of an eye moving between the water and the air.
The distanced we covered was not large, but it was enough to get a few for swimming through the rifts and turning out to an open lagoon. In the last area, we were free to spend some time exploring on our own and climbing out when we were ready. The whole thing last about 30 minutes and it was one of my favorite half hour of being underwater.
On our way out, we removed our fins to ascend the ladder, but kept our hood and gloves on for warm during our 400 meter walk back to the changing area. Walking in the snow, you couldn't help but marvel at the fact that just a few minutes before, you were kicking peacefully through near freezing water as snow was softly breaking on the surface of the water.
How Much Does It Cost To Snorkel Silfra?
You can check out the Adventure Vikings Dry Suit Snorkeling page (they offered the best price that I found) for the latest prices and availability, but as of February 2020, the price to dry suit snorkel is 14400 ISK and a mandatory 1500 ISK Thingvellir National Park Silfra Fee. The whole thing is about $125 and completely worth it, especially considering the high price of everything in Iceland.
Based on the few times I looked at the website, you might also be able to do last minute bookings for 11400 ISK (~$90 USD) but don't quote me on it. They also offer GoPro rentals for 6900 ISK ($55 USD) in case you didn't bring your own. Definitely bring your own, because I never recommend fidgeting with a new device underwater. Bring something you're familiar with, because you'll definitely want your own photos and videos.
But don't worry, if you happen to forget it or don't have your own personal photographer, Adventure Vikings includes free photos from the snorkel, so you'll at least have evidence that you did it.
Pick-up transfer is included in the winter time in the fee, but it's not available during the summer and you'll have to get to Thingvellir yourself, which shouldn't be a problem, because it's a stop on the Golden Circle.
Snorkeling At Silfra With Pick Up From Reykjavik
If you aren't driving and want a complete package with pick-up from Reykjavik and free underwater photos, this is also a great option.
Put this one on your BUCKET LIST.
Updated on January 7, 2023