Bucket List: Piccola Cir Via Ferrata In The Dolomites
Bucket List: Piccola Cir Via Ferrata In The Dolomites
Last Updated on January 2, 2022
---
If there's one thing you must do in the Dolomites, it's a via ferrata climb on of the mountains. And while there are so many options, it's hard to beat a summit of Piccola Cir which takes you on a spiraling upward route around the peak that feels like you're going vertical the entire time and yet is doable for most people with the right guiding. Turn around at any point and you will get one of the most breathtaking view of the Badia valley in the Dolomites.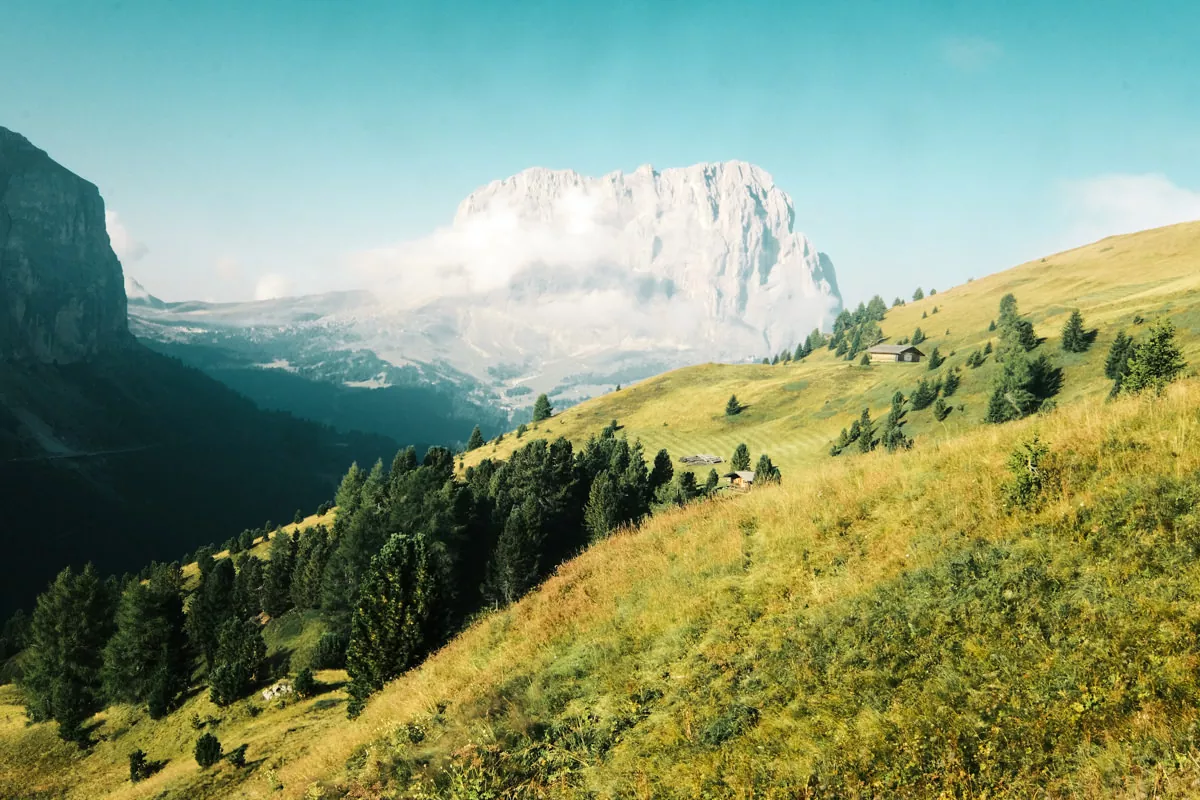 What Is Via Ferrata?
Italian for "Iron Path," Via Ferrata is a method of ascending a route with the assistance of metal ladders and rails and lines that you clip into with a carabiner system attached to your climbing harness. Think of it as a mix between hiking and rock climbing.
What makes Via Ferrata so great is that you can traverse a route that a normal hiker would not be able to take because there may be sections that are too dangerous to do without some safety or mountaineering equipment. Unlike rock climbing, you are often assisted with man-made and placed ladders, bridges, holds, and rails.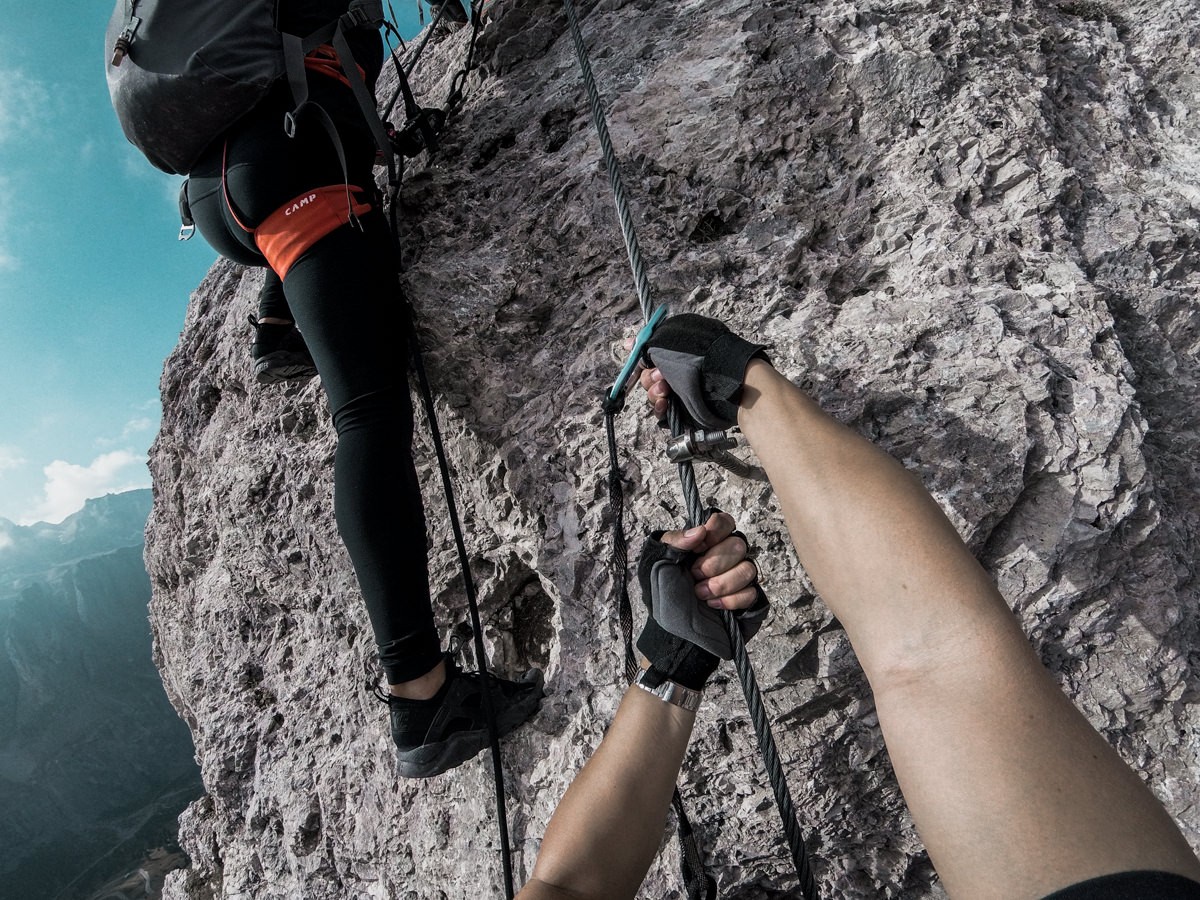 Hiking To Piccola Cir
For our Via Ferrata to Piccola Cir, we went with one of the most experienced guides in the Dolomites, Francesco of Alta Badia Guides. Francesco came highly recommended to us from the people at the Alta Badia tourism board.  We could see why, as not only was he born in the region and has been doing this for a long time, he is also a professional photographer who leads clients on some hardcore adventures around the world.
We started our adventure from Passo Gardena with a beautiful morning hike up to the base of Piccola Cir. Francesco was very knowledgeable and gave us a bunch of different hiking options for the area while we were walking. As a photographer himself, he was fully understanding of me stopping every so often to take photos. Many photos, since the meadow was so postcard worthy.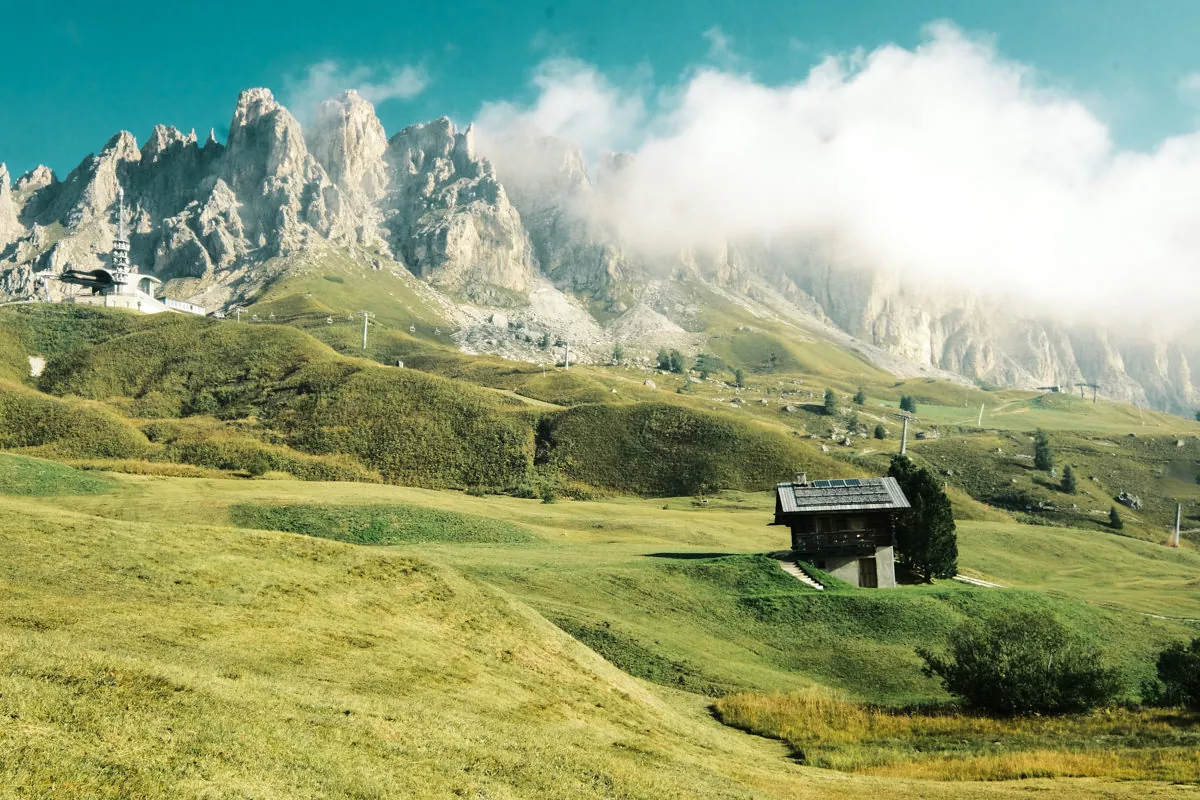 Ahead of us was Gran Cir and Piccola Cir, their summits still in the clouds on our approach.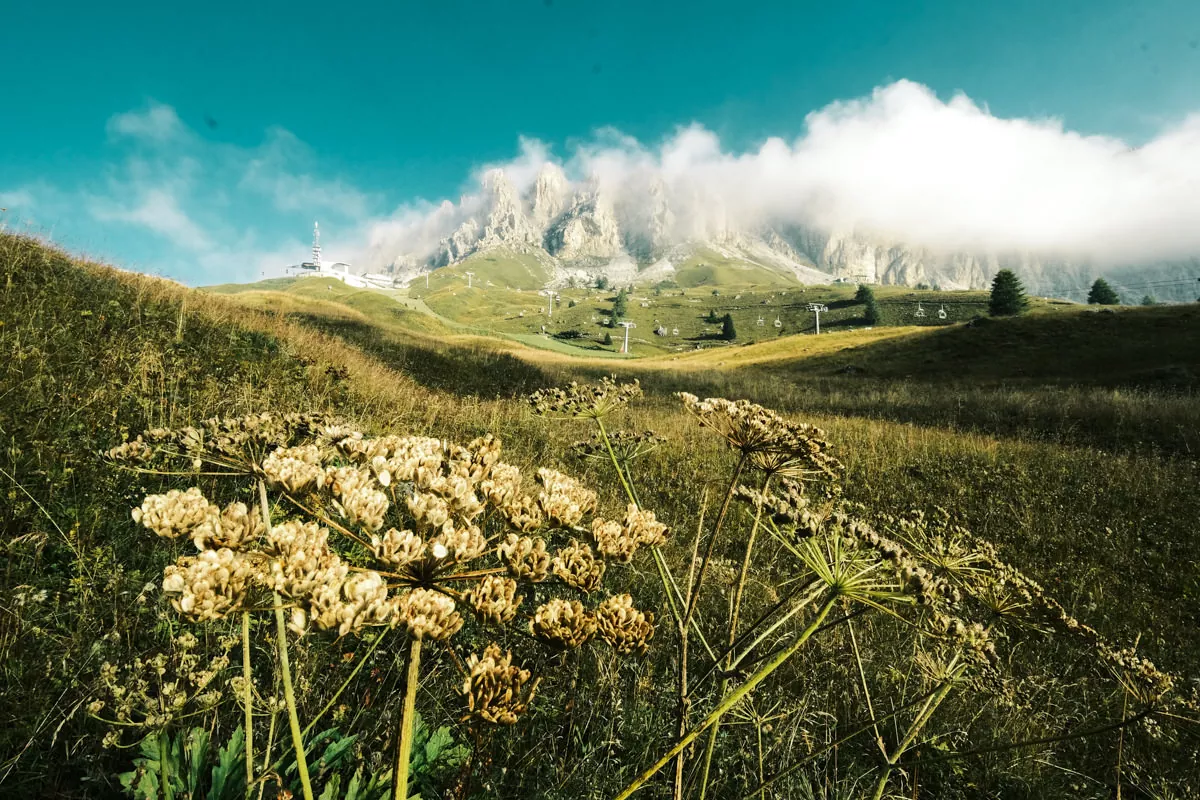 From the Dantercepies station, we could see the mountain biking trails weaving back down. There was also a surprising absence of other hikers and it felt like we had the whole place to our ourselves.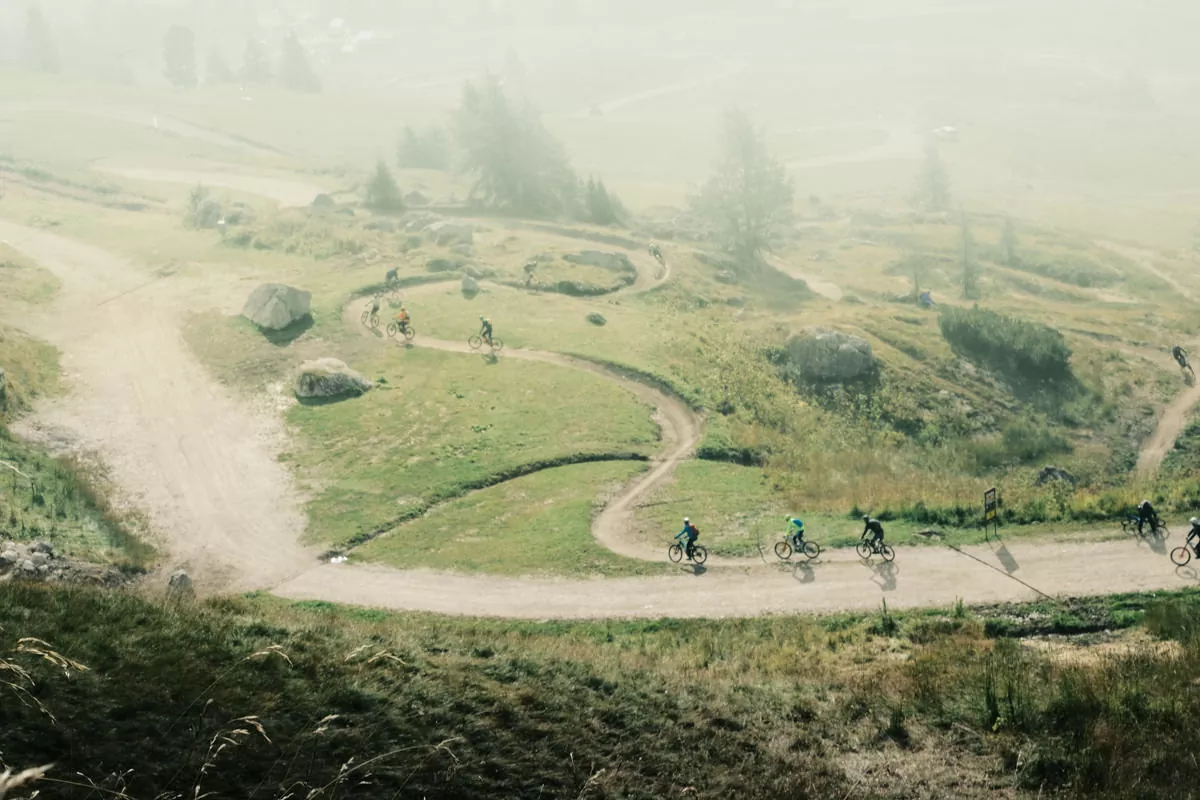 Putting On Our Via Ferrata Gear
By the time we got to the base, the ascent already had our legs warm and our hearts elevated. We were ready. Here, we put on our climbing harness, gloves, and helmets. We had done our first Via Ferrata the day before at Cinque Torri, so we were familiar with the equipment, but Francesco went through it again to make sure everything was on correctly and comfortably.
As an extra measure of safety, we were also tied up to each other with Francesco in the lead, Yasmine next and myself at the tail.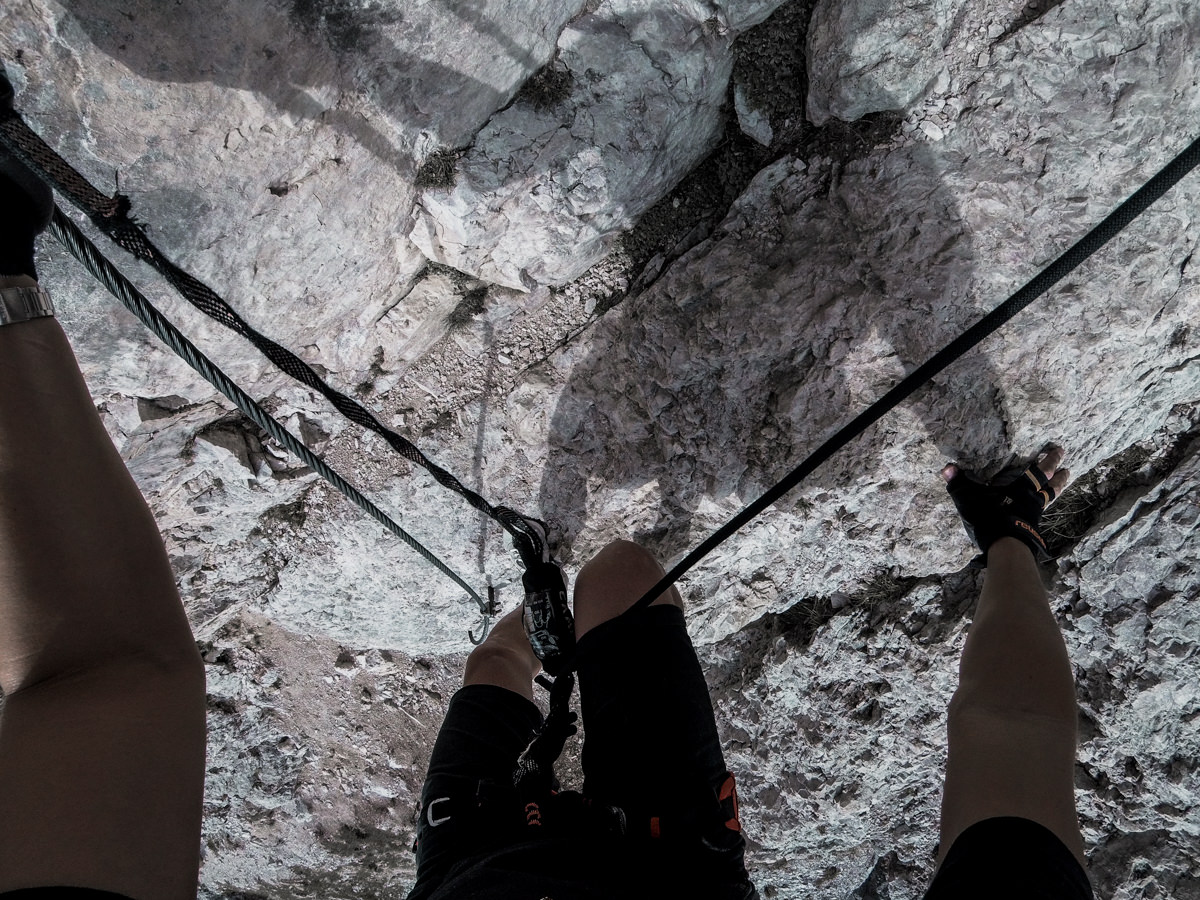 Up We Went
The first section was quite easy and on we only had to clip on a cable to ascend some steeper sections. There was also a big metal ladder that we climbed. Francesco would point ahead to show our route, a very vertical one that had us both excited.
As we rounded the mountain, each segment got steeper and we switched from scrambling to full on climbing. Being tied in, meant I had to follow Yasmine at a certain distance so she wasn't held back by my line.
We were a little unprepared and only had our running shoes, but I would recommend some trail or approach shoes for better grip and traction. We just had to be a little more careful with our foot placements.
Compared to the previous Via Ferrata, this was a lot more challenging, but not so much so that someone in moderately good shape couldn't handle. Most of the climbing sections were very exposed, which lent itself to some spectacular views of the valley below.
After completing each section, we looked down in awe at the amount of elevation we gained and the path we traversed. It definitely looked more more vertical than it felt. We also saw another group of climbers below and marveled at how small they looked and the sections they had ahead that we just finished.
Don't Forget To Look Down
While we needed a good grip and feet placements, there were holds and ledges everywhere on the craggy mountain face. Yasmine didn't have much experience climbing, so Francesco would show her the route and then guide her as she was climbing. I made sure to remind her to turn around and look out and down every so often.
This was precisely why we choose to do a Via Ferrata. You simply couldn't get some of these exposed views on a regular hike. I wanted to take these moments as long as possible, and sometimes I had to, while precariously hanging off a ladder on the side of the mountain waiting for Yasmine to go up.
Summiting Piccola Cir
The section to the summit was the most difficult in terms of sheer vertical climbing, but by now we both were comfortable with the movements. Again, the view just got better and better as we went up. By now, we were moving on the backside of the mountain.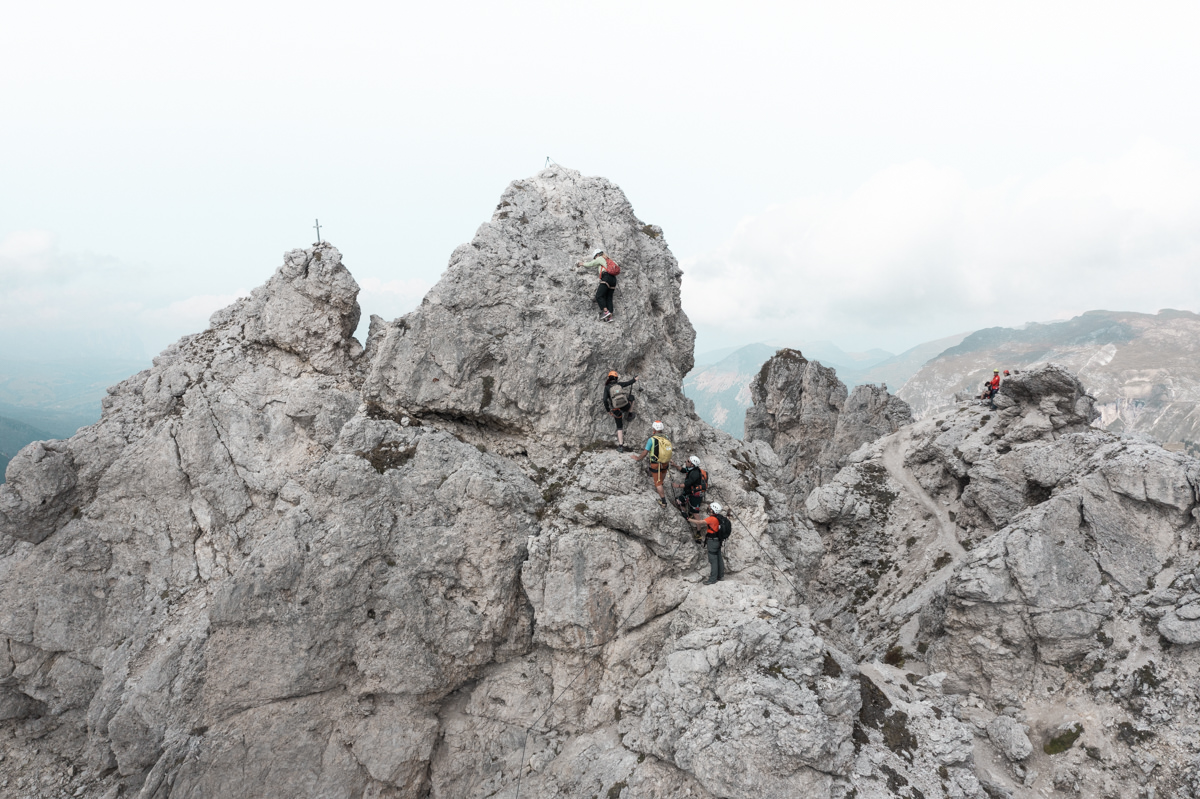 At the top, we had a full 360 panoramic view of the valley and the neighboring mountains. On an adjacent peak, there was a cross that we looked down upon opening up to the entire path below.
Descent
We left the summit to a slightly lower point so that the next group could reach the top while I flew the drone. It was amazing to see what the path up looked like from afar.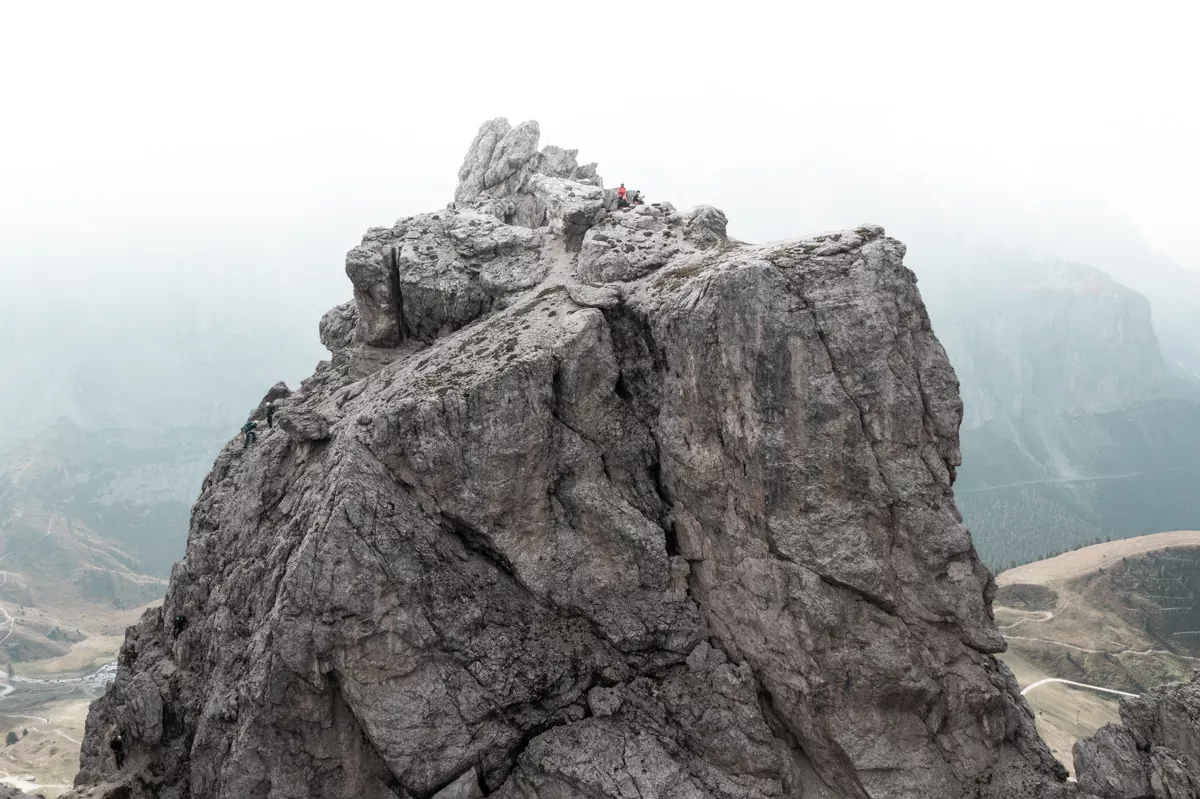 After taking a quick snack break here, we descended down a different path. The section was shorter, but in a way a little more difficult because you're down climbing and sometimes there were footholds that you couldn't see and just had to feel with your feet.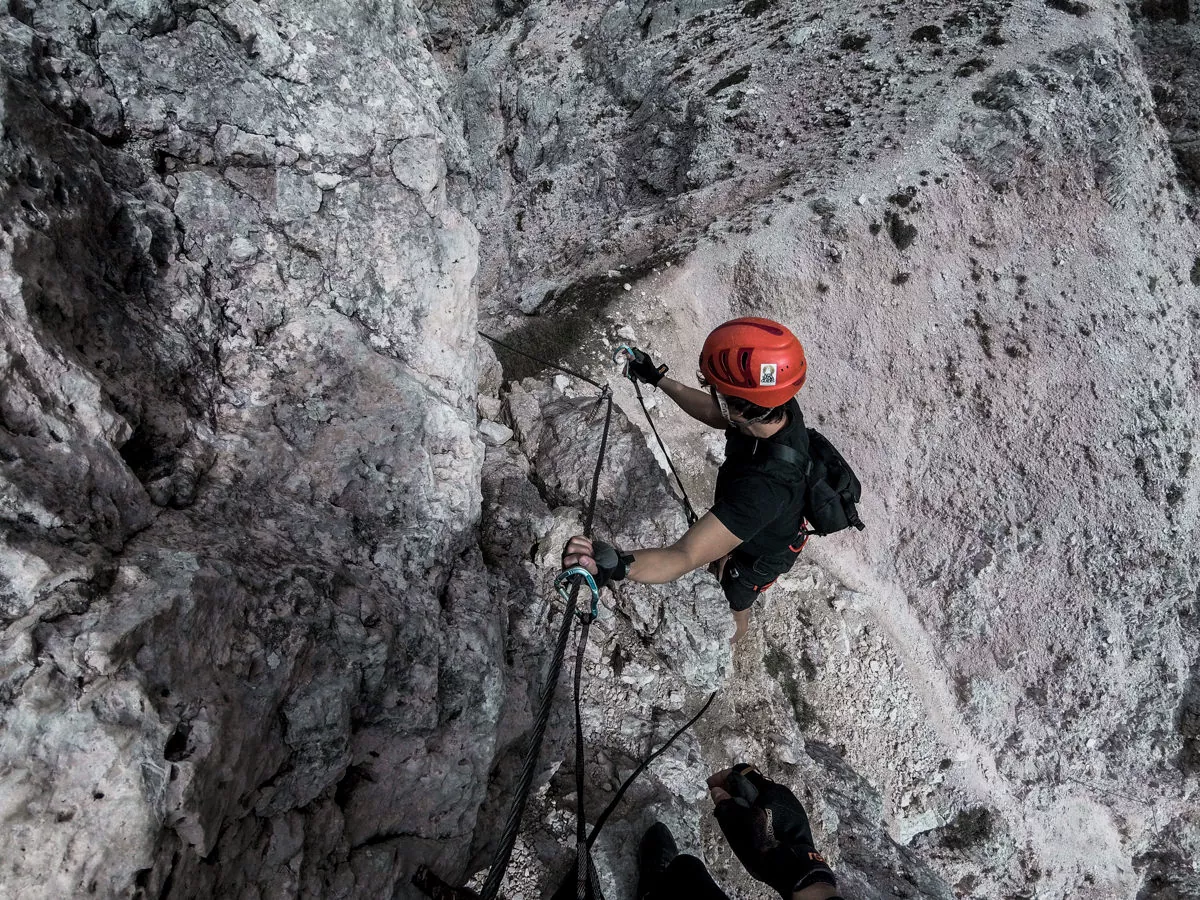 The final section was a steep switchback down a very loose gravel path. From here, we took a path to Rifugio Jimmi Hutte for lunch. A great way to end our adventure with an Aperol Spritz.
Getting To Piccola Cir
By Car
Piccola Cir is easily accessible on foot or by cable car from Passo Gardena. From Corvara, you can drive west on SS243 until you reach Passo Gardena. There's a parking lot (Parcheggio Rifugio Friar) at the base in Passo Gardena. From Val Gardena, you just drive east on SS243 until the parking lot in Passo Gardena.
It's almost the same distance from either direction.
From the parking lot, follow that path that goes up to the Dantercepies cable car. It runs near parallel to the Cir cable car line. At the Dantercepies cable car station, follow the trail and ascends to the base of Piccola Cir. If you want to map it on Google Map, just type in "Via Ferrata Piccola Cir."
By Bus
In the summer, line 471 leaves between Ortisei in Val Gardena and Corvara in Val Badia every 30 minutes. It will stop at Passo Gardena where you can take a lift up to the base of Piccola Cir or hike up using the route above.
By Cable Car
You can actually get to the base of Piccola Cir very quickly by cable car alone as well. From Val Gardena, the Dantercepies lift goes right to the base of Piccola Cir. From Colfusco, you can take the Frara cable car to Passo Gardena.
If you're planning a trip to Dolomites, check out my guide to How I Planned My First Trip To The Dolomites.