Iceland Bucket List: Vatnojokull's Glacier Sapphire Blue Ice Cave In March
Iceland Bucket List: Vatnojokull's Glacier Sapphire Blue Ice Cave In March
Last Updated on January 7, 2022
---
Deciding to go to Iceland was the easy part. Choosing the time of year to go was much harder. During the summer, you can get nearly 23 hours of daylight, which opens up all kinds of possibility for traveling at different hours of the day. It's warmer and you get beautiful green tones against the black volcanic backdrop of the country. The winter is a lot less accommodating. Weather and road conditions can turn at any moment. The sun sets early and it can be brutally cold.
But, on the flip side, you avoid the hordes of tourists spewing from buses, you get a chance to see the Northern Lights dancing in the sky, and along with the soft, moody all day long lighting, you can explore naturally formed glacier blue ice caves – something that's long been on my bucket list.
That was one of the main reasons I chose to do a 7 day road trip through Iceland's South coast in the unforgiving month of February.
The Difference Between Ice Caves And Glacier Ice Caves
There are places around the world where water freezes over in rock caves forming frozen walls, icicles, and waterfalls. These caves more or less look the same every year. What makes Iceland's glacier ice caves so unique is that they are short-lived creations that form slowly over the course of the year as melting glaciers forge tunnels and pathways through the ice. When winter comes, the water freezes leaving behind a pristine blue ice cave whose location and form is different from year to year. An ice cave you explore this year, may completely disappear the next year.
I always find beauty in the ephemeral.
Which Is The Best Glacier Ice Cave Tour Company To Go With?
For our glacier adventure, I went with Glacier Travel Adventures, a locally owned and operated guiding operation that offers small group tours. When in doubt, go smaller.
In all my research, I try to find the vehicles that companies use to get a gauge for how the tours might look like and how large the groups will be. I also ask about the route they take and the timing. When a lot of companies offer similar tours, it's not difficult to see that the destination can get very crowded. In Jokulsarlon, almost everyone was going to the Sapphire Ice Cave for the 2020 winter season, so I wanted to find a group that was smaller and took an alternative route. Glacier Travel fit the bill and my communications with the owner, Vigfus, had me very excited for the trip.
Personal side note: I found that the price was basically the same between the bigger mass tourism types of company and the smaller local business, which is usually not the case. There's really no reason why I would choose the bus tours over one of these smaller group trips. We ended doing a shortened version (explained below) of the Extreme Blue Ice Cave Tour. This typically lasts 4-6 hours and includes a long glacier hike and a visit to a blue ice cave. I recommend this if you want to properly experience the Vatnojokull Glacier and not just see the ice cave. If you are short on time and don't want to do a glacier walk, there's the easier option of just going to the cave.
Alternatively, if you wanted to get on the Super Jeep Tour, it's much better than any of the bus options and the only other one I considered.
Hiking The Famous Vatnojokull Glacier
We met Vigfus 15 minutes before the 10 am start time and saw a number of other tour companies getting ready to depart as well. Along with the 3 people in our party, we were joined by a group of 6 travelers from Russia.
We were informed that part of the glacier hike would be cut short because of the heavy winds higher up on the glacier. Although I was a little disappointed, I always appreciate when guides make these types of calls to ensure that everyone is safe.
In my past experience of walking on a glacier, even with cramp-ons, a fall off a slope can be hard to impossible to stop. On the slick and dome shaped Vatnojokull, a fall could prove fatal.
After a 10 minute drive, we pulled over to let some air out of the tires and began the tumble dryer ride off road towards the glacier. I love the feeling of bouncing around in a car, so this part was really fun with a gorgeous terrain to match.
We parked close to the glacier and put on micro-spikes to do the last part of the walk to the glacier. We had brought our own pair of these micro-spikes to Iceland and found it to be an absolutely essential item to have when traveling here during the winter. Best $15 we spent for the trip.
We also put on harness with two safety lines that will allow us to clip onto a line while we walked along some of the more angular sections of the glaciers.
Spikes On Ice
Before getting onto the serious ice, we switched to proper cramp-ons with much larger spiked teeth to provide a stronger grip on the glacier. Vigfus walked us through the process of strapping on the cramp-ons and we did a test walk up and down an icy slope with the right technique. I felt very secure with these 'feet claws'.
Growing up locally, Vigfus has played around glacier ice his whole life, and the experience has allowed him and other guides to scout and find areas that are safe and stable to explore at the beginning of each winter season. He sees weakness in the ice that would escape the eyes of the unfamiliar.
Here, we also got our first glimpse of glacier formations in the form of an opaque ice bridge. It looks perfectly solid to me, but Vigfus told us to avoid walking under the bridge because it could collapse at any moment.
Through The Ice Tunnel
As I had hoped, all the large tour groups headed straight to the Sapphire ice cave, while we opted to ascend the line for our glacier walk. Clipping both safety lines onto the main line, we moved at an even pace up from one segment to the next, unclipping and re-clipping one safety line at a time. This is a technique to ensure that we were always connected to the main line. Always.
At the end of the line, we turned into a bright snowy pathway that formed an open tunnel topping out under an ice bridge. There was a group ahead of us, so we took our time here to allow everyone to make their photographs. Without being rushed, everyone had an opportunity to get a clear shot in front of the bridge before making the climb up.
The snow and wind was blowing hard at this point and I was very glad my camera and lens was weather-proof because it was completely covered in snow within seconds of taking each series of shots.
The spot was one of those rare places that's just as beautiful, if not more so, in person compared with the photographs. With the winter elements putting on a spectacular display, I was having an incredible time making images.
Across The Top Of The Glacier
The snow was a little soft and the incline steep, but the crampons made it pretty easy to climb up. At the top, we exited under the bridge and clipped back onto another line to cross the top of the glacier. I stayed in the back to get a shot of the line and waited while one of the other guests sat down to take one of those 'feet in front of landscape' shots.
As she was getting up, the rain cover on her pack slipped off and blew away onto the ice. For a split second, time slowed down. In this sequence, Vigfus turned his head and began to take a step towards the downward slope of the glacier to go after the rain cover. My eyes widened as my inside voice screamed out for him not to do it. Simultaneously, as if my thoughts were heard, Vigfus pulled back his step and we watched as the rain cover slid effortless away and disappeared over the edge of the glacier.
It was a visceral reminder that one misstep and we, too, could have easily slide off the glacier's smooth and frictionless surface.
Entering The Sapphire Ice Cave
We finished the line and got off the face of the glacier safely. Vigfus told me that he's disappointed the weather couldn't have cooperated because the hike was usually a lot longer and took you far away from any other tour group. It's just you and nature out there. Completely silent.
"Out there, it's like another world. YOU HAVE IT ALL to YOURSELF."
I believed him.
We switched back to the micro-spikes and headed to the main attraction. Honestly, it was more crowded than I expected, but not too bad. I was told that the place is usually empty by the time the group returned from the longer hike. I only had to wait a few moments for everyone to move into the cave for a clear shot of the exterior.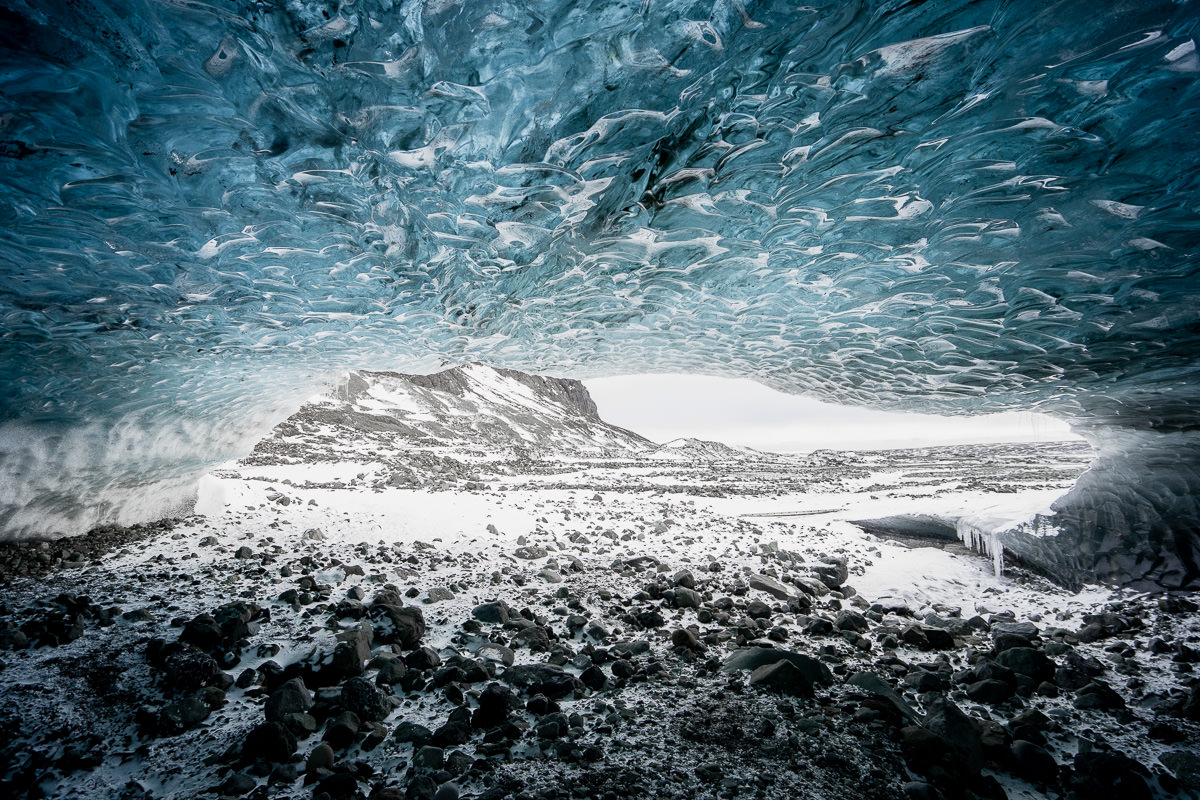 We had some time to check out the exterior of the cave while waiting for more people to leave. The ice here wasn't as blue as photos I've seen, but the texture was gorgeous. There was a beautiful geometry in nature's design.
Inside the cave, it was a lot darker, but there was still enough light coming in from one end to draw out the incredible blue in the ice. It was nearly transparent and unlike anything I'd ever seen before.
Blocking out way further in was large opening in wall of ice. To get through, we had to crawl under or climb over. I opted to climb over and took a few moments to get one of my favorite photograph from the trip.
Reality Check Disclaimer: While there's not much editing happening in the photo, I did take advantage of the angle to fill the frame from edge to edge with the glacier ice.
That said, this doesn't take anything away from the experience because other than the small crowd the place was as magical as I had hoped it would be. It was something to behold at least once in your life. I thought the cave was smaller than I expected. I had no idea.
On All Fours
The next part of the cave required getting down on all fours and crawling under a cramped space with lava rock and sand between you and a wall of ice above. It was completely dark save for the light from our headlamps. For a few seconds, my mind wandered and I imagined the whole thing just collapsing and crushing everyone.
When we reached the other end of the cave, we found ourselves in a tight crawl space that was just a few inches more forgiving and waited to enter into a nook. Usually, getting to the end should provide some relief – this was not one of those times. Perhaps to ease any concern about claustrophobia, Vigfus led us with a melodic Icelandic folk song that we had absolutely no chance of singing along with. Hilarious guy.
Our end point was a small but tall conical shaped room in the cave that cracked opened to let in some light. It was a very dark and moody kind of beautiful. After making the crawl back out, we were rewarded with the 'expansiveness' of the initially 'small' cave space from where we entered.
One Of A Kind Experience In The Ephemeral
A few things about the glacier walk and ice cave trip. This was a proper adventure. While all safety measures were taken and the right gear was provided, you should be somewhat physically fit if you want to do anything more than the easy cave-only tour.
What really stayed with me is knowing that when I left the cave, this would be the last thing I'd ever see this place again. Even if I were to return at some point and go back to this same spot, it might not exist anymore. It might be frozen over or a completely new shape and space could have been formed. I found this thought to be very poetic and something that I never really thought about much with other places that I've visited.
Not to get too deep into climate change either, but glaciers are the one of the more visible reminder that we are experiencing rapid climate change. Scientists are finding that the exposed ice on the surface of the glacier that's currently melting away is between 800-1000 years old. That's water that's been frozen for a millennia only to finally start to melt on our watch.
This is what traveling should encompass. It shouldn't just be about visiting a place and getting a shot for the gram. You should take something away from it, and this is a stark wake-up call for me that we can all do our part to give our only home a break.
Is walking on glacier and visiting an ice cave on your list? If you need some more adventure ideas, check out my bucket list for some inspirations and get out there.