Hiking Cinque Torri and Via Ferrata To Rifugio Nuvolau
Hiking Cinque Torri and Via Ferrata To Rifugio Nuvolau
Last Updated on January 7, 2022
---
Cinque Torri is a gem of a location in the Dolomites and Cortina's most famous climbing location. It was also the site one some of the fiercest fighting between the Austrians and Italians during World War I. Today this peaceful valley attracts all types of hikers who want to walk through the same war time trenches that soldiers used as refuge and those who want to make the climb up to Rifugio Nuvolau, the oldest rifugio in the Dolomites.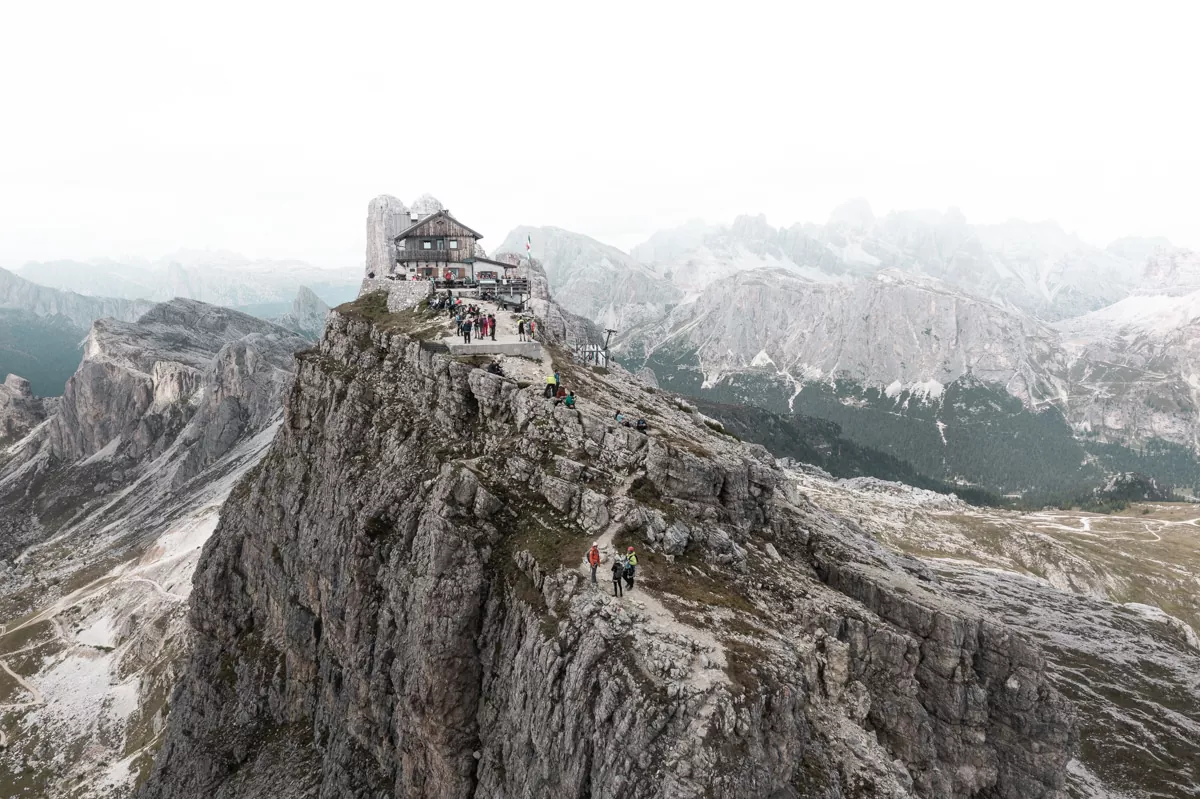 For our 7 day trip to the Dolomites, my friend, Yasmine, and I flew into Venice Marco Polo Airport and drove to Cortina d'Ampezzo. It was our first town and of the three Ladin valleys that I visited on our road trip.
One of the things I really wanted to check off my list in the Dolomites was doing a Via Ferrata (Italian for "iron path") climb, a method of traversing a more difficult path with the add of ladders and holds while clipped to a climbing harness. Neither me nor Yasmine had done it before, so we decided to get a guide who could recommend a hike and also provide us with safety equipment that we did not have.
Luca from Guide Alpine Cortina Dolomiti came recommended by the Cortina Tourism Board and we were open to his suggestions.
Hiking Cinque Torri and Rifugio Nuvolau
Since it was our first climb and first hike, he chose a route where we started at the top of the Cinque Torri lift and made our way up to Rifugio Nuvolau via ferrata.
The full 9.8 km hike and description can be found here and a description of the climbs at Cinque Torri can be found here. At Cinque Torri (5 Towers), you can walk through the WWII trenches and visit the Museum of the Great War (Museo Della Grande Guerra).
If the full route seems a bit complicated, don't worry, you can start the way we did and still get a huge payoff.
Starting From Rifugio Scoiattoli
We skipped the steep starting climb up by taking the Cinque Torri chair lift from the Passo Falzarego parking lot to Rifugio Scoiattoli. A single ride ticket cost 11.60 euros and a roundtrip will cost 16 euros.
Alternatively, you can buy a Dolomiti Superski pass for each region or all of the Dolomites if you plan on taking many lifts during your stay.
I saw climbers slowly making their way up the same ski path that we were ascending over and didn't think that we missed out on much by taking the lift.
Getting off the lift and walking towards Rifugio Scoiattoli, you get your first glimpse of the five towers, whose proximate distance really highlights its scale. We'd round back here later, but our first stop was to the top of Mt. Nuvolau.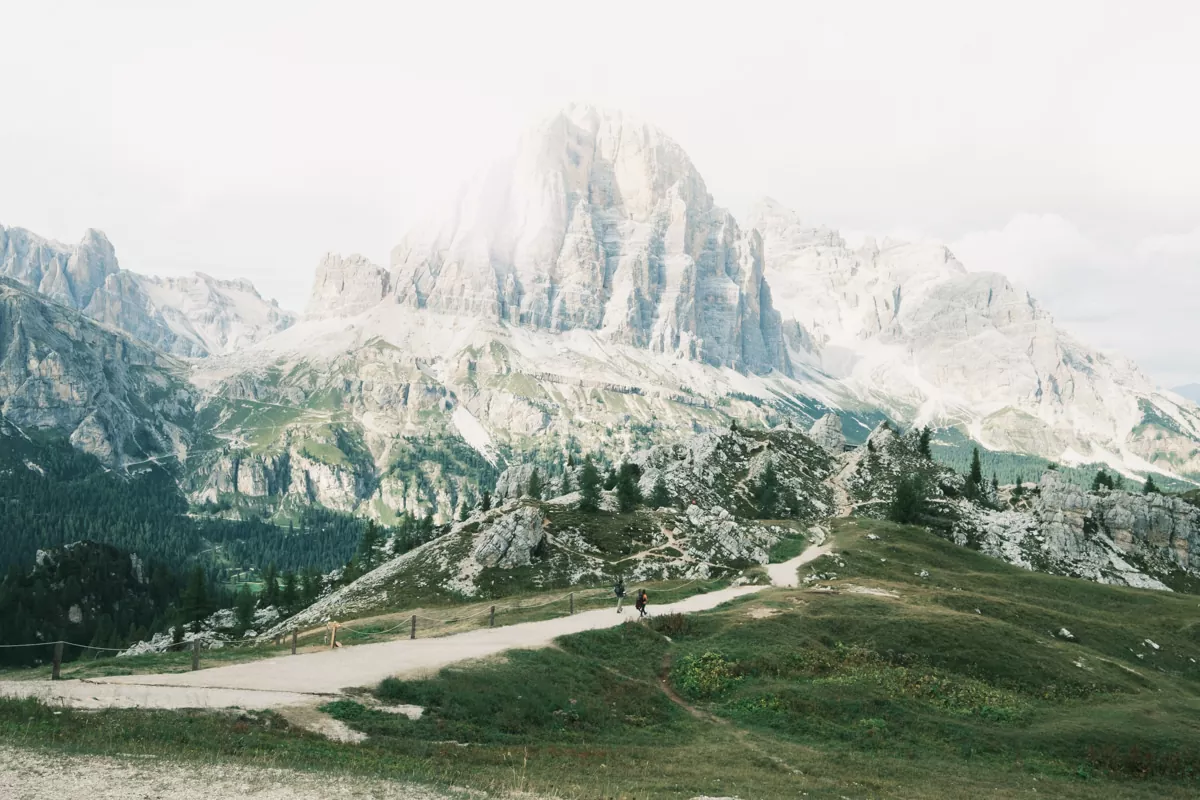 Our route took us south towards the track no. 443 in the opposite direction of those starting their hike from Passo Giau. When we started ascending, views of the valley started opening up.
Here, we put on our gear for the first climb and started our first ascent along a steeper path that carved around the mountain with a view back down at Cinque Torri in the distance.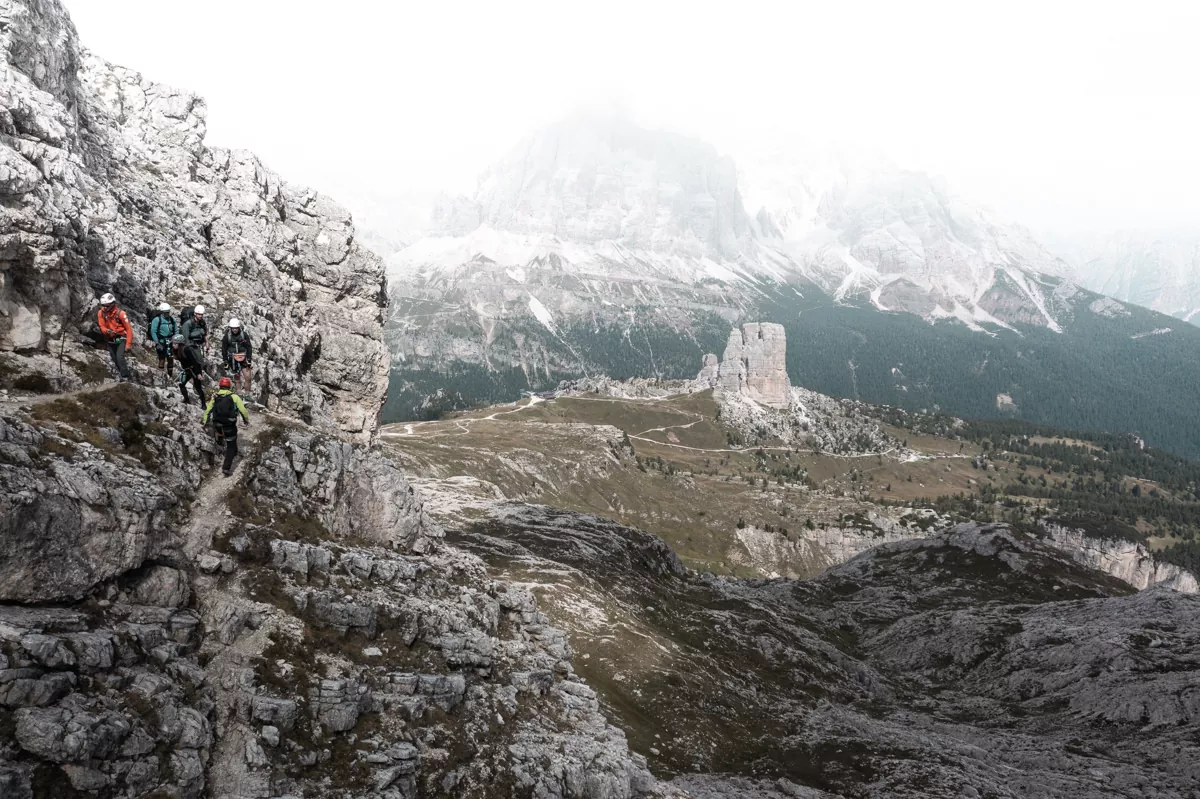 Via Ferrata Climbing Safety
For those new to Via Ferrata climbing, you are wearing a climbing hardness that secures around your waist and thighs. Additionally, there's an energy-absorption system and two lanyards and two carabiners.
The energy absorption system effectively halts your fall more gently. Think of it like a shock absorber so that you don't fall and abruptly stop. With normal climbing, the rope would stretch during the fall, but with the shorter safety lanyard to clip into the line, you don't have this same stretch, hence the need for an additional system to absorb that shock.
With two lanyards and two carabiners, you effectively have a back-up, provided that you never unclip both at the same time. The rule is to remove one and clip in past a rod, and then unclip and clip the second carabiner in. Additionally, the second carabiner should be clip in the opposite direction as the first so you don't grab both and unclip inadvertently.
Views You Can't Get Anywhere Else
The thing with Via Ferrata is you are able to climb sections of the mountains that would possibly be too precarious without safety equipment. In the case of our hike to Nuvolau, we were able to hike and climb up from the east side along a much steeper path that includes cable rails to clip to and metal ladders to assist in vertical sections.
Rather than focusing just on the climb, I always turned back to look at the view it afforded. Views, that would otherwise be missed if we had just take the same route up and down to the rifugio.
The Climb To Nuvolau
Crossing a rocky plateau, we continued on to where the path splits to reach Ra Gusela and Nuvolau.
From here, it was another beautiful clipped in climb. I took my time here to once again take in a view of the path below and of Ra Gusela.
At the top, the rifugio was bustling with hikers who arrived up on the path that we would descend (on the north side of the rifugio). If you want to take your lunch here, you can enjoy some local Italian cuisine with a panoramic view of the valley below.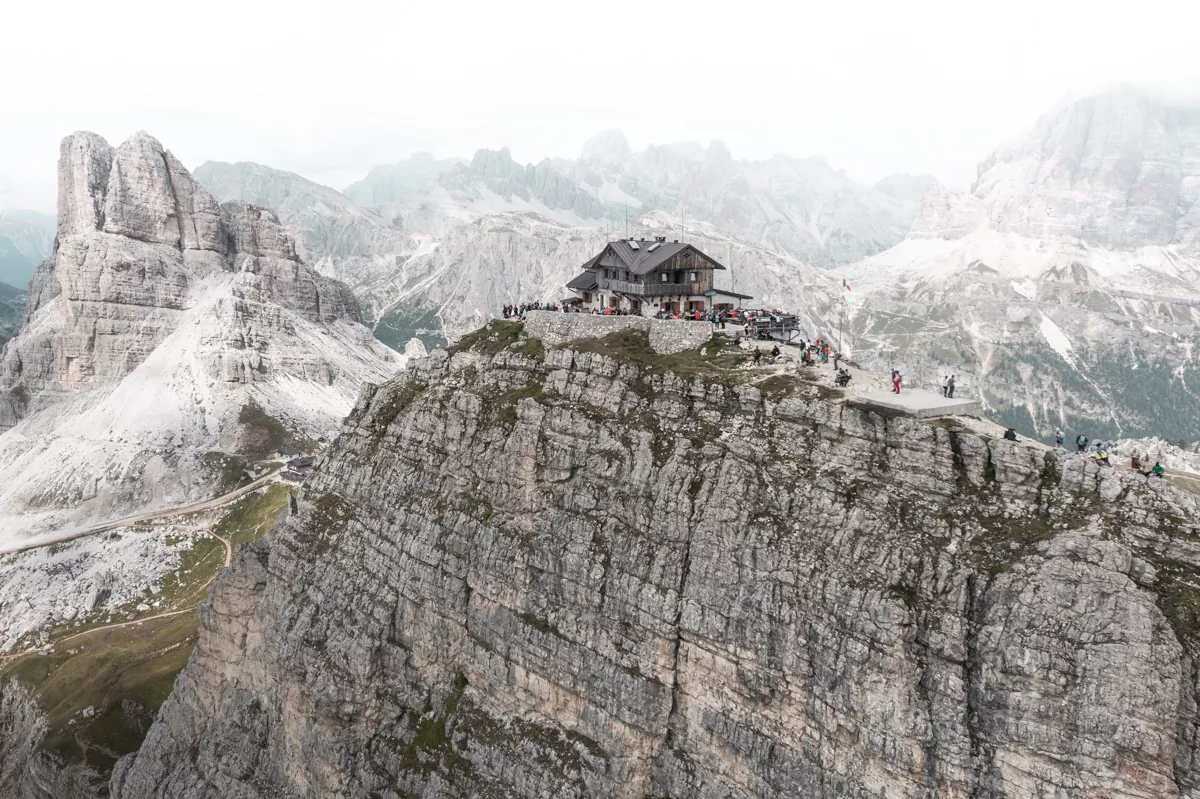 The route back down takes about 30-40 minutes and you see the familiar formation of Cinque Torri, only now, it looks so much smaller than before from 2575m up.
Lunch At Rifugio Scoiattoli
We had our lunch at the spot where we first arrived after taking the Cinque Torri lift. Named after the Scoiattoli (squirrel) Group that began climbing here in 1939, this open air restaurant serves regional dishes like the casunziei all'ampezzana, a stuffed ravioli with melted butter, ricotta cheese and poppy seeds.
We also had a beautiful charcuterie plate, a polenta dish with mushrooms, and venison carpaccio washing it all down with a classic Hugo Spritz, the first of many we would have that week.
Walking The Trenches Around Cinque Torri
After lunch, we continued on for a shorter hike, this time weaving through the five towers. It reminded me so much of some of my favorite alpine hikes in Switzerland – pastoral and idyllic.
We didn't have time to visit the war museum, but walking through the same paths, I could only begin to imagine holding out here during the deepest parts of winter. Both sides mostly holding their ground and just trying to survive, all the while trying to secretly drill tunnels through the mountain to gain position on their enemy.
This is a climber's paradise and our guide, Luca, also does guided climbing tours here. I highly recommend checking him out at Guide Alpine Cortina Dolomiti. Their rates are very reasonable, especially if you already have a group of 4. Feel free to hit Luca up on Instagram if you have questions or want some recommendations.
You can also check out a short Q&A I did with him to pick his brains including his favorite hikes in Cortina.
The hike was short, but the views were really breathtaking and it was a perfect way to digest after a big lunch.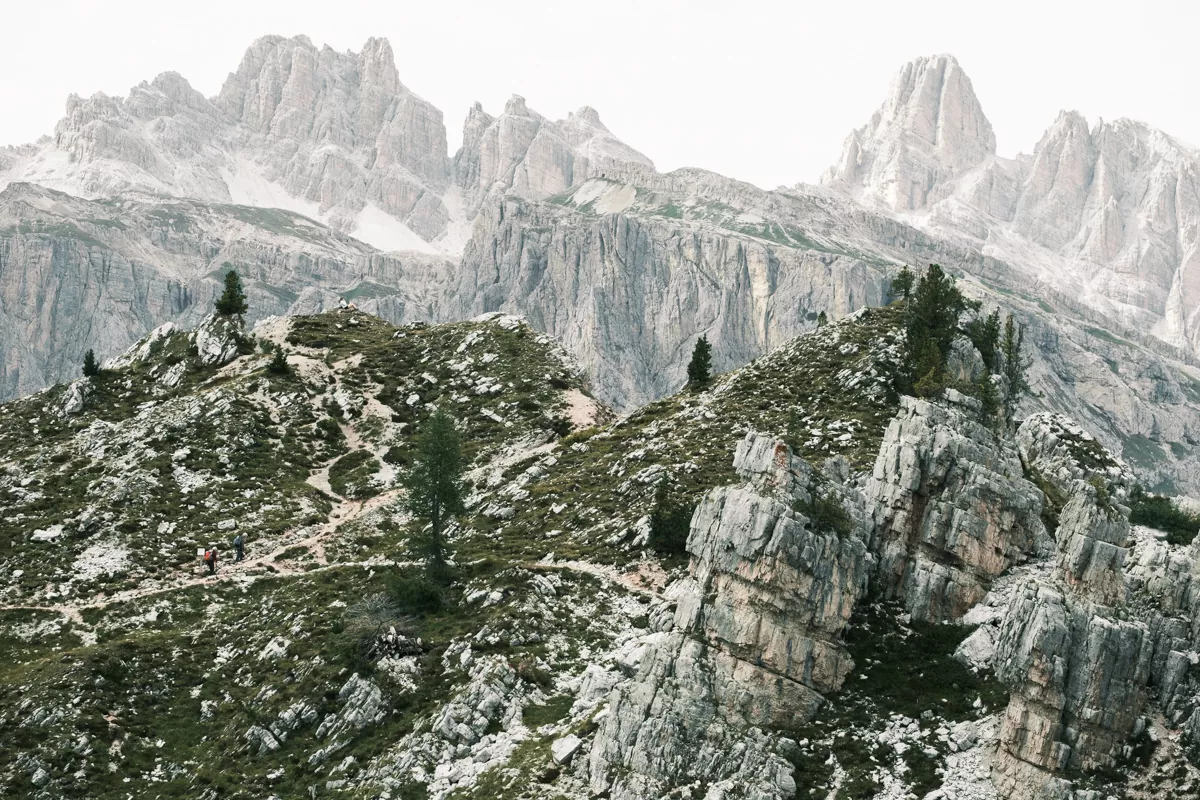 Need Some Recommendations For The Dolomites?
To think, this is just one of the many hiking options in Cortina and we had only planned two days here. If you are heading to Cortina d'Ampezzo, check out my Cortina Guide and also my in-depth guide to How I Planned My First Trip To The Dolomites with more tips and recommendations. During the planning process, I found the Cortina tourism board website to be very helpful in planning.