Demystifying The Dolomites: How To Plan A Fall Trip
Demystifying The Dolomites: How To Plan A Fall Trip
---
The first time I heard the word Dolomites in passing, I confused it with the Annamites in Vietnam and then promptly forgot about it for years. I've forgiven myself because, truthfully, outside of Europe and the skiing community, most people didn't know much about this picturesque mountain range in the Northeastern Alps of Italy – until recently. And what shame that is.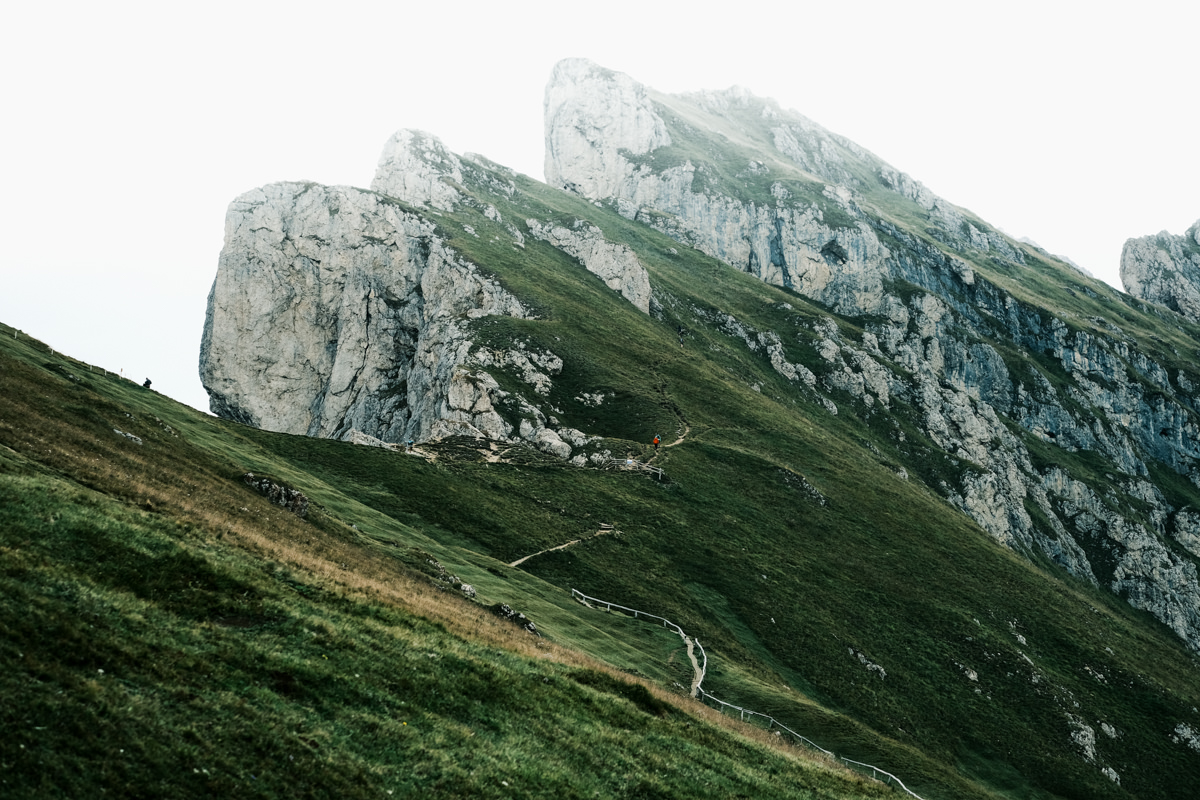 Between the efforts of social media's influencers and its algorithm, places like the Dolomites entered into the wider public's consciousness and in a most visually spectacular way. That photograph of a lone hiker standing above the clouds in front of towering mountain peaks or the one of the little church in a wide valley with an imposing wall of forest behind (we would ultimately skip these iconic Dolomites spots after doing our research). It was now a trendy must-visit destination for so many travelers, including myself.
Deciding to go was easy, but planning the trip, as I would soon learn was a lot more difficult. The Dolomites is a massive place, divided into multiple region stretching in all direction, and then into many more villages within those regions – each with countless hiking trails and paths that wind and eventually connect between all the mountains in the range. Parts you can access by car, others by cable car and chair lifts, and still more only by foot.
Narrowing Down The Regions
My friend, Yasmine, and I only had one week for this trip and there were so many locations that we initially had on our list, but we realized that the list had to be cut down. We read countless blog posts, region by region, and eventually narrowed it down to three locations on one east to west corridor: Cortina, Alta Badia, and Val Gardena.
From there, I sought out the help of people who had a lot more knowledge than we had with the help of the tourism boards who connected us with local guides.
Our final itinerary would be one of the most enchanting trips I've had in a while and an unforgettable 7 days of experiences that left me ready to plan a return trip sooner rather than later.
This post will focus on things that we learned during the planning process, our recommendations for hikes, activities, hotels, and food, and things you should definitely know and bring before going to the Dolomites.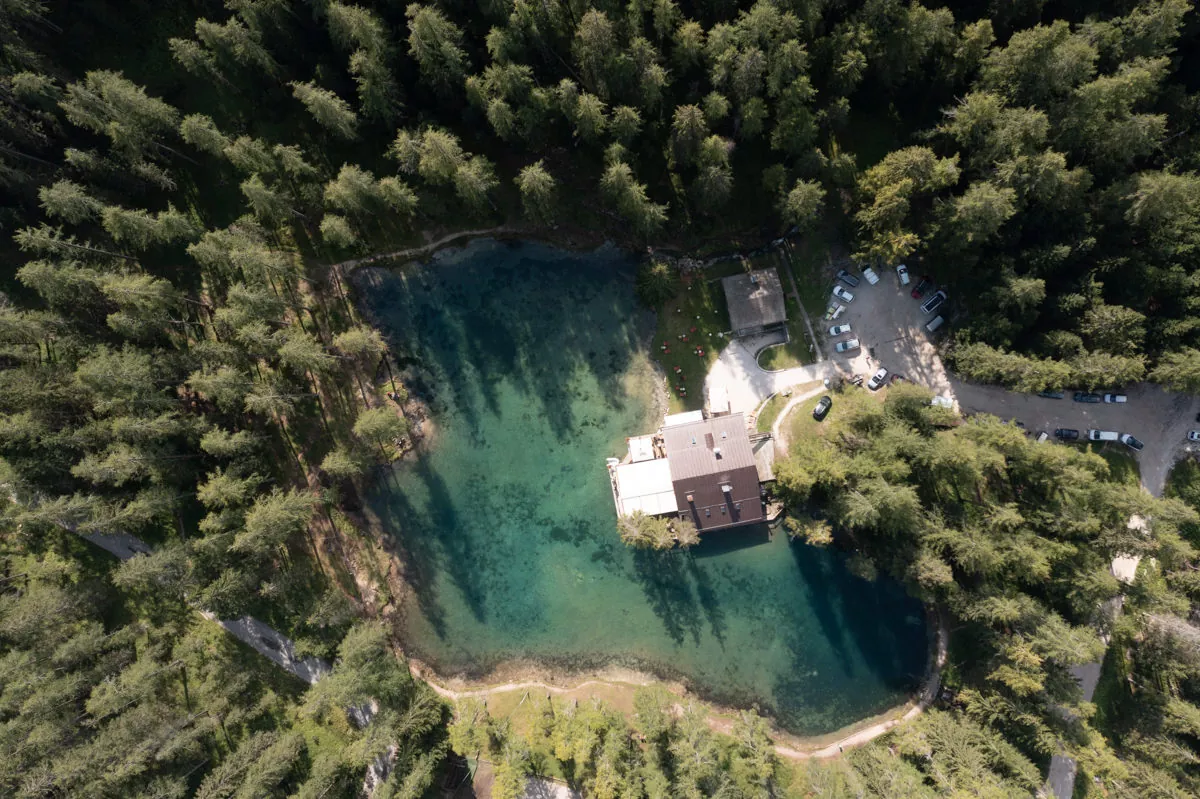 Guide To The Dolomites Quick Jump Menu
Skipping Tre Cime, Lago Di Braies, And Santa Magdalena Church
Should You Get The Dolomiti Superski Pass
How We Chose Our Accommodations
Choosing When To Go To The Dolomites
What Languages Are Spoken In The Dolomites
What To Pack For The Dolomites
Our 7 Day Dolomites Itinerary
Below is our rough itinerary. I offered all of our recommendations to a few travelers visiting shortly after we left and they gave resoundingly positive confirmations. Use it however you like as a foundation for your own trip or take some of my recommendations and add it to your own itinerary. Click on the links to jump directly to the section where we discuss each of the hikes and recommendations.
Bear in mind that we went during the fall, when the days were shorter. In the summer, you'd likely be able to do longer hikes, if your legs are up for it.  I'll get to that. Click on the links to jump to the sections talking about each thing we did in detail.
Day 1: Arrive To Cortina d'Ampezzo
Arrive to Marco Polo International Airport (Venice). Rent a car and drive 2.5 hours to Cortina d'Ampezzo. Stay at B&B Hotel Pass Tre Croci Cortina.
Day 2: Cortina
Breakfast at hotel. Hike to Cinque Torri and Via Ferrata to Rifugio Nuvolau. Lunch at Rifugio Scoiattoli. Dinner in Cortina d'Ampezzo.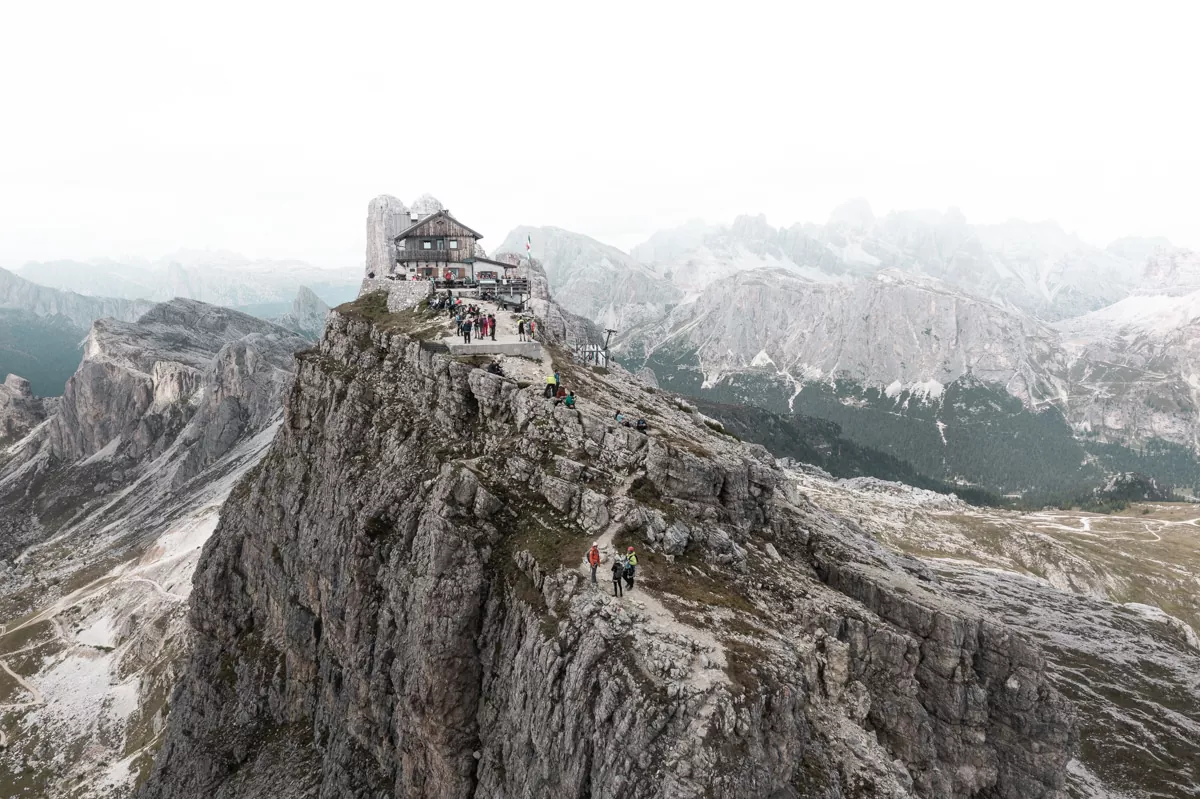 Day 3: Cortina
Sunrise hike to Lago di Sorapis. Breakfast at Hotel. Gondola to Tofana di Mezzo. Hike and lunch at Lago Di Ghedina. Explore the town of Cortina d'Ampezzo. Drive to Corvara. Stay at Hotel Marmolada. Dinner at hotel.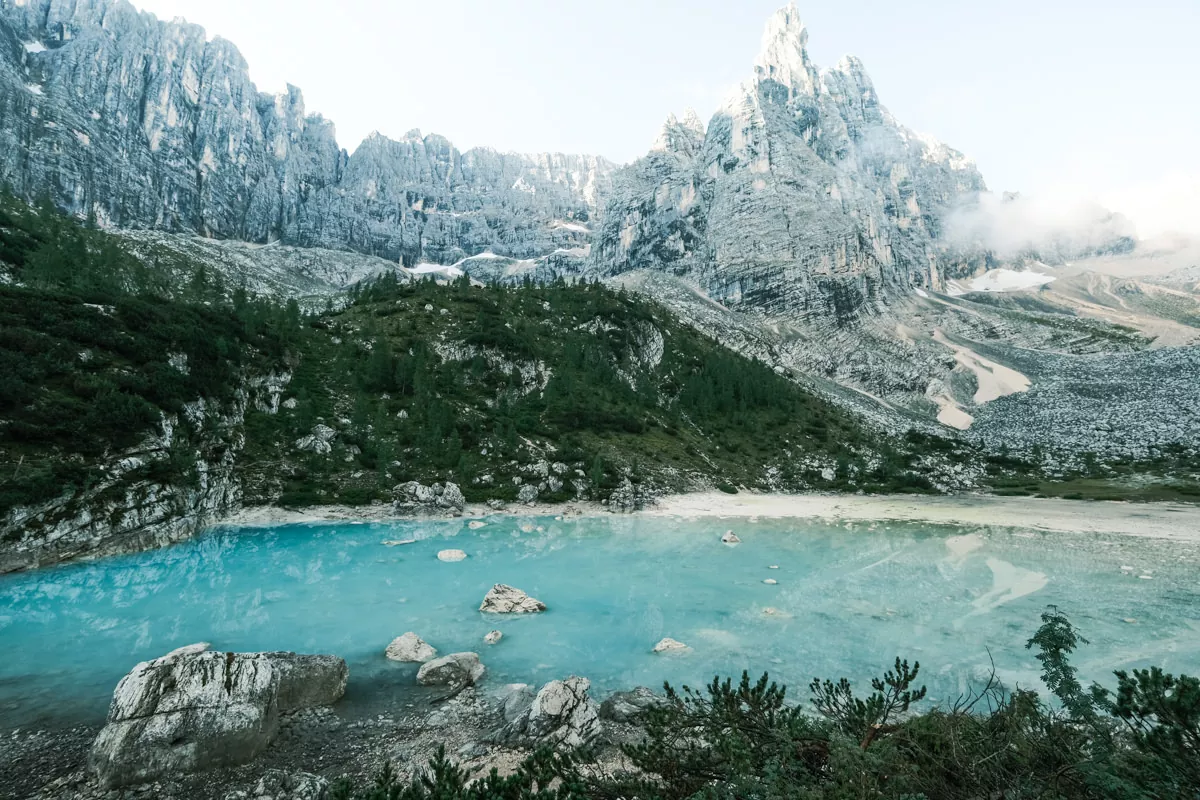 Day 4: Alta Badia
Breakfast at hotel. Via Ferrata To Piccola Cir. Lunch at Rifugio Jimmi Hutte. Explore Corvara. Drinks at Berghotel Ladinia. Spa and Dinner at Hotel Marmolada. Read my full review of this amazing hotel.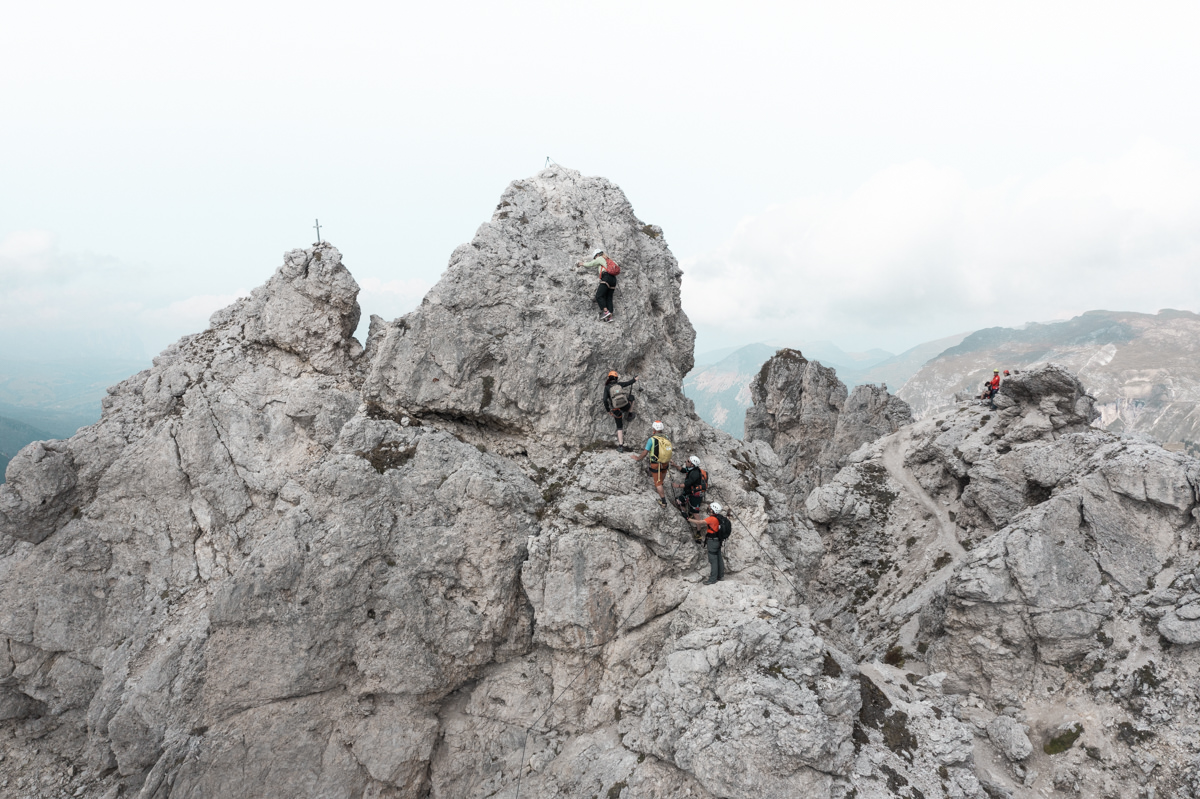 Day 5: Alta Badia
Breakfast at hotel. Spa at Hotel Marmolada. Hike to La Crusc. Hike to Gardenacia. Late lunch at top of Col Alta. Drive to Val Gardena. Spa and stay at Hotel Continental. Dinner in Val Gardena.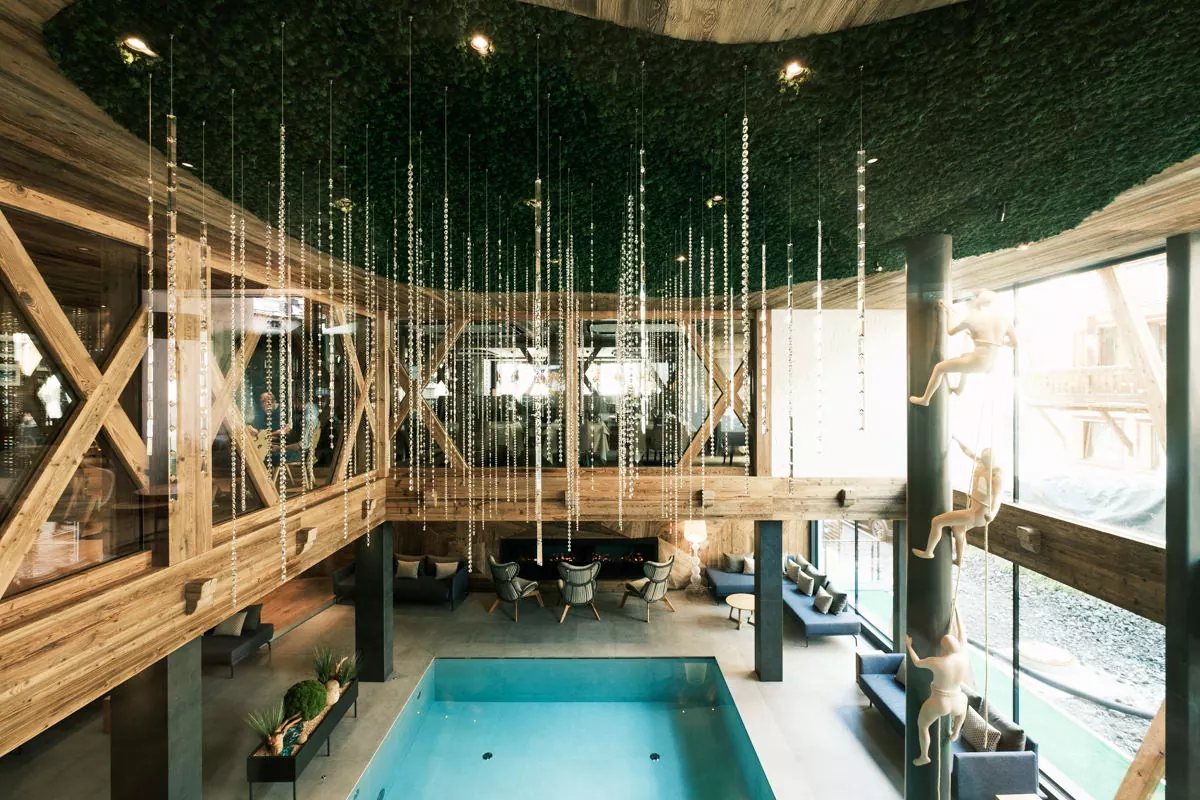 Day 6: Val Gardena
Cable car lift to Col Raiser. Brunch at Malga Pieralongia Alm. Hike to Seceda. Picnic at Seceda Ridge. Hike down to Val Gardena. Spa at Hotel Continental. Dinner in Val Gardena.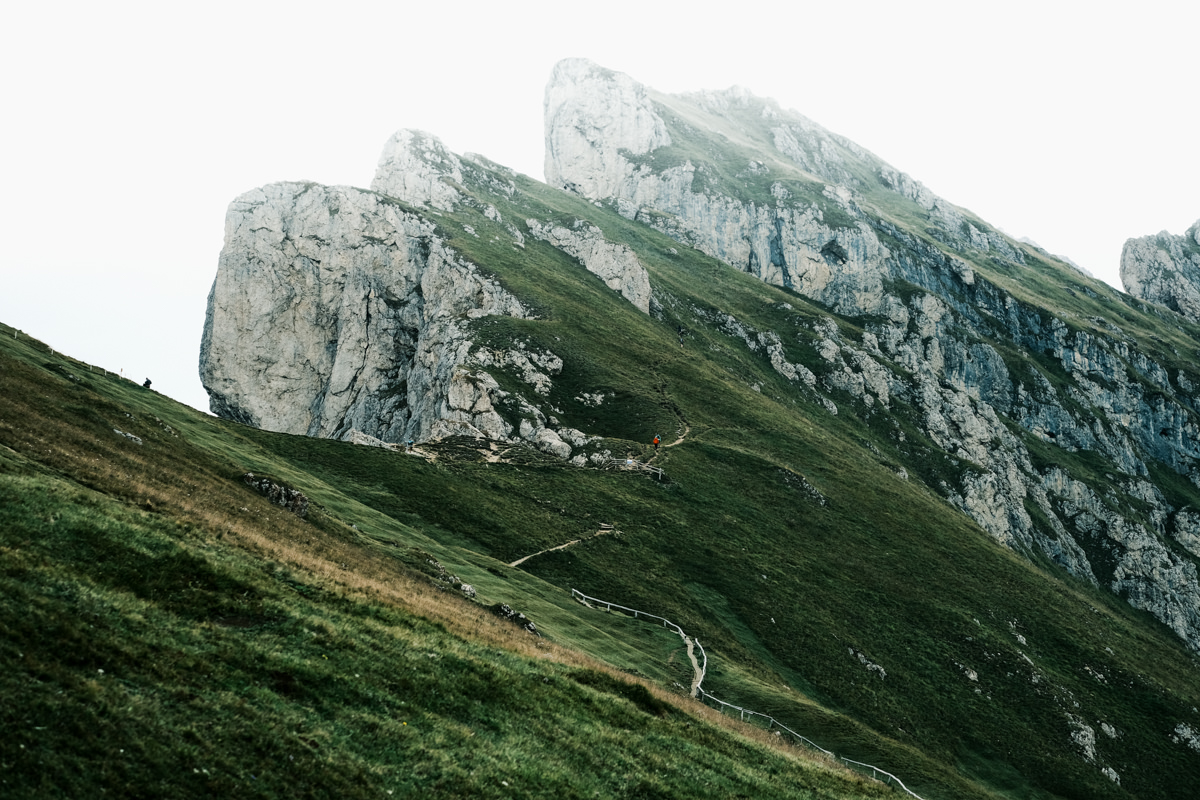 Day 7: Val Gardena And Departure
Hike To Vallunga Langental. Lunch in Ortisei. Drive To Venice via Bolzano and Verona.
While our itinerary might look a little light to some, I assure you that our days were filled, and our legs were completely sore by the end of the week. We were glad we put in extra time time for each hike, time for a long lunch at rifugios and enough time to soak in the spa and sauna at the end of most days, especially towards the latter part of the week.
Highlights and Recommendations From Our Trip
Via Ferrata To Rifugio Nuvolau: Easy Via Ferrata that anyone can do with spectacular views throughout and when you reach the top at Rifugio Nuvolau.
Via Ferrata To Piccola Cir: An adventurous climb with some near vertical section and a rewarding summit. I could not help, but turn around to take in the view, even while I was balancing off the side of the cliff.
Sunrise Hike To Lago di Sorapis: A beautiful blue lake high in the mountains. The hike is a steady climb all the way up and you keep wondering how a lake could possibly be at the end of your journey. We enjoyed it for the fact that we had the hike to ourselves and only a few other people were at the lake when we arrived early in the morning.
Hike To Seceda: Our favorite hike of the trip. I'm not exaggerating when I say that the landscape was just unbelievable from start to finish. And it got even better when you reached the Seceda Ridgeline.
Lunch at Lago Ghedina: This was my favorite lunch spot of the week. We hiked there after coming down from Tofana di Mezzo. The restaurant sits over a lake. You can't get fish any fresher as the trout comes right from that same lake. It was so nice to sit with a Hugo Spritz on a beach chair to take in the sun.
Lunch at Rifugio Scoiatolli: Another spectacular lunch spot after our climb down from Rifugio Nuvolau. There are views all around including the backdrop of Cinque Torri. The food was delicious and you have to try some of the local cuisine.
Stay At Hotel Marmolada: Our favorite hotel of the stay. Everything here was perfect from our room, the balcony and its view, the spa, to its restaurant and service. The place is run by a lovely family and the grandmother was always checking in on us. I wish we could have stayed longer.
How To Choose A Region
From experience, I've learned that that a successful road trip, ironically, should minimize how much driving you actually do. My rule of thumb is 2 hours or less of driving a day except for the arrival and departure days.
For that reason, I recommend choosing one or two regions and staying longer in each location. These were ones we chose. If I could do it again, I wouldn't even mind picking one of the places below as my home base and spending a full week there, if only because there was so much to do in each area.
Cortina d'Ampezzo
Cortina d'Ampezzo is a very popular starting point if you're coming in from Venice. The town is about a 2.5 drive from the airport with plenty of restaurants and choices for accommodations. From here, it's easy enough to drive to Tre Cime, Lago di Braies, and Lago di Sorapis amongst other places. That's what brought Cortina to our attention, but after speaking with a local guide, we diverted our attention of some its other offerings, and we were not disappointed.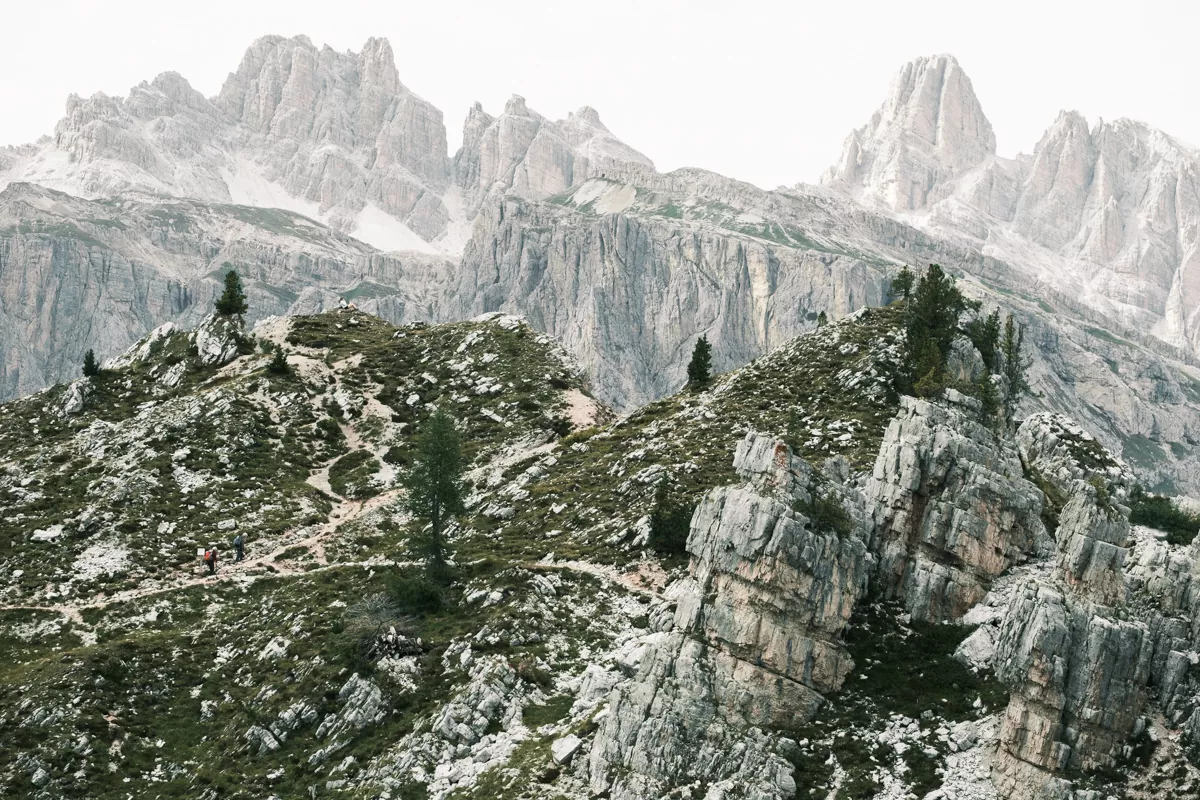 If you are planning a longer visit to the Cortina area, I highly recommend reading my Read First Guide To Cortina and going to the Cortina Tourism website which are both packed with all the information you could ever need to plan your trip from maps, hiking and live webcam feeds to recommendations for activities, restaurants, and accommodations.
Alta Badia
Alta Badia was the next logical stopping point on our trip as it is just under an hour west of Cortina and another central location for some beautiful spots that don't often get featured on social media. There are a few villages to stay in Alta Badia and we chose to stay centrally in Corvara, which had multiple cable car lifts within walking distance from our hotel.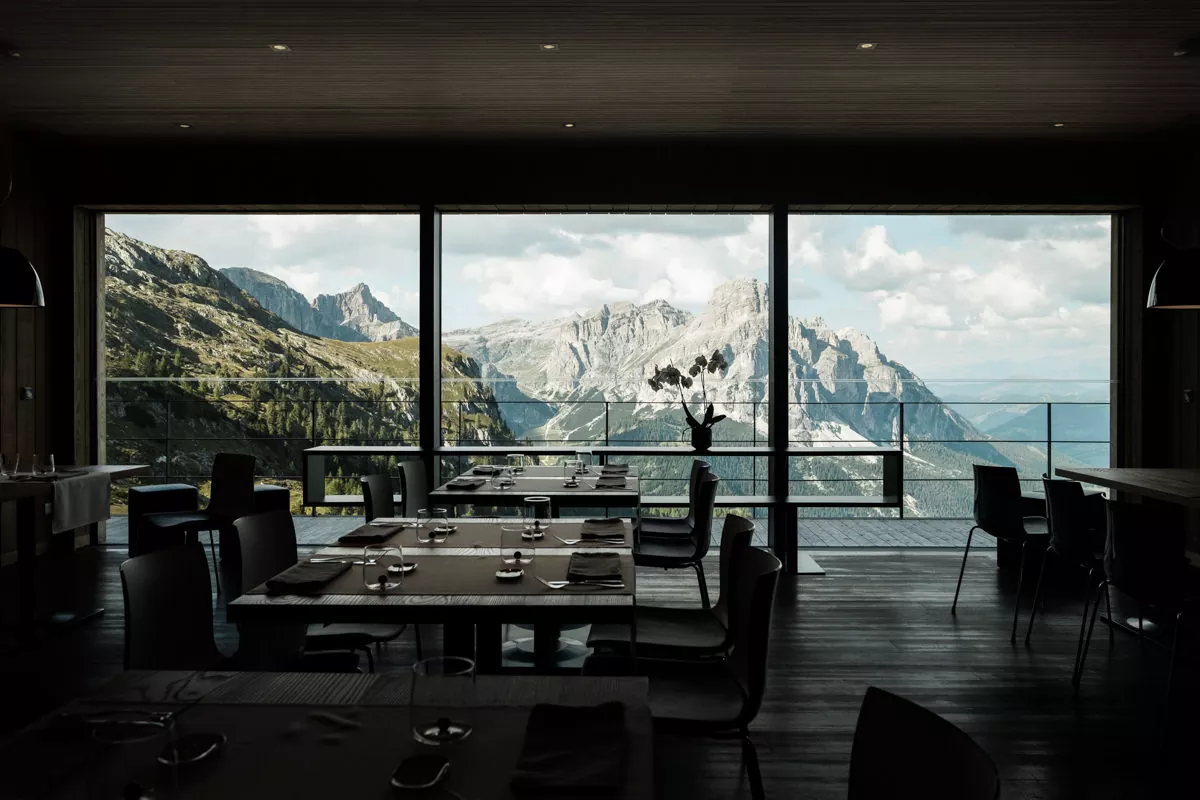 If you are planning a longer visit to the Alta Badia area, the official tourism website is  a very good place to get a lot of in-depth and up to date information about activities, trails, and lifts, amongst all the other information on restaurants and accommodations.
Val Gardena
Finally, we continued further west to Val Gardena, which was about a 40 minute drive from Corvara and closer to where we could start our hike to Seceda, one of the highlights of our trip.
From here, it was a 2.5-3 hour drive to Verona and another hour further to get back to Marco Polo International Airport in Venice. This loop was roughly 530 km and takes 7.5 hours of total driving, which was very manageable in a week's time.
The Argument For Staying In The Ladin Valleys
If, like us, you wanted to visit a few different areas, I recommend staying in the "center" of the Dolomites, or the Ladin valleys with villages and towns between Cortina d'Ampezzo and Bolzano. By doing this, you can split your time between a few places along the route and shorten the total driving distance needed to get back to your hotel each night.
For example, by moving to Val Gardena, we were right at the base to Col Raiser where we could directly start our hike to Seceda. If we had stayed in Cortina d'Ampezzo the whole time, it would have been a 3 hour roundtrip over two mountain passes to from our hotel.
You'll appreciate not having to drive back and forth along the same route multiple times during your visit.
That said, if you are planning on staying in one place, your options are wide-open as every region has more than enough places to hike and ski.
Getting To The Dolomites
The new major airports servicing the Dolomites on the Italian side are Venice Marco Polo International Airport and Milan's Malpensa Airport. There's also a smaller airport in Verona. All the options are about 2.5-3 hours drive to the closest "major" town in the Dolomites: Cortina d'Ampezzo on the east side if you're landing in Venice and Bolzano on the west side if you're coming from Milan or Verona.
Unless the majority of your trip is a multi-day trek through on something like the Alta Via trail and you don't need to get to any other towns, I highly recommend visiting the Dolomites by car, which will allow you to get to all your destinations on your own schedule.
How To Get From Venice to Cortina Without A Car
There are buses and trains leaving from Venice to Cortina and Venice Marco Polo International Airport to Cortina. There's usually a morning, afternoon, and evening option. The bus is the faster option and takes about a little hour 2 hours from the airport and about 3 hours from Venice. It's also the cheaper option at about 20 euros.
I only recommend this option if you are traveling to Cortina and subsequently to the major spots close by during the high season. If you plan to go from village to village and want to do many different hikes, I recommend having your own transportation.
How To Get From Milan To Bolzano Without A Car
Flixbux runs from Milan to Bolzano several times a day. It takes about 4 hours and costs between 10 to 36 euros depending on the time of day.
From Milan Malpensa Airport to Bolzano, there is only one direct bus a day that leaves at 3:50 pm. It takes between 4.5 hours and costs between 12-18 euros.
I only recommend this option if you plan on staying only in Bolzano and/or traveling around locally by bus during the high season.
Why We Skipped Tre Cime, Lago Di Braies, And The Church At Santa Magdalena
After picking our regions and realizing we had too many activities on our list, Yasmine and I had long debates (even after we'd arrived to the Dolomites) over which spots to take off our initial itinerary. In the end, after getting the same responses from two different guides and the owner of our hotel, she gave in and we eliminated these three popular spots from our itinerary.
From what I could see in the photos, these locations look amazing, but I wondered whether they really were the best spots the Dolomites had to offer.
Tre Cime di Lavaredo
Both of our guides shared their opinions for those wanting to visit Tre Cime di Lavaredo (Three Peaks, Drei Zinnen) for the day via the drive to Rifugio Auronzo (not to be confused with doing a multi-day trek through the Tre Cime region). I'll summarize it below from our conversations:
"Avoid going during weekends and high season. Go in June, September, or October. Lines for the toll road start well before opening times. We've arrived at the start of the roll before 7 am and have often had to wait more than an hour. If a client really wants to go, we'll try to go off-peak and arrive even earlier. Tre Cime is beautiful, but there are many beautiful mountains in the Dolomites with more exciting and breathtaking hikes that does not require a 30 euro toll and a long wait to reach the parking lot."
Instead, we went to Cinque Torri where there's a beautiful hike up to a mountain top Rifugio with an expansive view of the valley below. It was also a great spot if you're into climbing.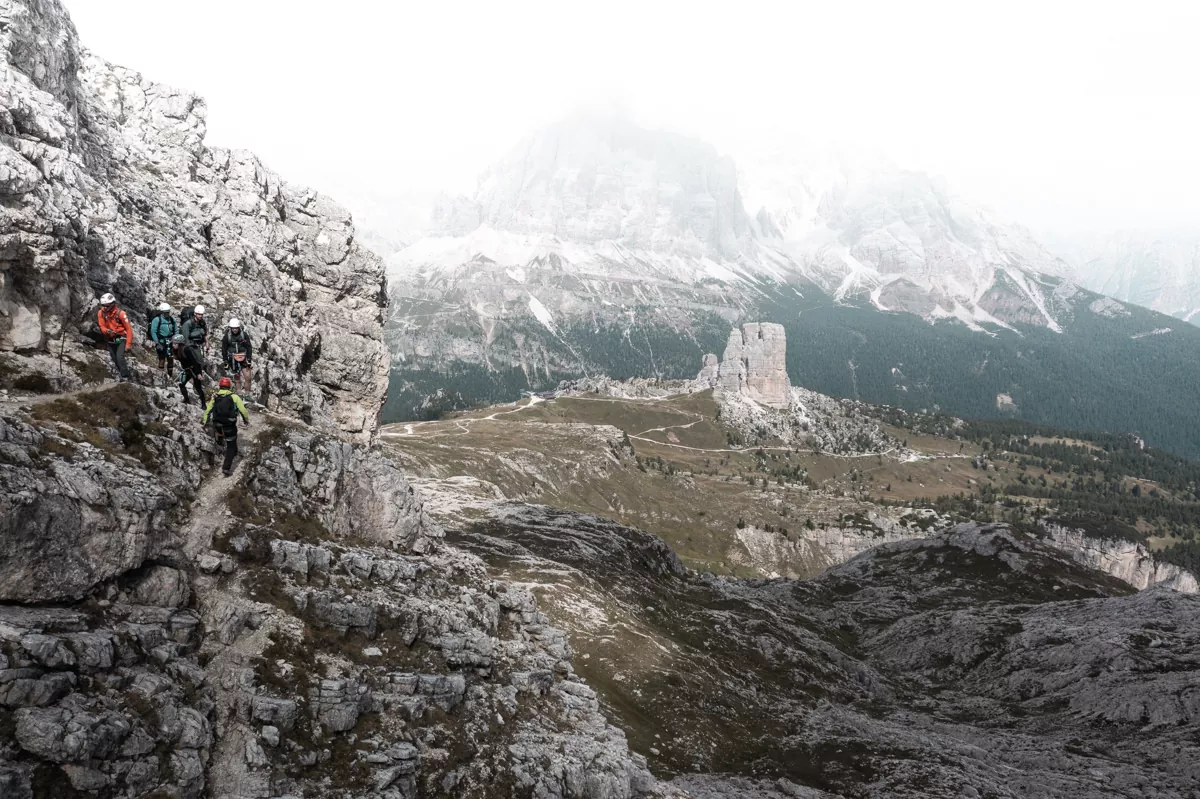 Lago di Braies
Like Tre Cime, Lago di Braies was another "gem of the Dolomites" spot that we initially on our list. Our only hesitation was that it was about an hour's drive from Cortina each way. To avoid the crowd, we'd have to get their at dawn and start even earlier.
Here's a summary of what our guides had to say:
"Lago di Braies is a beautiful lake with the mountains in the back, but it is just so popular now because of Instagram. It's already full even in the early morning. Some of our guests have started at 4:30 am in the morning to avoid the crowd, but it would get crowded anyway just a short while later. There's always a line of photographs trying to get the same photographs from the same vantage point."
Instead, we went to Lago di Sorapis. While this was also a popular spot, the trailhead was right next to our hotel and only a 10 minute drive from Cortina. We were able to start at a more manageable 6 am. We hiked the entire way without meeting anyone and there were only a few people there ahead of us.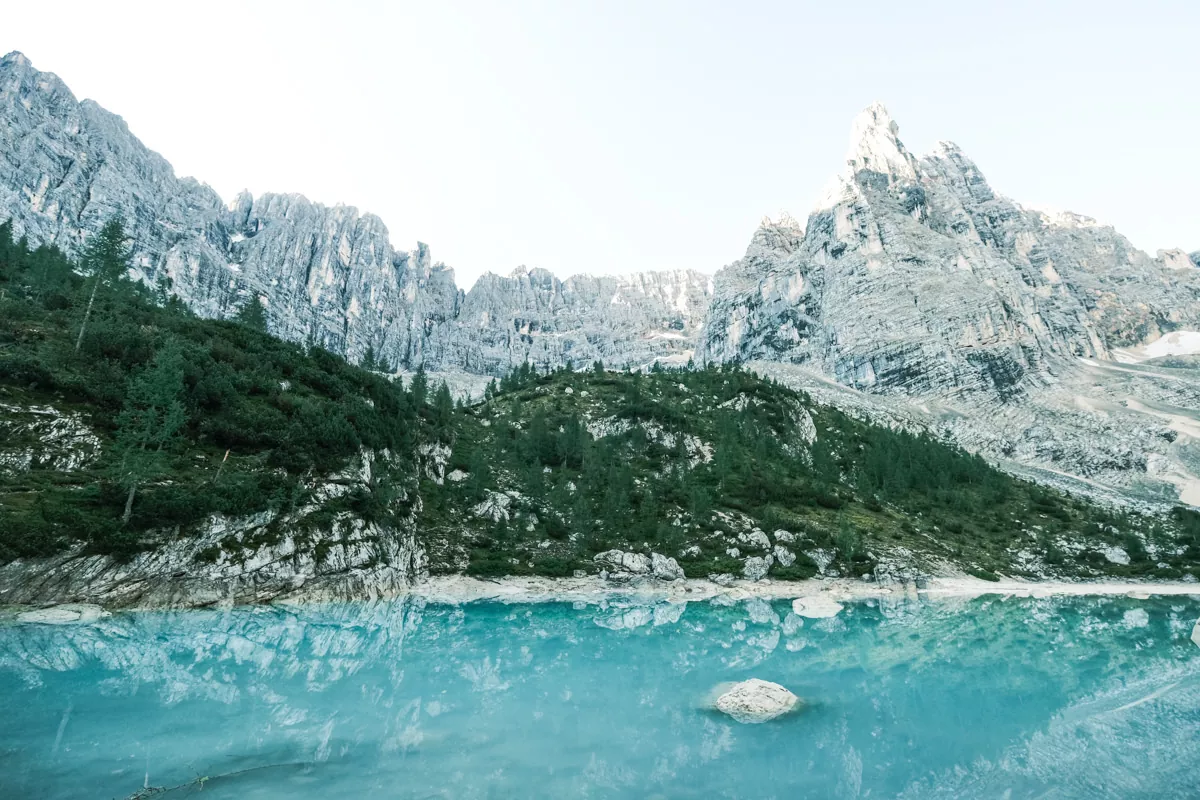 The Church At Santa Magdalena
Another spot made popular by Instagram, this was really high on my friends list, but very low on mine. If I happened to be in Santa Madalena, I would have no complaints about seeing this scene, but I certainly found no reason to go drive a few hours out of my way just for a photograph.
The owner of Hotel Marmolada in Corvara gave us a friendly eye roll when I asked about it for my friend.
"I have no idea why it's so popular. A few years ago, some photos of the church was on Instagram and now I have guests coming all the way from Japan just to see this and Tre Cime. You can find something like this in so many places around the Dolomites, but everyone just wants the same photo."
From Corvara, it was a 1.5 hour drive each way. And he was right, I spotted a few similar scenes like it, on our various hikes, of a singular cabin or church surrounded by the engulfing landscapes.
How We Chose Our Hikes
One of the things I really wanted to check off my list in the Dolomites was Via Ferrata, a method of traversing a more difficult path clipped to a climbing harness. Since neither me nor Yasmine had done it before, we decided to get a guide in each different locations and let them make recommendation.
Getting A Guide For The Dolomites
In Cortina, we went with Luca from Guide Alpine Cortina Dolomiti. The guides are local and know the area better than anyone else.
In Alta Badia, we went with Francesco from Alta Badia Guides. Francesco came highly recommended to us from the people at the Alta Badia tourism board.  We could see why, as not only was he born in the region and has been doing this for a long time, he is also a professional photographer who leads clients on some hardcore adventures around the world.
Forget About Finding The "Best" Hikes In The Dolomites
I couldn't resist asking them a question that I knew would not have a simple answer: what are the best hikes in the Dolomites?
As I expected from seasoned locals, what they valued in a hike was different from what a visitor might value. Places that drew the most visitors were spots that they avoided, mainly because what beauty the place offered was more than offset by the crowded trails and the negative impact those crowds have on that environment. What's better than having nature to yourself?
I did do a Q&A with these guys and they did mention their personal favorite trails, but in general, I came away with the sense that the best hikes are the ones that you enjoy doing. If you are don't like to climb, a challenging hike with a nice view at the enjoy may not be worth it. If you want to walk in a forest with soft dirt under your feet, a hike everyone raves about online, but has a slippery gravel path, probably won't make you happy.
Between the two of them, we were in great hands and got some great recommendations for hikes that suited our preferences, and also where to go for sunrise and sunset.
Asking Friends Who Have Visited The Dolomites
I also reached out to friends who had gone to the Dolomites for years and they came back with a couple of hikes that were must-do, like the Seceda hike.
Almost everyone we talked to recommended that we didn't try to overpack our itinerary despite the temptation to do so. As tempting as it is to do multiple hikes a day everyday, the miles, climbs, and descents add up.
You also want to have time to rest, recover at the hotel spa, and to actually take your time on the trail. There are rifugios in many places where you can sit, have a meal or drink, and just take in the surroundings. You will definitely want to allot time for this.
Should You Get The Dolomiti Supersummer Pass
One of the most practical way to get the most out of your hikes is to use lifts, gondolas, and cable cars when available to skip the initiate ascent. A lot of trails start from the parking lot of these lifts and take you up the steep ski slope path beneath the lift.
But this shortcut doesn't come cheap. Tickets can range between 10-30 euros one way. Depending on how many hikes you plan to do or how many viewpoints you want to get to, this can add up quickly. This is where getting a lift pass can come in handle.
During the summer season, the Dolomiti Supersummer card is available giving you access to every lift in the Dolomite. I believe there's something like 118 lifts across the 12 regions. There are two options: The Supersummer card (bike transport included) and the Points Value Card.
Dolomiti Points Value Card
With the points system, you can purchase a card with 800 units for 80 euros or 1400 units for 140 euros. 10 units is equal to 1 euro. By effectively pre-purchasing the cost of your lifts, you save 20% on ascents and 35% on descents. In generally, if you're going to use about 5-7 lifts for ascents, this is probably won't looking into, if only to calculate whether you're saving much.
Roundtrip tickets are usually cheaper than purchasing one-way tickets, so the cost savings is not as big if you're going up and down every mountain using the lift.
Dolomiti Supersummer Card
The Supersummer card is for those who want to use as many lifts as they desire without worrying about the cost.
Day Ticket 47 Euros
Depending on the lifts, you might break even after 2-3 roundtrip lifts in a day. In my opinion, that's a lot of lift usage unless you're just going to the top for a short hike and coming right back down using the lift.
3 Out Of 4 Day Ticket 110 Euros
This is good option if you plan on using the lift passes on days where you are using a lot of lifts and buying individual tickets on days where you might only use one. The downside is that these heavy lift usage days need to be within a 4 day window.
5 Out Of 7 Day Ticket 147 Euros
This is obviously the best option if you're spending a week in the Dolomites and planning to use a lot of lifts. It works across every region and will allow you to use lifts for any 5 days out of the week. That comes out to roughly 30 euros a day. For example, the Col Raiser lift from Val Gardena to start the hike to Seceda costs cost 16 euros uphill and 23 euros for the roundtrip ticket.
Shorter lifts cost less than that example, but our 3 lifts to get to the top of Tofana di Mezzo would have cost nearly 30 euros one way and almost 40 euros roundtrip.
Every region also has their own lift pass which can be purchased with similar options. They are only slight cheaper and would obviously be a good option if you want to get a pass, but you don't plan on moving across multiple regions.
Is It Worth It?
You obviously can do the math ahead of time to see if which is the best value. The way I look at it is if you are planning to one one big hike a day, just buy the individual lift ticket that you need.
If you are planning to hit up a lot of small hikes or just to get to some higher altitude viewing points and don't want to hike back down, consider one of the passes to save a bit of money.
How We Chose Our Accommodations
I have to say that the Dolomites are not a destination for those traveling on a light budget. When I did a quick hotel search, I came back with a lot of options…with most starting around $200 a night for two people. There were a few options in the low $100. And a lot more options that run about $400-$500 a night. These prices will vary based on the season, so you can expect it to be a little cheaper during the off season and a little more expensive during peak months and busy weekends. Most of prices include at least breakfast, but adding a dinner option can easily run an extra 30-50 euros per person.
I'll go through what I found and what you can expect to get for your money as well as some budget options starting on the lower end of the budget spectrum.
Are There Hostels in the Dolomites?
As far as I know, there are no traditional hostel options in the Dolomites…but there are rifugios.
Staying In Mountain Rifugios
If you are visiting in the warmer months, staying in a rifugio is a great way to sleep in the mountains and on a budget. Rifugios are cabins in the mountains that offer rooms, beds, and meals for travelers in the mountain. While some rifugios are open during the winter months, many are not because they are not easily reachable in the snow.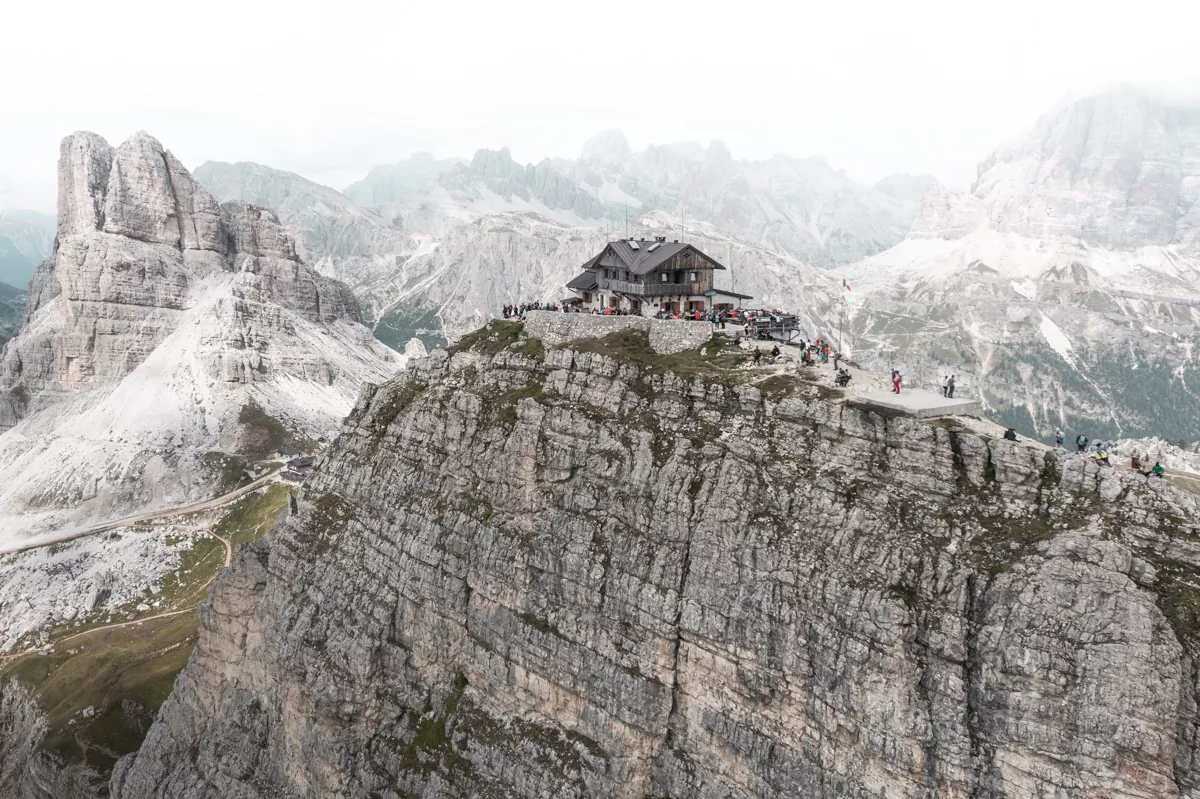 There's also a period between the end of the summer season and the beginning of the winter season (October, November, April, May) when a lot of places are just closed.
If you happen to come at time when it's open and are willing to hike into the mountains to sleep, Refugios can be as cheap as 50 euros per person per night and include half board (breakfast or dinner).
The cheapest option is to join one of the Italian Dolomites Alpine Clubs, if you don't already belong to one in your own country, and stay in one of the Alpine Club rifugios. Members get a discount, sometimes up to 50% off.
On the budget end, expect a bed in a dormitory style room. There are private room options as well.
Staying In Apartments And Homes
You can find apartments and rooms for rent on Booking.com and Airbnb.com. Depending on the location, these can be cheaper than hotels. One thing with apartment rentals is that there isn't usually a meal option. In that case, you either want to find one with a kitchen or plan to eat in town.
I did find that after a long day of hiking, it's so nice to just retire to your hotel, use the spa, and then just go into the dining room for diner – all without having to go back outside.
We saw a few decent options on the lower end, but none had the one thing I really wanted in our accommodations: a spa
Hotels In The Dolomites
With having a spa as a requirement in mind, we focused on searches on hotels and there are no shortage of options. There were a lot of hotels that I was salivating over, I also didn't want to spend $200 per person per night every night of the week (I travel 6-8 months out of the year, so I can't splurge all the time). If this is your one or two holidays a year, and you can afford it, I recommend going for hotels in the price range.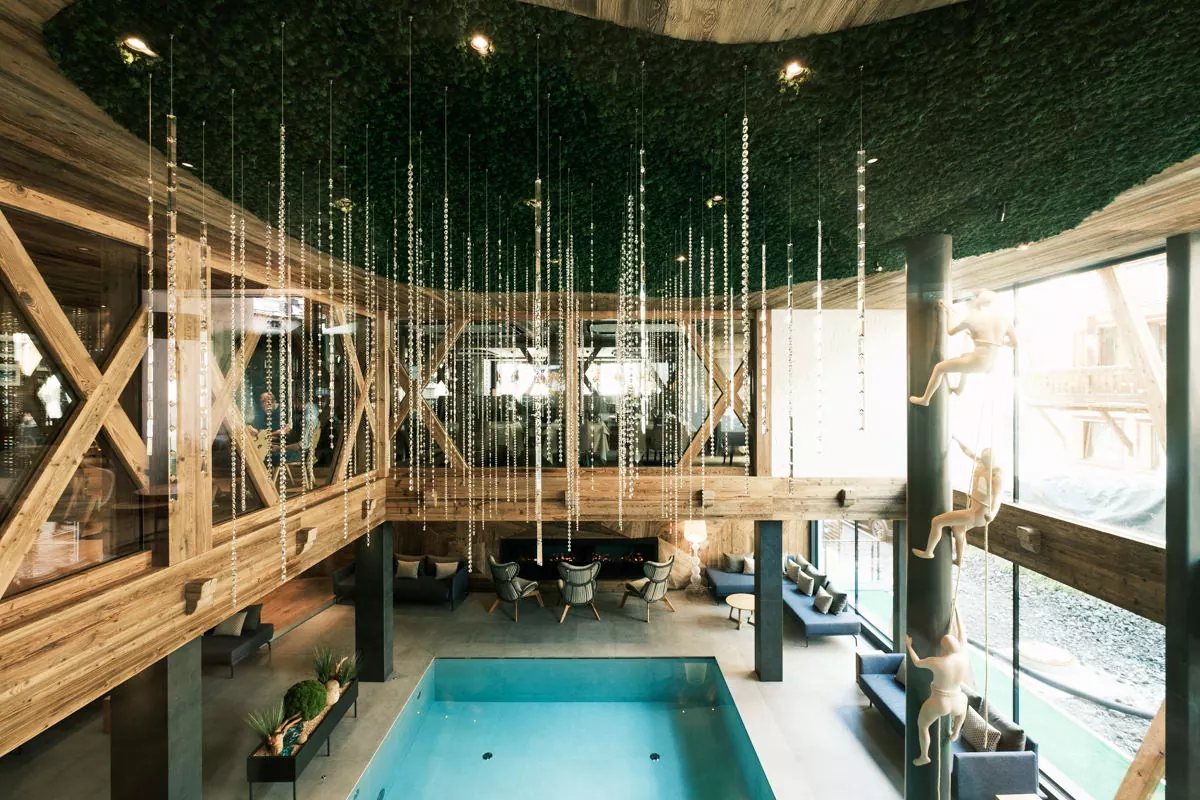 So, our plan was to find a cheaper accommodation for the first couple of nights and then splurge on something for the middle and end of the trip.
B&B Hotel Passo Tre Croci Cortina, Cortina
In Cortina d'Ampezzo, our first destination for two nights, we stayed at the B&B Hotel Passo Tre Croci Cortina. It was about 100 euros for 2 people with breakfast included.
The hotel is a very manageable 13 minute drive from Cortina d'Ampezzo and the room was very nice and spacious with a double and a single bed. What we really liked about this hotel was that it was right by the trailhead for Lago di Sorapis, so we just had to walk a couple minutes out of the hotel to start our sunrise hike.
We did not book the half board ahead of time and it was full by the time we arrived, so we just ate in the cafe our first night. If you want to eat at your hotel, I highly recommend choosing the half board option, because a typical 3 course meal at a restaurant will cost you more than what the hotels usually charge for their half board dinner option.
Hotel Marmolada, Corvara
In Alta Badia, we splurged and booked a room at the family owned and run Hotel Marmolada right in the heart of Corvara. This hotel had everything we could have asked for. A perfect location with a view of the mountains from our balcony, an amazing indoor pool and full spa and relaxation area, and the most amazing breakfast and dinners every day. We were so full after each dinner that we decided NOT to book the half board for our next destination – just to take a break from eating.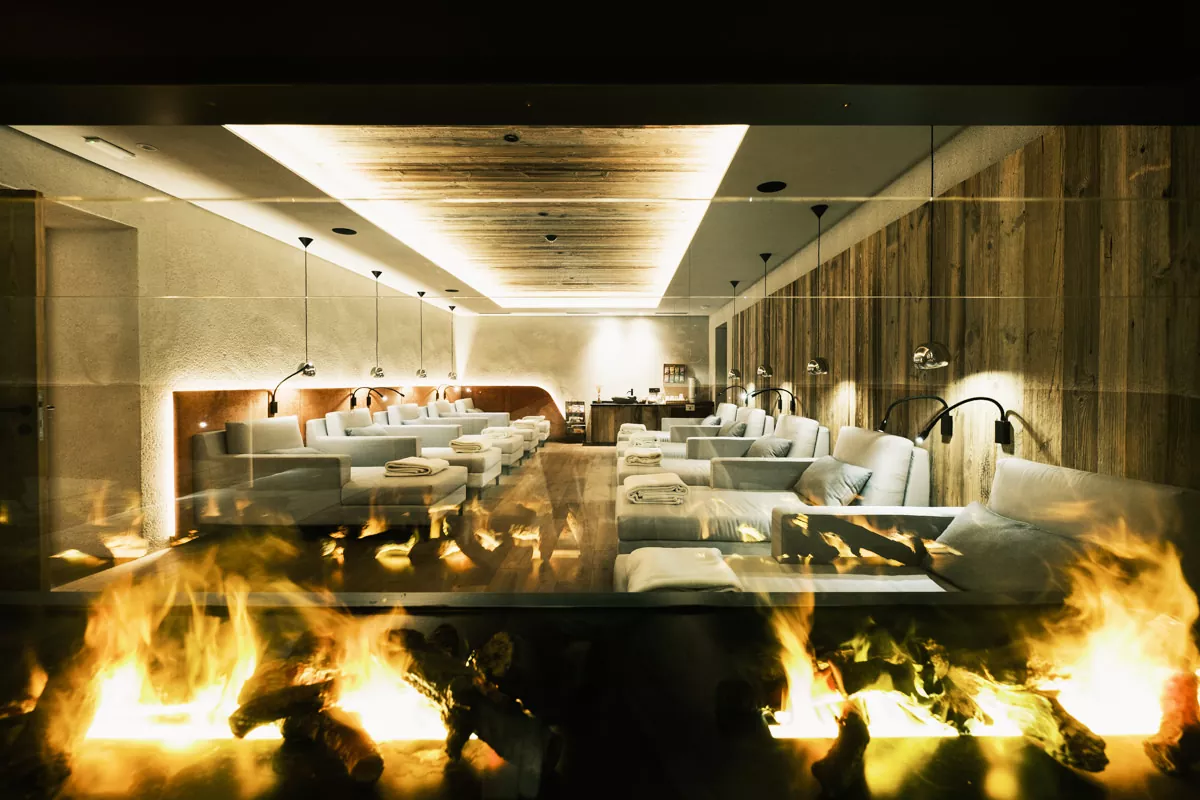 After two full days of hiking and Via Ferrata, we enjoyed every minute in recovering in the spa. I did a full review of the Hotel Marmolada, just because it was so amazing. This place was what I was dreaming about when I started doing my research on the Dolomites. Their prices vary depending on the season and day of the week, so check their website for updated prices.
Hotel Continental, Val Gardena
In Val Gardena, we lowered our budget a bit from the Hotel Marmolada and booked a room in the Hotel Continental. This one cost us about $200 a night for the both of us. I would describe it as quaint and sufficient. The spa served its purpose and the breakfast was nice, but following the Hotel Marmolada was a tough act.
Overall, I thought we did pretty well with our choices. I would highly recommend our first two options, the B&B Passo Tre Croci Cortina for its value and the Hotel Marmolada for its everything. I'd pass on the Hotel Continental.
Choosing When To Go To The Dolomites
Winter Season
There's two major season to go to the Dolomites: Summer and Winter. In the winter from December to March, it's all about skiing and snowboarding. In the summer, people come to hike, climb, and mountain bike. Though the seasons don't limit themselves to just these activities. The Dolomites are also a place to just relax and you can see that in the high quality of accommodations available, most with their own spa and restaurants offer full board and half board meal options.
As soon as there is snow, the lifts and slopes are open and welcome an equal amount of visitors each month in the winter time.
Summer Season
July and August are the peak months for summer visitors as that's when most families have their collective summer holidays.
During the summer season, June, September and October are the best times to visit as it's less crowded, while you still have great weather. Though note that October does mark does end of the summer season and some places will have started to close for a short period ahead of the winter season. It's slightly cooler in September and October, so in a way, the hikes are a little easier without the heat. Accommodations are easier to find and the prices are generally a little lower as well. Best of all, is that you'll avoid the bulk overcrowded hikes during these months.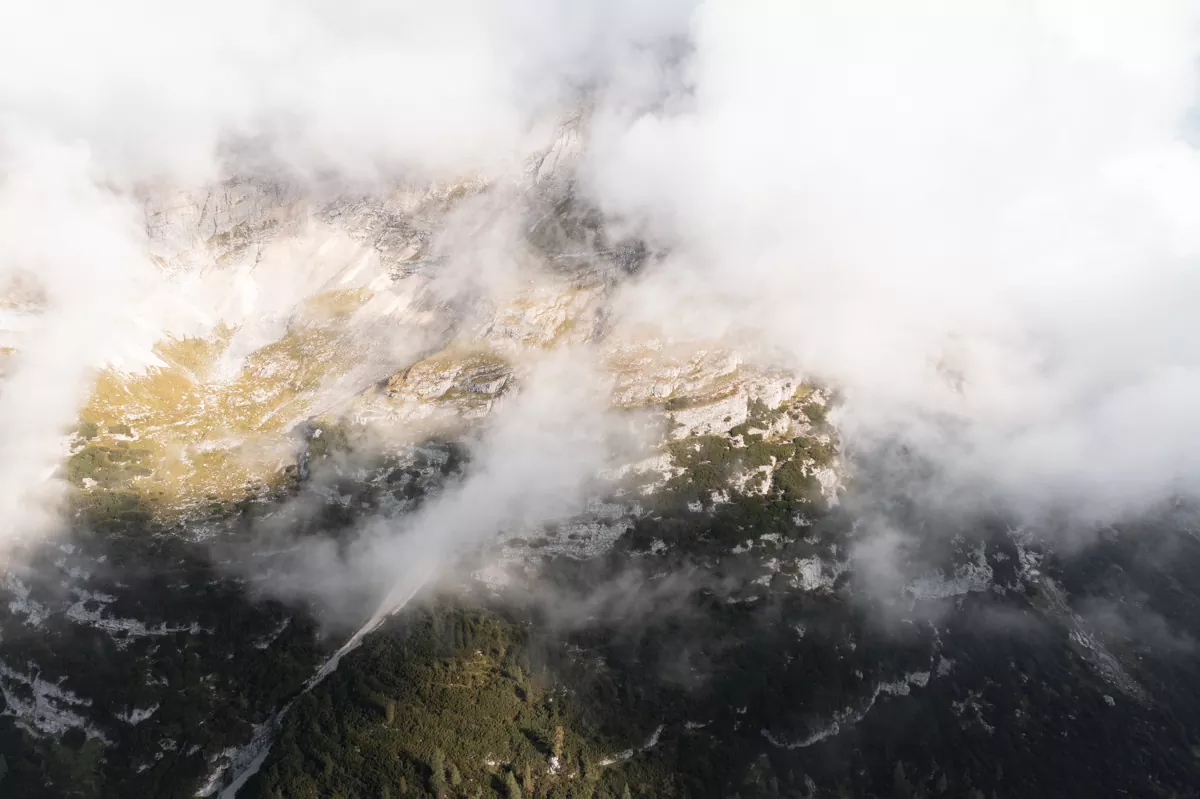 You can visit during the springtime months of April and May, but there will still be snow in the mountains, so a lot of passes might be still closed. In fact, the skiing season doesn't end until end of April.
We visited in early September and found it extremely enjoyable. There were still crowds, to be clear, in popular spots like Lake Sorapis, but we had the place almost all to ourselves by skipping breakfast and heading out at 6 am. On our way down, there was a trail of people (presumably with fuller stomachs than ours) going up. Still, I couldn't imagine the type of crowds during the peak seasons to places like Lago di Braies and Tre Cime di Lavaredo.
What Languages Are Spoken In The Dolomites?
Italian, German and Ladin (and English). I won't do a deep dive into the history of how this came about, but in short, the Dolomites were once part of the Austro-Hungarian empire until the early 20th century. During World War I, some of the deadliest battles were fought here.
Italian is the official language, but many parts are also German speaking. You'll find both Italian and Austrian names for most of the mountains and valleys.
Ladin is the oldest language in the region and spoken by the first people in the valleys of the Dolomites. It is still spoken today in the 5 Ladin valleys: Cortina d'Ampezzo, Val Gardena, Alta Badia, Fodom and Val di Fassa. This is where we spent our time.
English is spoken by almost everyone who works in the tourism industry, so if you don't speak any of the other three languages, rest assure that you can get by easily with English.
What To Pack For The Dolomites?
This is an important section to read and double check before you make your trip there. Winter is easy. Pack warm. Bring your gear. Spring, summer and fall is not as straightforward as you might think.
In the Dolomites, you deal with valleys and mountains where temperatures can change dramatically from hour to hour. When the sun's out, the valleys can be quite warm, but as soon as it drops behind the mountains, it can get cold quickly.
My advice summed up: layer and expect rain. But here's a more comprehensive list of essentials without all the specialized gear like climbing equipment or mountain bikes, etc.
Waterproof Boots or Trail Running/Approach Shoes
You want something with sturdy traction as the hiking terrain can change from dirt and mud to grass and gravel. Waterproof boots are great for hiking, but trail running or approach shoes are even better if you're doing something like a Via Ferrata where a bit more flexibility is welcomed. This hybrid between a climbing shoe and a hiking shoe gives you the best of both words.
Merino Layer
Whether it's a pair of leggings or an undershirt, merino wool is one of the best layering material out there because it's light, warm, breathable, temperature regulating, odor-resistant and moisture wicking. Every single one of those qualities will be appreciated in the early mornings or late afternoons when you're on the trail or high up on a mountain top rifugio.
Cloud Sandals
I used to do ultra endurance races where I was on my feet for several marathons worth of miles through the gnarliest terrain. And that's where I learned about these "cloud" sandals. Not only are they perfect for the spa after a long day's hike, but they are just super comfortable for your feet after long hikes.
Ultra-light Down Jacket
The one thing I carry on every trip is my Ghost Whisperer down jacket. It's one of the lightest jackets on the market, packs into itself down to nothing so I can toss it in any bag, and has kept me warm in below freezing weather. The 800-fill goose down jacket, like most other goose down, does not hold up when it's wet though, so when it rains, I reach for the next item on the list.
Rain Shell
Rather than opt for a bulky jacket that's waterproof, I prefer to have a light waterproof rain shell that goes over my other layers. Combined with my lightweight down jacket, and a merino base layer, but I've been warm in Iceland during the winter.
Day Pack
If you're not doing a multi-day trek, any light day pack will do, but if you plan on doing any kind of Via Ferrata climbing, opt for something low-profile with a waist strap just so you can keep it firm on your back and out of the way.
Insulated Water Bottle
If you like your water cold or warm, bring a good insulated water bottle. I also have a thermos with a built in cup for for tea and coffee that I always taking camping.
Collapsible Water Bottle
If you want to hike light, get this collapsible water bottle that I carry with me everywhere. It's great for traveling in general because, it weighs 1.5 ounces and rolls away to nothing when it's empty, but can carry a liter of water when filled up.
Portable Massager
So this is not really an essential, but I kept wishing I had my Theragun Mini with me while I was in the Dolomites. It is incredibly powerful for something so compact and would have come in handy after our long hikes.
Take You Time And Your Trip
Last words of advice. Give yourself time. Don't overpack your days so you aren't rushing to get from one hike to the next. The Dolomites are one of those places where it's not about one view or a destination, its beauty is everywhere, so you'll want to stop more than you think to take in the view or a photo. For more adventures and ideas, check out the hundreds of items on my ultimate Bucket List.
Updated on October 24, 2023