Bucket List: Sleeping In A Burmese Monastery In Hsipaw
Bucket List: Sleeping In A Burmese Monastery In Hsipaw
Last Updated on January 27, 2020
Once upon a time, I flew to Myanmar on a whim with a last minute visa to travel with a girl I hung out for a day on an island in Thailand. Once upon a time, that would have been strange, but over the course of my travels, I've learned to trust my gut feelings about connections with people and leave my plans open enough to go with the flow. It was precisely this trust that brought me to the highlands of Myanmar a few weeks later, where I had the most unique experience of sleeping in a monastery surrounded by little monks.
---
I met Evie on Koh Lipe and though we spent only a day together, it was sad to say goodbye so soon. Before she left, Evie invited me to travel with her in Myanmar. I had plans to fly back home the following week, but as soon as her boat left, I looked into a flight and visa and told her I'd be flying in to celebrate her birthday. It was awesome.
I didn't have a normal candle so a cigarette would have to do for a birthday candle.
Flash forward 3 weeks and we are in the north of Myanmar doing a 3 day trek through the Shan Mountains near Hsipaw. Evie had heard about sleeping in monastery and with a straight face, she told me, she wanted to "sleep with some monks." I said why not? Our hotel arranged for a guide to take us through the region, which unbeknownst to us was occupied by two armies in armed conflict.
We were assured that everything would be fine, even if rockets were fired just a couple of kilometers away from where we were trekking. 
This was after our guide exchanged a few words with one of the villagers along the way and with a slight look of panic, ran ahead to "scout". He came back 15 minutes later slightly out of breath with a smile on his face and told us that if we ran into an army, to just follow his lead in saying hello in the language of that particular army.
Everything would be fine. And anti-climatically, it was.
We ended the first day at a small village where time just slowed down. Evie played with a water buffalo and I photographed the children who were eager to show us their acrobatic cartwheels while simultaneously playing shy whenever we tried to say something in Burmese.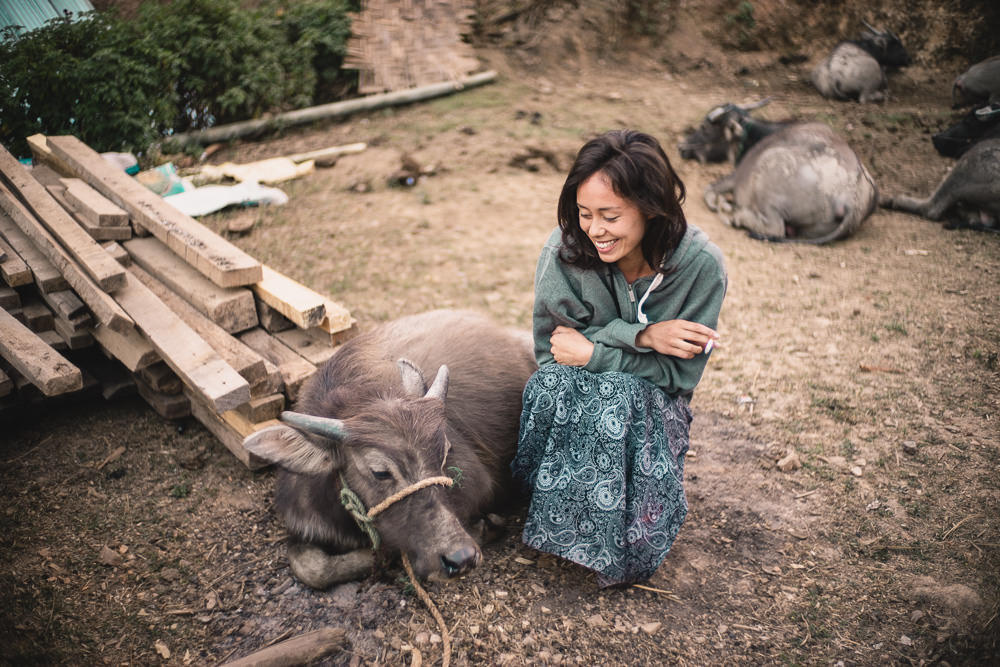 I found peace in this place and great comfort even when when our beds were just a well worn pad on the floor. I felt great gratitude for what I had and for being able to experience a different taste of life. My travel, in general, take me to all sorts of places and I find myself sleeping in all sorts of beds. One day, it could be under 400 count Egyptian cotton in a 5 star penthouse suite, and another, it's in a hut protected by a mosquito net while animals graze just outside my bedroom window.
The next morning, we continued our trek further inland to another village, walking at a pace that hinted at us not having to be anywhere by any specific time. In the late afternoon, we arrive to another small village where we would be spending the night in the monastery.
We arrived to a score of little monks called novices who greeted us with coy smiles before assembling for their prayers. I was told that we were one of the few foreigners who have come to spend the night in this particular monastery, so they were receiving us on short notice without much preparation.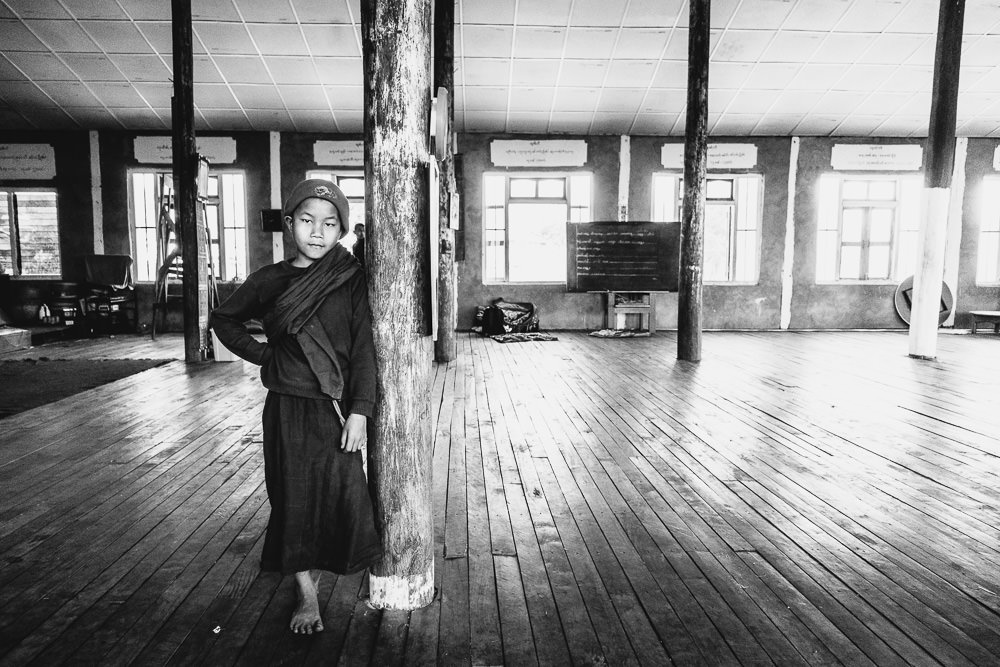 Along one side of the monastery wall were a row of flat mattress pads with a few blankets where the novices slept. We were offered two of these pads, which we gladly retreated to giving our feet a rest. While the novices ran off to do their chores, I reclined fully horizontally and stared ceiling while the late afternoon light shone through. Evie wrote in her journal and time slowed down again like it did the evening before.
There were much to do and much like the rest of our time in Myanmar, we experienced a great deal of quiet time to contemplate and just chat. By now, it was nice that Evie and I settled in a place where we could spend time in silence without a need to say much.
By now the novices started to warm up to us, and allowed me to take some photos of them without breaking into laughter and running away. This was a place of refuge for them, in a country where resources are scarce and families are not always able to give a good life to their children. I wished that I was able to communicate with them to ask more about their lives.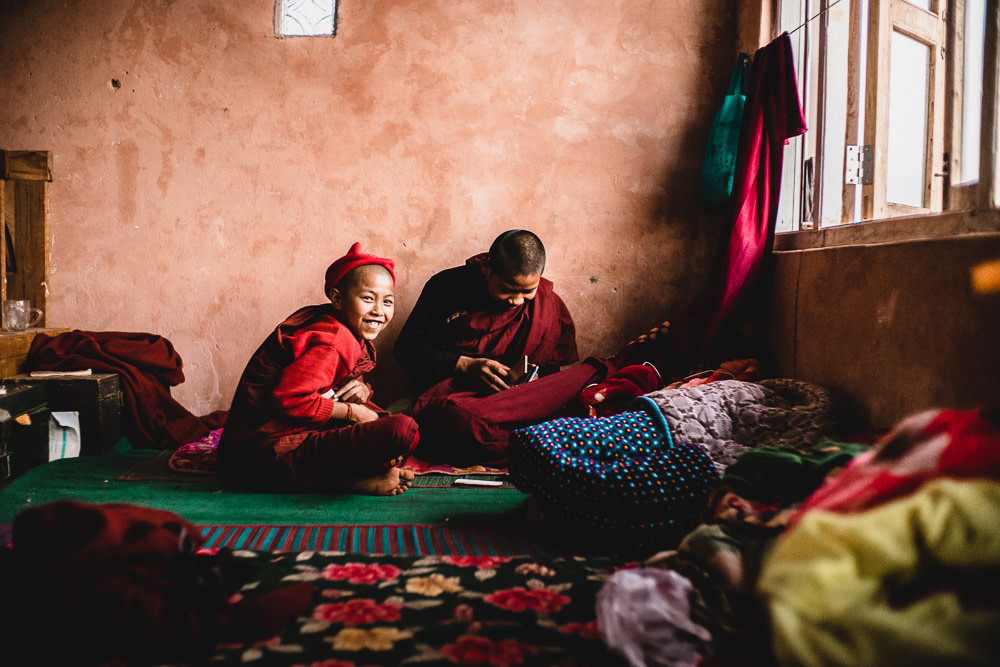 What struck me most about Myanmar in contrast to other well-trodden Southeast Asian countries was that the people outside of Yangon and Bagan were not exposed to foreigners on a daily basis. Children came up to us with pure curiosity and despite their impoverished conditions, we never experienced any begging. This warmed my heart knowing that they regarded us merely as visitors rather than as marks for sharing a well-rehearsed sob story cobbled from a few sentences of broken English. They were not exposed…yet and I hoped that it would stay this way.
This was a beautiful country, much like Thailand or Vietnam and as much as tourism can help their economy, I like that it has also not corrupted or spoiled it just yet.
At some point in the sleeping hours, Evie felt the early effects of food poisoning that kept her awake most of the night. While she continued to rest a bit more, I woke to a crisp morning to the prayers of the little novices, their whispers chants welcoming the day with a warm sense of calm.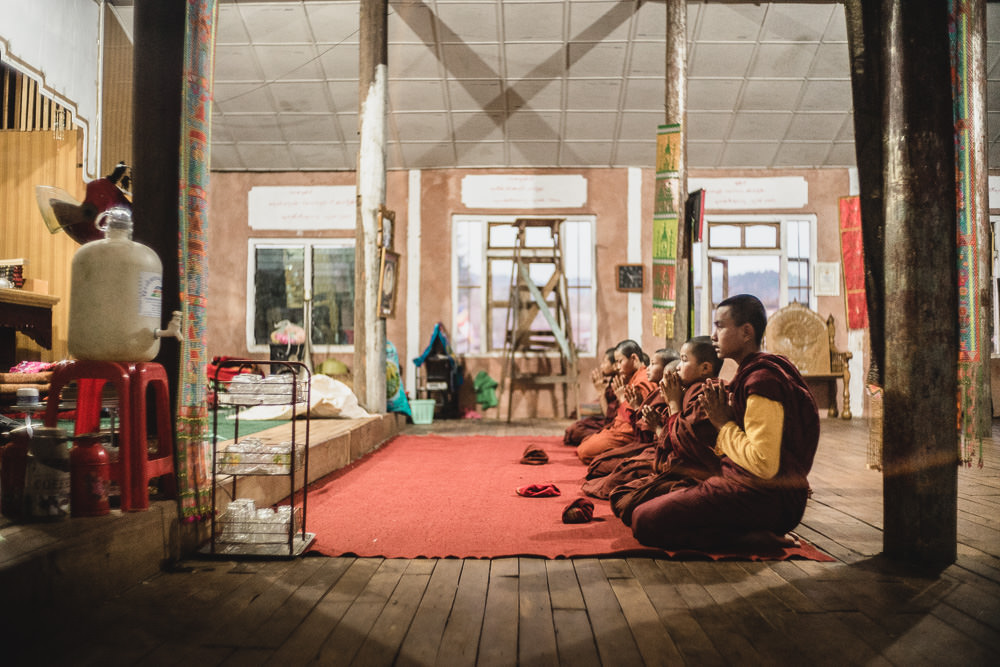 When we said our goodbyes, the novices were running around and playing, reminding me that despite the shaved heads and robes, they were still children, who wanted to partake in the real world.