Why I Paid $130 For Afternoon Tea At The Sahn Eddar Burj Al Arab
Why I Paid $130 For Afternoon Tea At The Sahn Eddar Burj Al Arab
Last Updated on January 5, 2022
---
There's one 7 star hotel in the world. Although it's self-awarded, the Burj Al Arab in Dubai is a symbol of the excess and reach of the Emirates. It's built on its own man-made island and a night in the hotel costs well over $1000. You can't even stop in for a quick peek…unless you have a reservation to eat there.
Or are you following me yet?
Updated January 2022: Prices have been updated to reflect the current price in 2022.
So, for a minimum fee, you can find your way into this pretty exclusive hotel, if only to see what the fuss it about. So what are some of your options?
You can go all out with the Culinary Flight and eat a course at each of the 5 restaurants in the hotel. That will run you 995 AED ($270 USD) or 1750 AED ($475 USD) to also get the pairing. The cheapest, but in no way slouchy, option is to do the Ultimate Afternoon Tea at the Sahn Eddar restaurant for about $130 when all is said and done (Update: It's about $172 or 635 AED before gratuities as of January 1, 2022). The question you might wonder is it is worth it?
Inside The Burj Al Arab
From the outside, the world's 4th tallest building was built to look like a sail. Inside, it honestly just looks like another Las Vegas hotel, except with a lot more gold. With a reservation to one of the restaurants, you feel like you have the keys to enter some exclusive kingdom. This sort of exclusivity is not something I care for, but I wasn't going to let it spoil my fun for today.
I spent a good 10 minutes wandering around the lobby and even checked out the the bathrooms. And of course, they were stocked with Hermes products. I pondered for a moment, while transfixed by the smell Eau d'Hermes, whether the toilet paper needed to make contact to do its job. It still does.
Is Sahn Eddar's Ultimate Afternoon Tea Worth It?
When it was time for my reservation, I went to the restaurant and was welcomed to my seat. The restaurant was mostly empty, but I suspect people would be showing up later. After being offered a selection of tea, one of the waiters came out and pour me a glass of Louis Roederer champagne. It was done with such precision that I'm sure he had practiced many times before. I made sure to sit back, take it all in and enjoyed that first sip of champagne like I enjoyed that first moment of stepping into a fully blasting air-conditioned Dubai mall after spending anywhere more than 5 minutes outside. Sanctuary, relief, and ecstasy.
For the afternoon high tea itself, it is currently 635 AED which gets you the 7 courses, a glass of Louis Roederer champagne and a a ridiculously long tea list. Below are the dishes.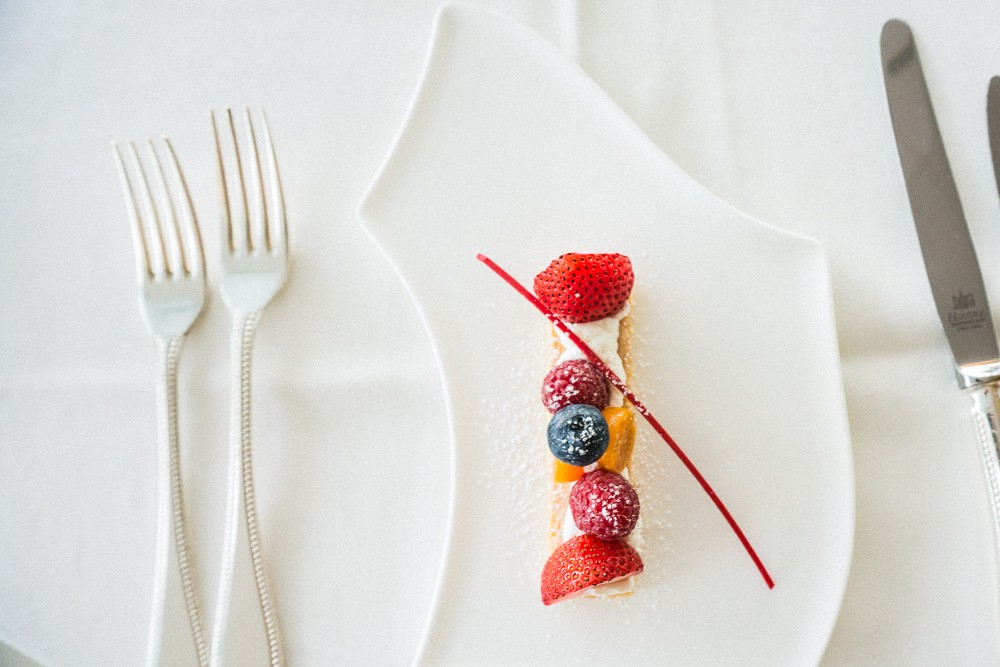 The Best Dish At Sahn Eddar, Burj Al Arab
I know I paid a pretty penny for a handful of dishes and a glass of champagne, but I can't help but say that everything was just flawless. Compared to some delicious afternoon teas I've had in London, on Lake Como, and this especially massive one at the Redbull Hangar in Salzburg, the Ultimate Afternoon Tea at Sahn Eddar stood out in their simple but flawless execution of each item. Nothing was complicated. Nothing looked like it came out of a Michelin 3 Star restaurants or the cutting edge kitchen at El Bulli.
Take the scones and clotted cream. It's a simple dish that I can find for 1£ at a Sainsbury in London, but here, there was a balance between having a bit of crunch to the outside and perfect moistness on the inside. The clotted cream was rich and delicate. There were an assortment of preserves that went with it that I wished I could take home.
All the tiny desserts were almost too pretty to eat, but it wasn't just about the aesthetics. The macaron tasted like the ones I had in Paris. The lemon meringue tart was just heavenly and that cream puff. Oh, I'm not a fan when you bite into a cream puff that is too airy. This was fluffy and just the right about of denseness.
But my favorite single bite was from the finger sandwich platter. That toasted rye with smoked salmon, caviar and the quail egg was so nice. I could have eaten another 12 to complete a baker's dozen.
Was The Afternoon Tea At The Burj Al Arab Worth It?
So there you have it. Was it worth it? That depends on what kind of disposable income you have. Delicious food, flawless table setting and pinpoint service. And priced accordingly. It's more than I'd normally pay for a meal, especially when I had just come from Nepal and paid $3 for my steak, but it's also one of those things you do to do. When in Rome, as they say. I probably won't be repeating this meal, nor would I fly half way around the world for it, but how often will I find myself in Dubai? How often will I be dining in a self-proclaimed 7 star hotel where I can use Hermes toilet paper?