Is Budapest's Secret Food Tour Worth It?
Is Budapest's Secret Food Tour Worth It?
Last Updated on September 9, 2020
Last time I was in Paris, I went on my first food tour – and loved it. It was a different experience for me and so nice to NOT have to spend hours reading through lists and reviews and then hoping the recommendations didn't come from someone who had no idea what they were talking about. I'm not hating, it just happens a lot.
So with 10 days in Budapest, I wanted to give it a second go around to see how the Secret Food Tours compared from one city to another and also to get some tips to set me up for the entire stay.
---
This wasn't my first visit to Budapest and I was quite impressed by the food scene the last time I was here. You have all the traditional restaurants serving goulash and paprikas alongside concept restaurants serving delicious international fare – all for so much less than other cities in Europe. With the city getting hipper every year, I had high expectations – and I was hoping our guide, Norbert, would give me some insight into this during the tour and beyond.
Eating Right In Budapest
Meeting at the Fat Policeman statue near the Saint Stephens Basilica, Norbert quickly introduced himself, gave us a mini history lesson on Budapest, and then told us that we could ask him anything.
"This is not a PC tour." I love it already.
We walk a few minutes and stop right in front of a cafe, where, to be honest, we probably would have stopped anyway because of the warm, delicious smell of freshly baked pastry intoxicatingly pulling us in. Our first stop is at a strudel house, where Norbert quickly explains that this is not like the strudels of Austria (which originated here). We get there just in time to watch a batch being made.
As if transported to an Italian pizzeria, the strudel maker starts tossing a a disk of dough round and round in the air until it grows approximately 10 times in size. It gets so large and paper thin that I could not comprehend the physics behind how it didn't break. Norbert explains that the rule of thumb for strudels or retes in Hungary is that the dough should be thing and transparent enough that you can read a newspaper beneath it.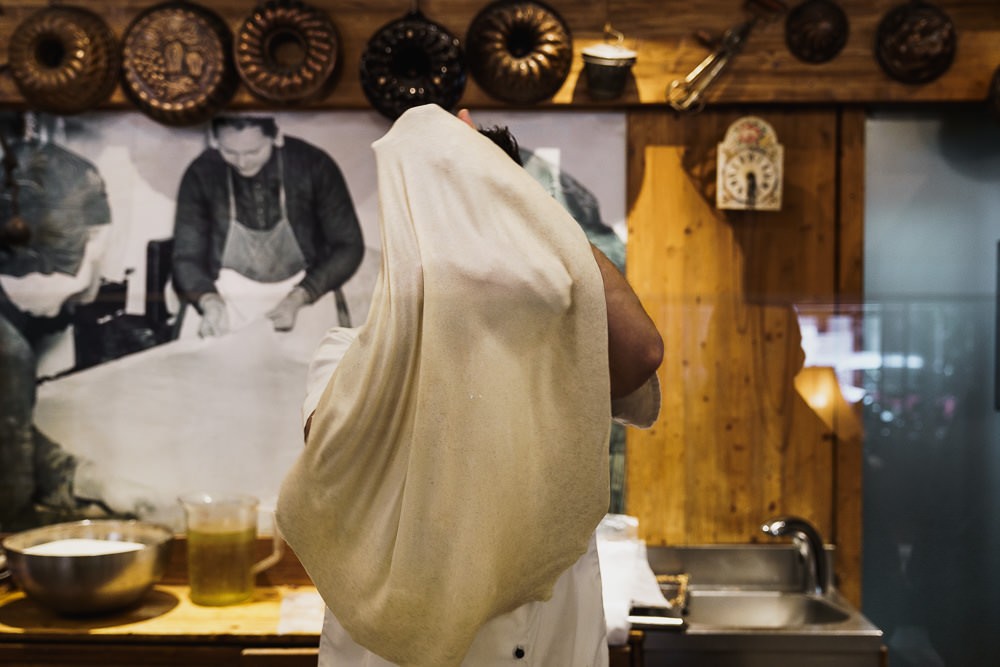 Not Your Grandma's Strudels
Unlike strudels I've tasted in the past, this one is 98% filling and 2% dough, just the way the locals like it. We watched on as the strudelmeister (?) toss some corn meal on the, now paper-thin, sheet of pastry dough, and then generously fill it with cheese curd. He rolls the whole thing onto itself a few times to create layers, cuts it into smaller lengths and puts it into the oven. The whole process takes just a few mesmerizing minutes, and in another 10 or so, the whole thing will be hot and ready to be eaten. And that's exactly what we did.
After the demonstration, we are taken to a pre-set table where a freshly prepared batch of strudels waits for us. Norbert has ordered 4 different types for to try, starting with a savory cabbage stuffed strudel. 2/3rd of our group of 6 is a bit skeptical. I dig in first. Warm, flaky and taste something like the dim sum I'm used to on Sundays at home.
We move on to the classic cheese curd and sour cherry. Everyone nods positively to this one. We try a couple more and there's still half a plate of strudels left. I unapologetically go for seconds much to the approval of Norbert who has, correctly, pegged me as the one that would make sure we would not leave any leftovers to go to waste.
He tells us that we have a moral duty to eat it all, so that all the tour groups to follow will not have smaller portions. It is sound logic and I agree with a second mouthful of cabbage strudel.
This sets the tone for the rest of the tour and in fact was the thing that I found to be the differentiating factor between this one and the Paris Saint Germain tour. Every tour is different, but what impressed me about the Budapest Secret Food Tour is that we sat down at EVERY stop to eat. It was very nice and you can tell that a lot of time and attention was put into the itinerary.
With our appetite whet, we move onto one of the ubiquitous food halls that's scattered around the city. Along the way, we are getting very interesting information about Budapest and its food scene, including why there were so many food halls.
Budapest Is More Than Just Goulash
To our collective surprise, another table was already prepared for us with a whole platter of cured meats and homemade bread culled from all the different types of salami Norbert was explaining about earlier. We got to try a variety of them, including some the locally loved mangalica salami, which comes from a type of pig with fur that looks like it's trying to be a sheep.
Before we are able to pick at the meats, Norbert politely asks us to wait, as the salami is the "dessert" portion of this stop. We had other things to eat first and like it was perfectly timed, wooden planks are brought out with what I recognize as goulash. The bowl looks a little small to share – except we weren't sharing. Everyone was getting their own.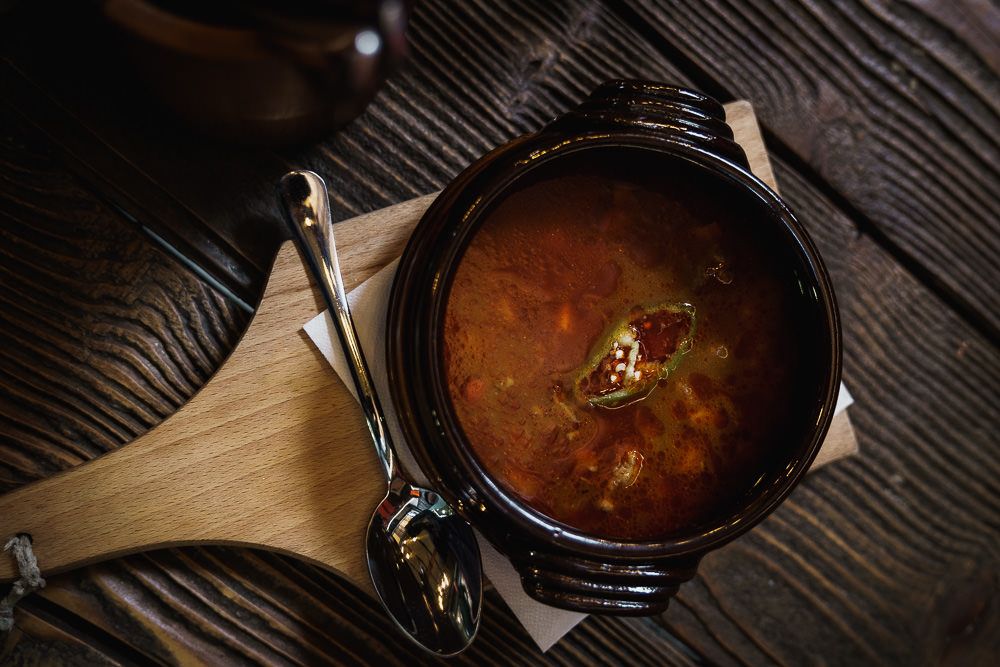 Good Enough For Your Hungarian Mother-In-Law
Norbert tells us that he takes his family here to eat. If it's good enough for a Hungarian mother-in-law, it's probably good enough for us. Again, I couldn't disagree. This version is lighter and is more a broth than a stew. It's perfectly seasoned and the paprika is sweet in a very well balanced way. I'm the first to finish and the first to notice that another set of wooden planks was being brought out with the unmistakable smell of the roasted pork knuckle I had been admiring when we first stopped at the restaurant.
This was, without a doubt, a full 3 course meal. The pork knuckle is served with sauerkraut, roasted potatoes and horseradish. It is a lot of food, and I am the only one who finishes my portion. Hating to see food go to waste, I eat my sister's leftovers too.
When we are finished, we "cleanse" our palate with the salami, homemade bread, and some paprika sauce from a tube (that I've since bought 6 tubes of to take home). I inquire about the langosh, or fried flatbread topped with sour cream and cheese, that was listed on the tour itinerary because I had doubts I would be able to eat a whole langosh after just two stops of eating.
Norberts tells us that they change the tour itinerary up every few months and we were part of a new itinerary, that mercifully did not also include langosh. This helps keeps it the route and itinerary exciting for the guide and for people who come back and want to try something different.
Before getting to the next place, we stop at buildings, statues, and memorials along the way learning a bit more about the city's history, including both its celebrated moments and its not so proud moments. I enjoy hearing stories and anecdotes directly from locals. In context, it's the glue that brings together you've learned and everything you see when you visit a place.
Dessert Heaven
Just as my sister is inquiring about coffee, we stop into a cake shop filled with a glistening array of pastries and cakes. We gawk at the selection while Norbert tells us about the whole Cake of the Nation thing. Apparently, every year, a cake is chosen as the cake of the nation and it's a big deal. This place has won it several times.
Somehow, I'm still surprised when we are taken upstairs to another table prepared for us with a selection of 6 cakes, one for each of us, but of course meant to be shared. Our coffee and tea orders are taken and then we dig in to try all 6 cakes. So many good ones, but I think I loved the E-80 the most because it was very similar to a tiramisu cake.
With dessert and coffee in the books, I had no idea where our 4th and last stop could be. Perhaps some local palincka or unicum? Nope. That would be too predictable.
Saving the nicest place for last, we stop into a wine bar/restaurant for some Hungarian DESSERT wine and a selection of cheeses on a slate board that was almost too pretty to eat.
The cheese is accompanied by wine from the Tokaj region, which in turn is accompanied by a fine explanation about it and how to read the label.
Put This On Your List Of Things To Do In Budapest
By now, it sounds like I'm unabashedly a fan of this tour – and I am. It exceeded my expectations even after the great experience in Paris. I think the Budapest team really takes pride in wanting to be one of the best location tours for the company. Here's why I loved it so much.
We sat down for every tasting, however small. It was very nice to just sit, eat and converse. Everything was prepared ahead of our visit.
We were served a feast and more. I was more than full, and that takes a lot. I wouldn't say it was excessive, but I don't think anyone will complain about not being fed enough. It wasn't just quantity either. Everything was delicious and planned in a way that resembled a multi-course meal across multiple restaurants. In fact, it was like we had a mini breakfast, lunch, and dinner all in one go.
Norbert was a great guide. I loved his sense of humor and the pride he had with Hungarian cuisine. The sense of humor goes a long way. He gave me a list of recommendations for after, which I very much appreciated.
Every place on the list was a place that locals eat at, even the guide's own family.
Like the other Secret Food Tour I took, this was more than just a food tour. We walked around and learned quite a few things about Budapest itself.
Itinerary change. It's very easy to just stick to the same itinerary year in year out since most people usually only goes once. I like that they mix it up, because like any city worth its culinary weight in gold, there's more to it than just a handful of places. After the food tour, I've found of bunches that I've really loved and I could see a few of them making it into a similar tour.
So basically, if you've read down this far, you can get the sense that I had a great time. I highly adding this to your list of things to do in Budapest, especially earlier in your visit. It'll start you off with a number of local things that you have to try and then if you're nice, you might be able to get a list of more places to try from your guide.
The Budapest Secret Food Tour, as of February 2020, costs 69 euros per person and leaves at 11 am everyday. When you are finished, go for a nice 40 minute walk to the Gellert Bath or the Szechenyi Bath and soak away your calories.