Dubai Bucket List: Indoor Snowboarding At Ski Dubai
Dubai Bucket List: Indoor Snowboarding At Ski Dubai
Last Updated on September 11, 2020
It's no secret that Dubai is a statement of excess and luxury. It is home to the tallest building in the world and the largest mall in the world. There's a self-proclaimed 7 star hotel and they've even built their own island. It isn't so far fetched to assume that you can pretty ask for almost anything here. Since Dubai is in the Middle East where temperatures can reach unbearable heights, how do you accommodate for those who want to, say ski perhaps? Easy enough. You build an entire indoor slope and ski lift right into one of their many malls, where pretty everything takes place anyway. This was too good of an opportunity to pass up, so I had to go
---
Located in the Mall of the Emirates, Ski Dubai is a 22,500 meter facility with real now, a proper ski lift, and 5 runs. It's not Whistler or Tahoe, but you are also able to ski or snowboard year round here…in the desert. They've even got their own apres-ski lodge halfway down where you can stop for a warm drink or a bite to eat.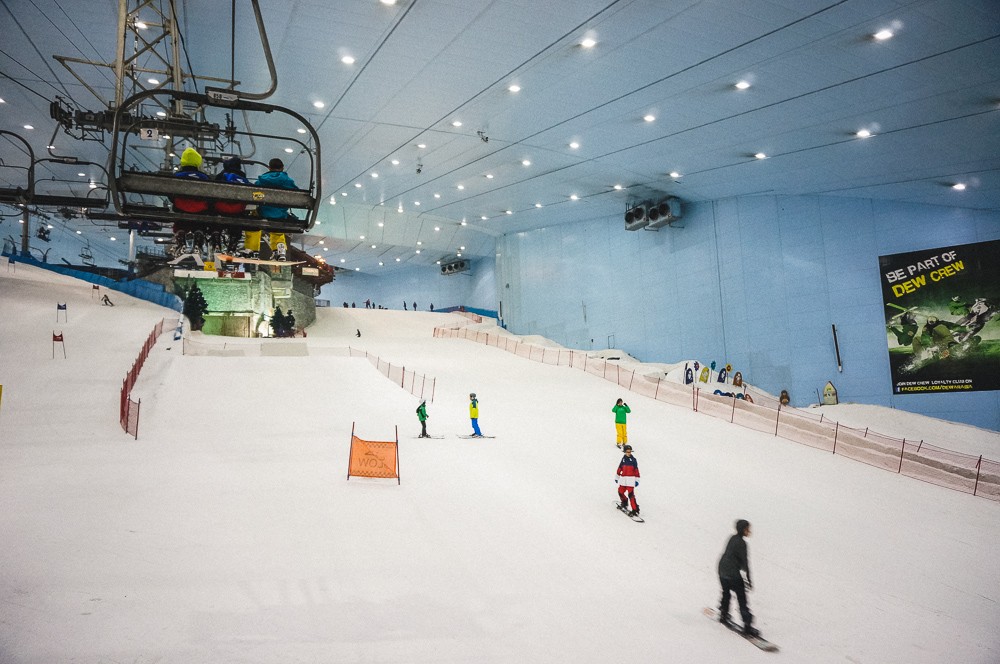 How Much Are Ski Dubai Tickets In 2020?
As of September 2020, it costs AED 210 (57 USD) for an adult 2 hour pass,  AED 310 (84 USD) for a full day pass, or AED 320 (87 USD) for 2 full days. All the packages include your ski or snowboard equipment, boots, bindings, jacket and trouser rental. You can even take a pair of disposable socks. Everything you need even if you show up in flip flops and a tank top like I did. If red and blue are your favorites colors, you'll love the whole get up.
If you are near the mall, I would just get the 2 day pass and pop in everything you want to cool down.
I suited up, put my own matching red beanie and hit the slopes. First impression was just how ridiculous, but awesome this place was. They designed it to feel like a ski village complete with restaurants and shops. The snow is obviously man-made but felt real and smooth underneath my board. There's a stop mid-way up and one at the very top. The slopes are for intermediate and advanced snowboarders and skiiers only, so you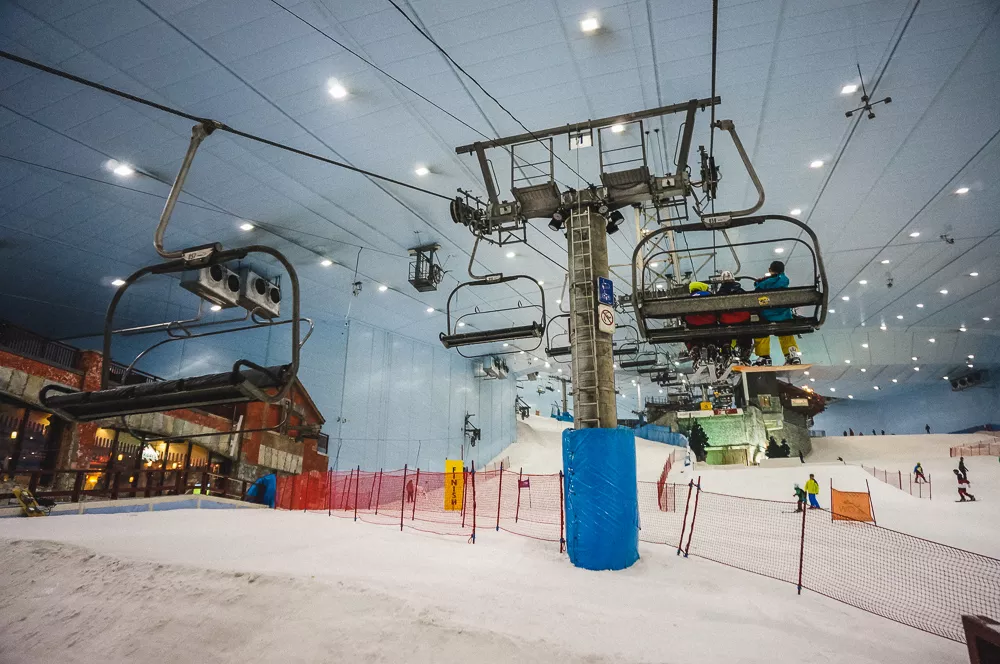 From there it splits into two path. When I was there, one was being used for high speed ski runs around flags going straight down. The main slope had an immediate drop off and runs 400 meters (1300 ft). Not too shabby. It takes about a minute to get down and about 8 minutes to get up, so you can theoretically get in about 6 runs in an hour.
That's me on the lift. My nose was horribly sunburned having just finished the Annapurna Circuit in Nepal a week back, but look at the smile on my face. I'm snowboarding indoors. I've had this on the bucket list ever since seeing Matt Harding dance there in his "Where The Hell Is Matt" video.