The Best Place To Eat Tafelspitz In Vienna
The Best Place To Eat Tafelspitz In Vienna
Last Updated on January 5, 2022
---
High on my list of things to do whenever I'm in major European cities is to find the best national dishes to eat. In Vienna, I sought out the best Austrian national dishes, but since it shares a heritage with Germany, I did my cross search to also include the best German national dishes. What came up most often other than weinerschnitzel was something called Tafelspitz and Vienna was one of the best place to try this dish of boiled meat dish. And what an incredible meal it turned out to be.
The History Of Tafelspitz And The Emperor's Favorite Dish
Tafelspitz, which means 'tip of the table' is a boiled veal dish served with a broth made from the liquid it simmers in, served with root vegetables and rich bone marrow. It's eaten as a whole multi-course meal starting with the stomach warming broth, followed by the bone marrow on toasted bread. The main course is the meat and fried potatoes served with a chive and apple-horseradish sauce (apfelkren).
Tri-tip or a lean cut from the rear of the cow is the part of meat that's usually used for tafelspitz, but many recipes and restaurants offer different cuts nowadays, including the top round and fattier cuts of meat.
Traditionally, it was a dish reserved for royalty. It was the favorite dish of Joseph I, Emperor of Austria and it was prepared almost nightly in his court. So much so that the dish was called the Emperor's Dish. The specific 'tafelspitz' cut was expensive for its time and reserved for the wealthy, but because beef was considered a cheaper source of meat than pork, it was an important 'flesich' dish for the working class.
The recipe has not changed much today and its popularity remains.
The Best Place To Try Tafelspitz In Vienna
When In Wien, one restaurant is always mentioned in the same breath as tafelspitz and that's Plachutta. This long time establishment now has 4 locations around Vienna and serves up a delicious and Instagram worthy Tafelspitz set that will warm your stomach and heart on a cold day.
My friends and I stopped into Vienna for a few days, in the cold month of February, before flying out for a winter road trip in Iceland. We fully expected our eating selection to be more limited in Iceland, so we wanted have all our nicest meals before then. I'd eaten tafelspitz before, but since then, I kept hearing recommendations from friends and locals to try it at Plachutta. We made a reservation for our first evening there.
Best Cut Of Tafelspitz To Get At Plachutta?
We were seated immediately in a 'cosy' corner table. I say cosy to mean, our table was literally locked in between two walls, the window and another fully seated table, that had to be shifted for one of us to get inside. Still, the bustling atmosphere and the warm smell of the savory broth coming from every table distracted us from our tight seating situation.
We were ready to eat, but what we didn't expect, was that there were so many different cuts to choose from in the 'Tafelspitz' menu including a tafelspitz cut, which was especially confusing. There were options for a fat-free version of tafelspitz, a combination of 3 different cuts, and cuts from practically every part of the cow with basic description of its fattiness level.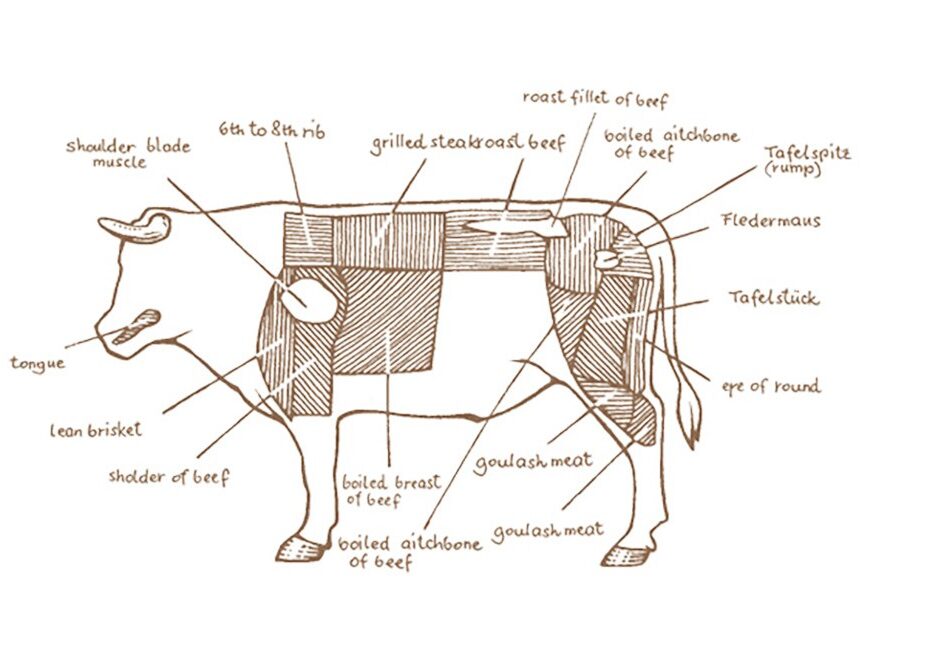 Side note: There were other Austrian dishes to choose from, including fish options, but no vegetarian options. This place is not for vegetarians, unless you don't mind just eating bread and vegetables off of someone else's plate.
Between the 3 of us, we went for the world famous 'tafelspitz' cut, the 'gustostuckerl', which offered 3 different cuts, and the 'beinfleisch' cut, which was described as 'larded and particularly juicy meat from the ribs.'
We passed the time waiting for our meal by peering over at the different sized copper pots on other tables. Everything just looked so classical. The ambient noise of the restaurant was a combination of utensil hitting pots and plates as well as a jumble of conversations, almost entirely in German. We saw a few groups of tourists, but most of the diners appeared to be local, at least to the country.
The Tafelspitz Experience
On our table was also a 'pamphlet' that explained the history of tafelspitz and had an illustration of how to eat tafelspitz. Normally, I'd considered this a little over the top, but I appreciated it here, seeing as it's a whole 'tafelspitz experience'.
Our eyes collectively lit up when we saw a cart being wheeled towards us with 3 steam pots of broth. Each one was different and had a little placard slid into the handle that identified which cut was which. Alongside the pot, that flowed with a rich looking liquid and chunks of beef and vegetables floating around, were plates of grilled dark bread, fried potatoes, a cup for the soup, and copper sauce boats filled with the apple-horseradish sauce with chives. We hardly had space for the empty plates on our table and some shuffling was involved.
The waiter went through the suggestions for how we should eat it again, at which point, I was just ready to dig it. I did obediently follow the instructions though.
Earthly Delights
We started with the broth, which was rich with the essence and fat of the beef and the flavors of the vegetables. Absolutely perfect for a cold winter night.
Next, we carefully removed the marrow and spread it on the toast. The gelatinous texture of the marrow almost melted onto the bread. With a bit of sauce, it was transcendental. I might be exaggerating, but I am a huge fan of roasted marrow and this boiled version was just as good.
It was hard to not start right away with the meat, but I'm glad we prepared our palates first. The veal was firm enough that it didn't fall apart when we took it from the broth, but so tender that we didn't need a knife to cut it. The horseradish sauce was pretty mild and the show stealer – it really gave a bite to the beef. It was also refreshing in a way that gave us a break from all the richness and heaviness of the dish.
We shared from each other pots and I ended up enjoying the fattier cuts a lot more than the leaner 'tafelspitz'. They were all delicious, but no matter how you dress it, the flavor is in the fat, and lean cuts just lose some of that. I recommend getting the 'gustostuckerl' because it gives you a chance to try 3 different cuts in one pot.
After repeating these steps a few times, we cleaned up nearly everything on the table. The broth was a lot for the girls to finish and we wished we could have just taken that back to our Airbnb.
Plachutta's Menu (Updated: 2022)
You can check out the current prices and menu for Plachutta below. I do think there was a charge for sharing a tafelspitz so keep that in mind. We were told the tafelspitz was very filling, so we didn't do any appetizers, but I'd love to go back and try a couple of other things that popped out like the "Tafelspitz' beef jelly and of course the beef tartar. This place is known for their procurement of high quality beef, so I'd imagine the tartar would be excellent.
Tafelspitz Recipe From Plachutta
Here's also the recipe taken from the Plachutta website if you want to try to make tafelspitz at home.
Cooking Tafelspitz At Home
I've since cooked tafelspitz from the traditional recipe at home for my parents, but I wanted to innovate on it a bit using the sous vide method of cooking and doing the broth separately with a combination of bones and fat. Believe it or not, I liked this version even more.
Normally, everything is cooked together, which creates a rich flavor from the beef and vegetables. The problem with this is that, even with fattier cuts, you lose a lot of the beef flavor to the broth. It's nice that it gets imfused into the broth, but it's a shame for the beef.
Tafelspitz Sous Vide Recipe
With the sous vide method, I was able to take two cuts of veal, one lean and one fattier, and cook both together in one bag. The fat is essentially "shared" with the leaner cut, which makes it tastier. To get the vegetable flavors infused, I sauté a mix of onions, garlic, leeks and carrots and add in bit of broth. I pour this into these reusable BPA free bags along with the beef and cook it with the Anova Sous Vide precision cooker for for about 2 hours at 132°F.
For the broth, I do a quick sauté of my quarter root vegetables and whatever bones I can get at the market along with some marrow bones and simmer for a few hours. I usually do this earlier in the day and continue to top up the water if it gets too low.
Roughly two hours before it's done, I start the sous vide of the beef.
For the potatoes, I boil them until they are almost soft, which takes about 20 minutes, and then fry it in some of the excess fat I removed from my beef.
This method takes longer, but you can easily prepare for more people without having to have multiple pots or a giant one. It is also incredibly delicious. It retains everything that makes tafelspitz what it is, but you get a lot more flavor in the beef and the broth.
Ingredients
1 kg of beef or veal
2 kg of beef bones
1 kg of white potatoes
4 onions
4 carrots
1 leek
1 head of garlic
1 tbsp of black peppercorn
1 tsp of white pepper
4 tbsp of oil
salt
Method
For the vegetables prep, cut the onion in quarters and set aside. Peel the carrots and cut them into 1 inch pieces and clean and dice the leek. Separate the garlic head and smash each garlic clove.
Heat up two tablespoons of oil in a large pot and add the onions, leeks and garlic. Sauté until slightly brown and remove 1/3rd of the mix and set aside. Add the the bones and 2-3 pieces of excess fat trimmings from the beef or veal. Move the pieces around so it gets evenly sautéed for about 5 minutes.
Add 4 liters of water or about 3/4 of the way to the top of the pot and 1 tbsp of salt and 1 tbsp of black peppercorns. Bring to a boil. Skim off the scum that rises to the surface. When the water is mostly clear, reduce the heat to a low-medium and simmer for 4-5 hours. Top off with hot water as the liquid levels falls.
After 2 hours, you can reserve 1/2 a cup of the broth to cool for the sous vide.
Add enough water to to your sous vide container and bring your sous vide precision cooker to 132°F. Season each piece of beef with a pinch of salt. In your sous vide bag, add 1/2 cup of the broth along with the rest of the sautéed vegetables set aside and the beef. Remove all the air and place into your sous vide container. Cook for 2 hours.
For the potatoes, bring a pot of water to a boil and boil the potatoes for 20 minutes. Place the potatoes in an ice bath and remove the skin. Let the potato cool and season with salt and white pepper. Cut the potatoes in 1/4 chunks and fry in 2 tbsp of oil for about 10 minutes, roughly 2-3 minutes for each side. Do this about 10 minutes before the meat is finished cooking.