Long Term Review: Kondor Blue Remote Top Trigger Handle for Fuji X-T4
Long Term Review: Kondor Blue Remote Top Trigger Handle for Fuji X-T4
Last Updated on August 27, 2021
---
When I did my full migration to Fujifilm, I needed to build out a new modular cinema rig for my X-T4. Since Fuji's never really been known for their video capabilities, the accessories available were understandably limited.
Luckily, in my search for a top handle, I came across Kondor Blue's Remote Top Trigger Handle.  Not only would it serve its basic purpose of being a top handle, which I found myself using quite often on my Sony rig, it had a built in start/stop button so that I can activate the recording without having to change my hand position. I've since had it for nearly a year so I wanted to share my impression and experience.
For those following my work, you may already know that I switched over to shooting on Fujifilm cameras for all my personal and professional work at the end of 2020. Compared to my Sony A7III, the Fujifilm X-T4 has the advantage of 4K 60 fps, 10 bit 4:2:0 footage straight out of the camera.
But even more than that, going to an APS-C sensor meant generally smaller lenses and a more compact kit, something that's especially useful for me when I'm traveling and need to more lighter.
For video work, I went with what I knew and built out a compact and modular rig with a cage that allowed me to mix and match in a side handle, top handle, external monitor, follow focus, and matte box. Ergonomically, it feels great in my hand and it's more compact than before.
What I Needed To Build An X-T4 Cinema Rig
So I decided to simplify further and see what I truly needed in a rig.
Cage. This serves a dual purpose of protecting the camera and also providing multiple mounting points for different accessories, like side handles, top handles, baseplates, rods, etc. Generally speaking, the Smallrig X-T4 Cage doesn't make the camera much bigger (and provides a bigger grip), so I prefer to keep it on the camera most of the time (even for stills). But depending on the scope of the shoot, the rest of my accessories would only go on when needed.
Side Handle. I love the wooden handle from Smallrig that allows me to get a better grip on a heavier rig. With multiple accessories mounted, it also gives me better handling balance and a cold shoe slot to mount a microphone off to the side. It can be switched to be used on the right or left side.
Top Handle. My favorite way of carrying a camera around. With a top handle, I'm holding the camera above its center of gravity, so I get better balance and more stable footage. I can also shoot at waist level and go lower without having to crouch down. There are multiple thread points for accessories and usually a cold shoe slot for an external monitor right above the camera.
Follow focus. Nice to have, but I can usually forego this if I'm shooting on the run and need to change lenses often. As easy to adjust as the my mini follow focus, it still takes up precious time when I'm doing a run and gun shoot.
External Monitor. With the Sony, I always preferred mounting an external monitor like the SmallHD Focus 5". The bigger screen makes it easier to manually focus.
Matte Box. One of those nice to have things if I'm doing a slower or more planned out production shoot. I can quickly slide glass filters in, away from the lens and not waste time screwing filters into a different lens or have to buy multiple filters for each of my lenses. It's bulky and rarely ever goes with me if I'm traveling. Recently, I picked up the a smaller one from Smallrig that is small enough that I take it with me on the road.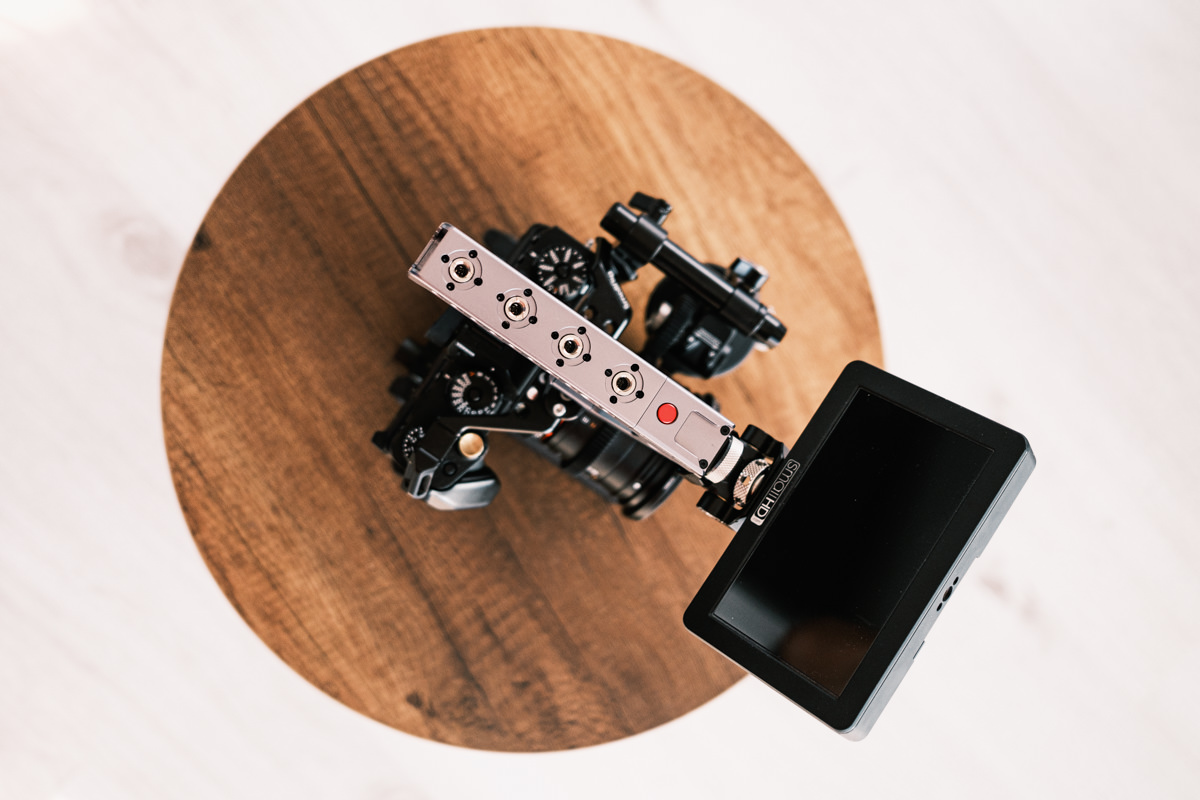 Why I Use The Top Handle
You may find it hard to believe, but the only things I normally really needed was 1) the top handle and 2) the cage. Everything else I could do without and still getting a similar shooting experience, if not a faster one when I'm on the run.
The only thing that I wished my previous top handles had was a way to trigger the start/stop recording function.
Enter the Remote Top Trigger Handle from Kondor Blue. For $90, I found a handle that was very functional and flexible as far as being able to adapt accessories without the need for a cage.
This is now my ultra compact filming kit.
The Kondor Blue top handle attaches directly to the top of my hot shoe slot using a screw in plate with a nato rail to attach the handle.
In this form, I use my right handle to carry the camera and trigger the start/stop recording. This leaves my left hand to balance the camera directly underneath and focus manually. As much as a I love my complete rig, in practice, this is the more stable and easier to maneuver.
For slightly longer shoots, I will use the cold shoe at the front of the handle to mount an external monitor, but I've found that the larger articulating screen is fine more situations. Certain features built features on my X-T4, like Rec 709 preview and touch operations, are missing on the external monitor so I usually need to have the articulating screen out anyway.
By foregoing the external monitor, I can use the cold shoe slot for my shotgun mic instead.
For the price, this is an extremely well built handle that feels great in my hands. The tightening knobs are very easy to use and don't require any extra tools.
Kondor Blue Remote Top Trigger Handle Features
In the box, there was two cables, a 2.5mm to 2.5mm LANC cable for cameras like my Fujifilm X-T4 and ones that use that adapter like the Canon EOS R/R5/R6. For other cameras, there's a standard micro USB cable.
For those who use different cameras systems, swapping out the cable allows you to trigger the start/top button using the either the Sony LANC or Panasonic protocols that supports basically most cameras out there. I haven't tested this out on other cameras, but the compatibility list shows it's been tested with a list that includes the Canon EOS R/R5/R6, Fuji X-T4, Canon C500, C70, C300, Sony A7 cameras, Panasonic GH5, S1H, URSA, Blackmagic and Z-Cam cameras.
For my Fujifilm X-T4, it works with the Panasonic setting, so I just flicked the little switch from S to P at the front. It's quite small, which is good, so you don't accidentally switch it mid-shoot without noticing.
It has five 3/8" threaded holes with Arri Locator pins at the top and eighteen 1/4" holes for mounting other accessories. There's also a hole to attach a 15mm side rod. This is useful if you want to extend out to mount a monitor or other accessories that way. I don't use it just to keep my rig more center weighted and compact.
There are two cold shoe mounts (one on top in the front and one in the back).
On the underside of the handle is a black grooved grip for your fingers.
How It Compares To My Other Accessories
8 months in and the thing that worried me most was the cable dying for some reason. Cables always die that the most inopportune times. Glad to report that so far, no problems at all. I did buy a spare 2.5mm to 2.5mm LANC cable for $10 just in case, but I haven't had to use it.
The handle itself is solid and looks just as good as new. There's no stickiness issue with the button. The coating itself is still perfect. I don't mind when equipment starts to look used, but it's nice to see that it is a very well constructed handle. Especially for the price point.
So What's Missing?
As far as top handles go, you'd be hard-pressed to find one with all these mounting options. Though it's not necessarily a knock on the handle itself, I do wish there was a way for the trigger to do a half press for focus control. Most of the time, I shoot with manual focus cine lenses, but I will occasionally use Fujifilm lenses with autofocus capabilities, like the 10-24 f/4. It would be nice to be able to do a quick half press to focus before triggering the start/stop.
Aside from that, I wish the button was about 3/4" – 1" away from the cold shoe mount, roughly where the first ARRI locator pin is.
When I mount the SmallHD focus camera with its tilt arm, it actually partially covers the trigger button. I can still depress the button, but my thumb its right up against the screw mount. I actually would have also preferred a slightly raised button to make it easier to depress, but that's just a preference thing and in this case, it would have prevented me from using the SmallHD focus tilt arm.
My solution was to mount the monitor on the front instead, so not a big problem.
Overall, I'm very happy with handle as a way for me to shoot very light and lean while still having the top handle functionality.
Reminder: There is a small switch at the front of the handle that says P and S. Switch to the P if you are using Canon EOS, Panasonic, or Fuji cameras. Switch to the S if you are using Sony, Ursa Mini, C300, C500 or Z Cam cameras.
You can buy the the handle on Amazon or directly on the Kondor Blue site. It's available in space gray or black. Both models have the signature blue color on tightening knobs that you'll recognize on other Kondor Blue products.