Bucket List: My Unexpected Private Audience With The Dalai Lama
Bucket List: My Unexpected Private Audience With The Dalai Lama
---
If there's a lesson that I remind myself of every so often, it's that if you don't ask, you don't get. It's a simple one but so easy to forget. Another one that really represents resonates with me is the idea that there are meaningful connections everywhere, even when you least expect it. In my case, it led to an unexpected private audience with the Dalai Lama.
How I Got To Meet The Dalai Lama
For the most part, we have a good idea of the connections in our immediate social network. One friend is a doctor, another's a photographer, and one might even be a courtroom stenographer. All quite useful if I need to check on a lump, get a headshot or have someone notate me speed reading The Time Traveler's Wife. What's not so apparent might be the friend of a friend that I don't know who might be, say, a paleontologist, which would be perfect since I really want to go on a dinosaur dig.
When my friend, Madeleine, and I decided to add Dharamsala as a stop on our travels in India, I immediately thought of my young cousin from Vietnam who had studied there for a year. On a whim, I asked if she knew how I'd be able to see the Dalai Lama, seeing as that's his place of residency.
I had very low expectations, because what the odds the Dalai Lama would be in Dharmashala during my short visit. And then what are the odds, I could find a way to see him last minute without any planning.
Funny enough, she said she'd get back to me. I had no absolutely idea that this meant she would be putting me in contact with the Dalai Lama's personal assistant.
The next part was "all the universe conspiring to help me achieve" my goal, as Paulo Coehlo would put it.
"Come To The Temple In 15 Minutes"
My cousin gave me a name and a number to call once I arrived in Delhi. That called went something like this.
Me: Hi, I'm Tien's cousin from America.
Monk: Oh, yes, are you in Dharamsala?
Me: No, I'll arrive tomorrow morning.
Monk: Ok. Call me tomorrow.
Me: Thank you very much.
It was not rude at all, just not very descriptive.
We arrived in McLeod Ganj the next morning at 9:30 am, dazed from a sleepless overnight train journey followed by a bumpy 3 hour car ride from Pathankot. This is how we looked like to our driver.
After stumbling down a steep set of stairs, we checked into our hotel and gave my monk contact another call.
Me: Hi, I'm Tien's cousin from America.
Monk: Oh, yes, are you in Dharamshala?
Me: Yes, we just arrived.
Monk: Come to the temple in 15 minutes.
Me: Yes, of course. We will see you there. Thank you very much.
We had two problems. The first was that we were still wearing the same clothes we wore all night on the train – and we smelled like it. The second was that we had no idea where we were and how far we were from the temple. The next 15 minutes was a blur of dirty clothes coming off, clean clothes being put on, frantic running and asking random people if they knew were the temple was.
During this entire time, we still had no idea what would happen once we met up with the monk.
Meeting His Holiness
Luckily for us, we were only about 10 minutes from the Tsuglag Khang temple. It dawned on us that we had no idea how to identify the monk other than to look for a monk with a cell phone who looks like he's waiting for someone. That strategy surprisingly worked, and with a bit of awkward eye communications, we found our contact, the assistant to the Dalai Lama.
Already overwhelmed by this encounter, we quickly introduced ourselves and were immediately rushed to an office to go through a security search and to surrender all our possessions. Everything felt unreal, but I had to contain my excitement since we still had no idea what was going on.
Settling down to catch our breath, we struck up a conversation with a small group of people from Singapore, who looked like they were also there to meet His Holiness.
They were kind enough to explain that when the Dalai Lama was ready for us, we would be directed into the compound for a private audience. Those two words sent a chill down my spine and I had to control the urge to drop my jaw.
A Private Audience With The Dalai Lama
"A private audience?" I thought to myself, definitely to myself, because who else would be in this position, just minutes away from meeting the Dalai Lama and not even know it. I played it very cool and with a series of winks and gestures, indicated to Madeleine to also play it cool. We were both very cool at playing it cool.
Madeleine did not last very long and could not contain her excitement, grabbing at my arm with wide eyes and the biggest grin I've seen from her in our many years of travels. I'm sure the Singaporeans must have been a bit confused at our behavior.
And then the next 15 minutes were a complete blur.
How To Get A Private Audience With The Dalai Lama
Contact the Office of His Holiness to request an audience. Applicants will be screened very carefully and need to provide detailed information and specific reasons for why they want to see the Dalai Lama.  Private audiences are scheduled three times a week, on Mondays, Wednesdays, and Fridays when His Holiness is available.
Meeting His Holiness
He smiled at us. We smiled at him. In that space of time, everything felt lighter.Two men came out with AK-47s and in one of those moments that happen in slow-motion, the Dalai Lama walked out behind them and came over to greet each of us individually. His assistant introduced where we were from and as he does, the Dalai Lama laughed and smile while acknowledging each of us. I think I blended in a little bit better with the group than Madeleine. The Dalai Lama noticed.
When it was over, the Dalai Lama turned around as the official temple photographer took a shot that was the only proof that this thing wasn't a dream.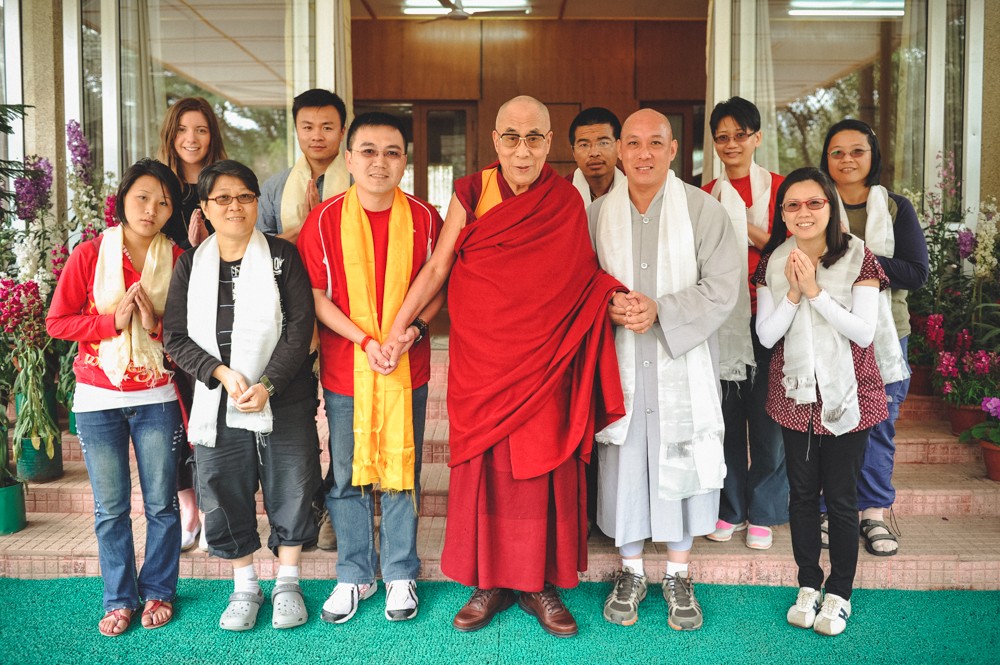 We left with a small gift from the office of the Dalai Lama, but more importantly a memory of a once in a life time experience.
Updated on October 24, 2023