Staycation Review: Casa Selva Sayulita Boutique Hotel
Staycation Review: Casa Selva Sayulita Boutique Hotel
Last Updated on January 5, 2022
---
A few weeks ago, I spent a long weekend at Casa Selva, a tropical boutique hotel that opened earlier in 2021 in Sayulita, Mexico. I was initially looking for a beautiful hotel that could double as a space to do a couple of photoshoots, but ended up booking a longer stay so I could take a "break" from Sayulita. I found it at Casa Selva.
I've been coming to Sayulita in Mexico almost every year since 2014 and staying between 1-3 months at a time. The vibrance, energy, and sounds that make staying in the center of Sayulita so great can also wear me down from time to time. So, to stay in love with this gem of a surf town, I get out of dodge – or at least away from the center.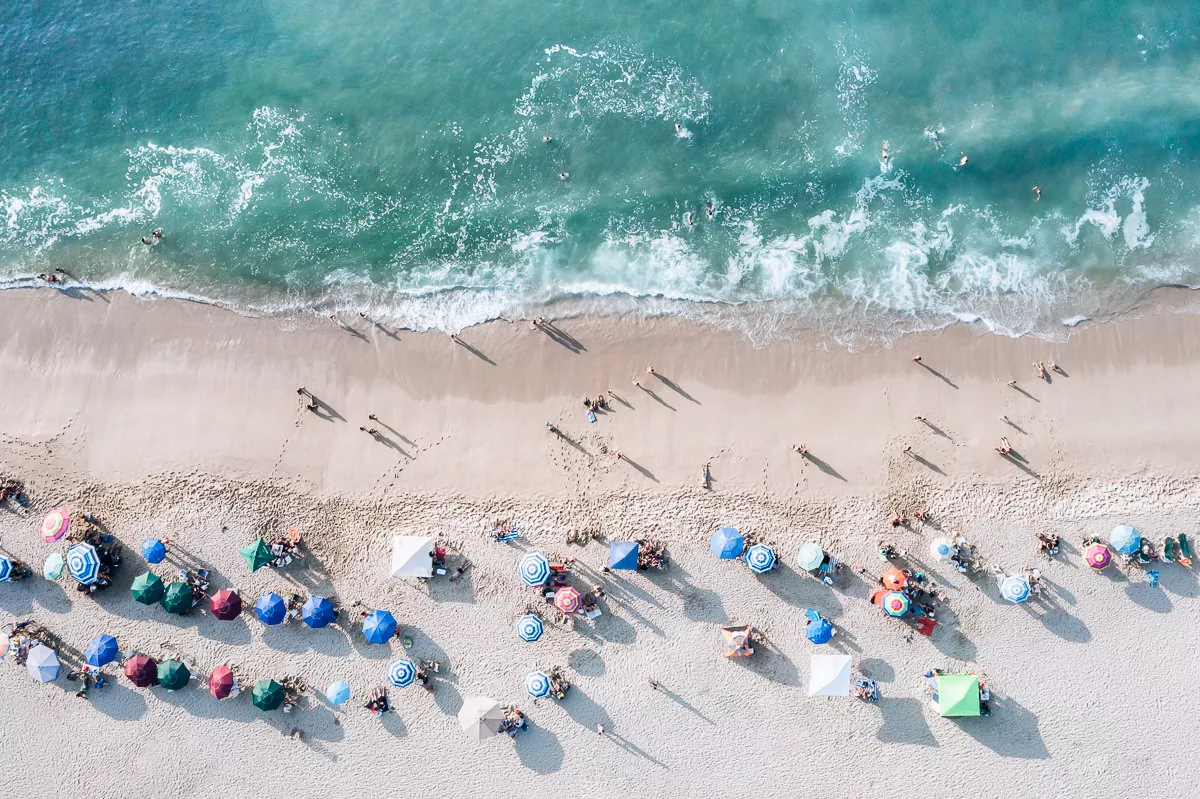 Fortunately, there are plenty of places within Sayulita that still offers this kind of escape. In my search for a new and unique location to do some shoots, I learned from a few local friends of Casa Selva , a newly opened eco boutique hotel within close proximity to the center of town.
It was close enough to check out and I immediately fell for its tropical backdrop and angled bungalows on sloping hillside. It reminded me of Indonesia.
Located at the end of Avenida Palmar, it was far enough away to feel like a remote escape, but still close enough to walk to where everything was located. With a golf cart or vehicle, it would take less than 5 minutes to get to town and on foot, it took me exactly 14 minutes.
A Weekend Long Review Of The Casa Selva Boutique Hotel In Sayulita
I spent 2 days at the Casa Selva boutique hotel with the intention of using part of the first day to do a couple of photoshoots and then relaxing for rest of the weekend. For this, the hotel recommended either Unit 12 or 13.
Photoshoots At Casa Selva
I arranged to do two shoots on the first day earlier in afternoon, so I still had time to watch the sunset by the pool.
Unit 13 has a large open terrace/living space along with a couple of hammocks. Behind a sliding wood door is the bedroom with wall to wall windows that lets in a lot of light. The white marbling on the floor against the green caught my eyes and there was a nice solid wood base that I would later incorporate into my shoot.
With Vanessa, I wanted to keep things simple and feature the surroundings as much as her. There were also two hammocks that I was able to get some great shots with.
I used the same space to get a few shots of Irene ahead of her Acroyoga shoot below in Unit 12.
Unit 12, as soon as I entered, was the one for me. With floor to ceiling windows that slid open, the room had an abundance of the one quality I look for most in a room – light.
What made it even better was that there were solid white blinds that you can pull down for privacy. For me, it served a secondary purpose as a white photo backdrop.
With these blinds down and the white floors, I had an ultra minimalist background for my acroyoga shoot with Irene and Andrees. Keeping the door open, I was able to get directional lighting from the side to light Irene naturally without a flash.
The Pool At Casa Selva
One of the drawing features of this boutique hotel was their pool that overlooked the property and faced towards the ocean and sunset. It was the one thing I was looking forward to the most with the temperature consistently hitting 85°F earlier that week.
As a photographer, I'm prepared to be disappointed when to comes to expectations vs reality. Luckily, the pool was as nice in person as it was in photographs. It was clean and the water temperature was perfect – as in, the water was just slightly cooler than the air. Not too cold nor too warm.
We had a couple of friends over and they, too, loved the pool.
Just before dusk, the sun slowly set and moved through the palm fronds giving the entire jungle properly that warm glow. It was nice to relax after a hot day. From the pool, you can see units 11 and 12 (in white on the bottom) and 13 (above with the open terrace and wood walls).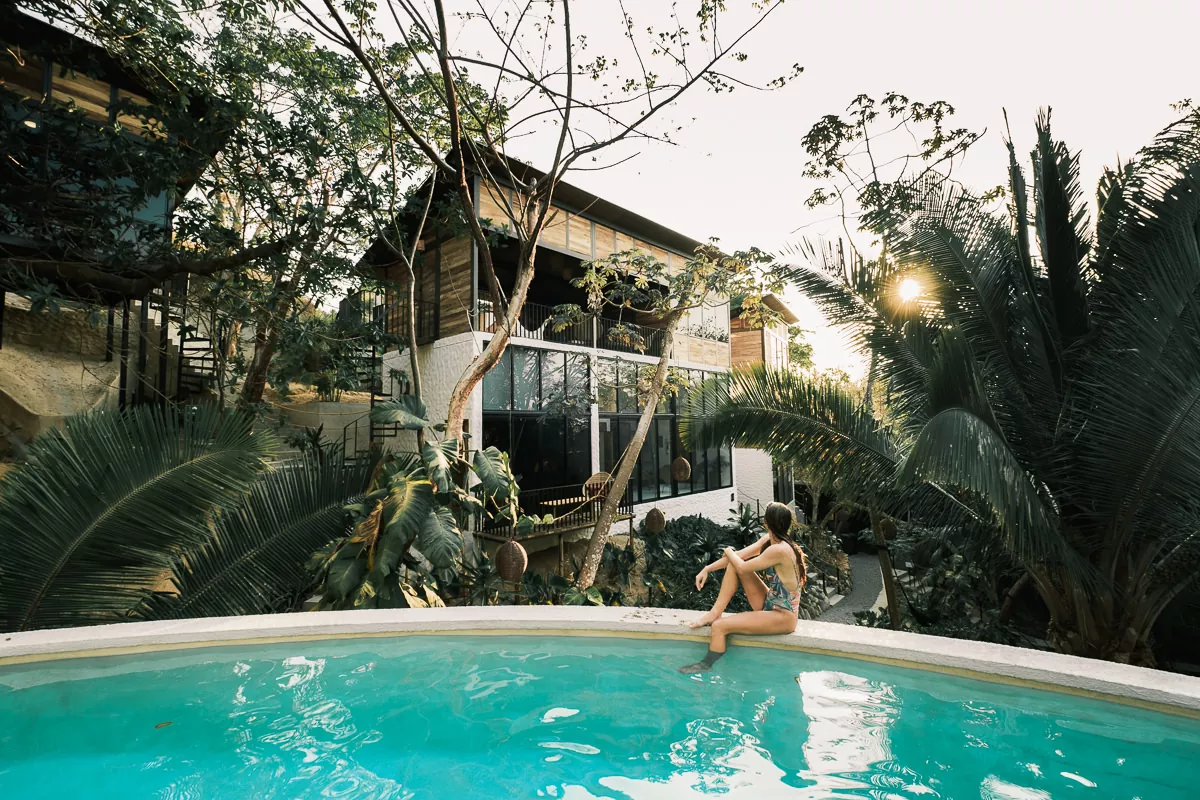 Nothing says tropical more than an outdoor shower and there were multiple showers around the property to rinse off after the pool or a surf session. We cleaned up and had a quiet evening with a bottle of wine.
Waking Up At Casa Selva
I'm usual not a morning person, but I awoke pleasantly enough at 8 to the gentle singing of tropical birds. No joke. I thought I was still dreaming or was in a Disney movie.
Pulling up the blinds one at a time, it actually felt like being in a movie. The soft morning light flooded the entire place look and it looked even more nicer than when I arrived around noon the day before.
It was like sleeping and waking up in nature, but with the all the luxury of modern comfort.
We brewed some coffee and just sat there reading and taking it all in for a good hour with the windows opened up to the natural surroundings. It was the exact kind of peaceful escape and break from my normal routine that I needed.
Josue, the manager at Casa Selva, offered up Unit 13 (that I used for the photoshoot the day before) in case I wanted to use the open terrace again and I took him up on his offer.
We had plenty of space in our bungalow to do some morning yoga, but why not. Up one floor, the open space living area in room 13 was a great spot for a session of stretching.
If you want to do some yoga while you're here, I would highly recommend giving Valeria (Happy Yoga Sayulita) a call because she offers great private yoga instructions, wherever you are, for such a good price.
Homemade Breakfast At Casa Selva
Next up was breakfast, but there was a hitch. The original plan was to bring everything we needed to cook some of our favorite dishes and then to order takeaway for one of the dinners. This way, we wouldn't have to go back into town. To be fair, we had planned on having one of our friends come over for brunch, who would also do a little supply drop.
When she couldn't make it, one of us had to go get more food. I was so content sitting in that air-conditioned room that the idea of walking back into town was a little dreadful.
Funny enough though, at a leisurely walking pace, it only took me 14 minutes. So far enough away, but close enough to get into town for anything.
French Toast and Mimosa Kind of Morning
The bungalow didn't have a full blown kitchen, but it was good enough that Emy and I felt comfortable making some of our favorite dishes – starting with French Toast + Condensed Milk.
The kitchen had two burners, a quality set of pot and pans, cooking utensils and everything you need to serve two people. I was very content with what was provided and appreciative of the little things like the bag of fresh ground coffee.
I had late lunch duties, so Emy took care of breakfast. She made too much / a lot / just enough French Toast that we could do one set with condensed milk and another with maple syrup because she's from French Canadia and they carry maple syrup in their back pockets.
She also made melt in your mouth scrambled eggs using creme fraiche that we topped with sautéed mushrooms and avocado that was almost too pretty to eat.
The minimalist and dark aesthetic of the plates and bowls was something that I appreciated when it came time to plate our dishes.
A note for the hotel: We brought everything we needed to cook because we planned to do so, but for those people planning on cooking a basic meals, it's slightly troublesome to have to get a bottle of oil to cook with (especially when you are just cooking 1-2 meals). I'm a firm believer than any short stay hotels or rental with a kitchen should have the basics.
Lazy Afternoon To Relax
After our late breakfast, we went out to the lounge chairs by the pool to relax and read. The cool and clean water was exactly what we needed and the pool was absolutely just picturesque in the afternoon light.
I requested to take a few shots from Unit 7, since it was open and available. Though the room is smaller than Unit 12 and 13, it has a nice sliding door that opens out right to the a view of the pool.
Taking a break from the sun, we showered off and went for an afternoon siesta with the curtains drawn and the AC on. It would be worth noting that not all the rooms have air conditioning. Room 12 does and if you are planning to stay between May – August, I would highly recommend a bungalow with AC.
After the nap, I woke up to make steak tartare, one of the few dishes I can't find in Sayulita. It was nice late afternoon lunch to hold us over until evening.
Dinner With A View
When the temperature cooled, we opened the sliding doors again and just sat on the comfy lounge chairs by the windows. We did this and watched the day end and the little lanterns turn on, which made the place just a bit more magical.
For dinner, we had a couple of friends over and ordered Thai food from Achara to be delivered. Once again, it's not so far away from town and the closest restaurant is just a 10 minute walk away. We could have walked into town, but it was nice to just stay and chill – continuing with our staycation away from Sayulita.
Overall Impression
The tropical atmosphere with the hammocks, lantern and all the large ferns  and birds of paradise very much reminded me of Indonesia, one of my favorite spots for a tropical escape.
Amenities
I loved the and architecture and aesthetics of this place. Everything we really needed for a short stay was provided for with the consideration of a larger establishment. There's a little safe, a coffee brewer with a bag of coffee and filtered water that gets replenished daily.
There are both bath towels and beach/pool towels. The bathroom kit includes a dental kit, shaving kit, shampoo, conditioner, shower gel, and moisturizing lotion.
Almost every room is designed differently, but the basic setup and amenities is the same. Most of the rooms have the wooden wall styling like in the photos below while units 8, 11, and 12 have a white interior design. Unit 13 stands alone as having an open terrace living space with a couple of hammocks. It's higher above the other units, but you do give up some privacy because there's no way of closing off the living room space. The bedroom area is private, of course.
Location
As far as location goes, if you are planning to go back and forth multiple times in a day, I would suggest a golf cart or to find some place just a bit closer. For those who want a peaceful getaway and want sleep at night, you'll get it here. Even with the nicest hotels in the center of Sayulita, you can't escape some of the music that goes on from until at least 1 or 2 am, or on certain days, until 4 am.
Beach Access
Beach access is very close (within a few minutes) on the northern side of the main Sayulita beach. From here, you can actually see the sun set, which is not usually possible because in the main part of Sayulita, the sun goes down behind a small mountain. This is the quieter part of the stretch of beach too, so it's quite nice to get here within a couple of minutes.
Wi-Fi
I'm happy to report that there's wifi throughout the property. It's not the fastest wifi I've experienced in town, but it usable. Cellular service is a little spottier as I didn't always get data on my phone, but I also wasn't using a local SIM.
Prices
Personally, I really like the location for a quick escape, but more than that, I love their prices. Though it will change depending on the day of the week and season, you can get a room for 2 between $80 and $125 dollars booking directly on their website.
As a photographer, it was a beautiful location to shoot at, but what I appreciated even more was that it looked just as good with my eyes as it did in my photos.
If this is your first time visiting Sayulita, definitely check out my local eating guide. Sayulita has so many good restaurants that runs the gamut of serving street tacos to fine Italian that it's so hard to know where to start. I've eaten almost everywhere and I've broken it down to help you decide and not waste a single meal here. If you need more information on Sayulita, check out my little write-up on everything you need to know about Sayulita. Enjoy!